Christian Scholars' Conference 2020-CANCELLED
Wednesday, June 3, 2020 9:00 AM-Friday, June 5, 2020 12:00 PM
Lipscomb University campus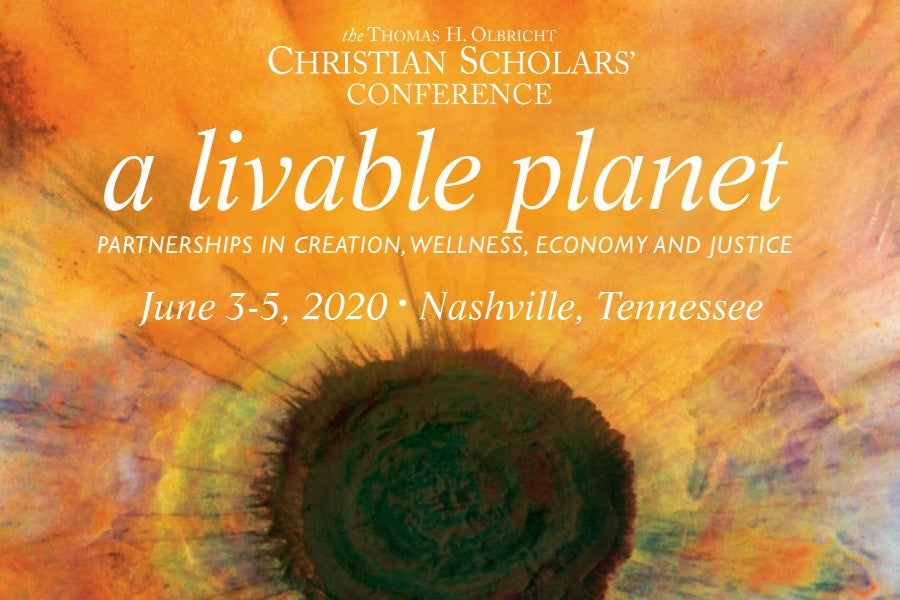 The 2020 Christian Scholars Conference, an annual gathering for more than 300 Christian scholars to create an intellectual and Christian community and to stimulate scholarly dialogue and collaboration, will feature the 2020 theme "A Livable Planet: Partnerships in Creation, Justice, Wellness and Economy."

The three-day conference will examine the intersections of creation, wellness, economy and justice through plenary events and scholarly sessions to explore what makes our world livable. Participants will consider current issues and scholarship that speak into the beauty and diversity on earth. How will we care for what has been entrusted to us? How can collaboration impact social and ecological health? What pathways might converge to lead us to a durable social and ecological future? What can creation, wellness, economy and justice do in partnership?

Plenary speakers will include:
Katharine Hayhoe
Hayhoe is an accomplished atmospheric scientist whose research focuses on understanding what climate change means for people and the places where we live. She is a professor at Texas Tech University, hosts the PBS digital series "Global Weirding," and has been named one of TIME's 100 Most Influential People.
Ibram X. Kendi
Kendi, a historian and New York Times best-selling author, is professor of history and international relations and the founding director of the Antiracist Research and Policy Center at American University. He is the ideas columnist at The Atlantic and in 2016, his book, Stamped from the Beginning: The Definitive History of Racist Ideas in America, won the National Book award. 
James W. Thompson
Thompson will deliver the 2020 Abraham J. Malherbe Plenary. Thompson is scholar-in-residence and professor of New Testament at Abilene Christian University. Since 1993 he has been the editor of Restoration Quarterly. His research focus has been in the philosophical background of the Epistle to the Hebrews and in Pauline theology. He is the author of numerous books, including The Beginnings of Christian Philosophy: The Letter to the Hebrews, and Preaching like Paul.

The conference was created in 1981 under the direction of Dr. Thomas H. Olbricht, distinguished professor emeritus, Pepperdine University, and has since been hosted by several universities associated with Churches of Christ. The conference calls together scholars from a wide variety of disciplines in the liberal arts, sciences, business, law, education and medicine to develop their own academic research and to reflect on the integration of scholarship and faith.