Junior Nursing Major Ashlyn Holmes Reflects on Spring Break Missions Experience
September 13, 2022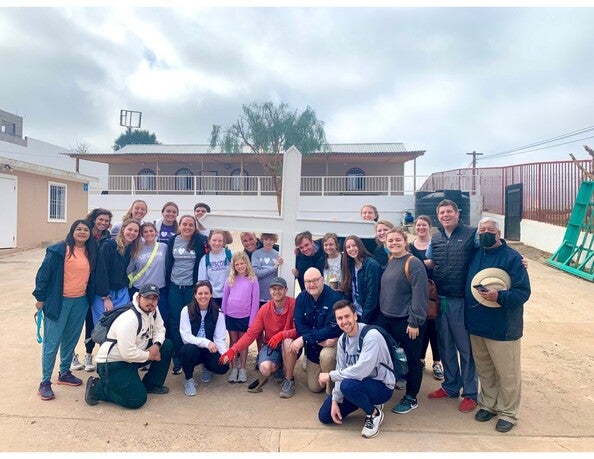 A reflection from Ashlyn Holmes, Junior Nursing major, on her spring break missions experience
When I was looking for universities, Lipscomb's missions program is what initially attracted me here and sparked my interest in attending a school with a robust missions program. Once I chose Lipscomb and became involved in the community, I immediately began looking for ways to serve both within and outside of Lipscomb's campus.

In the fall of my sophomore year, I felt as though the Lord was calling me to a medical mission trip. After praying and speaking to trip leaders, I joined a team of students, faculty, and Lipscomb alumni going to Baja, Mexico over spring break.

Our team consisted of undergraduate students, graduate pharmacy and physical therapy students, Lipscomb alumni who currently work as nurses and doctors in the Nashville area, and Lipscomb faculty members. During our time in Mexico, we opened several clinics where we saw people of all ages for dental work, medical check-ups, and pharmaceutical needs.

As an undergraduate student, I was able to rotate around the clinics each day to help with medical assistance, triage and vitals, dental work, pharmacy, and simply playing with the kids. I learned a great deal in such a short amount of time just by observing the experienced doctors and nurses on the team.

In total, we had 190 medical encounters and 162 dental encounters! Not only was I able to learn a lot from serving alongside people with experience and wisdom, but I was also able to develop friendships and mentorships that have changed my life.
The team leaders, James and Elizabeth Parnell, were intentional about fostering relationships within our team and with the churches we partnered with in Baja. I still stay in touch with most people from the team and I look forward to returning with many of them next year.
My medical mission trip to Baja, Mexico taught me so much about serving the Lord's kingdom and I was able to grow in my own faith while learning many important skills! This trip has helped me realize my passion for medical mission and it has been my favorite memory from college so far!
Ashlyn Holmes is a junior Nursing major at Lipscomb, with a minor in Psychology for Health Professionals. She is scheduled to graduate in Spring 2024. Ethos Church is her home church in Nashville.
---
Bible and Ministry Blog
---