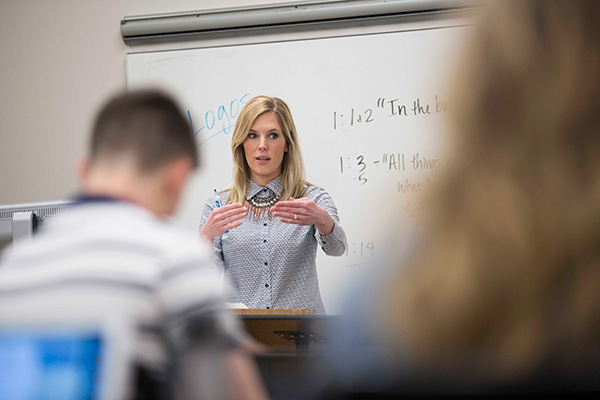 Program Overview
Program Overview
Dive into your academic passions and a rich, thorough theological training, simultaneously. Our vocational ministry program is designed to serve as a supplemental degree to whatever discipline you pursue. That way, you'll be well-prepared to use your career as a ministry tool.
The way we see it, all Christ-followers are ministers in the kingdom of God. We also recognize that you have unique God-given gifts and passion that you desire to explore as a scholar. Focus on how to use those gifts as a platform for expressing your partnership with God and his work in the world. Be intentional in your efforts to become a spiritual leader within your specific academic area of interest.
The vocational calling that you follow will be profoundly enriched by theological grounding to pursue a life of love and reconciliation.
Courses
Courses
Degree type determined by first major.
BI 2283: Explorations in Ministry
BI 4503: Old Testament Interpretation
BI 4513: New Testament Interpretation 
BI 4793: The Bible and Scholarly Study 
BI 3203: God, Creation, and New Creation 
BI 3823: Spiritual Formation for Ministry 
BI 4Dn3: Bible Text Intensive
Two sections (6 hours) of this course are required, with one Old Testament text and one New Testament text.
BI 2713: The Story of Global Christianity 
or
BI 3763: The Story of the Restoration Movement in America  
Nine hours selected from:
BI 3813: A Theology of the Church 
BI 3673: Communicating the Gospel 
BI 3763:The Story of the Restoration Movement in America or BI 2713: The Story of Global Christianity 
BI 4973: Senior Seminar 
Recommended for Youth Ministry
BI 3513: Introduction to Children's, Youth, and Family Ministry 
BI 3523: The Youth Ministry Program 
BI 3533: Educating Children and Adolescents in the Church
Recommended for Children's Ministry
BI 3273: Children's Ministry 
FS 3153: Nurturing Spiritual Development in Children 
BI 3543: Family Ministry 
Recommended for Missions
BI 2313: Introduction to Intercultural Mission 
BI 4393: Current Issues in Missiology
BI 4303: Incarnational/Medical Missions
*Other theology and ministry elective courses may be substituted subject to approval of the department chair.
General education degree requirements will be determined by the student's first major.
Service learning
We provide you the opportunity to enhance your academic understanding by applying what you've learned in class to service projects that benefit our community. Before graduation, you'll participate in at least two SALT (Serving and Learning Together) projects.
Internship
Become more competitive in the job market with an internship related to your interests. You'll gain experience and boost your exposure. An internship will also help you learn whether you've chosen a career you'll enjoy.
Nashville
A big city. An even bigger opportunity. We consider Nashville an extension of our classroom, and as a leading city in many industries, that means you'll gain experience and insight you won't find anywhere else.
Josh Strahan

Associate Professor

Josh teaches courses in Freshman Bible and New Testament. He received his bachelor's degree in Bible from Lipscomb University in 2004, his Master of Divinity degree from Abilene Christian University...

Learn More

Lauren White

Assistant Professor of Theology

Lauren graduated with a Ph.D. in Theological Studies from Vanderbilt University in May, 2018. She also holds an MTSÂ from Vanderbilt University (2010), an M.A. in English from Abilene Christian University...

Learn More

George Goldman

Professor

George teaches courses in New Testament, Greek, and Faith & Culture. He received his B.A. and M.A. from Lipscomb University (1988, 1991), his M.Div. from Harding University Graduate School of...

Learn More
Career Paths
Directors, religious activities and education
Plan, direct, or coordinate programs designed to promote the religious education or activities of a denominational group. May provide counseling and guidance relative to marital, health, financial, and religious problems.
Clergy
Conduct religious worship and perform other spiritual functions associated with beliefs and practices of religious faith or denomination. Provide spiritual and moral guidance and assistance to members.
Postsecondary Education Administrators
Postsecondary education administrators oversee student services, academics, and faculty research at colleges and universities. Their job duties vary depending on the area of the college they manage, such as admissions, student life, or the registrar's office.