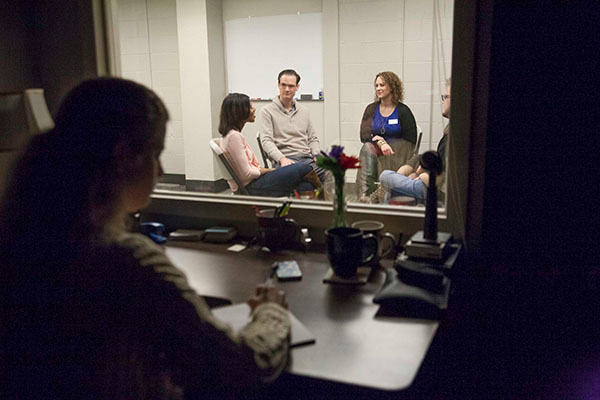 Program Overview
Program Overview
We know psychology has practical application in every facet of life.  And, it provides a strong foundation for many career paths. So we've designed a broad curriculum with opportunities that will give you the training you need for your career goals. You'll learn to understand yourself and others better. Our electives will allow you to study what interests you the most. 
Excel with research and internship opportunities in Nashville. You'll also have the chance to attend and present research at conferences and join in Psi Chi National Honor Society in Psychology. 
Build relationships with our respected, experienced faculty — award-winning professors and working clinicians. Our faculty holds six Outstanding Teacher awards, two Baker Awards, and two Outstanding Advisor Awards. They represent the areas of counseling, family therapy, clinical psychology, health psychology, neuroscience, child development and cognitive psychology. 
When you receive your degree, you'll be ready for graduate work, if you choose that career path. No matter what, you'll be ready to take what you've learned to serve others, whether it's at home or across international lines.
Courses
Courses
Specific courses required (36 hours):
PS 1113 - Introduction to Psychology
PS 2313 - Behavior Modification
PS 2423 - Life Span Development
PS 2503 - Behavioral Statistics
PS 2603 - Introduction to Psychological Research
PS 3413 - Social Psychology
PS 3463 - Personality Theories
PS 3543 - Psychological Measurement
PS 4423 - Abnormal Psychology
PS 4523 - Cognitive Psychology
PS 4543 - Biological Psychology and
PS 4613 - History and Systems of Psychology
Available electives (9 hours):
PS 3141 - Independent Research
PS 3243 - Human Development and Learning
PS 3323 - Business and Industrial Psychology
PS 3453 - Death and Dying
PS 3483 - Human Sexuality
PS 3513 - Drugs and Behavior
PS 412V - Psychological Topics
PS 460V - Internship in Psychology
PS 4913 - Research Practicum
Internship
Become more competitive in the job market with an internship related to your interests. You'll gain experience and boost your exposure. An internship will also help you learn whether you've chosen a career you'll enjoy.
Expert faculty, small class sizes
Learn from award-winning, experienced faculty who actually care about you. Our small class sizes allow us to get to know you personally. We lead an approachable community within our respective programs. Our faculty connections are the experts on their subject matter, too.
Nashville
A big city. An even bigger opportunity. We consider Nashville an extension of our classroom, and as a leading city in many industries, that means you'll gain experience and insight you won't find anywhere else.
Dale Alden

Assistant Professor

Alden is a longstanding faculty member in the department of psychology and counseling. He teaches Introduction to Psychopathology, Psychological Assessment, and Biological Psychology for the graduate program. Alden is...

Learn More

Shanna Ray

Chair, Psychology

Shanna Ray has a B.S. in Psychology from Lipscomb University, M.A. in Experimental Psychology from Middle Tennessee State University and a Ph.D./M.S. in Developmental Psychology from Vanderbilt University. Ray joined...

Learn More
Career Paths
Psychiatric Technicians and Aides
Psychiatric technicians and aides care for people who have mental illness and developmental disabilities. Technicians typically provide therapeutic care and monitor their patients' conditions. Aides help patients in their daily activities and ensure a safe, clean environment.
Psychologists
Psychologists study cognitive, emotional, and social processes and behavior by observing, interpreting, and recording how individuals relate to one another and to their environments. They use their findings to help improve processes and behaviors.
Substance Abuse, Behavioral Disorder, and Mental Health Counselors
Substance abuse, behavioral disorder, and mental health counselors advise people who suffer from alcoholism, drug addiction, eating disorders, mental health issues, or other mental or behavioral problems. They provide treatment and support to help clients recover from addiction or modify problem behaviors.