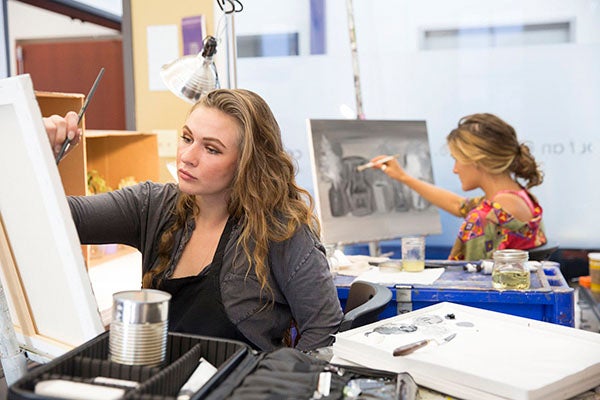 Program Overview
Program Overview
Through the study of art therapy, your talents in the visual arts and your compassion for others will go hand in hand. Explore multiple ways to bring about healing and help many reach their full potential through art.
Our small class sizes will bring you in-depth, hands-on insight into the field of art therapy. Our professional faculty will guide you through real-time events and social situations. You will have the opportunity to interact with individuals in guided settings to experience the power of co-creating within an art therapy context. Whether you wish to use your garnered knowledge for education, medicine, geriatrics, private practice or graduate school, you will be well-equipped for the field.
Courses
Courses
Specific courses required in art (51 hours)
Foundation courses:
AR 1033 - Foundation Studio I
AR 1043 - Foundation Studio II
AR 1053 - Foundation Studio III
AR 1213 - Color Theory
AR 1513 - Conceptualization and Presentation
AR 1723 - New Media Studio
12 hours of tier two studio courses:
AR 2253 - Printmaking I
AR 2233 - Sculpture I
AR 2313 - Digital Photography I
AR 2613 - Painting I
12 hours of art history & theory:
AR 3133 - Art Theory
AR 4813 - Survey of History of Art I
AR 4823 - Survey of History of Art II
AR 4843 - Art Since 1940
Choice of 9 hours of studio art electives


Specific courses required in psychology (18 hours):
PS 1113 - Introduction to Psychology (must be taken prior to beginning this minor)
PS 2423 - Life Span Development
PS 2503 - Behavioral Statistics
PS 3413 - Social Psychology
PS 3463 - Personality Theories
PS 3513 - Drugs and Behavior
PS 4423 - Abnormal Psychology
Note:
Art therapy majors have a built-in minor in psychology and are not required to take another minor.
8:1
Average Student to Faculty Ratio
Job placement
With a top-tier university education on your resume, you'll be in high demand, whether you choose to launch your career or begin graduate school. Most of our programs have a placement rate of at least 90 percent within six months of graduation.
Expert faculty, small class sizes
Learn from award-winning, experienced faculty who actually care about you. Our small class sizes allow us to get to know you personally. We lead an approachable community within our respective programs. Our faculty connections are the experts on their subject matter, too.
Nashville
A big city. An even bigger opportunity. We consider Nashville an extension of our classroom, and as a leading city in many industries, that means you'll gain experience and insight you won't find anywhere else.
GraceAnn Visser

Adjunct Faculty

GraceAnn Visser serves as the current vice president for Tennessee Art Therapy Association, and earned her Master of Arts in Art Therapy from The School of the Art Institute of Chicago in 2012.

Learn More
Career Paths
Social Workers
Social workers help people solve and cope with problems in their everyday lives. Clinical social workers also diagnose and treat mental, behavioral and emotional issues.
Rehabilitation Counselors
Rehabilitation counselors help people with physical, mental, developmental or emotional disabilities live independently. They work with clients to overcome or manage the personal, social or psychological effects of disabilities on employment or independent living.
Recreational Therapists
Recreational therapists plan, direct and coordinate recreation-based treatment programs for people with disabilities, injuries or illnesses. These therapists use a variety of modalities, including arts and crafts; drama, music and dance; sports and games; aquatics; and community outings to help maintain or improve a patient's physical, social and emotional well-being.