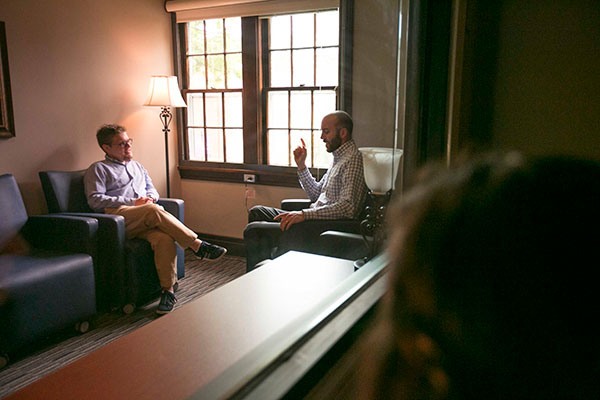 Marriage and Family Therapy
13:1
Student to faculty ratio
Small Class Sizes
You'll have opportunities to engage in meaningful discussion, receive one-on-one faculty mentorship and ask difficult questions in our small class sizes. Plus, you'll feel supported in a tight-knit learning community.
Cohort Model
Our cohort model emphasizes communal learning and extended field experiences. You'll have the opportunity to form professional and personal relationships with like-minded peers that will extend far beyond the duration of the program.
Nashville
A big city. An even bigger opportunity. We consider Nashville an extension of our classroom, and as a leading city in many industries, that means you'll gain experience and insight you won't find anywhere else.
Chris Gonzalez

Director, Marriage and Family Therapy

Gonzalez joined the psychology and counseling faculty in Fall 2010 after completing his Ph.D. in Family Social Science from University of Minnesota. He teaches several courses in the MFT program....

Learn More

Justin Briggs

Clinical Director

Justin Gregory Briggs joined the faculty at Lipscomb University in 2014. He completed his Ph.D. in Marriage and Family Therapy at Purdue University and earned his M.S. in Marital and...

Learn More

Dave Morgan

Associate Professor

Morgan joined the psychology and counseling faculty in Fall 2013 after a several years in the Lipscomb University Counseling Center where he served as a therapist and the Director of...

Learn More
Career Paths
Marriage and Family Therapists
Marriage and family therapists help people manage and overcome problems with family and other relationships.
Play Therapist
After becoming a licensed Clinical Mental Health Counselor or Marriage and Family Therapist, you can become a registered play therapist. A Registered Play Therapist will use play therapy to help clients (regardless of age) find healing and achieve the growth they desire.