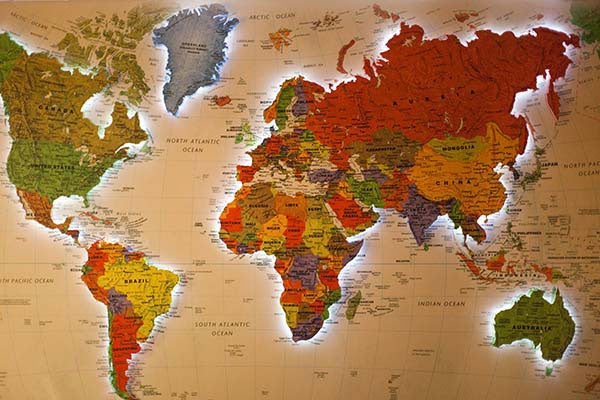 Program Overview
Program Overview
Let us prepare you to take your profession abroad. Enhance your linguistic skills, dive into history and foundations, and understand current international systems and politics. This program is for you and is created by you! You'll get to choose the language you want to study along with the applicable courses of your desired international location. Our seasoned faculty will build upon your interests and provide the specific knowledge and experiences you'll need to succeed abroad. 
 
Courses
Courses
Specific courses required:
BA 3603 - Fundamentals of International Business



One of the following blocks:
FR 2114 - Intermediate French I

FR 2124 - Intermediate French II

GE 2114 - Intermediate German I

GE 2124 - Intermediate German II

SN 2114 - Intermediate Spanish I

SN 2124 - Intermediate Spanish II



Six hours selected from:
HI 3153 - Twentieth Century Europe (1914-present)

HI 3323 - Cultural Geography

HI 4053 - History and Politics of the Middle East

HI 4103 - Latin America

HI 4133 - History and Politics of Russia

HI 4143 - Modern China and the Far East (occasional special topics courses may also fulfill this requirement; please check with the chair of the Department of History, Politics and Philosophy in such cases)

PO 3033 - International Relations

PO 3133 - Authoritarianism and Democracy

PO 3153 - African Politics

PO 4053 - History and Politics of the Middle East

PO 4133 - History and Politics of Russia

PO 4213 - American Foreign Policy

PO 4233 - International Law and International Organizations
Job placement
With a top-tier university education on your resume, you'll be in high demand, whether you choose to launch your career or begin graduate school. Most of our programs have a placement rate of at least 90 percent within six months of graduation.
Expert faculty, small class sizes
Learn from award-winning, experienced faculty who actually care about you. Our small class sizes allow us to get to know you personally. We lead an approachable community within our respective programs. Our faculty connections are the experts on their subject matter, too.
Internship
Become more competitive in the job market with an internship related to your interests. You'll gain experience and boost your exposure. An internship will also help you learn whether you've chosen a career you'll enjoy.
Study Abroad
See the world — whether it's Italy, Austria, Costa Rica, England or another country. Career opportunities will open for you as you sharpen your foreign language skills. Gain the international experience and cross-cultural communication skills you'll need in our global economy.
Marc Schwerdt

Chair of History, Politics and Philosophy

Marc Schwerdt joined the Lipscomb political science faculty in 2004. His research has concentrated on perceptions of public service in children's literature and has been published in peer-reviewed journals Social...

Learn More
Career Paths
Political Scientists
Political scientists study the origin, development, and operation of political systems. They research political ideas and analyze governments, policies, political trends, and related issues.
Economists
Economists study the production and distribution of resources, goods, and services by collecting and analyzing data, researching trends, and evaluating economic issues.
Interpreters and Translators
Interpreters and translators convert information from one language into another language. Interpreters work in spoken or sign language; translators work in written language.