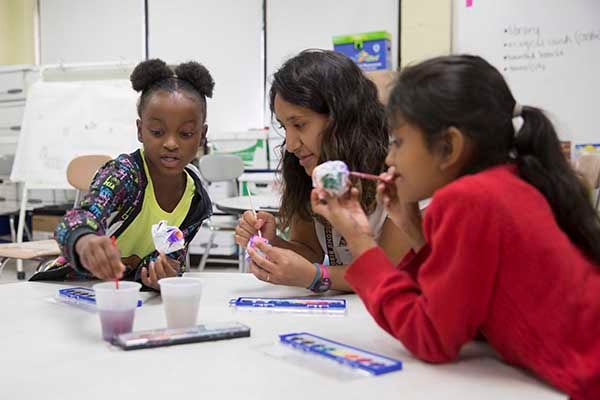 English as a Second Language (ESL) Endorsement
Program Overview
Program Overview
Teaching candidates who are seeking initial licensure (PK-3, K-5, or 6-8 grades) can also seek an English as a Second Language (ESL) endorsement.  Learn how you can unlock academic achievement for all students by reducing language barriers.
Adding an English as a Second Language (ESL) endorsement provides evidence of your skills and can make you even more marketable as a teacher. You'll be ready to teach in a wide variety of settings, sharing the content you love and making a difference in the lives of students and their families.
Courses
Courses
Requirements:
8 hours of a foreign language
FL 4514 - Introduction to Teaching Foreign and Second Languages: Theory and Practice

Note:
Praxis II Required: In addition, students seeking the ESL add-on endorsement will have to pass the ESL Praxis II exam and complete a field placement in an ESL/ELL classroom during student teaching.
Job placement
With a top-tier university education on your resume, you'll be in high demand, whether you choose to launch your career or begin graduate school. Most of our programs have a placement rate of at least 90 percent within six months of graduation.
Expert faculty, small class sizes
Learn from award-winning, experienced faculty who actually care about you. Our small class sizes allow us to get to know you personally. We lead an approachable community within our respective programs. Our faculty connections are the experts on their subject matter, too.
Nashville
A big city. An even bigger opportunity. We consider Nashville an extension of our classroom, and as a leading city in many industries, that means you'll gain experience and insight you won't find anywhere else.
Junior High

Chair, Undergraduate Education

Junior High graduated from David Lipscomb College (now Lipscomb University)Â in June 1970. Â He was employed that year as a middle school teacher at Head School in Nashville, Tenn. Â After 11...

Learn More

Megan Parker Peters

Associate Professor of Education

Megan Parker Peters is an associate professor and the Director of Teacher Assessment at Lipscomb University. She is a licensed psychologist and school psychologist who focuses on the needs of...

Learn More

Sarah Duncan

Associate Professor

Sarah Duncan was a language arts teacher and intervention coach in Mississippi before coming to Lipscomb. A former National Board Certified Teacher, she currently teaches literacy and clinical practice courses...

Learn More

Suze Gilbert

Assistant Professor of Education

Suze Gilbert has always wanted to be a school teacher. She earned her bachelor's degree from Freed-Hardeman University, learning from professors who affirmed her desire to become a teacher. She...

Learn More

Robbie Hampton

Assistant Professor of Education

Robbie Hampton is an Assistant Professor in the College of Education. Her primary duties are with teacher candidates in Special Education. She teaches a number of graduate and undergraduate courses...

Learn More

Kara Krinks

Assistant Professor of Education Studies

Kara Krinks earned her undergraduate degree at Lipscomb University in Engineering Science. She later earned an M.A.T. in Secondary Science Education and a Ph.D. in Mathematics and Science Education from...

Learn More

Emily Medlock

Associate Professor

Emily Medlock is an Associate Professor in the College of Education. She works with teacher candidates and facilitates undergraduate coursework in Clinical Practice II and Math Methods. Medlock works with...

Learn More

Marcia Stewart

Professor

Marcia Stewart has been a full-time member of the Lipscomb faculty since 1993. She graduated from Vanderbilt University with an M.Ed. in Early Childhood Education and an Ed.D. in Curriculum...

Learn More
Career Paths
High School Teachers
High school teachers help prepare students for life after graduation. They teach academic lessons and various skills that students will need to attend college and to enter the job market.
Middle School Teachers
Middle school teachers educate students, typically in sixth through eighth grades. They help students build on the fundamentals they learned in elementary school and prepare them for the more difficult curriculum they will face in high school.
Kindergarten and Elementary School Teachers
Kindergarten and elementary school teachers instruct young students in basic subjects, such as math and reading, in order to prepare them for future schooling.
---
Career and Technical Education Teachers
Career and technical education teachers instruct students in various technical and vocational subjects, such as auto repair, healthcare, and culinary arts. They teach academic and technical content to provide students with the skills and knowledge necessary to enter an occupation.
Special Education Teachers
Special education teachers work with students who have a wide range of learning, mental, emotional, and physical disabilities. They adapt general education lessons and teach various subjects, such as reading, writing, and math, to students with mild and moderate disabilities. They also teach basic skills, such as literacy and communication techniques, to students with severe disabilities.
Postsecondary Teachers
Postsecondary teachers instruct students in a wide variety of academic and technical subjects beyond the high school level. They may also conduct research and publish scholarly papers and books.