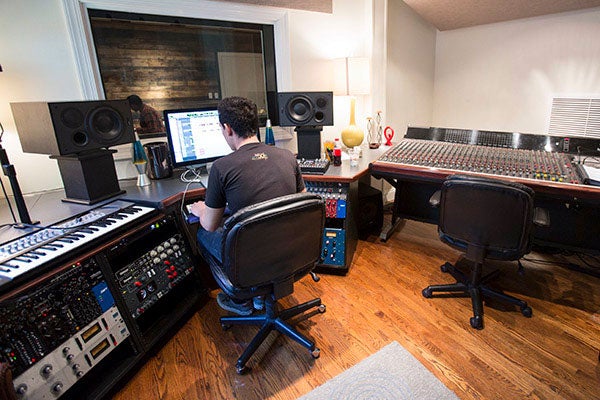 Internship
Become more competitive in the job market with an internship related to your interests. You'll gain experience and boost your exposure. An internship will also help you learn whether you've chosen a career you'll enjoy.
Expert faculty, small class sizes
Learn from award-winning, experienced faculty who actually care about you. Our small class sizes allow us to get to know you personally. We lead an approachable community within our respective programs. Our faculty connections are the experts on their subject matter, too.
Nashville
A big city. An even bigger opportunity. We consider Nashville an extension of our classroom, and as a leading city in many industries, that means you'll gain experience and insight you won't find anywhere else.
Brown Bannister

Director of the School of Music

Brown Bannister brings nearly four decades of industry experience to his work as Director of the School of Music. Best known as a successful mentor and producer for top Christian...

Learn More

Donna King

Assistant Professor

Donna King, assistant professor of music, came to Lipscomb University as a piano instructor in 1987 and began full-time teaching in 1999. She teaches music history and music literature courses,...

Learn More

Beau Tackett

Artist in Residence

Beau Tackett is an established Nashville guitarist versed in multiple styles from blues to classical to country. Since graduating Belmont University in 2002 (Commercial Guitar Performance), Tackett has sustained...

Learn More
Career Paths
Musicians and Singers
Musicians and singers play instruments or sing for live audiences and in recording studios.
Agents and business managers of artists, performers, and athletes
Represent and promote artists, performers, and athletes in dealings with current or prospective employers. May handle contract negotiation and other business matters for clients.
Composers and Conductors
Conductors lead orchestras and other musical groups during performances and recording sessions. Composers write and arrange original music in a variety of musical styles.