About the Health Sciences Center
A Message from the Vice Provost of Health Affairs: Welcome to Lipscomb Health Sciences Center.
As the Chief Health Sciences Academic Officer of Lipscomb University, it is with great humility and excitement that I extend you a welcome to our website on behalf of the students, staff, faculty, and administrators of Lipscomb Health Sciences Center.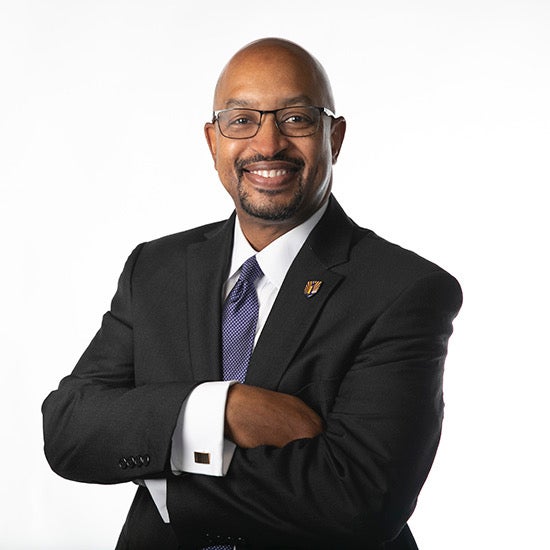 Whether you are a current member of the Lipscomb family; an esteemed alumnus of one of our Lipscomb Health programs; a potential member of the Lipscomb family; or a supporter of Lipscomb in your contributions, thoughts, or prayers, we welcome you all to the exciting and growing Lipscomb Health Sciences Center. 
As you spend time on our site and learn more about the current and future states of Lipscomb Health, we are encouraged by your presence here and what it means to our path moving forward. In whatever capacity you have visited this site considering all of the options which are available to you, the fact that you have chosen us to be a  part of your journey makes us eternally grateful.    
Lipscomb Health Sciences Center has a mission to produce competent, caring, and compassionate healthcare professionals that exemplify a commitment to a Christian life of service. In short, Lipscomb will not only prepare you for the workforce but will guide and empower you to walk in your purpose. Lipscomb has a commitment to academic excellence and rigorous professional preparation that attracts the top healthcare practitioners as faculty members while putting our graduates in very high demand to meet the workforce and industry needs of the healthcare environment. The Health Sciences Center continually receives very high accolades for the depth and scope of its programs from accrediting bodies and our placement rate upon graduation into further professional education and employment is consistently in near the 100th percentile.
To the end, the vision of the Health Sciences Center is to be a national model for:
Practitioner preparation – preparing the healthcare practitioners to have immediate contributions and impact on their patients and their profession
Comprehensive interprofessional education and collaborative care – training the health sciences students to collaborate with each other in providing holistic and continuous quality care to their patients while creating a collaborative care model which facilitates communication as well as keeps healthcare affordable
Strategic partnerships which meet both workforce and industry needs – partnering with the vast resource and expertise trust of the Nashville healthcare delivery network to inform program development which meets the workforce and industry needs of all stakeholders
Service to the Underserved - committing and dedicating resources to underserved communities  while addressing their need to be empowered and treated equitably with regards to health care access and quality
This is a time of unprecedented growth and change for Lipscomb Health, and I am so proud to be part of its continued growth for such a time as this. I deeply believe that health care, wellbeing, and faith are inextricably linked. Lipscomb Health welcomes opportunities to interact and fellowship with the type of caring, giving people who are passionate about healthcare and who are looking for prospects in their education, career, and healthcare delivery environments to use these elements. Community and global service are huge parts of our programs as we apply the words of the Apostle Paul in Galatians 6: 9-10, "Let us not be weary in well doing: for in due season we shall reap, if we faint not.  As we have therefore opportunity, let us do good unto all men…"
Thanks again for choosing to be with us today and for your continued support of Lipscomb and the Health Sciences.
With best wishes,
Quincy J. Byrdsong, EdD, CIP, CCRP
Lipscomb University
Office of the Provost
Vice Provost for Health Affairs

College of Health Sciences

quincy.byrdsong@lipscomb.edu
615-966-7161