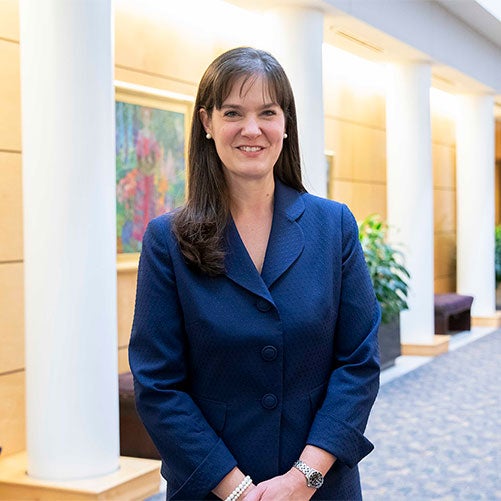 President-Elect McQueen
We are pleased to announce Lipscomb's 18th President.
Lipscomb University announced the election of Dr. Candice McQueen as the 18th president and first female CEO of the 130-year-old faith-based institution. McQueen, who served as Tennessee commissioner of education under former Gov. Bill Haslam, succeeds L. Randolph Lowry III, who will transition from the role of president after 16 years to chancellor of the institution. Dr. McQueen comes to Lipscomb after serving most recently as CEO of the National Institute for Excellence in Teaching. Before becoming the state's top education official, McQueen served Lipscomb University as senior vice president and dean of the university's College of Education.
"We are thrilled about Dr. McQueen's return to the university. I am confident that her vision, deep expertise, passion for faith-based education and love for Lipscomb will lead us boldly into a new season of greatness, exemplified by excellence, diversity and immersion in our community as together we work to transform the lives of our students."
- David Solomon, chair of the Lipscomb Board of Trustees
"I am honored and humbled to be chosen to serve as the president of Lipscomb University. Lipscomb is a truly remarkable place where students grow in their faith and character while building toward their careers — all in partnership with exceptional faculty and staff who are leaders in their field. I know firsthand how life-changing this community can be, and I want to ensure that experience for countless others for many years to come."
- Dr. Candice McQueen, incoming Lipscomb President
McQueen has a Bachelor of Science degree from Lipscomb University, a Master of Education in school administration from Peabody College, Vanderbilt University and a Ph.D. in curriculum studies from the University of Texas.
What Others Are Saying
"Dr. McQueen clearly has a passion for education and is uniquely prepared for this new role. She was an excellent member of our cabinet. As commissioner of education, she led 1,100 state employees and managed a $6 billion budget with vision, intelligence, skill and always with a smile on her face. She is an excellent choice for Lipscomb University."
–Former Tennessee Gov. Bill Haslam
"Dr. Candice McQueen was uniquely qualified by her commitment to faith-based education, her extensive experience from classroom teacher to higher education executive, and her proven leadership skills to keep Lipscomb moving forward in a strategic and excellent way. I look forward to the positive impact she will have on this institution in the future."
–Mitch Edgeworth, vice chair of the Lipscomb Board of Trustees and search committee chair
"As a faculty member, dean and executive at Lipscomb for 14 years before becoming commissioner, Dr. McQueen showed great leadership, judgement and character. She is a very effective leader with great vision. It was bittersweet when Gov. Haslam recruited her to his cabinet. It's exciting to welcome her back to Lipscomb as our next president."
–L. Randolph Lowry, 17th president