School of Nursing Academic Programs
Equipped for the Future.
Join a nursing school acknowledged by health care's most demanding regulators as outstanding and meticulous. You will be part of a program where 100 percent of graduates get the professional work they desire.
As a graduate, you'll provide patient-centered health care to diverse populations in a variety of environments, independently and collaboratively. You'll start your career with skills gained in critical thinking and information management.
Technology defines how health care does business today. Our rewarding four year BSN program will teach you the skills needed to adapt to ever-evolving technological advances in a facility so well equipped it can be used to triage real patients in the event of a crisis. After completing four semesters of foundational prerequisites, you must formally apply and gain acceptance to our program. You'll finish four challenging semesters of classroom, lab and clinical education.  Before you ever attend to your first patient, you will have hours of practice in the state-of-the art patient simulation laboratory.
In the Health Sciences Simulation Laboratory, you will experience health conditions covering the entire lifespan from premature babies to the elderly. Twenty-three computerized patient simulators provide you realistic health scenarios and respond to your interventions. As a student nurse you will be trained in bedside health care informatics and in the use of medical equipment. Perhaps you'll even serve on a special mission. And then, you'll earn your BSN degree. 
Our online RN-to-BSN capitalizes on your previous experience as a registered nurse with an associate's degree in nursing. It works to elevate your credentials to the next level — and it's completely online and accessible to you. You will be prepared to coordinate and manage care through the use of technology, resources, and information systems.  You will learn to use your leadership skills to delegate tasks to other healthcare personnel and supervise and evaluate their performance. You can earn your BSN within 18 months and in some cases with as few as 33 credit hours.
It all works together to mold you into the confident leader and next-level caregiver you want to become.
Bachelor of Science in Nursing
Nursing
Here, you'll get a high quality education in medical surgical courses and all specialty areas including: critical care, obstetrics, pediatrics, mental health and community-based learning. "Practice before you practice" in our on-campus, state-of-the-art high fidelity patient simulation lab. Begin learning in the health care capital of the U.S.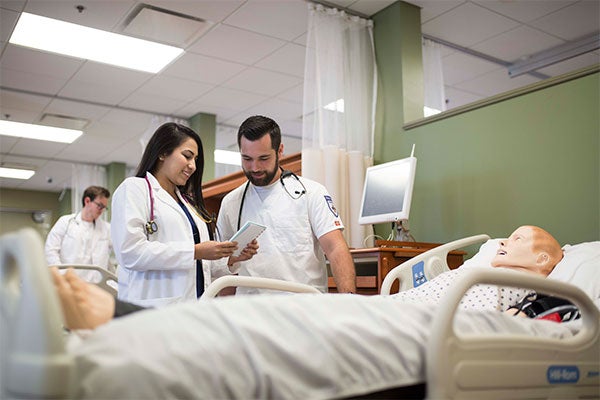 Bachelor of Science in Nursing
RN-to-BSN
Take your nursing career to the next level with our online RN-to-BSN program. In this affordable program, you will earn your BSN within 18 months through distinguished and practical coursework.