Tennessee's captains in a storm of crisis
Lipscomb alumni Lisa Piercey and Mark Ezell are leading the state's pandemic response in public health and economic recovery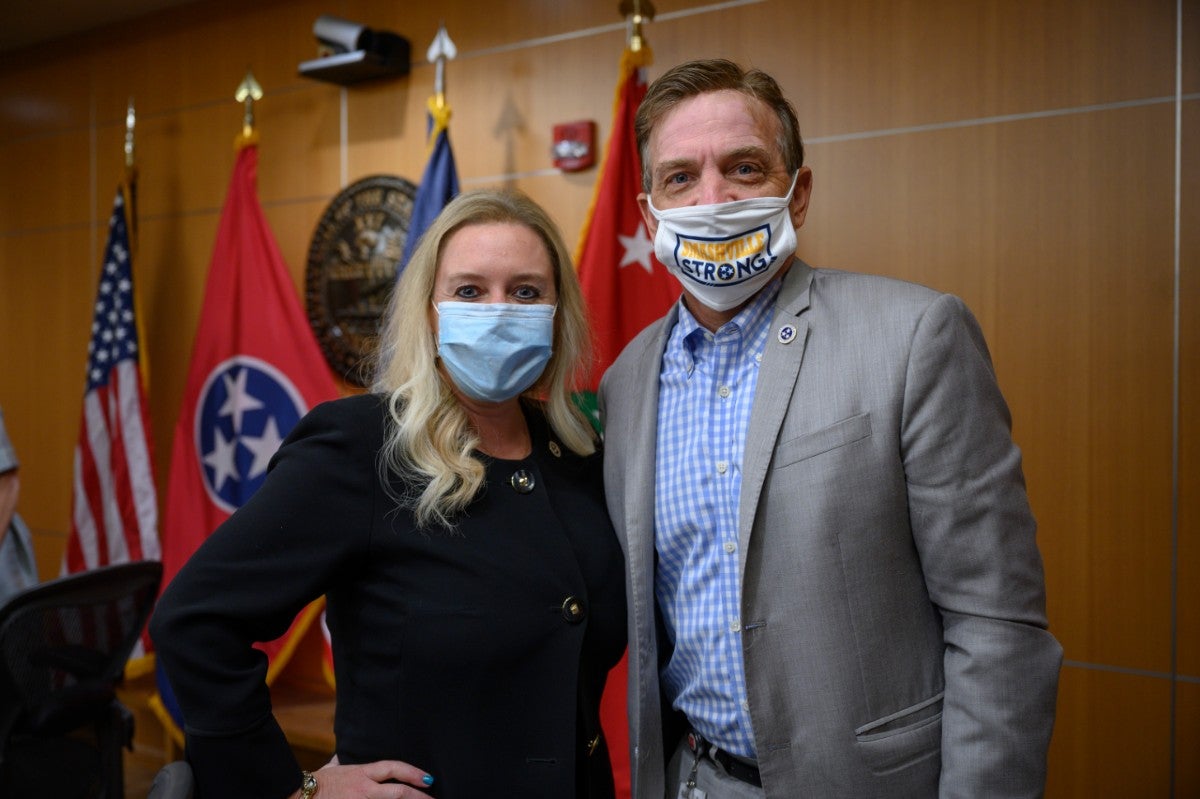 When Dr. Lisa Piercey ('98) and Mark Ezell ('82) assumed their respective roles as Commissioner of Health and Commissioner of Tourism in Gov. Bill Lee's administration in January 2019 neither could have predicted that they would be leading the state's response to a global pandemic and its economic devastation just over a year later.
Piercey has played a key role in Tennessee's response to the global COVID-19 pandemic since the state's first positive case was confirmed on March 5 and has worked tirelessly, around-the-clock in the trenches with her team in the Department of Health since that time.
"I've asked myself the question of, 'Why me, why now?' a thousand times, and without fail, my answer always comes around to one of incredible blessing and privilege," says Piercey. "The heavy responsibility is also sobering and humbling, especially knowing our decisions impact so many families, including my own. Every day brings exhilaration, frustration, fascination and exhaustion, so it demands a leadership approach that centers around flexibility, transparency and grace."
Ezell, was appointed in April to lead Tennessee's Economic Recovery Group, which developed the Tennessee Pledge, a multistage guideline for businesses in Tennessee to reopen just four weeks after a statewide stay-at-home mandate was issued by the governor on April 2. Thirty community and business leaders were gathered to develop the reopening plan.
"We are always re-evaluating. One thing my grandfather (who established Nashville's long-time business Purity Dairies) said, 'There is always a better way. Try to find it every day,'" said Ezell, who worked at Purity for more than 30 years. 
"(The Economic Recovery Group) still meets six days a week with the governor to pursue how we can do the right thing every day," Ezell said in August. "That is Biblical—to try and do the right thing. So we got a goal, got everyone's input, then got everyone in the boat together."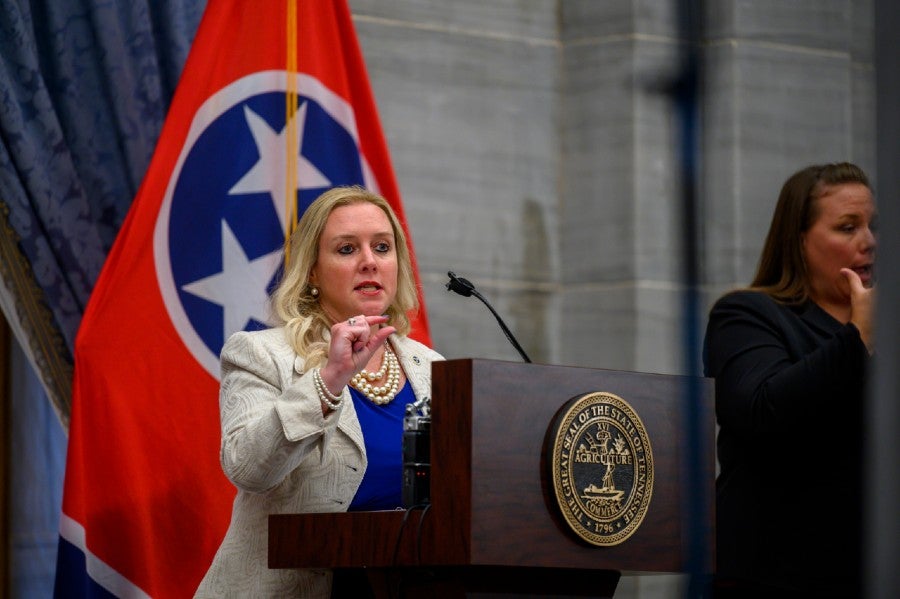 Lisa Piercey, Commissioner of Health
From the time Piercey was a child, she has been intrigued by science and has felt a calling to serve others. Those passions led the West Tennessee native to medical school and a career in health care.
"I have always enjoyed STEM-based learning, and the human body simply intrigues me. When that intellectual pursuit is applied to the spiritual and emotional desire to serve my fellow man, it doesn't feel like work at all," she said.
Lipscomb University was the first stop on Piercey's path to pursuing her career passion. 
"My time at Lipscomb exposed me to a diverse array of thoughtful and accomplished mentors and friends, who exemplified how to navigate worldly problems with a Christ-centered approach," says Piercey. 
She says she particularly remembers the positive influences of Kent Clinger, professor of chemistry; Walt Leaver, vice president of university relations; and the late Trish Hodgson-Carruth, longtime coach and professor. Piercey received a Bachelor of Science degree in chemistry at Lipscomb before heading to East Tennessee State University Quillen College of Medicine for medical school and pediatrics residency training.
Piercey began her health care career as a pediatrician at the Jackson Clinic in Jackson, Tennessee. Following that, Piercey spent a decade in health systems operations, most recently as executive vice president of West Tennessee Healthcare, a public, not-for-profit health system with more than 7,000 employees servicing 22 counties. 
Her executive responsibilities included oversight of five rural acute care hospitals, two inpatient rehabilitation hospitals, a behavioral health hospital and eight community mental health centers and the system's population health initiatives. Prior to this role, she served as vice president of physician services, managing the 17 clinics and approximately 90 providers of the West Tennessee Medical Group.
Every day ... demands a leadership approach that centers around flexibility, transparency and grace. — Lisa Piercey
Piercey is certified by the American Board of Pediatrics in both General Pediatrics and in the specialty field of Child Abuse Pediatrics. Piercey also holds a Master of Business Administration degree from Bethel University. Prior to her current appointment, she was appointed by then Gov. Bill Haslam in 2017 to the State of Tennessee Healthcare Facilities Licensing Board. 
Piercey says the opportunity to serve the state of Tennessee as commissioner of health was an unexpected honor.
"Well, it was certainly something I never expected," admits Piercey. "However, during the years I was managing several rural hospitals, it quickly became evident that, in today's health care climate, successful administrators need to understand and engage in public policy and the legislative process. The exposure within that arena positioned me to engage with Gov. Lee during his transition into office, and we found commonality in our faith-based, practical approach to ensuring access to high quality and affordable health care to all Tennesseans."
Serving alongside Piercey in the Tennessee Department of Health are three fellow Lipscomb alumni: Brent Culberson ('05, MA '10), is assistant commissioner for health licensure; Valerie Oliver ('82) is assistant commissioner for administrative services; and John Webb ('01) serves as deputy commissioner for operations.
"There is undoubtedly a special kinship with fellow Lipscomb alums. It is both refreshing and comforting to serve with individuals who share similar values and approach issues with the priorities of humility and kindness," says Piercey.
Piercey and her husband, David, an industrial safety specialist, are West Tennessee natives and have four children. This fall, her oldest child is a freshman at Lipscomb University.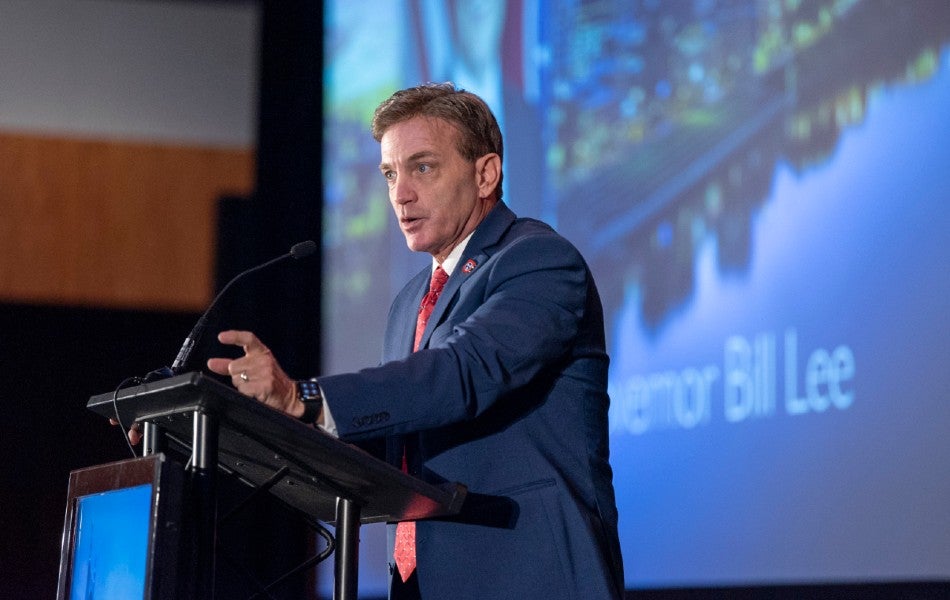 Mark Ezell, Commissioner of Tourism
Ezell is a part of an iconic Nashville business family that not only had Nashvillians drinking local milk for generations, but also got the nation hooked on milk with the famous "Got milk?" ad campaign.
Ezell, a graduate of Lipscomb Academy as well as the university, was a brand development executive with Purity Dairies (now owned by Dean Foods Company), the company his family established in 1946, until March 2018. He was the last member of the Ezell Family to work with the company. In January 2019, he brought that experience to the state tourism office.
Ezell is a nationally recognized brand developer who coordinated the creation and implementation of the iconic "Milk Mustache – Got Milk?" campaign. His 35 years at Purity Dairies, including time as president and general manager, helped the former family-owned company receive recognition as a "Brands That Built Nashville" winner from the Nashville American Advertising Federation.
"My grandfather said, 'In order to have a great brand, you have to have great products.' So as a brander, it was awesome to see that Tennessee has some amazing tourist assets," said Ezell. 
The effects of the pandemic have shown that Tennessee enjoys a "terrific diversity of assets," said Ezell.  "People can't go to Bridgestone Arena (in Nashville), but they can travel down to a state park or enjoy the state's small towns or visit so many of the museums that are open safely. We are seeing record attendance at many of our state parks."
When Ezell was called on to lead the Economic Recovery Group in April, hotel revenues for the state were down 84%, he said. A group including seven state commissioners and 15 representatives from industries such as grocery, banking and hospitality, representing in total about 140,000 or more jobs in the state, came together to work out how to reopen the economy "with safety as our No. 1 priority," Ezell said.
Finding the best and right thing to do ... is something that requires a lot of prayer and consultation from subject matter experts. — Mark Ezell
"The pandemic has brought so many challenges in decision-making to the state and local leaders," Ezell said. "Finding the best and right thing to do, regardless of what public opinion would be, is something that requires a lot of prayer and consultation from subject matter experts.
"I was blessed to have a lot of people in my life who taught me to pursue the right thing no matter what," including Lipscomb professors and mentors, he said. "To face these unexpected challenges, we must be able to move back to what we have been taught as Christians, be willing to listen and learn from others and be willing to adjust and head back toward the right decision and what is best for others."
Ezell has spearheaded philanthropic efforts to create the Purity Foundation and other Middle Tennessee efforts like the successful Moosic City Dairy Dash. He is a current member of the Lipscomb College of Business Dean's Board. 
He is also a board member of Leadership Nashville and a recipient of the Nashville Chamber of Commerce Executive of the Year Award, the Presidential Volunteer Service Award from President George W. Bush, the Second Harvest Food Bank's Hunger Hope Award and the Youth Encouragement Services Distinguished Service Award.
In addition to generations of the Ezell family attending Lipscomb, including some of Mark Ezell's own children, Purity and the Ezell family have donated millions of dollars to Lipscomb, Nashville organizations and nonprofit groups around the globe.