Keeping her eye on the horizon
Alumna Traci Holton ensures clear skies for Nashville's international airport as chief engineer of $2.8 billion in expansion improvements through 2028.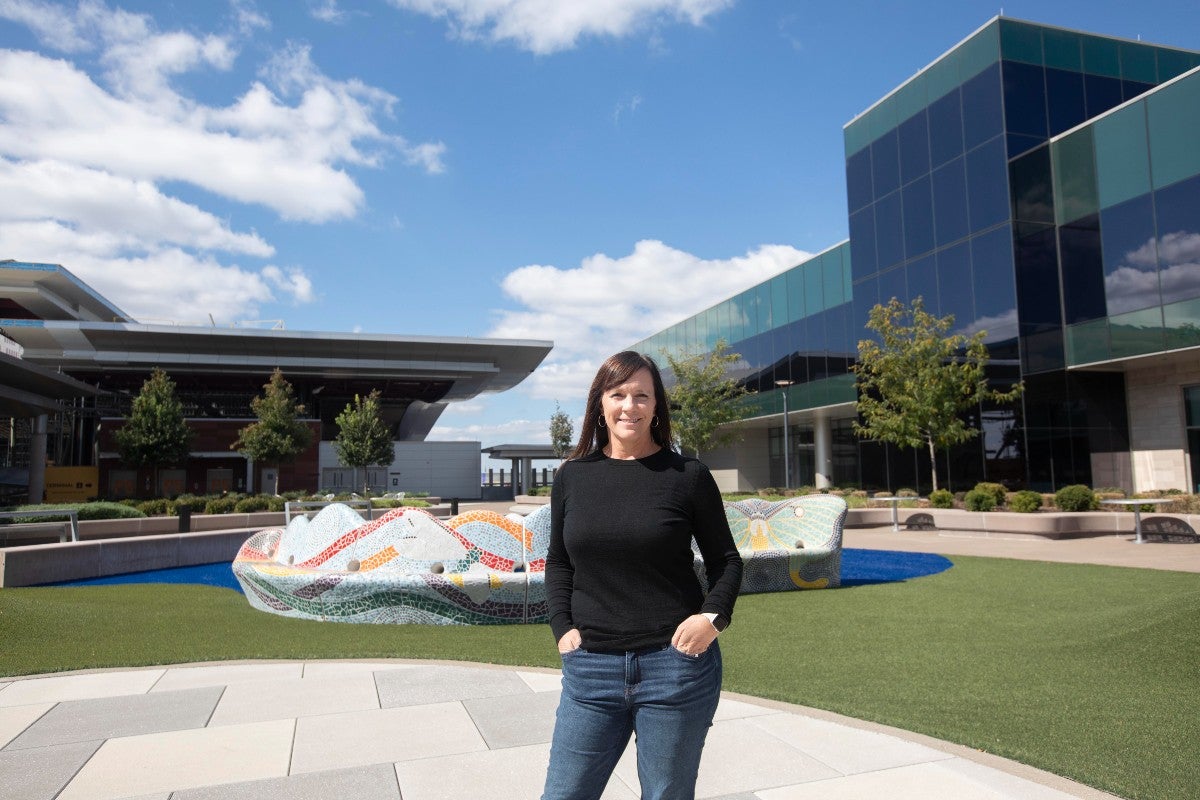 — Published January 2023
Like all Nashvillians, Traci Holton (MS '15) has seen a lot of growth in the city since she moved to the thriving metropolis from Kentucky 22 years ago. 
Unlike most Nashvillians, though, she is playing a pivotal role in that growth, today and into the future, as the chief engineer for the Nashville International Airport's (BNA®) $1.4 billion BNA® Vision expansion plan, ending in 2023, and the new $1.4 billion BNA® Horizon expansion plan, expected to be complete in 2028.
From signage to a pet park, from trusses large enough to span the new expanded "great hall" to airfield pavement reconstruction, Holton oversees not only the construction of the new facility, but also the engineering work needed to keep one of the nation's busiest airports, with more than 18.4 million passengers passing through in 2021, operating without a hitch.
Holton, who earned her master's degree in engineering management from Lipscomb, has been working at BNA since 2003 and now holds the title of vice president of engineering and deputy chief operating officer.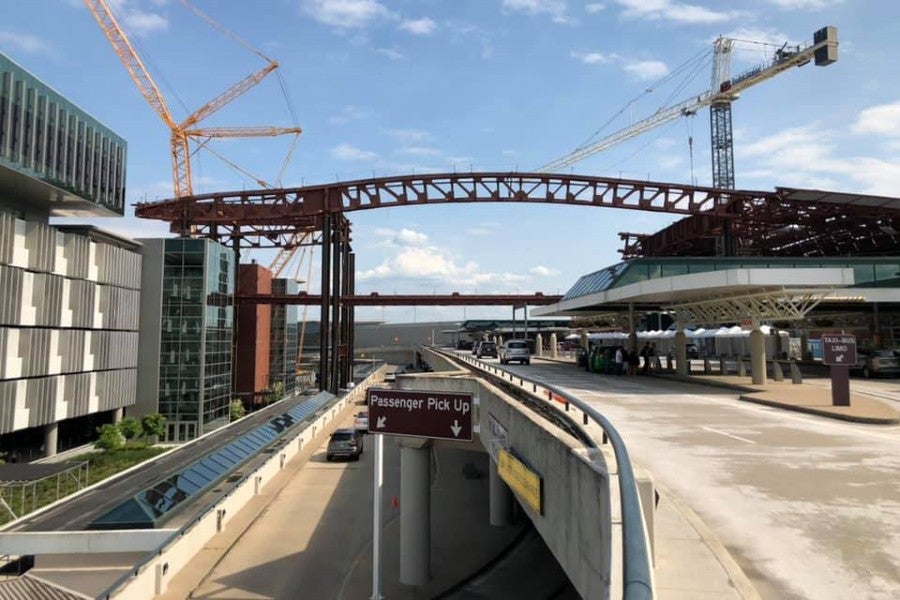 BNA was one of the fastest-growing airports in the nation pre-Covid, with rare double-digit percentage growth, said Holton. In 2022, it was already back to pre-pandemic growth levels, and by 2040 is expected to serve more than 30 million passengers. This past year, BNA was ranked the No. 10 best large airport in North America by the J.D. Power North American Airport Satisfaction Survey, even before the new terminal opened in January. 
"The airport is a direct reflection of the growth of Nashville. It has grown as fast as the city, which has created a lot of exciting projects for me and my group," she said.
By fall 2023, projects completed under the Vision plan will include a larger central terminal, a state-of-the-art international arrivals facility, a nine-story on-airport hotel, a fourth major concourse, a variety of new dining (many of the most iconic eateries through the city), retail and service amenities and a massive terminal parking garage complex.
"Some of the projects we are doing now, no other airport has ever even done. Especially with the timing sequence and the schedules. Today's projects are the most exciting work I have ever done," Holton said.
Many airports undergo major reconstruction, but in Nashville, the engineers created a way to split the existing terminal into two, so that operations could continue while construction goes on all around it. The airport began operating with one completely rebuilt terminal again in January.
The biggest logistics project the engineers had to carry out involved setting large spine trusses weighing 330,000 pounds across the roadways in front of the terminal. In May 2021, the airport shut down access to the arrivals and departures level for six nights meaning passengers had to be rerouted to the two terminal garages for both passenger drop-off and pick-up while the trusses were set into place. It took months of planning, Holton said.
"That is the kind of stuff that I don't think any other airport is doing. Dividing the terminal in two and building a new roof over the existing building and roadways," Holton said.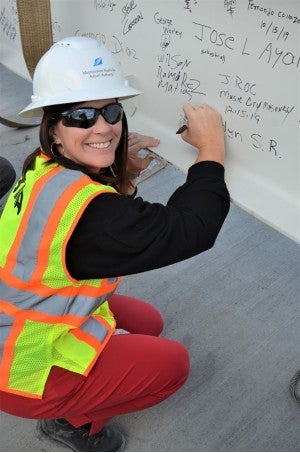 Holton got into engineering because her machinist father suggested it. She earned her bachelor's in engineering from Tennessee Technological University in 1997, but always knew she wanted to earn a master's degree. As she climbed the management ladder, she took on more responsibilities such as managing people, negotiating contracts and working with consultants.
"When I became chief engineer, I became responsible for the day-to-day operations, the planning side and strategies. I was heavily involved in the procurement of the vendors, the design and the money side of it."
Any airport is a complex environment for travelers, especially for those who haven't been there before, Holton said. As an airport engineer, you must think through the best design at each and every decision point a passenger must make as they traverse the facility as well as consider changes in society and demographics.
Her team evaluates signage constantly, especially in the midst of an expansion. On the roadways, they consider how much time a road design allows for a traveler to make a decision while driving. What new amenities are needed to accommodate new technologies, such as where to locate a cell phone waiting lot or how to fit ride-share pick-ups within existing infrastructure?
Do walking distances need to change or be supplemented with moving walkways as America's population ages? The Vision plan has resulted in 55 new concessions and new performance venues to help alleviate passenger stress, but each new retail outlet and restaurant means new water and electrical demands on the system. Even the pandemic brought engineering changes, with touchless buttons in elevators and new cleaning procedures for handrails.

"I had no idea I would end up in airport engineering. I was recruited to the airport because of my roadway background and the need for roadway improvement," Holton said. "Once you get the airport bug, though, you never want to leave. It is really exciting and dynamic to be a part of, and you are contributing to your community in this job."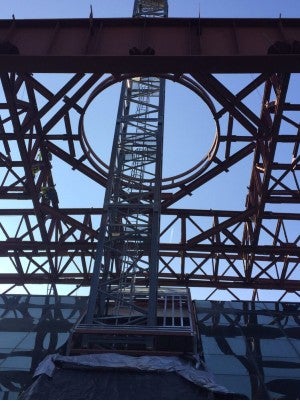 Holton started at the airport as a project manager in the design group. She oversaw design and construction of the consolidated rental car facility. The $70 million facility was one of the largest projects the airport had taken on at the time. Throughout her career, she was promoted up the ranks: to manager of design, then director of design, chief engineer, assistant vice president and then vice president and deputy chief operating officer. In 2020, Holton was named the Government Engineer of the Year by the Tennessee Society of Professional Engineers' Nashville Chapter.
The new Horizon expansion program, which began in August, includes concourse A and D improvements (including some of those needed moving walkways), a new air freight building, baggage handling system improvements and terminal roadway improvements (including a new interchange for Donelson Pike and I-40). 
When it comes to her management style, Holton says she is "pretty hands on" and tries to use teaching moments to help people grow. "I lead by example. I work hard and work a lot of hours, which is a good influence on people," she said. 
When BNA closed its roadway system to bring in the spine trusses, 60 people volunteered for the six nights to guide passengers through the alternate route to the terminal, and Holton was one of them.

"I pushed wheelchairs and carried people's luggage. We worked all day until 1 a.m. I explained to passengers as we went along on why we were doing all this," she said.

With Nashville's prominence and growth continuing to rise, Holton has every intention of making sure BNA grows right along with it, maintaining its status as a world-class transit hub no matter what comes over the horizon.