Johnson named 2020 NBJ Woman of Influence
Natasha Johnson is leading the way through her impact in the classroom and on the community.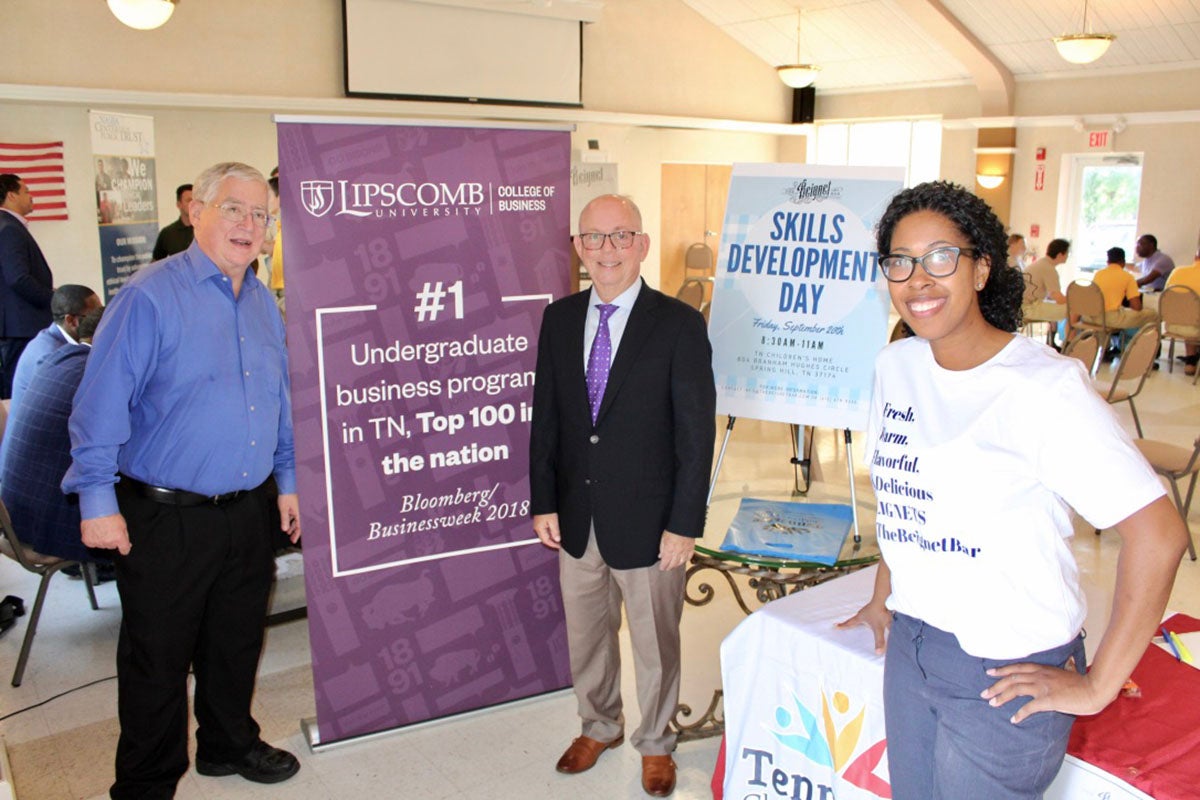 Lipscomb Management Instructor Natasha Johnson loves students, teaching and developing new businesses.
She has brought all three together in the past year to model outstanding leadership and service to Lipscomb students. For her efforts, she was honored as a Rising Star by the Nashville Black Chamber of Commerce in 2019 and as a Woman of Influence by the Nashville Business Journal in 2020.
The Rising Star Award recognizes Johnson's leadership initiatives, service to the community and ongoing commitment to excellence in the academic and business arenas, especially her collaboration to coordinate a Skills Development Day at the Tennessee Children's Home, sponsored by the students and faculty of the business college and Johnson's own entrepreneurial venture, The Beignet Bar.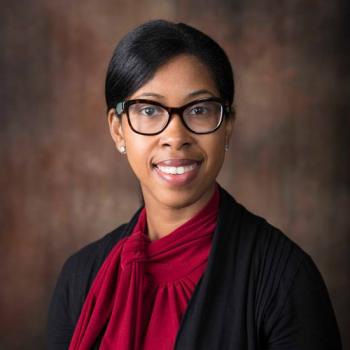 The Nashville Business Journal recognized Johnson in the Trailblazer category which "honors women who have led the way for others to follow in their footsteps."
"The Women of Influence Awards honors the region's most influential business women who not only work hard, but love what they do," said an NBJ press release. "They are women from every industry and profession — women who have made a difference in their communities, blazed a trail for the rest of us and are leaving a mark on Nashville." 
"I am honored to be recognized among such a dynamic group of extraordinary women," said Johnson. "To me, being named a trailblazer as a result of dreaming big, setting goals and simultaneously achieving them is a gentle reminder that I can do ALL things through Christ. I am grateful for this recognition and the opportunity to inspire other women while continuing to make a difference in the community and in the world. May God receive the glory."
Natasha has a positive impact on everyone around her. — Ray Eldridge, College of Business Dean
Johnson has been on full-time Lipscomb faculty for more than four years. Prior to that, she was on the team at HCA Healthcare. She also has more than 10 years of human resources and business experience spanning across the health care, public utilities and entertainment industries.
Johnson is also owner of The Beignet Bar, a business she envisioned after searching for a good beignet (the fried doughnuts New Orleans is well known for) in Nashville.
"I could not find a great beignet in Nashville to save my life," said Johnson. From a family of entrepreneurs, she used her skills as the founder of a public relations firm, DEN PR and a human resources practitioner, to start her own venture. 
She experimented with different recipes, using baking tricks her grandmother had taught her, to create beignets to her liking. The Beignet Bar menu offers the treats in both traditional and innovative flavors with Southern influences like pecan and blueberry basil. 
Women of Influence have made a difference in their communities, blazed a trail for the rest of us and are leaving a mark on Nashville. — Nashville Business Journal
Now a doctoral candidate, she continues to connect the dots of theory and academic thought, and The Beignet Bar is just another layer of experience to share with her students. Johnson said she will often give students examples and assignments she feels reflect real-world conditions; and of course, she always brings beignets.
"Students love them," Johnson said. "I would love it if one day people can get beignets anywhere, anytime. Even more than that, my goal is to positively impact the amount of awareness and support for widows and orphans."
The Skills Development Day at the Tennessee Children's Home that she coordinated in September 2019 provided 35 displaced young men instruction on personal and professional skills including graphic design, supply chain management, health and fitness, personal and professional grooming, and money management.
With help from the students and faculty in the College of Business, Johnson coordinated a day with speakers from local companies including Northwestern Mutual and Johnson Capital LLC, free haircuts from Experience This Barbershop and The Future Classic Barbershop and new shirts and ties for the young participants.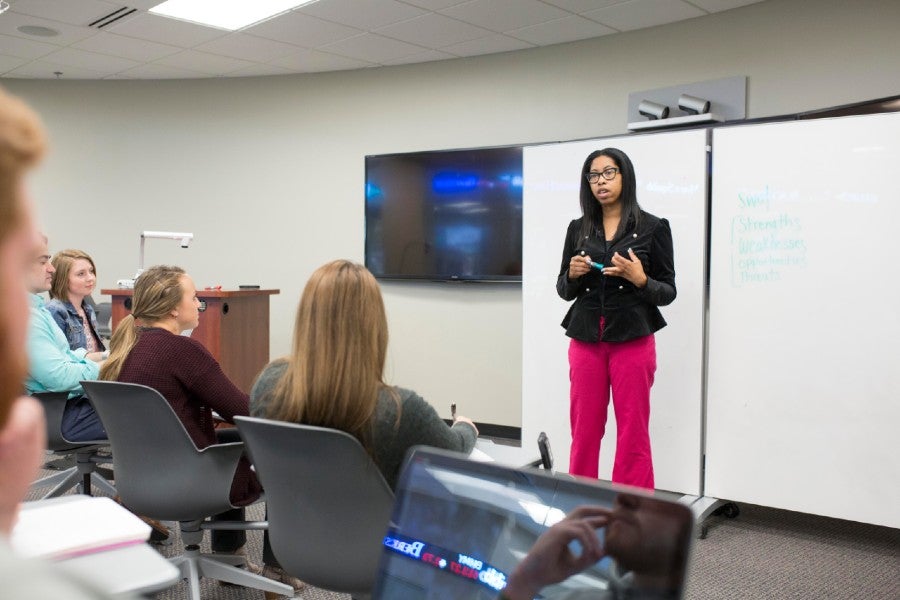 "We are honored in the College of Business to work with Natasha Johnson — a mentor, teacher, and entrepreneur who is making a difference at Lipscomb and in our community," said Ray Eldridge, dean of Lipscomb's College of Business. "Natasha's 2020 Women of Influence Award is a great recognition. She is well respected in the community and has initiated service projects that have enabled business faculty, staff and students to serve those most in need in our community. Natasha has a positive impact on everyone around her and we celebrate with her this tremendous honor."
Johnson has led Lipscomb's College of Business efforts to host the annual Black Professional Organizations' Fair for the past four years, which connects over 20 prominent organizations to all university students. She also coordinated another signature initiative for the college with the Hero of Business event honoring Jeff Clanagan, CEO and president of Codeblack Films, who is a Black Enterprise Magazine Top 50 Hollywood Power Broker and Ebony Magazine's Power 150.
Johnson holds bachelor's degrees in Business Administration and Spanish from Tennessee State University, an MBA from Lipscomb University and is a Doctor of Business Administration candidate at Jacksonville University.
In addition to Johnson, past Women of Influence honorees from Lipscomb include: 
Charla Long, former management faculty and dean of the College of Professional Studies, 2007;
Susan Galbreath, senior vice president for strategy and professor of accounting and former interim dean of the College of Business, 2008; 
Linda Schacht, leader-in-residence in the College of Leadership & Public Service, 2012; 
Lisa Shacklett, former assistant dean of marketing and enrollment in the College of Business, 2014; 
Susan Morley, former assistant professor in the College of Pharmacy & Health Sciences, 2016; 
Aerial Ellis, an instructor of communication in the College of Liberal Arts & Sciences, 2017; and 
Allison Duke, senior associate dean and professor of management in the College of Business, 2018.