A Haven for the Homeless
Nashville's needy can take refuge in nature thanks to the work of environmental sciences graduate Cecelie Eiler.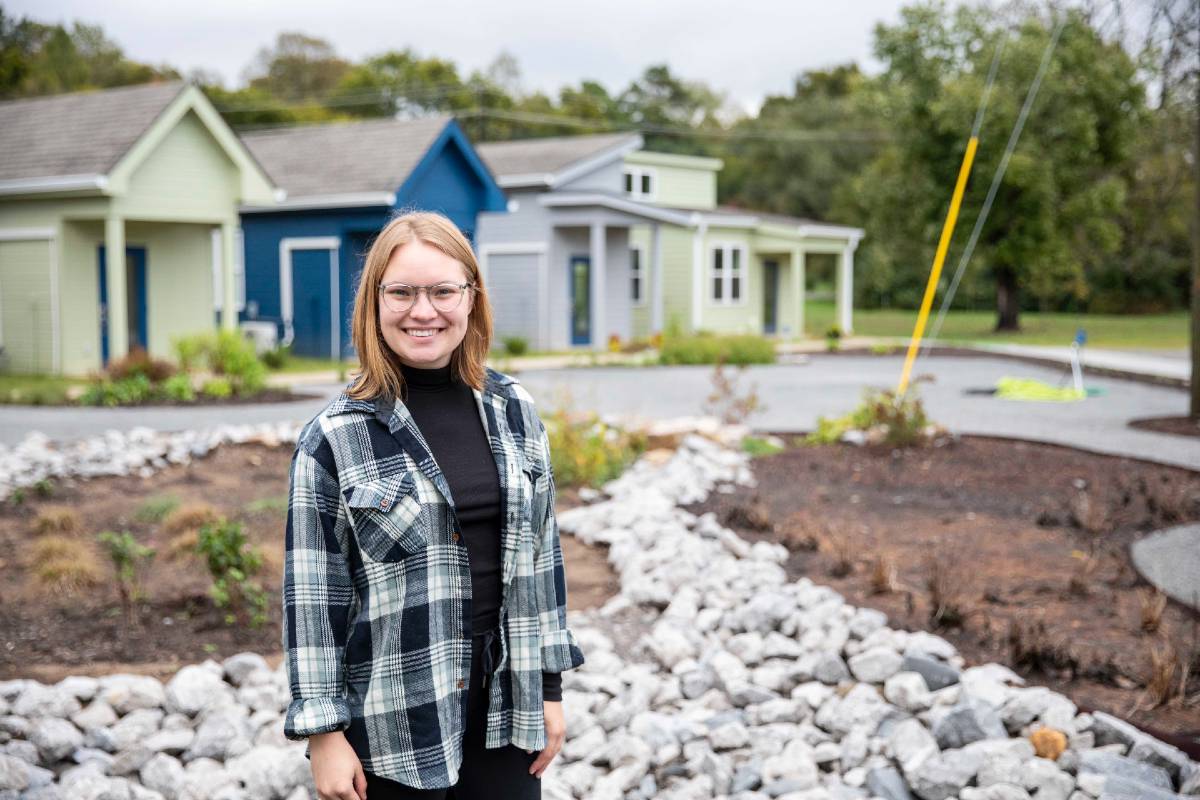 Cecelie Eiler ('21) is a healer. Not in the way one would normally think, in a hospital or a doctor's office. Eiler brings healing through dirt and vegetables, through quiet mindfulness and flavorful herbs. Her title at The Village at Glencliff is administrative data analyst, but her passion in life is harvesting the powers of the environment to "serve the greater good."
Eiler, originally from Freeport, Illinois, discovered her love of earth sciences in community college. She refined and built on that love with her Bachelor of Science in environmental and sustainability sciences at Lipscomb. 
Then, while still a student, she used her passion to bring her vision of a healing garden at a local tiny home village for the medically vulnerable homeless into reality. And now, as an alumna and an employee at the Village of Glencliff, she has brought together volunteers from throughout Nashville to help the garden bloom and grow, bringing an extra level of healing to the village residents and whole foods to Nashvillians. 
The Village at Glencliff is located on the campus of Glencliff United Methodist Church in Nashville. It consists of 22 micro homes and its mission is to provide a hospitable medical respite and a bridge housing community for medically vulnerable people experiencing homelessness. 
Eiler was introduced to the community in the fall of 2019 when Emily Stutzman, assistant professor of sustainable practice and director of the environmental and sustainability studies program, took her class to visit the site. The class met with Rev. Ingrid McIntyre, founder of The Village at Glencliff. Eiler and McIntyre's relationship grew over the next year, until in the spring of 2020, when McIntyre mentioned the idea of establishing a community garden for the residents of the village as an internship role for Eiler.
At Stutzman's urging, Eiler took on the project for her senior capstone project beginning in August 2020. Eiler worked with another intern at the village, Will Compton, a Master of Divinity candidate at Vanderbilt University, to establish a master plan.
McIntyre connected them with Will Hargrove at Farmer Morgan, a design firm specializing in the creation of memorable places, who helped develop a conceptual layout, a master plan and a planting plan. Compton established a partnership for the garden with Nashville Foodscapes, a design firm specializing in landscaping used to grow food.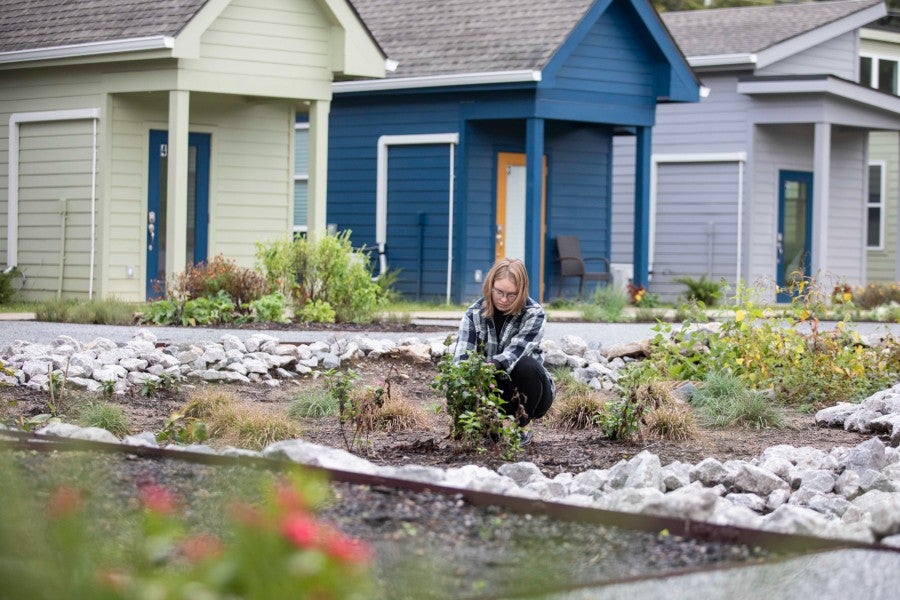 "After we solidified these two partnerships, we decided it was time to give the garden a name. Since the beginning of the planning process, Will (Compton) and I had used the word 'haven' as a descriptor for the garden, and when it came time to give it a name it only felt natural to name it The Haven," says Eiler.
The master plan for The Haven included ADA-accessible raised beds (for residents), an herb garden, a rain garden, ground-level raised beds (for church members, community members and residents), communal spaces and a remembrance garden. The garden encompasses greenery from flowering to food producing plants. 
The goal is to provide a space for residents to rest, reflect and reap the physical, emotional, spiritual benefits of being one with the Earth. "Our hope is that The Haven becomes not only a community garden, but also a resting place and a site of healing for our most vulnerable friends," Eiler said in May 2021, just before her graduation. 
 
"Cecelie and the team working on The Haven have created a sustainable community garden that will far outlast their project timeline," McIntyre predicted in May. "It will provide a space that sustains not only the residents here, but also helps create community through their outreach efforts in the neighborhood. Its very presence is a sign of resistance, resilience and restoration."
After joining The Village at Glencliff as a full-time employee, Eiler was able to make sure those predictions came true. Volunteers who became familiar with the project through FoodScapes and coordinated by Eiler have continued to work on the garden every other Saturday, Eiler said.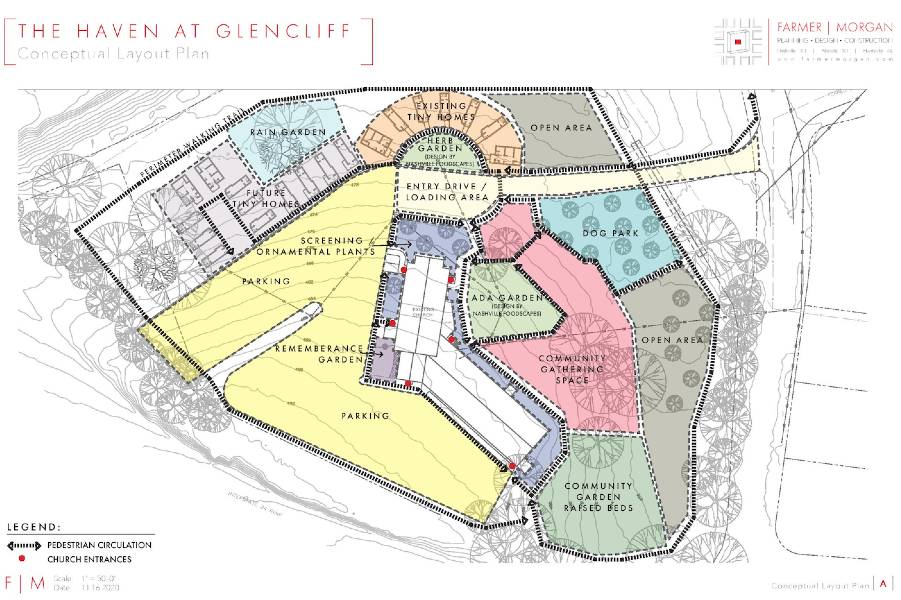 By this past fall, a courtyard section with berry bushes and fruit trees had been added along with additional plantings to make the garden more lush. Raised beds with all food-producing plants have been planted, and volunteers who care for the garden and members of the Methodist church have been taking home plenty of tomatoes, squash and peppers. Many of the plants and herbs can be used medicinally by the residents and volunteers, Eiler said.
"I am passionate about this work because it is the work of humanity. The opportunity to coordinate a safe space, a haven, for residents who are experiencing homelessness, has allowed me to serve in ways that go beyond my physical being," admits Eiler. 
"This project is so beautiful because it's founded in the healing power of nature, while it simultaneously provides a physical benefit to those who will reap the harvest and to the greater ecology of the space. My biggest dream is to work in some capacity that directly impacts others, and this work does exactly that."
While the bulk of the garden is now in place, Eiler plans to add the ADA-accessible raised beds (hip height growing beds that allow wheelchairs to roll in under them) and has hopes of adding a micro-food forest (an area of planting that provides food at seven height layers from the tops of the trees to below the ground), something she learned about while studying at Lipscomb.
"We are going to experiment and see if it is possible in such a small plot," she said. "It is an indigenous practice and we hope to honor those who lived here before us."

The goals for the garden are a mix of both mindfulness and food production, said Eiler. The final tiny homes in The Village were completed in summer 2021, and they surround the garden in a semicircle. Eventually, the garden will stretch right up to the porch of each house, so it can be a place for reflection either on benches in the garden or even from inside the home.

"The story of this garden is a story about justice, love, compassion and growth," Eiler said. "Oftentimes we get distracted by the brightness of shiny new projects, but I think it's important for us to look beneath that. I think it's important to dig in the dirt, get our hands dirty, and pay attention to those who rarely get looked in the eye. If we are going to speak about walking as Jesus walked, then I think we ought to start here."