Church of Christ-based ministry brings restoration with the help of two Lipscomb alums
Thomas Snow and Reisha Kidd draw on life struggles and college experiences to benefit those served by Tennessee Prison Outreach Ministry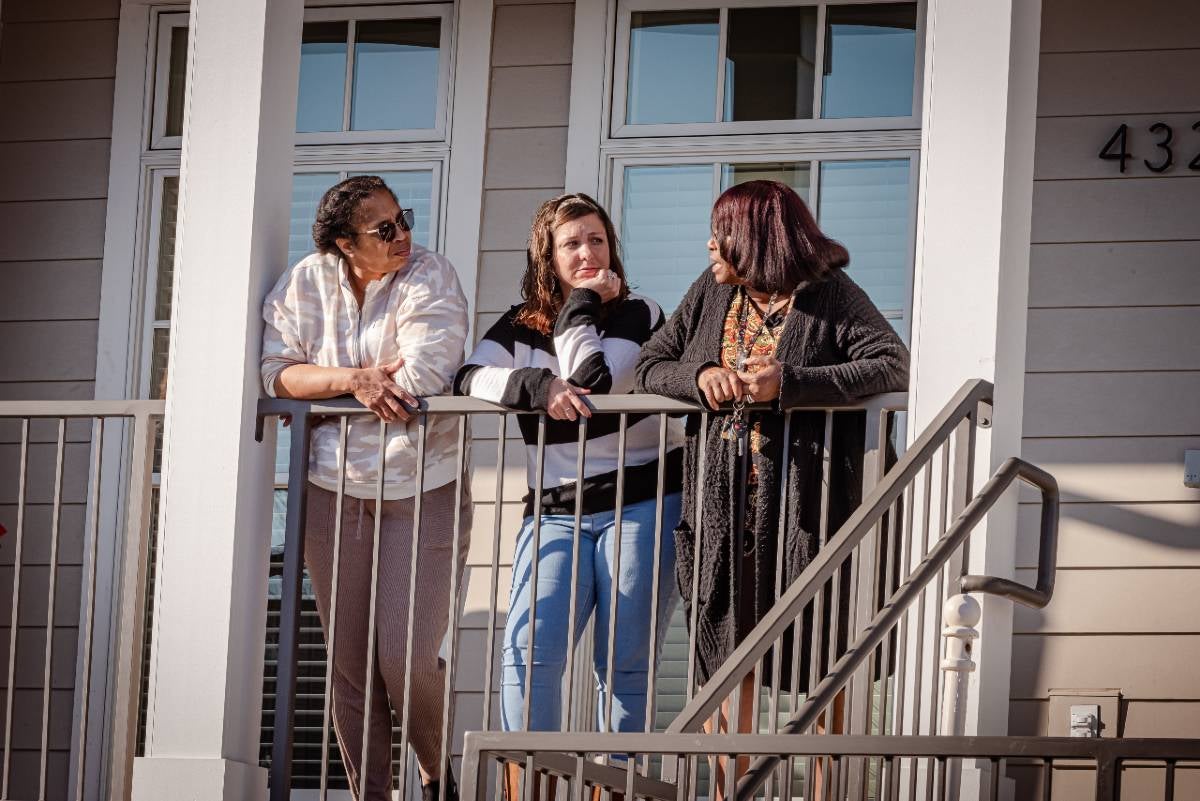 Posted Aug. 14, 2023
By Courtney Grable and Janel Shoun-Smith
Founded in 1963 by two Madison Church of Christ members, Harold and Helen Cox, the Tennessee Prison Outreach Ministry (TPOM) in Nashville has strong ties to both the Church of Christ and Lipscomb University. Currently two Lipscomb alumni work with the ministry to bring restoration, reconciliation and recovery to the formerly incarcerated.
Executive director Thomas Snow (MA '93, MDiv '03) and community outreach and youth coordinator Reisha Kidd (BSW '15) were both drawn to the ministry due to domestic struggles in their own lives and both use the skills learned at Lipscomb to strengthen the lives of others each day.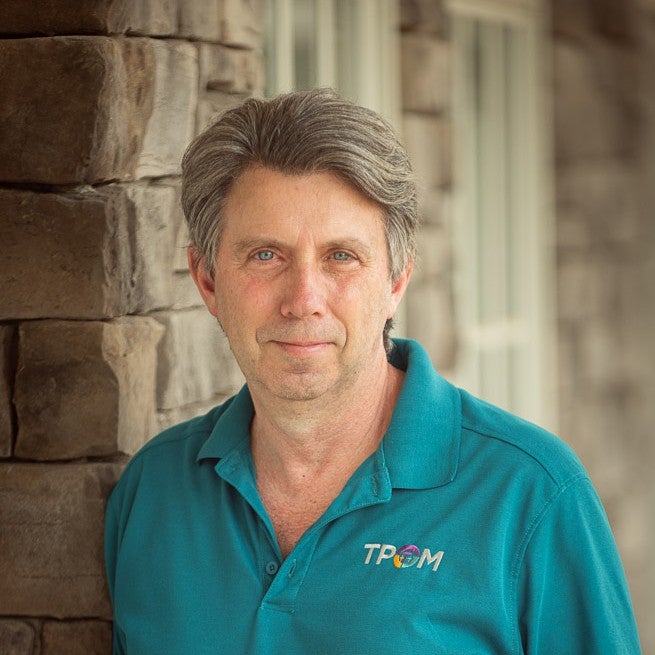 In the state of Tennessee, 46% of people who come out of prison return within three years. That's why in 1963, the Coxes began volunteering in the Nashville jail and later founded TPOM, a nonprofit that provides housing and wraparound services for people who are leaving incarceration. 
TPOM's holistic approach provides opportunities such as Christian-based life skill classes, mentoring, job training and licensed counseling programs, designed to provide participants with practical economic and financial literacy to help them start a new life after prison. As a result, less than 10% of graduates from TPOM's program return to prison.
Snow, formerly the minister of Trinity Lane Church of Christ, was inspired to work with TPOM from his own personal experiences.
"My father was an alcoholic when I was growing up and it caused a lot of conflict and family issues," says Snow. "I saw firsthand how people's lives have been impacted by addiction… Eighty-five percent of people who are incarcerated have had an addiction in their history."
After serving as minister of Trinity Lane for 15 years, Snow assumed the role of executive director of TPOM in 2013, leading the organization's transition to a 501(c)3 non profit. Today TPOM is a collaborative effort of more than 500 volunteers and team members, with a full-service re-entry center and two residential transitional homes for both men and women in Nashville and a transitional home for men in Memphis in partnership with HopeWorks, a Memphis nonprofit.
During his Masters of Divinity program, Snow took John Mark Hicks' course titled Historical Theology and Church History. "His class helped me think through some long-held beliefs I had," said Snow.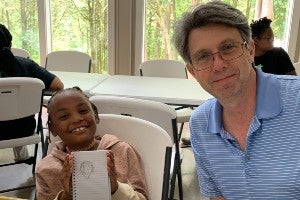 "My time at Lipscomb deepened my faith and helped me think about what I'm called to do from a theological perspective," says Snow. "I learned how to live out the gospel."
After graduation, the concept of a meaningful, fulfilling life took on another meaning for Kidd as she moved to Georgia and found herself in a toxic marriage resulting in a brief period of homelessness and a long custody battle for her daughter, ultimately resulting in loss of primary custody.
"It all came down to survival mode. In 2019, I actually became homeless and lost custody of my daughter for a short period of time," says Kidd. "The only thing I knew was to get back home to my family and community and build from there. I fled and came here."
During that time, one of her biggest supporters was Dr. Cayce Watson, associate professor, who encouraged Kidd to keep moving forward.
Also driven by personal experience, Mt. Juliet-native Kidd, brings hope and encouragement to people who are incarcerated in the prison system, through the community engagement and youth programs at TPOM. 
For Kidd, the seed for helping people in the prison system was planted when she was still a student at Lipscomb. During her undergraduate career, she participated in the LIFE program, the Lipscomb Initiative For Education program, that sends traditional students into the local women's prison to study side-by-side with the residents. Kidd took a class led by professor Jackie Halstead, former associate director of the Institute for Christian Spirituality and associate professor of spiritual formation and now adjunct faculty at Lipscomb. 
"When I came to Lipscomb, I was not sure which population I wanted to serve, but I definitely knew I wanted to be in social work," remarks Kidd. "During the LIFE program, I thought it was an out-of-the-box type of course, so I wanted to take it. As a result, I started becoming more and more interested in the criminal justice population."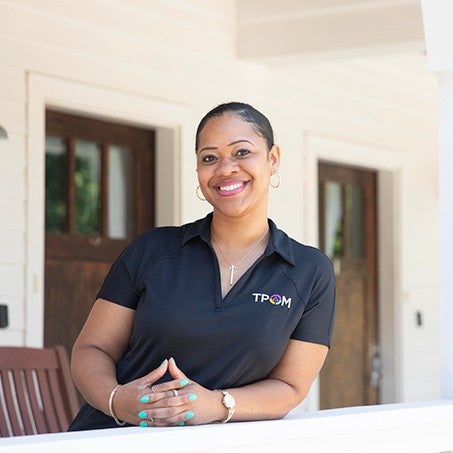 Her time in the LIFE program inspired her to pursue an internship with both Murrell School, a Nashville public school for elementary-aged children who have gone through trauma and neglect resulting in behavioral issues, and Project Return, an organization that helps individuals coming out of incarceration by providing them with resources and job skills. Kidd also interned in the Tennessee Department of Corrections (TDOC) for two years as a paid intern in the communications and re-entry department. 
"During my first summer with TDOC, I was given the task of reviewing and submitting information for inmates on death row," says Kidd. "While looking through the offender's information, in my mind I was thinking 'Oh my gosh! These people have committed horrible crimes and sins,' and I heard God say clear as day, 'my blood covers a multitude of sins.' At that moment, I knew  this was the population I wanted to serve. From there, I kept pursuing the degree in social work, focusing on the criminal justice sector."  
"I never knew I would go through domestic violence myself, but God showed me in 2019 I was more equipped  to relate to the population I wanted to serve" says Kidd. "Today, when I work with TPOM residents, there is a deeper connection because we share the journey of separation, bondage, doubt, shame and loss, but we're pressing on to restoration, freedom, hope, respect and reclamation. I get to encourage them through my story and say, you can start from the bottom; God is the Rock at the bottom, a sturdy foundation for you to rebuild; that's how I made it."
After returning to Nashville in 2019, when an opportunity at TPOM as a case manager and community outreach connector opened up, Kidd took the position.  
"I have weekly meetings with my ladies to make sure that they're on track for the four month's they're here with us. We help them get their identification, food stamps, medical services and mental health support. In some instances, we also speak with social workers to help set up visitations for parents of children."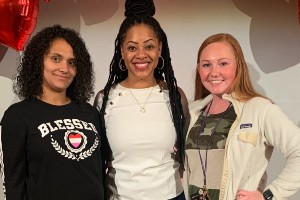 Just as her former college mentors, Watson, retired Dean Norma Burgess, communications manager Janel Smith (LA '89) and advancement communications director Rhonda Minton, provided support and encouragement during her time rebuilding her life in Nashville, now she strives to provide that support and encouragement to the formerly incarcerated.
Throughout her career leading up to her job at TPOM, Kidd became convinced that this population "is the ultimate story of redemption."
"It's hard work, but it's heart work," said Kidd. "What drives me every morning to come in, is I absolutely love this population. I see it as a massive miracle, to see the true hands and feet of Jesus in the world. That's what drives me to get up every day and serve the women and serve the ministry like I do." 
"Working with TPOM has helped me see where God wanted me to be," said Snow. "Instead of going to bring Jesus somewhere, we go to meet Him in the prison, because He is already there."