Bison basketball takes it to the hoop this season with new head coaches
Lipscomb University started a new chapter in Bison basketball lore when the university hired not one, but two, head basketball coaches.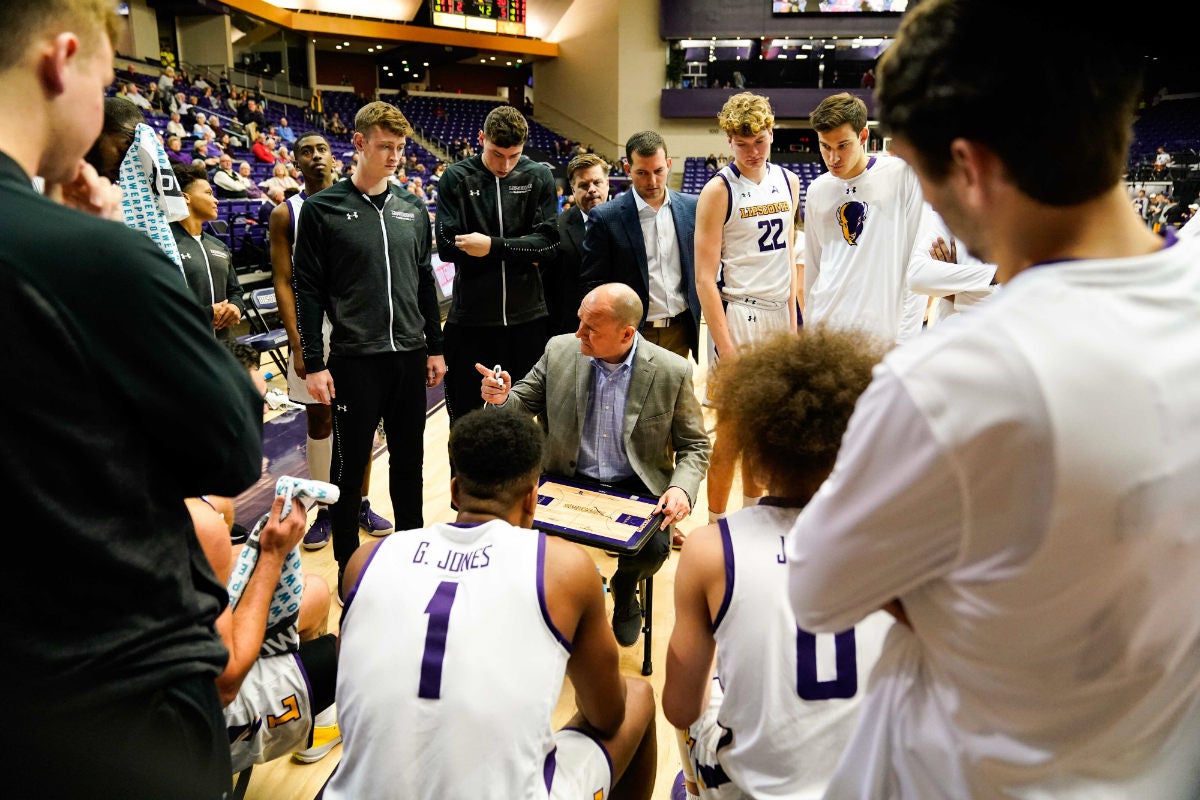 Editor's Note: The following is a reprint of a spring 2019 interview. The 2019-20 season was a rebuilding year for the Bisons, laying a foundation for great accomplishments in the future.
When the game is on the line, don't fear. Grab the ball. Take it to the hoop.
— — Basketball Rule #9 from "The Crossover" by Kwame Alexander
This past spring, Lipscomb University athletics took the ball to the hoop and started a new chapter in the annals of Lipscomb's rich basketball lore when the university hired not one, but two, head basketball coaches. 
On April 23, Lauren Sumski, former head coach at Rhodes College, was introduced to Bison Nation as the new head coach of the women's basketball program. The following day Lennie Acuff, former head coach at the University of Alabama-Huntsville, met Bison fans for the first time as the newly appointed head coach of the men's basketball program. Over the last year, both have been busy building coaching staffs, recruiting, learning the strengths of their teams, practicing and preparing for their debut on the Bison sidelines this past season. 
Lipscomb Now recently spent time with each new head coach to learn more about what to expect this season, their coaching philosophies and about their love of the game.
Lauren Sumski

Lauren Sumski, the fifth head coach in the history of the women's basketball program, is the first-ever female to lead the program. She comes to Lipscomb after serving as head coach for the Rhodes College women's basketball team where she compiled a 35-21 overall record in her first head coaching tenure.
Sumski graduated from Rhodes in 2014 with a bachelor's degree in biology with a concentration in pre-medicine, before earning her master's degree in education with a sports administration emphasis in 2016. A Memphis native, Sumski has experience both as a player and as a coach. Rated the 28th-best high school prospect in the nation by ESPNU Hoopsgurlz 100, Sumski played one season under the legendary Pat Summit in 2010-11.
She played in 19 games for the SEC champions and was named to the All-SEC Academic team. After dealing with injuries as a freshman in Knoxville, Sumski transferred back home and played her final three seasons with Rhodes where she rewrote the record books. Sumski led the nation in points per minute and finished second in the nation in scoring after averaging 25.6 points and 7.3 rebounds per game as a senior. She finished her career with 1,373 points and set the school record for points in a season (692), free throws made (180) and single-season per-game average.
Passing on numerous professional basketball playing opportunities, Sumski decided to pursue a career in coaching. After graduating from Rhodes, Sumski was awarded her first coaching opportunity as an assistant coach on Mark Campbell's staff at Union University in August 2014.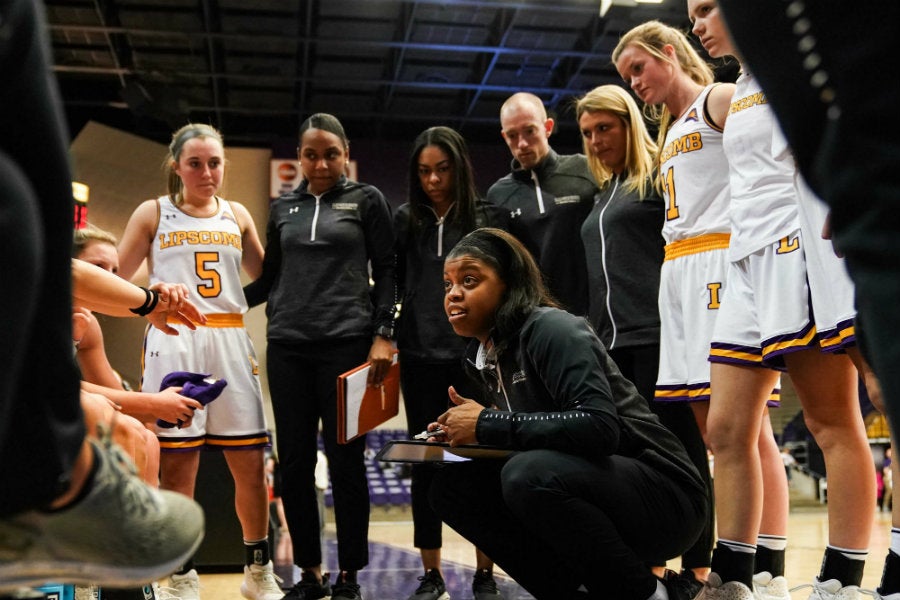 Lipscomb Now: How did you become interested in basketball?
Lauren Sumski: I've loved the game as long as I can remember. My mom loves to tell stories about me being a toddler and only sitting still to watch that orange ball zip across the screen and the word "ball" being one of my first words. I started out with the mini hoop before my mom eventually had a court put in our backyard when I was around 4 or 5 years old. 
LN: What do you love about basketball?
LS: There is so much that I love about the game, that I'm not even sure where to start! As a coach, I love the people that I have been able to meet and all of the relationships that the sport allows me to develop and grow. I love the process of unique individuals from different backgrounds and experiences all coming together to form a cohesive unit with the same mission and goals. I love how team sports like basketball require everyone to do a specific job or have a role for the betterment of the whole. It's just the idea of putting the needs of others before yourself and participating in something much bigger than me. 
LN: How did you end up in coaching?
LS: I actually ended up coaching as a favor to a family friend, and it grew from there. It all started with a middle school boys team, and it expanded to private lessons for individuals of all ages, both boys and girls. Then, I expanded into coaching girls' teams. I just loved watching how that same orange ball helped develop confidence in young people once they learned a skill that they've struggled with, and watching that transition in their lives during such a formative time. I loved the daily opportunities that I had to pour into others the way that so many poured into me. I will admit that I fought it for a while and was pursuing the medical school route until I intimately realized that it was my calling and exactly what the Lord wanted me to do. 
LN: You have learned from some of the best teachers of the game. How did they help shape you as a coach?
LS: Yes! I was so fortunate to have been coached by Hall of Famers like Coach Pat Summitt, Coach Holly Warlick and Coach Mickie DeMoss at the University of Tennessee. I also got my collegiate coaching start under Hall of Famer Mark Campbell, who is a former Bison, while at Union University. 
I was able to learn so much about their philosophies, their coaching styles/approaches and what made their teams successful from a win/loss standpoint. I've incorporated things from all of them, while fitting my personal coaching philosophy and personality. However, the greatest lessons that I learned from each and every one of them (in their own way) was how important it is to continue learning, keeping things in perspective and seeking balance from a family standpoint early in my career. 
My mission is simply for everyone in my program to be better every day, in every area of their lives. — Lauren Sumski
LN: Every coach has guiding principles or a philosophy. What is Lauren Sumski's philosophy of coaching?
LS: My philosophy is pretty simple. My mission is simply for everyone in my program to be better every day, in every area of their lives. I believe my job is to help everyone in my program to realize their gifts, to continually develop those gifts and to learn how to be good servants so that they will be markedly better people than when they arrived and ready for leadership after Lipscomb. I try to do this by loving my players, encouraging them, supporting them, holding them accountable and challenging them every day. 
LN: What is your vision for the future of the Lipscomb women's basketball program?
LS: My vision for the future of the Lipscomb women's basketball program is for us to leave a legacy as a program that is simply set apart, a light to the world because of who we are and why we play. I want our program to be known as one of the premier Christian women's basketball programs where we do things the right way, our players go on and serve/lead others the Lipscomb way, and we win lots of championships. The championships definitely won't be the validation or even the primary motivation, but I do believe they will be a by-product of how we do things. 
LN: A coaching staff is vitally important to the success of a head coach and a team. 
LS: Our coaching staff is phenomenal, and we are very blessed to have them. They are all amazing people who are completely committed to the holistic development of everyone in the program. The most important aspect in building this staff was searching for hard-working servants. This staff is that and so much more. While they all have very different personalities, they are all foundationally similar in being people who are high-energy relationship builders that are detail-oriented and always willing to go the extra mile. They complement each other in areas like academic development, skill development, recruiting, scouting and so much more. 
They all had successful playing careers, but they are especially gifted in relating to our players and communicating with them in a way that motivates them to maximize their potential, while teaching them those separating details. 
LN: Tell me what to expect from the Bisons on the court.
LS: There's no question about it that we will be a team that finds our identity in our defense, our toughness, our intelligence and our togetherness. Those are things we talk about every day. That's not to say we won't work on or focus on other things, but we should be set apart in those ways. 
LN: What do you want Bison fans to know?
LS: I'd like to tell our fans how much we appreciate them! I'd also like them to know that we have some of the best young women and young men (practice squad) that I have ever met and had the pleasure to coach. We will all work hard every single day and be extremely grateful for their support. Lastly, I'd like them to know that this is a special group. They are so spiritually mature and really committed to their faith walks. They are definitely a light to me and a light to this campus! 
LN: What else do you want our readers to know?
LS: We realize how blessed we are to be at a place where we can freely worship and glorify Jesus in everything that we do. We do not take that lightly. The girls really are an extremely selfless bunch, and I think that is what makes this group so special. 
Lennie Acuff
Former University of Alabama in Huntsville head coach Lennie Acuff is the 19th head men's basketball coach at Lipscomb University. He comes to Lipscomb with more than 550 wins in his 29-year coaching career.
For the past 22 years, Acuff was at the helm of the UAH men's basketball program where he built them into a national power with a 437-214 overall record. Under Acuff, UAH won eight regular season and three Gulf South Conference tournament championships and earned 11 trips to the NCAA-DII tournament, including two trips to the Elite Eight after winning the NCAA-DII South Regional in 2011 and 2012. During that time UAH was ranked in the national polls for 44 consecutive weeks, including a No. 2 ranking to end the 2011-12 season. 
Acuff has been named the NABC District Coach of the Year four times and has been honored as the GSC Coach of the Year a conference-record eight times. Highly respected by his peers in the collegiate coaching ranks, Acuff is one of just two NCAA-DII coaches to serve on the National Association of Basketball Coaches Board of Directors. Prior to his tenure at UAH, Acuff was head coach at Berry College in Rome, Georgia, for four seasons, where he established it as one of the premier NAIA programs in the nation. At the age of 25, Acuff began his coaching career at Belhaven College in Jackson, Mississippi, and was the youngest head coach at a four-year college in the United States at the time.
A graduate of Shorter College in 1988, Coach Acuff had an outstanding basketball playing career, setting a number of school records, and is a member of the Shorter Athletic Hall of Fame. He was a member of an Athletes in Action college all-star team which toured Asia and he represented the United States in the Pre-Olympic Tournament in Seoul, South Korea. Following his playing career, Acuff earned his master's degree from the University of North Alabama.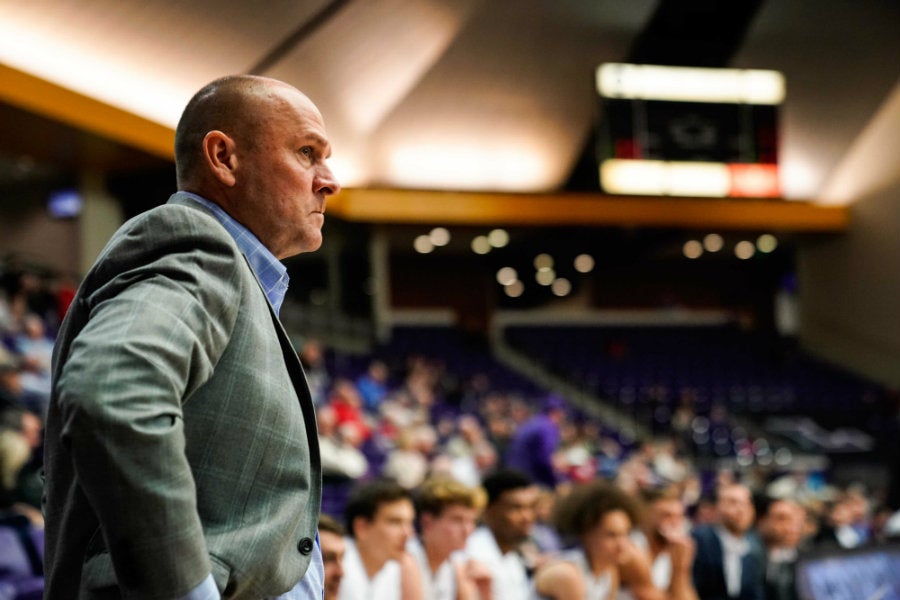 Lipscomb Now: What do you love about the game of basketball?
Lennie Acuff: It's the ultimate team sport. From October when we start practice to when we stop playing in March or April, it's 15 to16 players plus a coaching staff who spend their time working toward one goal. But there's no way we can be as good as we can be without everyone being on the same page. I love that part of it. I love the challenge of that. It's also a sport that you can get a lot better in if you have a commitment level individually. If you're willing to work at your craft and are willing to spend time by yourself in the gym or weight room, you can see a real upward trajectory in your improvement individually. Then apply that to a team. That's what attracts me to it. 
LN: How did you end up in coaching?
LA: When I went to college I wanted to be an engineer because growing up in Huntsville that's what everyone does. Once I got further into college I realized that wasn't what I wanted to do. I just had a real passion for basketball. To me coaching was a way to still be part of a team after my playing days were over. It also is a way to be impactful to others. I wanted to have a chance to affect other people's lives. One of our truest and most meaningful values in life is how you make other people feel about themselves. If you can affect someone else in a positive way, then you've had a great day. Coaching gives you that opportunity every day. And your influence in coaching goes a lot further than what happens on the basketball court. Hopefully it's a lifetime impact.
 
LN: You have learned from some of the best teachers of the game. How did they help shape you as a coach?
LA: Former Lipscomb Coach Don Meyer is one of the most impactful. I learned from him that you can be demanding without being demeaning and to always put the program over the team. It's about having a program of substance that resonates throughout the campus. I remember coming to camp as a high school player … and then coming to clinics as a coach and then ultimately getting to coach against Coach Meyer. He was the best teacher the game has ever had. I cannot tell you how much he taught me, how much I learned from him and the level of respect that I have for what he built here. Three of the guys on my high school team played on the [1986] national championship team. So I would have loved to have been a Bison!
 
My high school and college coach also had a tremendous impact on me. I learned so much from those guys. As a coach I've tried to be a lifelong learner and draw upon what I learn from other coaches. 
 
One of our truest and most meaningful values in life is how you make other people feel about themselves. Coaching gives you that opportunity every day. — Lennie Acuff
LN: What is your coaching philosophy? 
LA: Ultimately it's to be impactful for the young men in our program and for those young men in turn to be impactful on our campus and community. If we do that, we are on the right page. One thing we talk about is our core values and staying true to who we are. Nothing in our core values says anything about winning. Trying to build young men of character, young men of faith. I tell our players that at some point you have to fall in love with the process and then the process will love you back. We have six core values that we talk about on a weekly basis. They are being selfless, thankful, humble, driven, committed and responsible. They'll hear those things in their sleep because we are hammering them every day. 
 
LN: What about your coaching staff? 
LA: I could not be more pleased with the four people who have decided to be a part of the staff. It starts with Roger Idstrom, who is in his seventh year. He is a huge part of the success. I felt strongly that he would be a great addition. He is a good man and good coach and a great representative of Lipscomb. Kevin Carroll of VMI: I coached him, and he has had phenomenal success as a coach. Tyler Murray came to us from Furman, and he is fantastic with a good basketball mind and very relational. Daniel Harris is our operations assistant from Jacksonville University, who has good energy and attention to detail. This is going to be a collective effort. 
 
LN: What can fans expect to see from the Bisons on the court? 
LA: I hope that in time people will say that they play the game the right way, that they play with respect for the game and for their opponents, that they are fun to watch and that the way they play it makes me want to come back. People like to see a group of guys that are better collectively than individually.
 
LN: What do you want our fans to know?
LA: I want them to know that this is their program. We play with Lipscomb on the front of our jerseys. This is Lipscomb University's basketball program. They are a huge part of the process of being successful. We need them! It's been fun to watch the success of the program over the last few years, and we want to sustain what has been built. If our fans will stick with us, they'll be real pleased with what we come out with on the other side. 
 
LN: What else do you want our readers to know?
LA: There is a lot of pride in Lipscomb. There are a lot of people who have gone before us and made this a special place. It's really important to me that our basketball program is a reflection of our institution. We want to succeed, but we will not do anything to compromise what our school stands for. When people watch our team on TV or come to a game I want people to say, "Wow, I'm proud to say that's my school." And I will not compromise on that. 
 
"I also want our former players to know that this is their home and they are always welcome here. I want them to know that in everything we do we will never forget the people who came before us. We are absolutely wanting to build something that they say, "I helped get that going, and I am thankful for the way the team and coaching staff handles themselves because I put a lot of blood, sweat and tears into that program, and I'm proud to say, 'That's our team.' And it is their team. It's not mine. It's theirs."