Animation professor returns to roots as illustrator of Disney biography
Once upon a time there was a boy named John who wanted to be an animator for Walt Disney when he grew up.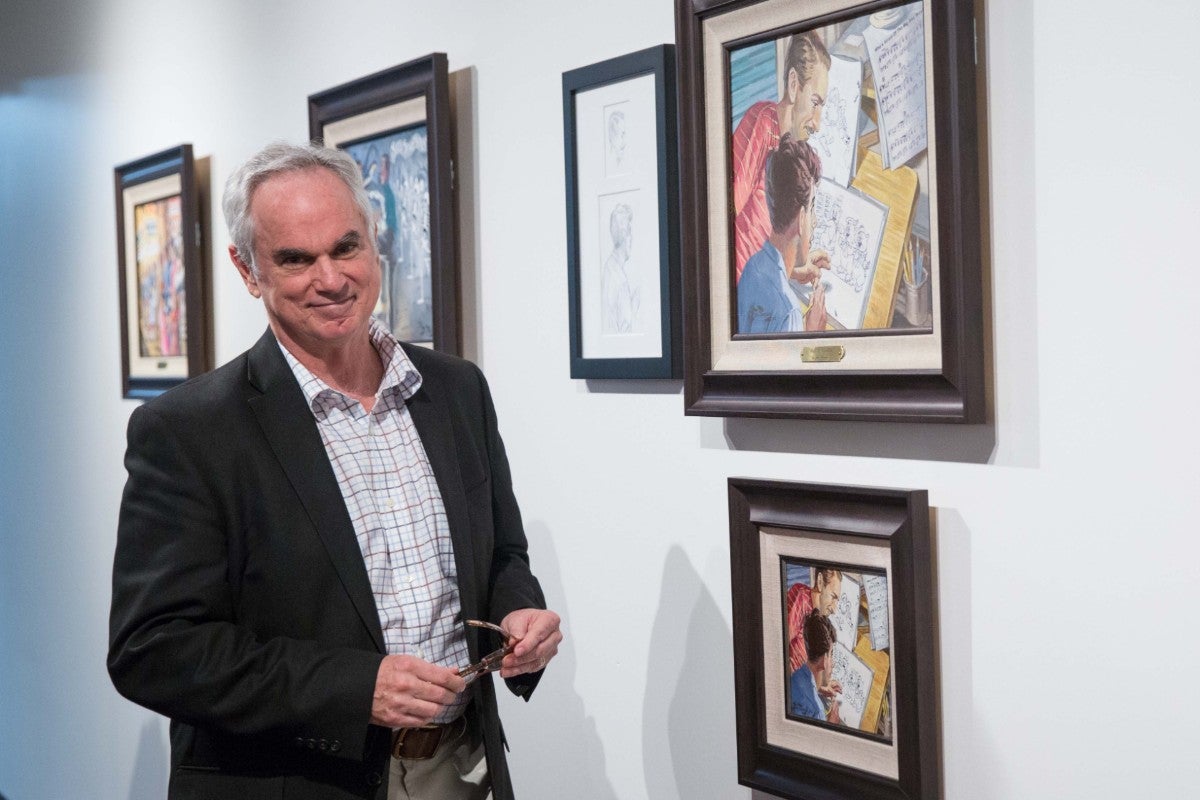 When he grew up, his dream came true and he became part of a team of animators that played a key role in the development of Disney animation. And he lived happily ever after.
John Pomeroy, an adjunct faculty member in Lipscomb University's animation program, lived that dream. And last year he celebrated a capstone in a career on campus: the release of the book "Walt's Imagination: The Life of Walt Disney," which he illustrated. His life in animation has more than lived up to that young boy's dream many years ago.

Released in July 2018 by Disney Hyperion as part of its award-winning Big Words series, "Walt's Imagination: The Life of Walt Disney," written by Doreen Rappaport, tells the tale of Walt Disney's life from his childhood in rural Missouri to his legendary stature as a film and television icon. It charts Disney's progression from farm boy to actor to artist, animator, director and entertainment celebrity.

"This book has been five years in the making," Pomeroy recalls. "They approached me in 2012 with the opportunity to illustrate this book. It was an amazing opportunity and an honor to get to be part of this project. It was a unique opportunity to illustrate some of the men I had the opportunity to work with."

The sketches, paintings and color comps from "Walt's Imagination: The Life of Walt Disney" were on display in Lipscomb's Hutcheson Art Gallery in the Beaman Library from October to December.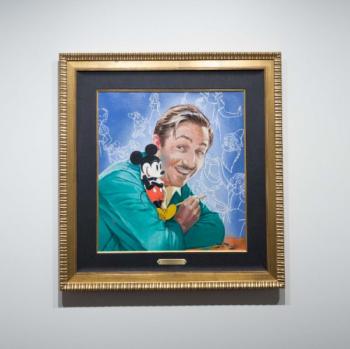 Illustrating the book was like "making a movie," he said. Once he received the script from Rappaport, Pomeroy had to pick out key moments that would be symbolic of the book and submit them as tiny story sketches. Once those were approved, Pomeroy made them into larger pencil sketches and layouts. Then, he made a color mock-up comp and once those were approved he moved to the finished art.

Having the opportunity to illustrate this Disney biography is especially meaningful for Pomeroy who was a key member of the icon's animation team.

Following a boyhood dream
Growing up in Toluka Lake, California, Disney was a big part of Pomeroy's formative years. He lived next door to Roy Disney, Walt Disney's nephew.

"I've been drawing all of my life," says Pomeroy. "I went from sculpting at age three to drawing when I was about seven. I started making puppets when I was eight or nine years old. Then, when I was about 13 years old I decided I wanted to make a perfect reproduction of Pinocchio. I realized I needed some good photo references like any good artist would need."

So, the young Pomeroy went to the Los Angeles Public Library and while he was there he discovered "The Art of Walt Disney" published in 1942. It was filled with pictures of Pinocchio and Bambi and was about how the artists animated those feature films for Walt Disney.

"I started to read it. I read it again and again. I think I read it 10 times," he remembers. "And it's more than 300 pages. I got super-charged about working at Walt Disney Studios. At age 13, I knew that's what I wanted to do."
 
"I was a fan, a real Disney geek." — John Pomeroy
Pomeroy threw himself into learning everything he could about animation. He taught himself how to hand-ink celluloids and paint backgrounds. While he was honing his skills, he began writing letters to Disney Studios — sending as many as one a week.

"I was just pestering them," he admits. "I was a fan, a real Disney geek."
In September 1966, a 15-year-old Pomeroy took his first portfolio to Disney Studios. He did not get past the front gate because the studio was not hiring at the time. Instead of being discouraged, however, Pomeroy says he left "energized."

"I had seen all of the old pictures of Disney Studios in the book, where it was in Burbank. I was energized because I was actually there at this place I had studied about so much," he says.

Pomeroy continued to build his portfolio and refine his technique. He went to ArtCenter College of Design in Pasadena, California to major in illustration. In 1972, Pomeroy resubmitted his portfolio to Disney Studios.

He was met with a better response the second time around except for one designer named Milt Kahl, one of Disney's famed "Nine Old Men," the core animators at Walt Disney Productions who created some of Disney's most famous works including "Snow White and the Seven Dwarfs." Kahl, often considered the finest draughtsman of the Disney animators, told Pomeroy that his "perspective was off."

"I was broken-hearted. I went back to ArtCenter College and took a perspective class along with several other courses," Pomeroy recalls. In January 1973, he once again took his portfolio to Disney Studios. This time he was accepted into the training program. His dream officially came true when he began work at the studio on Feb. 7, 1973.

Soon after Pomeroy began his dream job at Disney Joanne Phillips, secretary for his animation supervisor, called him over to her office. "She says, 'Do you want to see something interesting, John?' She reaches down behind her desk and pulls out a stack of my letters that I sent all those years ago. They kept them. They're probably still in archives somewhere at Disney," he muses.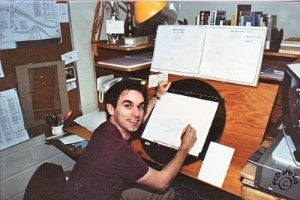 A dream becomes reality
Once in the program, Pomeroy found himself under the tutelage six of the Nine Old Men, whom he affectionately refers to as "the kingpins of Disney animators." One of them, Eric Larson, was given the task to spot and train new animators and became Pomeroy's mentor. Larson, who joined the studios in 1933, animated notable characters such as Peg in "Lady and the Tramp;" the Vultures in "The Jungle Book;" Peter Pan's flight over London to Neverland; and Brer Rabbit, Brer Fox and Brer Bear in "Song of the South."

For the first six months in the training program, Kahl trained Pomeroy, who initially wanted to be a background artist, on the basics of animation.

"They convinced me that I would be a better background artist by knowing the fundamentals of animation. They told me that would help my backgrounds work in better harmony with the animators. It's a collaborative medium. You have to learn to work with all the other artists. I was willing to do whatever it took to become a background artist," he says.

Larson showed Pomeroy how to do his first pencil test—an animation created with just pencil and paper. He drew a frog character who pulled a rabbit out of a magician's hat.

 
"Ollie helped develop me as an actor—an actor with a pencil." — John Pomeroy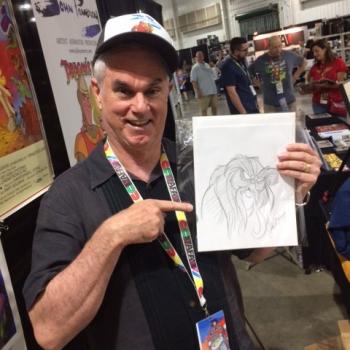 "As I'm watching my first animation on the old projection system called Moviola with Eric Larson in his office, I saw my drawings move and it hit me. That's what I want to do," admits Pomeroy. "That was a big trajectory change for me. I no longer wanted to be a background artist. I wanted to be an animator. I was watching my rough drawings moving and coming to life. I realized I was creating something out of nothing. And I became addicted."

After about six months, Pomeroy was promoted from the training program to a full animator. His first assignment was to animate a 110-foot section near the end of "Winnie the Pooh and Tigger, Too." His new mentor and supervisor was Frank Thomas, another of the Nine Old Men. Thomas's work included the wicked Stepmother in "Cinderella," the Queen of Hearts in "Alice In Wonderland" and Captain Hook in "Peter Pan."

"Frank was like my drill instructor. He is the one who broke me into true professional animation production. It was amazing and painful all at the same time," he says. "There is a scene in my portion of the 'Winnie the Pooh' project in which Tigger is walking away after being told he could never bounce again. Frank had me redraw that scene about 18 times. He was teaching me something important about how to engage the audience in what he called the willing suspension of disbelief. Do you believe that character is real? Do you buy into his acting? That was a very important lesson."

That was Pomeroy's first screen credit as an animator. He went on to his next project—"The Rescuers"—for which he helped develop the character Penny. With this project, another of the Nine Old Men, Ollie Johnston, became Pomeroy's supervisor and mentor. Johnson, one of the most notable of the group, is known for his work in Snow White and for developing Mr. Smee in "Peter Pan," the stepsisters in "Cinderella" and Prince John in "Robin Hood."

"Ollie helped develop me as an actor—an actor with a pencil," says Pomeroy.

About that time, Pomeroy met Don Bluth and Gary Goldman, also new animators at Disney. They were all very passionate about animation and were being groomed to take over the animation department as the key animators were nearing retirement.

On weekends the trio would spend time in Bluth's garage learning about other aspects of filmmaking such as how to record a sound track, how to photograph drawings and final color scenes, storyboarding, filming sequences, how to do animation special effects and how to operate a music room among other things. Pomeroy says the studio was growing quickly and they learned these skills after office hours to make them better equipped to take over leadership of the department one day.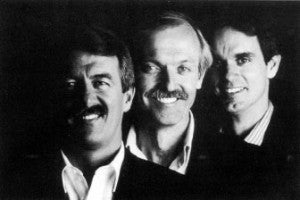 A new chapter
Pomeroy, Bluth and Goldman worked on "Pete's Dragon," which was their first experience in combining animated and live elements. On Sept. 13, 1979, Pomeroy, Bluth, Goldman and several other Disney animators left the company to form Don Bluth Productions—which later became Bluth Group. They produced "The Secret of NIMH" in 1982 and caught the attention of Stephen Spielberg. They partnered with Spielberg on his first animated venture to produce the hit "An American Tail" (1986) and then "The Land Before Time." Don Bluth Productions moved their operations from California to Dublin, Ireland.

"We started getting into a creative rut," admits Pomeroy. So, in 1992 he sold his share of the company and returned to painting. "I was wearing the producer's hat. In that role you become organizer, advisor and you don't draw any more. I was dying as an artist. I was burning out. When I returned to painting I resuscitated myself as an artist."
It wasn't long before Pomeroy's journey led back to Disney. His good friend Don Hahn, who produced "Beauty and the Beast" and "Lion King" for Disney, asked him to return to the studio to become the supervising animator on "Pocahontas," where he designed and led a crew of fourteen animators to create the character of John Smith.

"I got to reconnect with a lot of dear friends who I had worked with at Disney back in the 1970s," he says.

Following that, he was supervising animator for "Fantasia 2000," a project which saw him working with his former neighbor Roy Disney. Other projects included serving as lead character designer for Milo Thatch on "Atlantis: The Lost Empire" and an animator for "Treasure Planet" and "The Tigger Movie." 

After 11 years back at Disney, Pomeroy became a "free agent," working on projects for various studios including "Curious George" for Universal Studios Animation and "The Simpsons Movie" for Fox Animation. He also continued doing work for Disney including the Tinker Bell series, "Elena of Avalor" and "Planes."

Among his numerous other credits are "Tom and Jerry: The Lost Dragon," "Tom and Jerry: SpyQuest," "Tom and Jerry: Back to Oz" and "Tom and Jerry: Willie Wonka and the Chocolate Factory" for Warner Bros. Animation; and he was storyboard artist for three installments in the Crest Animation Productions and Nest Family Entertainment's "Swan Princess" movie series.

For the last five years, Pomeroy has worked for Disney Television Animation as an off-site contractor. His current project for the studio is work on the series "Fancy Nancy."
"I realized that I could dedicate my talent and my art to Him,"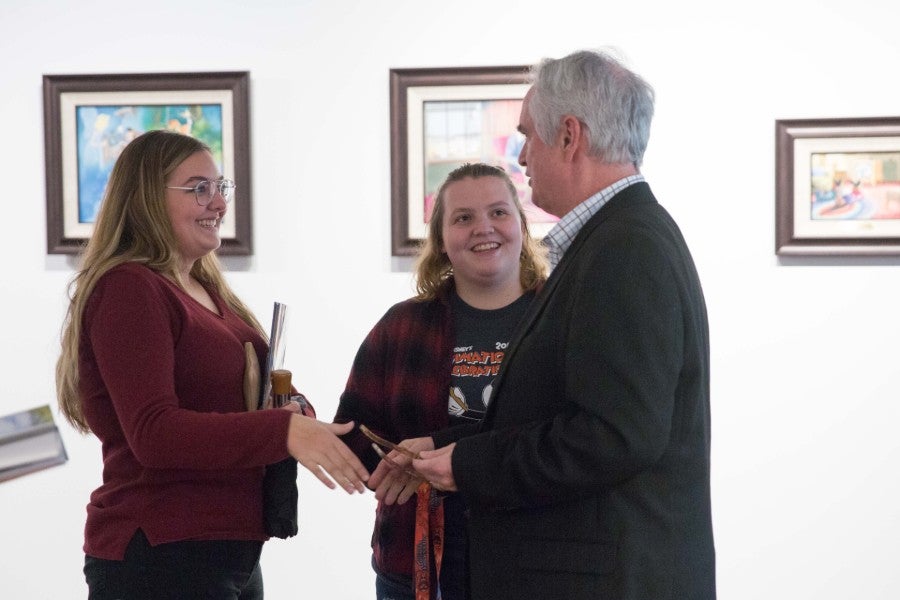 A way of life
For more than half a century animation has captivated Pomeroy.

"God just put a love for it inside of me," reflects Pomeroy. "I love telling stories, drawing and painting. Animation is a fairly solitary art form. But what happens when you sit in a theater with an audience and you hear their audible responses to your work—the crying, the laughter—there is nothing like it. I just love storytelling. I am a ham actor with a pencil. I love performing on canvas or on paper or right now on a digital screen."

Though Pomeroy has a number of animation projects, four years ago he joined the animation faculty of Lipscomb's George Shinn College of Entertainment & the Arts as an adjunct professor. But teaching is nothing new to him.

"From the moment I became an animator, there were people coming to me to help them with their drawings—so I've been informally teaching for a really long time," he admits. "There is a very deep need to pass on what has been given to me to the new generation of animation artists."
The Christian mission of Lipscomb, however, is especially meaningful, says Pomeroy.

"I came to Christ in 1998," he says. "I had a friend who was always offering me his Bible, and I would always shy away from it. My wife and her prayer group started praying for me in 1995, and transformation started happening. I grew an appetite for getting into the Word and I started going to church regularly."

Pomeroy said he heard a speaker in those spiritually formative years who talked about how to dedicate one's talents to Christian mission and purpose.

"I realized that I could dedicate my talent and my art to Him," he says. "The Lord just began pulling me into more responsive roles using my art ability and talent for Kingdom purposes. Getting more invested in church work and on and on. Getting to be on faculty at a Christian institute like Lipscomb University is such a great opportunity."

Pomeroy first learned about Lipscomb through Tom Bancroft, another former Disney animator who is the head of the university's animation program. Bancroft worked for Walt Disney Feature Animation (now known as Walt Disney Animation Studios) as a supervising animator for 12 years.
Learn more about fellow Disney animator and Lipscomb artist-in-residence Tom Bancroft.
During this time, he worked on films like "Beauty and the Beast," "The Lion King," "Aladdin," "Pocahontas," "Mulan," "Tarzan" and "Brother Bear" among others. For "Mulan," Bancroft designed the character of Mushu the dragon. Later, Bancroft was a director on eight "Veggietales" episodes for Big Idea Productions. Pomeroy went to church in California with Bancroft's brother Tony, another Disney animator. 

When Pomeroy first moved to Nashville he did a few projects for Big Idea Productions where he reconnected with Bancroft. Bancroft asked Pomeroy in 2013 to join him as part of the Lipscomb animation faculty. He teaches 2D animation introduction and advanced courses to "get (students') performance and portfolios ready for a job interview."

And so, Pomeroy continues to live out his boyhood dream—and inspires others to live out theirs. 

For more information about Lipscomb's animation program, visit art.lipscomb.edu.
By Kim Chaudoin
This article was re-posted on May 8, 2019, as part of the LipscombNow Summer 2019 online edition.