WZTV story of super Bison fan Conner Mirt earns Emmy nomination
The Bison athletics program is about more than what happens on the competition field. It's about people.
Kim Chaudoin |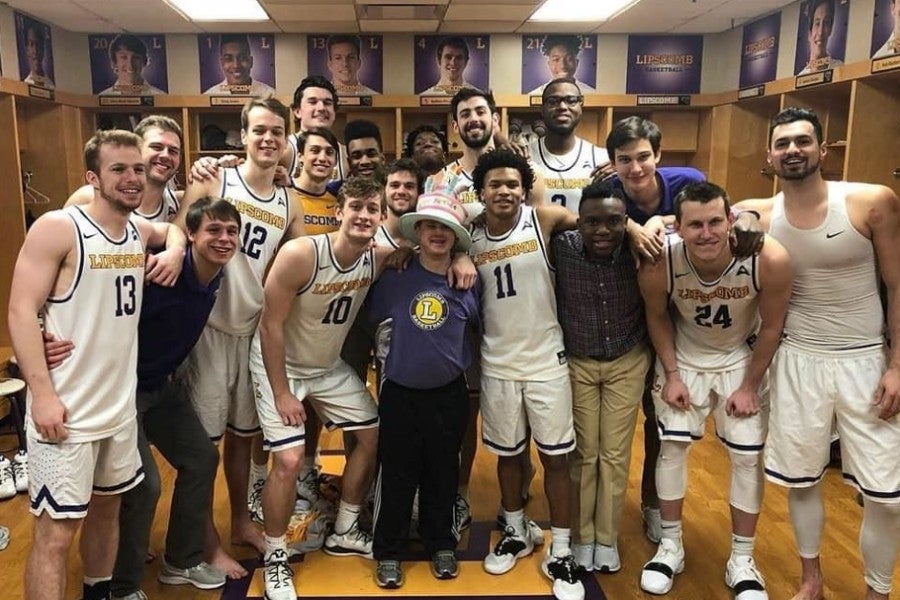 Anyone who has been around the Lipscomb men's basketball program in the last few years knows that one of the team's biggest fans is Conner Mirt. 
Mirt, a graduate of Lipscomb's IDEAL program for young adults with intellectual and developmental disabilities, developed an especially close bond with the 2018-19 Bison basketball team that included stand-out seniors Garrison Mathews, Eli Pepper, Rob Marberry, Nate Moran and Matt Rose. He and his parents, Mike and Deb Mirt, often followed the team on road trips and were always in the stands in Allen Arena. 
His special bond with the team caught the attention of WZTV-FOX 17 reporter Alex Apple, who came to do a feature story about Mirt on Sunday, March 10, as Lipscomb took on Liberty University in an intense ASUN men's basketball conference tournament final with a berth to the NCAA at stake. Apple talked to Mirt during and after the game while observing first-hand the mutual love and respect the team and Mirt had for each other. Although the Bisons came up short in the end of winning that game (but ended up extending their season all the way to the championship game of the National Invitation Tournament), Mirt's love for the team was greater than his disappointment at the loss. 
"Conner's quote to me on the floor after the game was it didn't matter that they had lost because they were all still friends," says Apple, a native of Brentwood, Tennessee, who has been at WZTV-FOX 17 for two years. "That's the amazing perspective that gave the story its title of 'The Score Never Mattered.'"
Apple's telling of this special bond between soft-spoken Mirt and his team caught the attention of many in the Nashville area including the Nashville/Midsouth chapter of the National Academy of Television Arts & Sciences. Apple's story, "The Score Never Mattered," was announced as a 34th Midsouth EMMY® AWARDS nominee in the Sports News Feature Category in an announcement made Nov. 21. Winners will be announced at an awards ceremony at the Schermerhorn Symphony Center on Feb. 15, 2020. 
"I can't think of another story all year that generated more chatter on my social media than Conner's. I think people connected with what was so obviously a pure and genuine love," says Apple. "His love for the team and the love they have back for him was inspiring." 
View Apple's story "The Score Never Mattered."
Before coming to WZTV-FOX 17, Apple previously lived and worked as a journalist in Burlington, Vermont and Lancaster, Pennsylvania. He spent 2016 covering the presidential election. His political work has been featured by several publications including Politico, the Associated Press and Dallas Morning News.