Two nursing alumnae honored by Vanderbilt
From Staff Reports |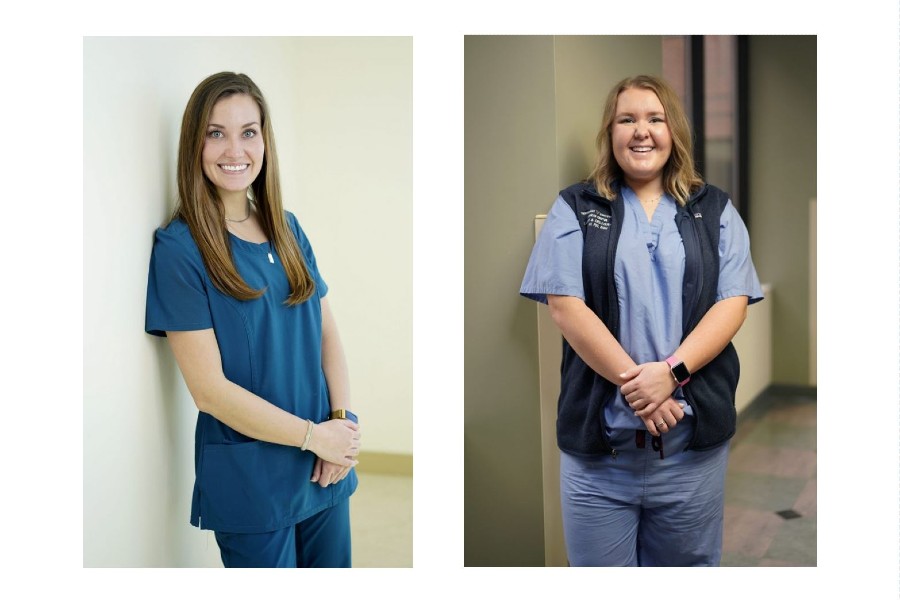 Photos by Donn Jones
Two nursing alumnae Maci Malone ('17) and Hannah Martin ('19) were announced as among the Vanderbilt University Medical Center's 2021 first quarter recipients of the DAISY Award, a recognition for extraordinary nurses who exemplify compassion toward patients and families.
Malone, RN, works in the labor and delivery unit at Vanderbilt University Adult Hospital.
An excerpt from her nomination stated:
"Maci went above and beyond for me, my husband and our angel baby. We went into the hospital terrified of what was to come. Our baby girl had been given a fatal diagnosis months before. We knew we would be saying hello and goodbye that day. Maci never left my side. I was so scared and anxious. She helped ease our nerves in the labor room before and after surgery as well as in the OR. She helped us honor our baby in ways we can never ever thank her for." 
Martin, RN, works in the pediatric surgery, trauma, adolescent medicine unit of Monroe Carell Jr. Children's Hospital at Vanderbilt.
An excerpt from her nomination stated:  
"Hannah has been my 13-year-old daughter's nurse for three-day shifts. My girl has IBD and had surgery and now has an ileostomy. As you can imagine, these have been such emotionally and physically fragile days for her. Hannah's skills are only matched by her tender spirit. She carries a confidence and maturity that are well beyond her year-and-a-half experience here." 
Vanderbilt distributes the award in partnership with The DAISY Foundation, which was formed in 1999 to honor the memory of J. Patrick Barnes, a 33-year-old man who died of complications of the autoimmune disease Idiopathic Thrombocytopenic Purpura (ITP). Barnes' family was moved by the care they received from his nurses and wanted to recognize them as a way to preserve his memory. DAISY is an acronym for Diseases Attacking the Immune System.
Vanderbilt nurse committees determine the individual recipients, and the award is open to all licensed nurses whom anyone can nominate.