Student serves, leads anti-bullying charge with message of hope
This honors student and social work major uses her voice for herself and others who are struggling with mental health issues and bullying. 
Tabitha Barbé |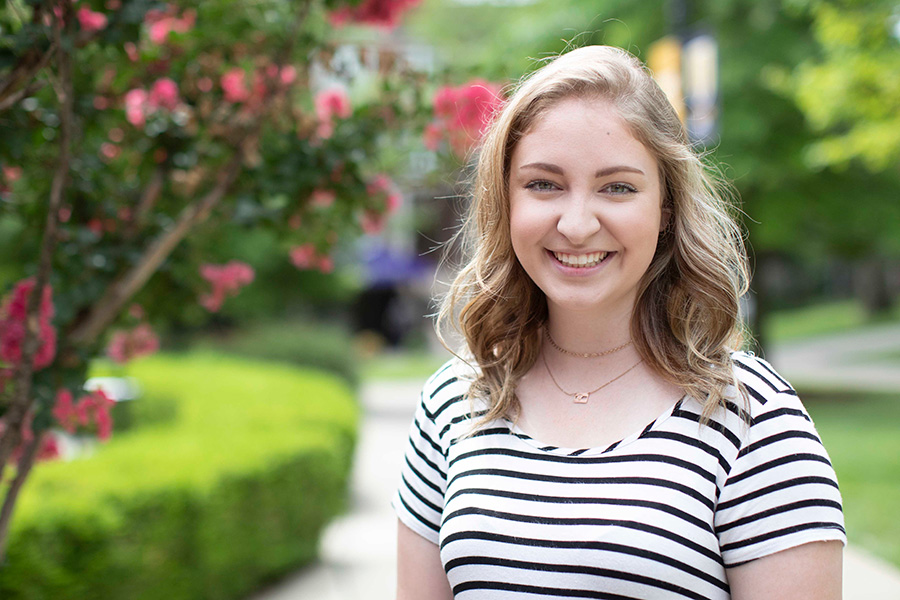 Ashley Berry is a servant leader who believes in letting your circumstances inspire you to make a difference. She's already made her mark on lives across the country and here at Lipscomb.
Berry, a sophomore from Littleton, Colorado, recently received the Shaka Franklin Foundation's Profile of Courage Award. Well before that, she was named winner of the International Bullying Prevention Association's 2018 college scholarship.
When Berry received the awards she was surprised. 
"I feel like I'm just doing what I need to be doing," she said. 
Although Berry is a busy college student, she has already created something from what she's learned in her life — HOPE (Hold On the Pain Ends) and GIRLS, (Girls Inspiring Real Leadership Skills) the latter of which she started as a sixth grader. She formed HOPE in high school with the goal of showing care to young people struggling with mental illness. GIRLS is a workshop focused on cyber safety, leadership skills, peer pressure and anti-bullying.
"She is constantly one to stand up for justice and the underdog," says one of her friends, Memphis senior and youth ministry major Abby Myers. 
Berry is more than a supporter for the bullied and for mental health. As a child, Berry was bullied as she became more outgoing and involved in the public eye, competing in pageants.
She has dealt with mental health issues since the fifth grade. Depression and anxiety were a result of that bullying. 
Berry says she was able to learn to not only use her own voice for herself, but for others being bullied. She recognized the stigma toward bullying and mental health. And through these experiences Berry built a strong relationship with her mother, Anna ('98), an advocate for abused children, as they spent time together doing advocacy work.  
The challenges Berry faced made her want to share her experiences and make a difference in the lives of others affected by the same treatment. And she is. With help from her mother, Berry continues to implement GIRLS and manage HOPE. Within HOPE, they send letters and care packages to teens battling mental health issues. 
Inside those packages are coping items like journals, adult coloring books and colored pencils. 
The stories of bullying have been hard to hear, and they have kept Berry focused on her goal -- supporting those who are bullied and fighting to end bullying, whatever age someone may be. "There needs to be a change," she said. 
Story continues below image.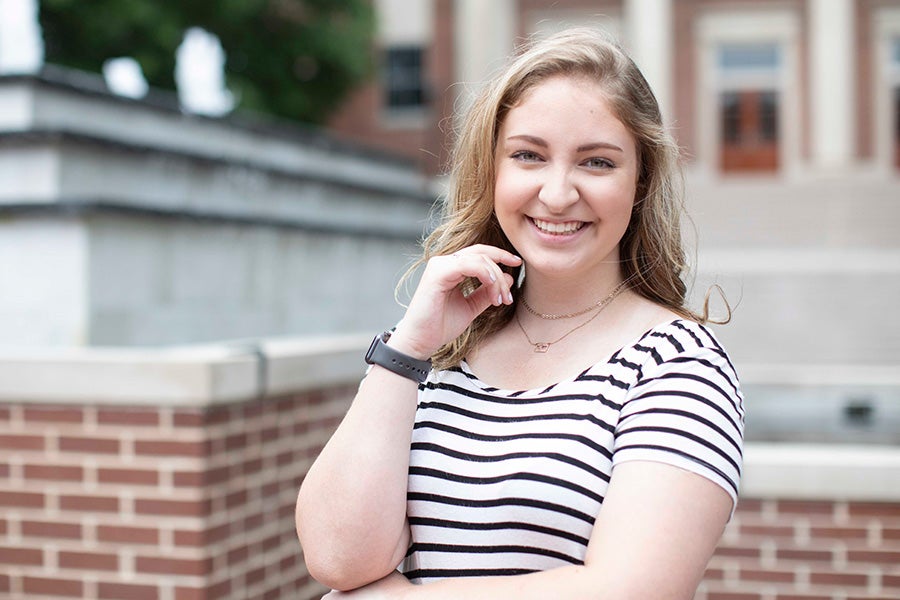 "I think that frequently people will cut off the mental health and bullying conversations in high school," she explained. Berry wants to keep the discussion going through college and beyond.
Myers admires Berry's passion. "Mental health is something that is important in our world today and that is modeled in Ashley's life," she said. "I think it is beautiful how deeply she cares for others especially in this way of wanting everyone to reach a healthier state."
Berry saw her mother, who she says is her best friend, speak publicly against child abuse many times.
"I grew up with the mindset of like, if you're very passionate about something, go out and make a difference because of it," she said. "With this being something that was so heavy in my heart…I decided to share my experiences so others wouldn't have to feel the way I was feeling."
As an eighth grader, Ashley Berry testified before the state house. As a result, the Berrys were instrumental in getting anti-bullying legislation passed in Colorado. It finally passed about two years after that, when the teen was struggling with mental health issues. 
Don't let your circumstances define you, instead let them inspire you to make a difference in the world. — Ashley Berry
"There were signs that we just didn't recognize and didn't know to look for," she said. For a time, the young woman had to step back and focus on her own mental health. "The more Ashley put herself out there, the more she became a target for bullying."
Anna Berry believes her daughter is the strongest person she knows. 
Now, the Lipscomb student has goals to expand HOPE across the world with help from students everywhere. "I've wanted to be able to take what I established at home and take it wherever I go," she said. 
What was the best way she has found to deal with bullies? 
"Building a support system with the people directly around me," Berry said. 
That support system has remained important as she entered Lipscomb. 
"In college you need to have that core group of people you can trust and who can look after you," she said. One of those people is Myers, who she met through a mutual job as tour guides for Lipscomb Admissions. Eventually, Berry became Myers' little sister in their social club. 
"Ashley is someone who loves fiercely, to the point of it hurting sometimes. But she stands up for the ones that she loves; she cares deeply. She wants to show kindness to those that she encounters and wants them to leave feeling more loved than before," Myers said. 
As a student and new social work major, Berry is interested in how the prisons' mental health system works. Lipscomb has been a great fit for her goals to begin a career in the mental health field. 
"I just loved the intentionality they had behind everything, and the fact that there are people here who will pour into me if I will pour into them."
Fun facts:
Berry's parents, Anna ('98) and Mike ('95), went to Lipscomb 
Loves to golf
Loves the Nashville food scene, especially Baja Burrito
Tabitha Barbé, Social Media and Web Content Specialist, can be reached at tabitha.barbe@lipscomb.edu.