Student entrepreneurs open missional business at Nashville's Rocketown
Shelby Bratcher and Janel Shoun-Smith |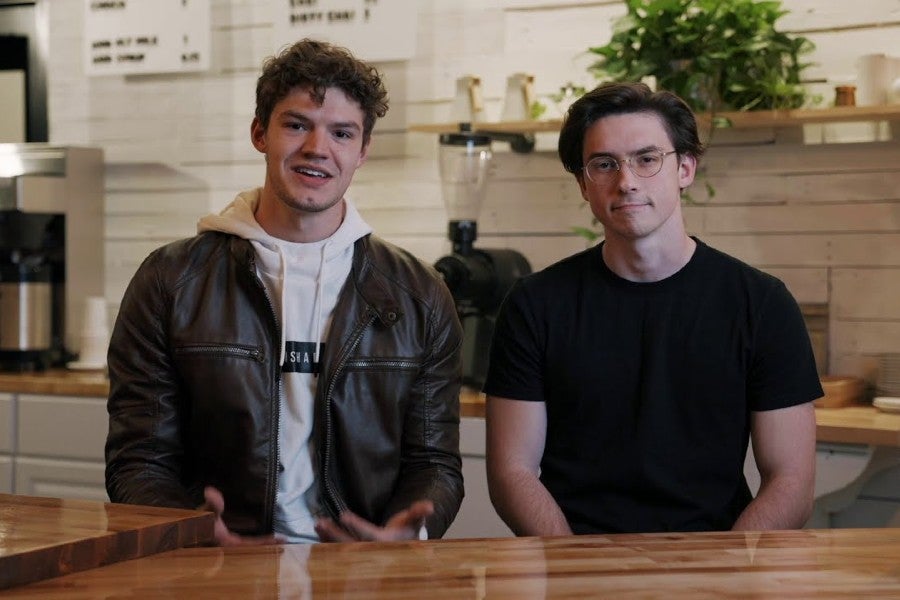 Aidan Miller and William Robertson ('21), two Lipscomb student entrepreneurs, have come a long way since Kwizera Coffee's first mobile espresso bar opened for bookings in December of 2019. 
What started out as a small side-business with a mission has pivoted and grown immensely since the start of the Covid-19 pandemic, having first moved into its own downtown Nashville brick-and-mortar location, then having purchased a 10-acre farm in Rwanda to produce coffee beans and now having developed a proposal to expand Kwizera in locations across the U.S.
After an initial steep slowdown in spring and summer 2020, when Kwizera pivoted to sell bags of coffee online to fund food relief for the poor of Rwanda, Miller, Robertson and their team then came back strong, launching a permanent coffee shop location in Nashville's Rocketown, a faith-based youth outreach facility, in October. 
"I had a connection with Rocketown through a close mutual friend," said Robertson, operations manager for Kwizera. "A few meetings later, Aidan and myself had Kwizera ramped up and ready to move into a physical space. It was miraculous really and I give God all the credit; we had all of the connections we needed and our mission and vision sparked investors to invest in the project. The process to take Kwizera from a cart to an entire cafe was a whirlwind.
"Locally, our goal is to create a safe space for meaningful relationships and genuine community connection all around a phenomenal cup of coffee," Robertson said. Globally, the goal is to provide safe spaces by dedicating a portion of the profits to fight human trafficking and to promote youth empowerment programs in Rwanda, he said.
Both visitors in nearby hotels and those now attending Rocketown events have spurred an increase in sales for Kwizera, said Miller, the founder of the business.
"Having a brick-and-mortar store has been a game-changer," he said in April. "Since launching at the end of October, we've really been able to up our revenue. And within the last two months, with Nashville starting to reopen, we've experienced at least 30% growth."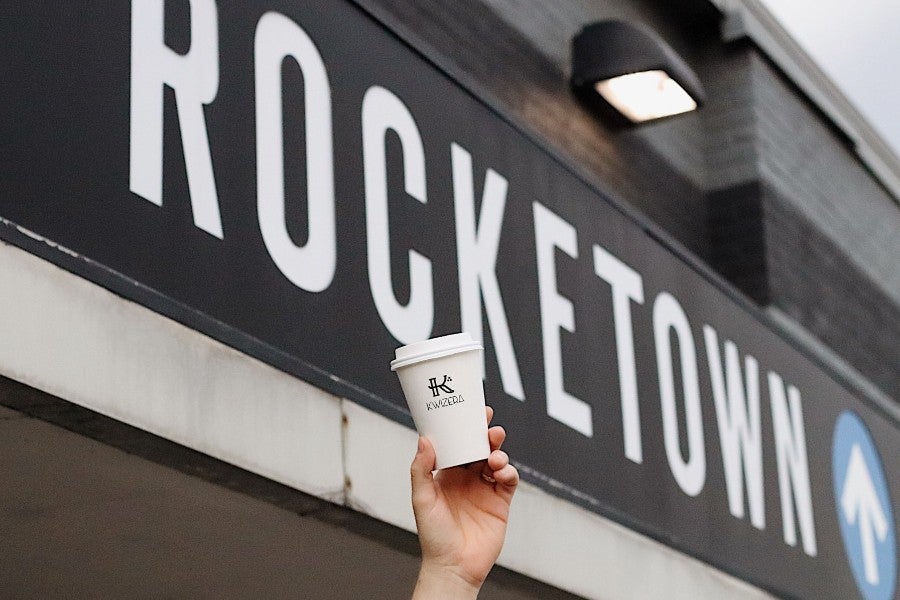 Rocketown, the multi-use facility created by Christian contemporary music artist Michael W. Smith and designed for youth activities with three music venues, a skatepark and Kwizera, is a perfect match as a Kwizera business partner, said Robertson. The organizations have missions that go hand-in-hand. 
Rocketown aims to bring hope to the next generation through the love of Jesus Christ. "Similarly, Kwizera uses specialty coffee to create hope by fighting sex trafficking and attacking the poverty cycle in Rwanda," he said.
Rocketown's long-term growth plan is to expand to 10 additional major U.S. cities over the next five years, said Miller. Kwizera has a contract allowing them first right of refusal to be the in-house coffee shop in each of those locations.
"So every time they open up a new location in these cities, we get to come alongside them and build out our space and have our shop there," Miller said during his first-prize winning business pitch at Lipscomb's Kittrell Pitch Competition this past April.
While Kwizera has already made miraculous steps in a short amount of time, Miller and Robertson are still focused on the future. The pair launched an Indiegogo campaign to spur company growth and expand its impact both locally and internationally. 
The purchase of a farm in central Rwanda provides the company with 800 mature trees ready to be harvested, Miller said. In this way, Miller and Robertson can create vertical integration within the supply chain, control the quality of the coffee and ethically address the issue that the original coffee producer actually gets the least amount of the profit from coffee drinks sold around the world, he said.
The goal is "to create real sustainable economic opportunities for people in Rwanda, as well as to provide high-quality working conditions and above fair trade wages for our farmers," said Robertson. "So that with every cup of Kwizera coffee that you drink, you can directly trace the impact you are making!" 
Kwizera is now positioned to obtain revenue from a number of existing and potential ventures: Miller said in his pitch: coffee shops, online coffee sales, coffee sold to wholesalers, other potential agricultural crops such as honey and macadamias, and even the original event-focused coffee carts, which is now starting to see bookings again.
Miller, a sophomore, and Robertson, who won third place in the Kittrell Pitch Competition with a business plan for another venture, met on a Skype call roughly three years ago. The two were discussing a business consultation for Miller's Rwanda-based coffee shop, "Crema." Then the two ran into each other again in the halls of the Swang Center and began doing business deals together.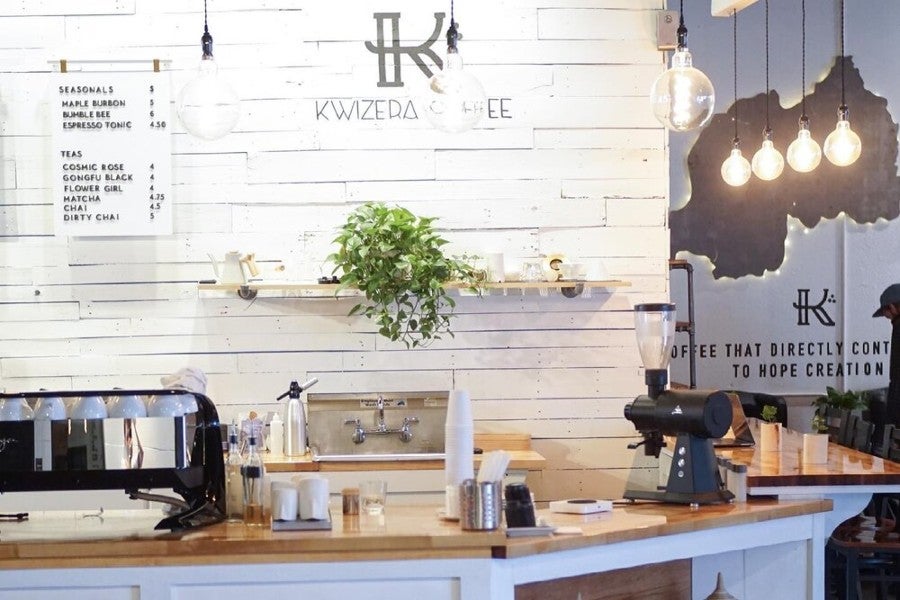 Miller's Rwandan coffee shop was established in 2017 and now employs 14 people. Miller has also competed in several African barista competitions, becoming the fourth-ranked barista in Africa (the first in Rwanda), he said. He went through rigorous training from the Specialty Coffee Association to become certified and open his coffee businesses. 
"I have always loved coffee's ability to connect people," Miller said. "It is something that everybody shares, no matter where you are in the world. People just come together over a cup of coffee and share ideas and gather in community, I think that is super powerful. I think we can leverage coffee to have an impact in the world."
Kwizera, which means "belief" or "hope" in Kinyarwanda, the language of Rwanda, partners with Peace House, a halfway home for women and children who are at high risk or who have been affected by human trafficking, and they have established a connection with Flint Global, an economic development team that aims to double the living wages of working people in Rwanda. 
"While Kwizera has exploded over the course of 2020 and into 2021, and our vision is still on a constant growth mindset," said Robertson. "Our mission will always be the same: To leverage specialty coffee to create hope, both locally and internationally for the sake of God's Kingdom."