Steele featured in FOX special, national media for upcoming 'Field of Dreams' MLB game
Kim Chaudoin |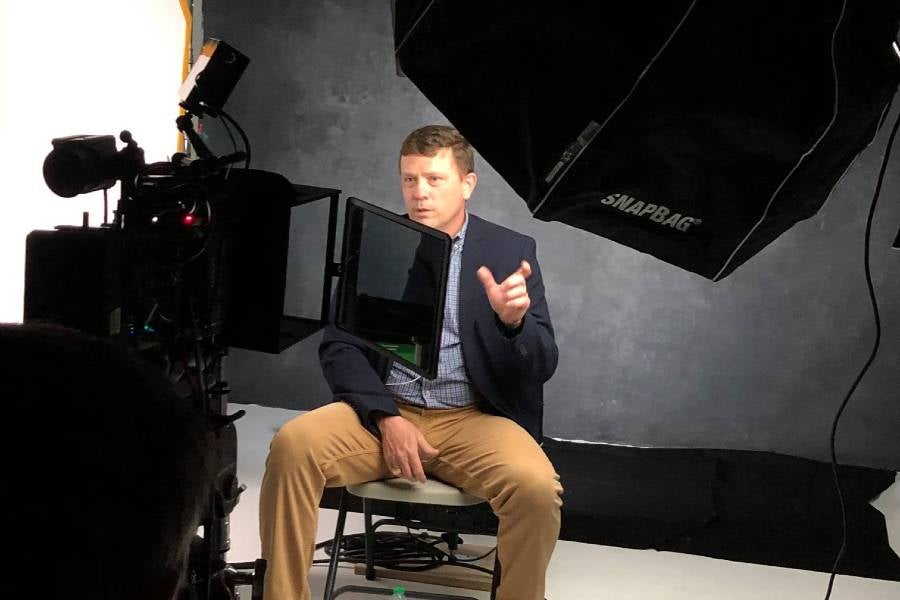 If you write it, they will call. 
When Willie Steele ('95), Lipscomb professor of English, went to a theater 32 years ago in his native Ohio, he had no idea that one day he would write a book about a guy who wrote a book that would inspire the iconic baseball film Field of Dreams, which has become a beloved classic.
He had no idea that he would become the official biographer of and befriend W.P. Kinsella, the author of Shoeless Joe (adapted into the 1989 film Field of Dreams) and in 2019 would release Going the Distance: The Life and Works of W.P. Kinsella. 
And, he had no idea that because he would write that book he would one day be sought-after by international media to discuss Kinsella's life and would ultimately lead him to that magical cornfield in Dyersburg, Iowa later this month to watch the field of dreams come to life when the Yankees and the White Sox come to town.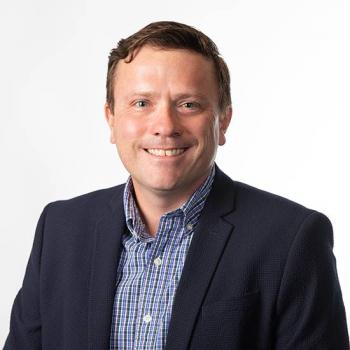 As excitement builds for the Aug. 12 match-up between two of Major League Baseball's storied teams in the most unlikely of places, Steele's own field of dreams has come to life as not only will he visit the hallowed sandlot for the match up, but he will be featured in national media coverage in the days leading up to the event. 
In the last few days, Steele has been interviewed by MLB.com, a baseball podcast and the Cedar Rapids (Iowa) Gazette to name a few. In addition, Steele flew to New York City in May to be interviewed for FOX Sports Film's If You Build It: 30 Years of Field of Dreams. The documentary will premiere Saturday, Aug, 7, at 11 a.m. CT on FOX, five days before the first-ever MLB at Field of Dreams game. If You Build It is a tribute to the enduring legacy of Field of Dreams from the people who brought the story to life, both in front of the camera and behind the scenes. In addition to interviews with Steele, the documentary features conversations with memorable actors Timothy Busfield, Frank Whaley and Dwier Brown; producer Larry Gordon and FOX Sports' lead MLB play-by-play announcer Joe Buck.
"It's amazing how the film has mapped out the trajectory of my life. I am still trying to figure out how that 16-year-old kid from Ohio who went to see a movie 32 years ago can be a part of something like this," says Steele. "One of my favorite quotes from Field of Dreams is by (Dr. Archibald) Moonlight Graham who says, 'You know we just don't recognize the most significant moments of our lives while they're happening.' There is no way then that I could have imagined all that I've been able to do because of that one moment watching that one movie."
Being one of the small number of people interviewed for the documentary is humbling. "I keep thinking, who am I and why am I here?," Steele admitted. "I am excited to see what the documentary looks like and am super excited to be able to get the opportunity to go to Iowa for the game."
If You Build It is a nostalgic look at how the film was made and explores the themes that continue to resonate with audiences 32 years later. More than just a baseball movie, the documentary reminds viewers that Field of Dreams is an enduring story of family, resilience and hope.
"The movie is timeless. People who watch the film are still moved by it today. In it we see a piece of ourselves," Steele explains. "It's about so much more than baseball. It's about redemption and second chances.. … everyone wants a second chance in something in life."
Going the Distance was the first and most comprehensive work on Kinsella's life ever published. Steele had no idea when he chose father/son relationships in the novel Shoeless Joe and the film Field of Dreams as the topic for his 1998 master's thesis that he was setting his academic career on a course that would make him today's most knowledgeable expert on author W.P. Kinsella.
Steele had always been a big fan of baseball, and he wanted to do his master's thesis on a topic he would enjoy throughout the process, he said. "I was not that good of a player, so I thought, 'If I can't play baseball, I can at least write about it,'" he says.
After earning his master's degree from Middle Tennessee State University, Steele taught writing and literature at Cascade College and Oklahoma Christian University, all the while publishing papers and making presentations, more often than not on baseball literature. His 2006 dissertation on Kinsella's four baseball novels became the 2011 book, A Member of the Local Nine: Baseball Identity in the Fiction of W.P. Kinsella, the most comprehensive work on Kinsella's work to be published to date. That book caught the attention of Kinsella who asked him to be his official biographer a year later. 
The two began a four-year relationship that included Kinsella, a resident of Canada, turning over his diaries spanning 34 years to Steele, an endless stream of interviews with business colleagues, friends and family members, two visits to Kinsella's homes in British Columbia and countless emails with follow-up questions. The author gave Steele more access to his personal life than any other non-family member alive.
When Kinsella died on Sept. 16, 2016, taking advantage of a Canadian law allowing him to undergo assisted suicide after suffering the long-term effects of diabetes, Steele was thrust into the international limelight as the preeminent expert on the famed author's life. Steele fielded interview requests from Canadian and U.S. media, including the Wall Street Journal, the New York Times and the Washington Post.  
"It's surreal that I've gotten to do all of this because I went to watch a movie," he says. "It's been a fun ride."
While Steele was working on his undergraduate degree in English and speech communication from Lipscomb University he was a member of the cross country and track team. In addition to his master's degree, he also holds a Ph.D. in literature and criticism from Indiana University of Pennsylvania. He joined the Lipscomb faculty in 2015.
Steele is the editor of NINE: A Journal of Baseball History and Culture and is a regular presenter at the Cooperstown Symposium on Baseball and American Culture and at the NINE Spring Training Conference.
Going the Distance: The Life and Works of W.P. Kinsella is available at amazon.com.