Singarama 2021 video production to premiere April 29
Singarama is one of Lipscomb's longest-running traditions and is a highlight of student life activities every year.
Anica Gilbert |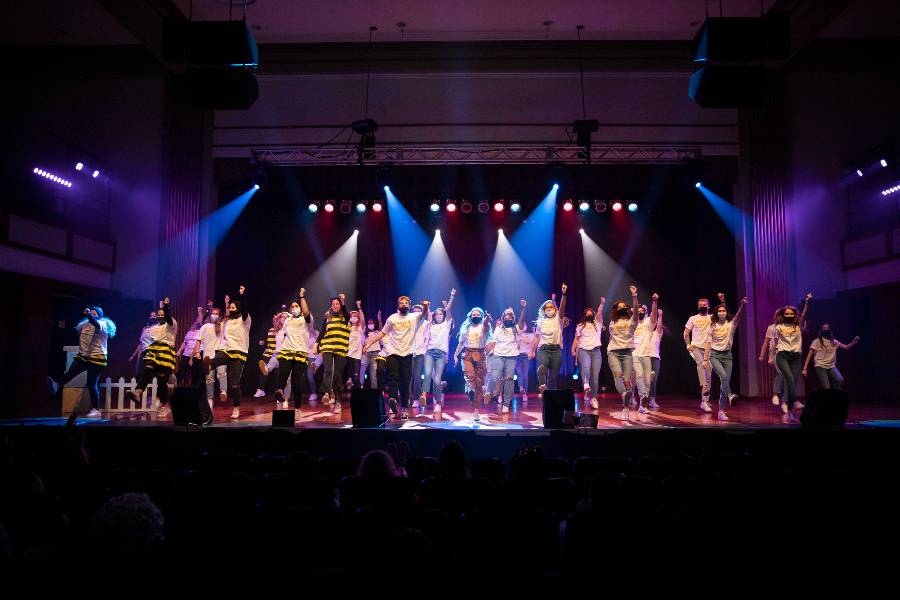 For nearly 60 years generations of students have showcased their musical, acting and choreography talents to Singarama, one of Lipscomb's longest-running and beloved Lipscomb traditions. 
This spring marks the 56th production of Singarama, with a pause in production last year due to the COVID-19 pandemic. In keeping with the continued impact of the pandemic, this year's production will be presented in a prerecorded video format. The video performance of Singarama 2021 will premiere on Thursday, April 29 at 7 p.m. CST. The link to view this year's production will be released in the coming days. 
"Singarama is an important part of our campus community and we are excited that we were able to move forward with this year's production even though it is a little different this year," said Kelvin Kelley, director of student productions and social clubs at Lipscomb. "Our students worked extremely hard preparing for this year's performance and we hope that our students, faculty, staff, alumni, parents and the community will join with us to watch and to celebrate the talent of our students."
Singarama 2021 is made up of three groups. Fight or Flight, directed by Sara Jean Malham, is presented by Delta Omega, Tau Phi and friends. Friend or Foe, directed by Nate Pearce, is presented by Phi Nu, Pi Delta, Theta Psi and friends. Directed by Erin Stanley, To Bee or Not to Bee is presented by Gamma Lambda, Sigma Iota Delta and friends. This year's hosts and hostesses are Callie Arnold, Taylor Hogan, Dane Mortensen and Hudson Parker. More than 150 students participated in this year's production. 
"Being able to do Singarama this year has meant so much to me because of the relationships you come out of Singarama with are so special and so unique," said Malham. "Singarama has given me some of my favorite Lipscomb memories." 
"I think that student life and the directors did the best they could with the circumstances and we still had fun with Singarama," Pearce said. "I am so thankful that I got to know new people in our cast and that we got to work together on something we're proud of."
"Being director this year was definitely different than what I imagined it being, but it is still the highlight of my senior year. I was so excited to see the hard work and dedication shown by the cast every single rehearsal," said Stanley. "I am truly in awe of how much they accomplished in only one month of rehearsals. This has been such an enjoyable experience for me and I am so excited for everyone to see it as well."
The Office of Community Life will also host a virtual Singarama Watch-A-Thon to gear up for the premiere of this year's production. There will be special viewings of Singarama 2017 (April 26), Singarama 2018 (April 27) and Singarama 2019 (April 28).  
"Singarama has always been a favorite tradition among our students," said Kelsy Campbell, coordinator of student productions and social clubs at Lipscomb. "The time and effort these students have invested in planning, producing and performing as part of Singarama not only gives them experiences that will be useful in their careers one day but will also give them wonderful memories that will last a lifetime."
Over the years, more than 16,000 students have participated in Singarama.  Armed only with their category, the students in each group develop storylines, write scripts, choose a minimum of eight songs and accompanying choreography, design sets and create costumes. Traditionally the shows, evaluated over four live performances by a panel of judges, compete in three categories (theme, music, and staging) and in overall sweepstakes points. Because Singarama 2021 is offered in a virtual format, shows were not judged this year.  
— Photo by Kristi Jones