Shining Light Awards honor community service during Be A Light Tour
Kim Chaudoin |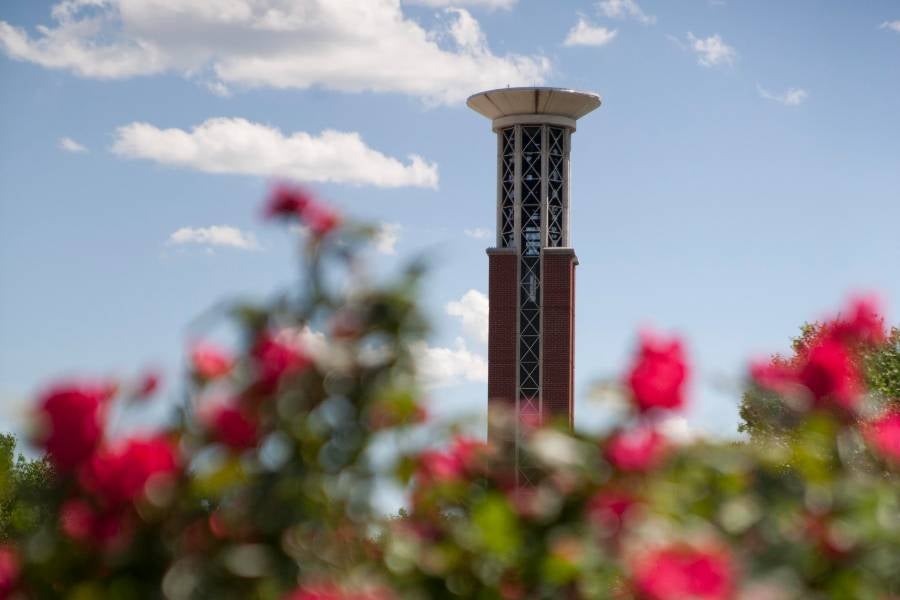 Lipscomb University is going on the road this spring on the Be A Light Tour as an opportunity for new President Candice McQueen to meet alumni, prospective students, donors and friends, and to share exciting university updates.
One of the themes of McQueen's administration is challenging those in the Lipscomb community to be a light. It is a message that she is taking on the road as part of this initiative. At each Be A Light Tour stop, Lipscomb is selecting recipients of the Shining Light Award to recognize someone whose life — and light — shines brightly in the community and in their service to others. 
The Shining Light Award recipients are selected by a committee that includes McQueen and other Lipscomb leadership. The committee has a stated goal to elevate and honor the many people in our Lipscomb community living across the country who exemplify lives of service, character, and living their faith in action. 
The Be A Light Tour has made stops in Huntsville, Alabama; Memphis, Tennessee; Austin, Texas; and Atlanta, Georgia, with more to come. Shining Light Award recipients to date include: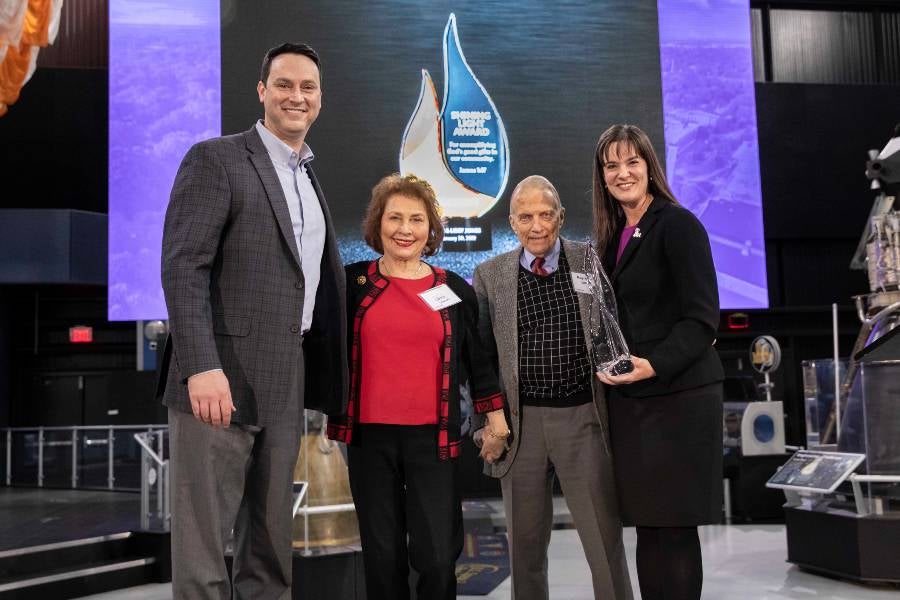 Ray and Libby Jones
Huntsville, Alabama
Longtime Lipscomb friends and supporters Ray and Libby Jones have been recognized for their service to Lipscomb and to their community as the first recipients of the university's first Shining Light Award when the Be A Light Tour stopped in at the U.S. Space and Rocket Center in Huntsville, Alabama, on Jan. 20.
The Joneses were recognized with a special presentation during the event. Ray Jones served on the Lipscomb Board of Trustees from 1983-2007. The Joneses led the charge in 2002 to first establish a school of engineering that grew into a college at Lipscomb that bears his name. Today the Raymond B. Jones College of Engineering now offers ABET-accredited degrees in civil, mechanical and electrical engineering. It is a growing and vibrant program with 220 students in the program this year. 
Just as faith has been an integral part of every aspect of their lives, the Joneses have had a particular passion for the integration of faith into engineering education. As such, they have been strong supporters of Lipscomb's Peugeot Center for Engineering Service and have continued to support that work year after year. They have been excited to see Lipscomb engineering students serving others with their engineering talents in Central America, in Africa, and throughout the United States. Today, hundreds of Lipscomb Engineering graduates are not only delivering excellence in their work for organizations like Lockheed, Boeing, Jacobs, SpaceX and others, they are carrying with them a passion for serving others across God's kingdom based on the Joneses' vision and generosity. 
In addition to their service to Lipscomb, the Joneses have served their community and state through service in numerous boards and ministries and have ministered to others through Mayfair church of Christ in Huntsville. Jones's daughter, Lisa, attended Lipscomb University to pursue engineering studies and it was here that she met her future husband, Mark Yokley, who served as a member of Lipscomb's Board of Trustees from 2007-2019.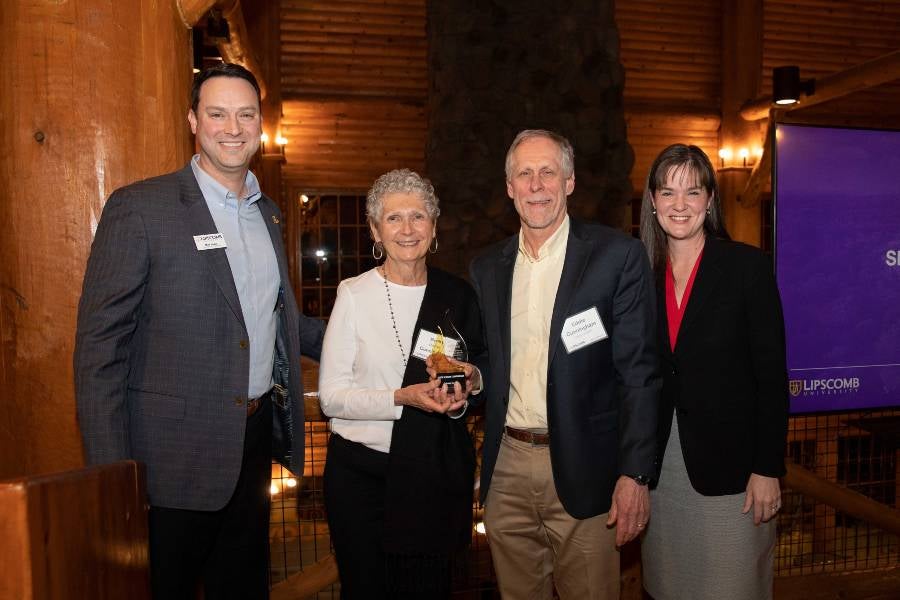 Eddie and Becky Cunningham and David and Jenny LaVelle were recognized for their service to the community at the Be A Light Tour stop in Memphis, Tennessee, on Tuesday, Feb. 15. The Cunninghams and the LaVelles were honored at a special ceremony that took place at the Teton Trek inside the Memphis Zoo. 
Eddie and Becky Cunningham
Memphis, Tennessee
Eddie and Becky Cunningham have made a lifetime commitment to using their time and talents to serve others. Eddie, a 1976 Lipscomb graduate, is an anesthesiology specialist in Memphis, affiliates with Methodist Healthcare Memphis Hospitals and cooperates with many other doctors and specialists in the medical group Medical Anesthesia Group. Becky is an educator who taught middle school at Harding Academy while Eddie was in medical school, then taught in New Orleans where Eddie did his internship and in Charlottesville where he did his residency.
Together, Eddie and Becky use their time and talents to serve others and have a passion for serving under-resourced children. As often as they can they work with Point Honduras, a nonprofit working in four of the most dangerous neighborhoods in Tegucigalpa that is focused on sharing the Gospel by caring for society's most vulnerable and disadvantaged. Each weekday, Point Honduras has 700 children who come to its centers where they receive a hot meal, are educated, and taught the gospel in a loving and nurturing environment.​ Point Honduras has three medical clinics that help decrease the health disparity in the neighborhoods where we work.
​
The Cunninghams live on and operate For the Kingdom Camp​, a 1​00-acre camp in the Raleigh area of Memphis, one of the lowest income neighborhoods in the city. They had a vision and a dream of a camp for under-resourced kids for several years and bought the property for that purpose in March 1993. We were able to partner with Memphis Leadership Foundation in 1999 and the camp became a reality in 2000. They currently live on the property and help out when they can. In addition, they have been involved in mission work in Africa at Nigerian Christian Hospital, on Mercy Ships on the Ivory Coast and in Guinea and with short-term mission trips to the Ukraine among others. The Cunninghams attend Fellowship Memphis, where Eddie serves as an elder and Becky is involved in women's ministry activities.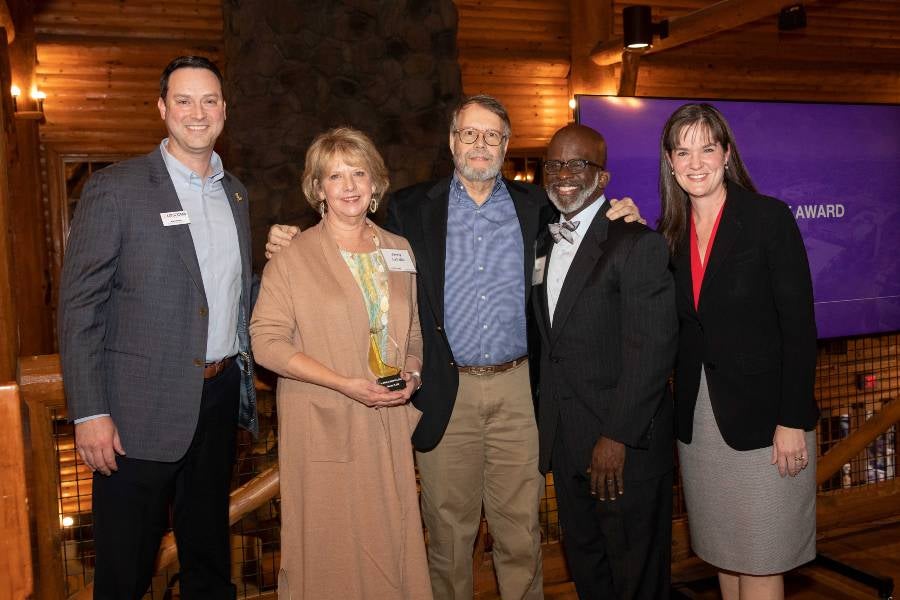 David and Jenny LaVelle
Memphis, Tennessee
Serving others has been a part of David and Jenny LaVelle's lives since they were children as both of their families served as foster homes. It is a passion that has remained an important part of their lives for many years. After Jenny and David married, they became involved at AGAPE child and family services, as they served as foster parents twice and David as board chairman.
David is a retired orthopedist in Germantown, Tennessee. As an orthopedic surgeon with Campbell Clinic Orthopedics, David specialized in orthopedic adult reconstructive surgery. Jenny is retired from her role as a registered nurse at Methodist Central Neuro Trauma ICU.
They are active members of Highland Church of Christ, where David taught the young couples class for 20 years and they have both been involved for decades. In addition, David participated in several missions to the Ukraine. Today, David volunteers at the Church Health Center in Memphis seeing uninsured patients and is on the board of the Campbell Clinic Foundation, (the educational, research and service wing of the Campbell Clinic. Jenny was very involved at Harding Academy when their children were in school there and today serves others from sewing hundreds of masks when the pandemic first started to making meals and through many other activities. 
The LaVelles have a passion for Christian education. David is a member of Lipscomb's College of Liberal Arts & Sciences dean's advisory committee where he serves as a member of the Ward Society. In 2020, he, along with his sister, Susan Lowry ('79), established the Dr. Herman G LaVelle Jr. Endowed Scholars Program. The endowment honors their father's legacy as a first generation high school graduate and physician. The purpose of the LaVelle Scholars program is to assist qualified pre-health professions students who demonstrate financial need to pay application and testing expenses associated with gaining admission to health professions schools. Though the LaVelles are not Lipscomb alumni, they have deep Lipscomb ties through their children, Kate; Dan, who has an undergraduate and graduate degree from Lipscomb; Liz, who died in 2010 while enrolled at Lipscomb; daughter-in-law, Leslie, who has an undergraduate degree and MBA degree from Lipscomb; and grandson, Hayes.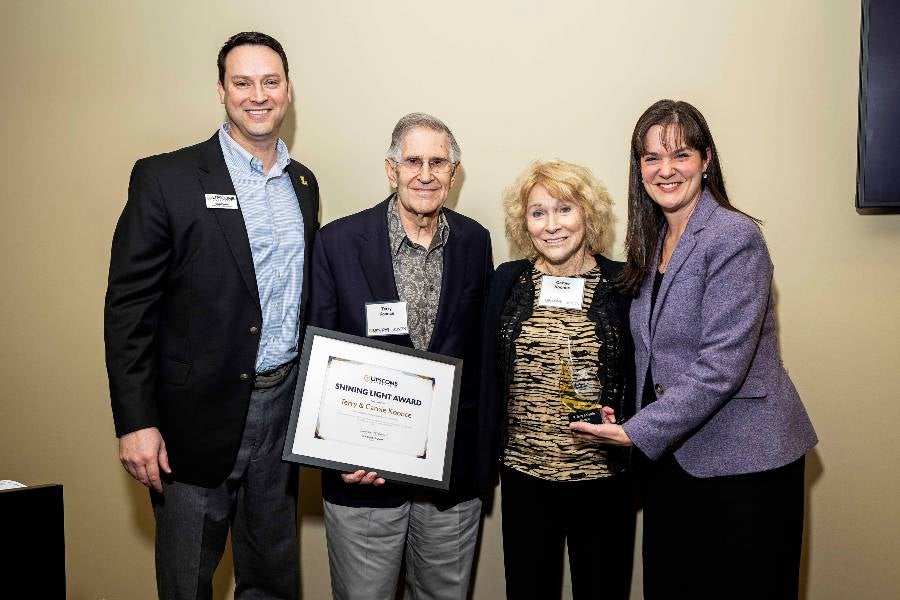 Terry and Carole Koonce
Montgomery, Texas
Serving others is near and dear to Terry and Carole Koonce who give generously of their time and resources. Their story begins in October 2010, when they married several years after both of their first spouses passed away.
Carole began her college education at Lipscomb University and finished her undergraduate degree at Vanderbilt University, where she also earned a master's degree. The wife of a doctor, Carole was actively involved in the Medical Auxiliary of Nashville and Davidson County, and was twice named volunteer of the year of that organization. She devoted much of her time to volunteer work at various organizations in Nashville and has always been actively involved at church.
Terry, who is a member of the Lipscomb Board of Trustees and is former chairman of the board of Austin Graduate School of Theology, had a very distinguished career of more than 40 years in various leadership positions with ExxonMobil Corporation and ExxonMobil Production Company. He retired in 2003 as president of ExxonMobil Production Company and vice president of ExxonMobil Corporation.
He has been involved with not one but four United Ways, both in the United States and internationally. In fact Terry was instrumental in starting a United Way chapter in Moscow a number of years ago and it remains active today. United Way of Greater Houston's early childhood education initiative, United Way Bright Beginnings, which was developed in partnership with ExxonMobil, has a special place in Terry's heart. In 2004, ExxonMobil provided early funding for this innovative early childhood education program designed to help children from lower-income families achieve social, emotional, physical, and cognitive milestones, thereby entering school ready to succeed. There are now 41 United Way Bright Beginnings centers serving more than 1,000 children each year.
Terry has served on a variety of boards including Heartbeat Ministries, Target Hunger, African Outreach Ministries; on the development board of Lifeline Chaplaincy in Houston and on the advisory council of the Greater Houston Community Foundation and founded the Koonce Family Foundation. Terry has served as an elder for 22 years in the Church of Christ in California, New Jersey, Texas and Alberta, Canada.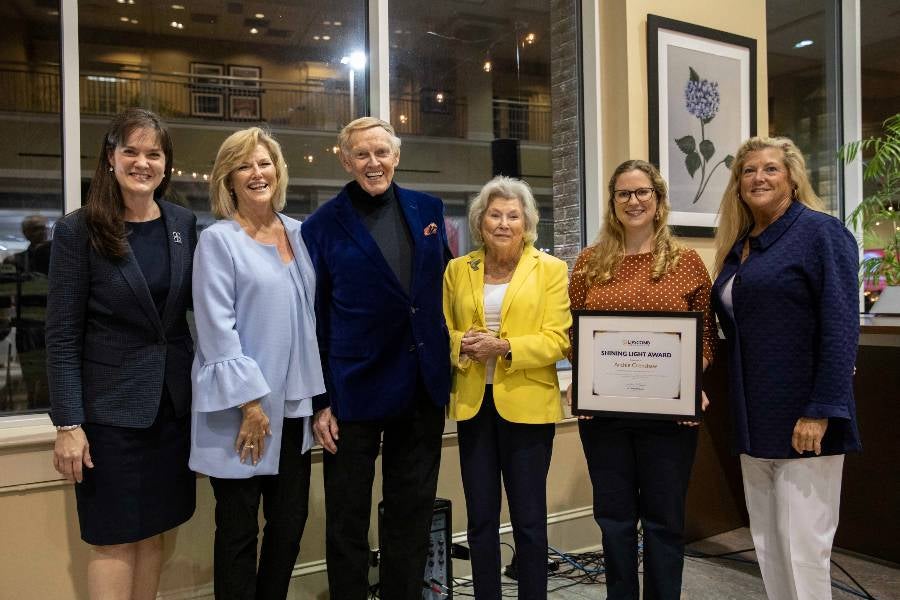 Archie Crenshaw
Atlanta, Georgia
Lipscomb has been an important part of Archie and Geneele Crenshaw's lives. Geneele attended Lipscomb for two years and Archie was a very active student when he attended Lipscomb. He pitched four years for the Bison baseball team and was a three-year starter on the basketball team. He was also voted "Bachelor of Ugliness." Archie earned a bachelor of arts degree from Lipscomb in 1957. After receiving his master's degree from Vanderbilt University, he became the head baseball coach at Lipscomb and assisted with the men's basketball team from 1959 to 1962.

Archie left Lipscomb to pursue a Ph. D. in business administration from Georgia State University and to preach at Decatur Church of Christ, where he and Geneele served side-by-side. Archie was a preacher from 1955 until 1972, the last ten of those years here in Atlanta. In addition to being on faculty at Lipscomb, he also served on the faculty at Georgia State, Dekalb College and Oglethorpe University. In addition to a career in higher education and ministry, Archie developed a management training company, developed high rise apartment complexes for senior citizens across the country, entered the nursing home and restaurant businesses. In addition, Archie established the first health maintenance organization in the state of Georgia, a notable effort in itself. But the reason behind that venture tells a lot about Archie. Through engagement on the mission field, Archie saw first hand the need for better medical care in majority world countries – and the fact that the structure of conventional medical practices inherently limited a doctor's ability to take time off to work in a remote mission field. His HMO provided cost efficiencies for healthcare stateside while simultaneously enabling doctors to spend meaningful time in serving folks who previously had been underserved. He later sold the HMO generating the funds used to establish the World Outreach Fund in 1974.

Initially, World Outreach Fund was focused on sharing God's blessings around the world through medical missions. Over the past 40 years, it has broadened its focus to support faith-based initiatives across a broad spectrum of service areas, including serving the poor, feeding the hungry, providing clean water, visiting those in prison, and caring for the sick, widowed and orphaned. World Outreach Fund has sponsored missions in many parts of the world such as Latin America, Africa and India. It developed three major ministry partners. Two are in Honduras: Predisan and Honduras Outreach International (later simply HOI). The investment in these organizations provided significant support to over 300,000 in the service area through holistic community development efforts. World Outreach's third major ministry partner has been Lipscomb University. His work with HOI, Predisan, and through Lipscomb's Peugeot Center for Engineering Missions has blessed hundreds of thousands of individuals with education, medical care, improving quality of life, and always with a focus on spiritual development. Predisan, HOI, and Lipscomb Engineering Missions could have never had the impact we've had without the support and prayers of Archie and the team at World Outreach Fund.

Archie and Geneele have been married for 58 years. They have three daughters and eight  grandchildren. Their daughter Candace graduated from Lipscomb in 1982. Three of their  grandchildren also attended Lipscomb: Chelsea Deans, Court Futrell, and Ali Watson (2013).  Archie's brother Doug (1959) and his wife, Dortha, also attended Lipscomb.
Upcoming Be A Light tour stops include April 5 in Knoxville, April 11 in Chattanooga and April 21 in Louisville.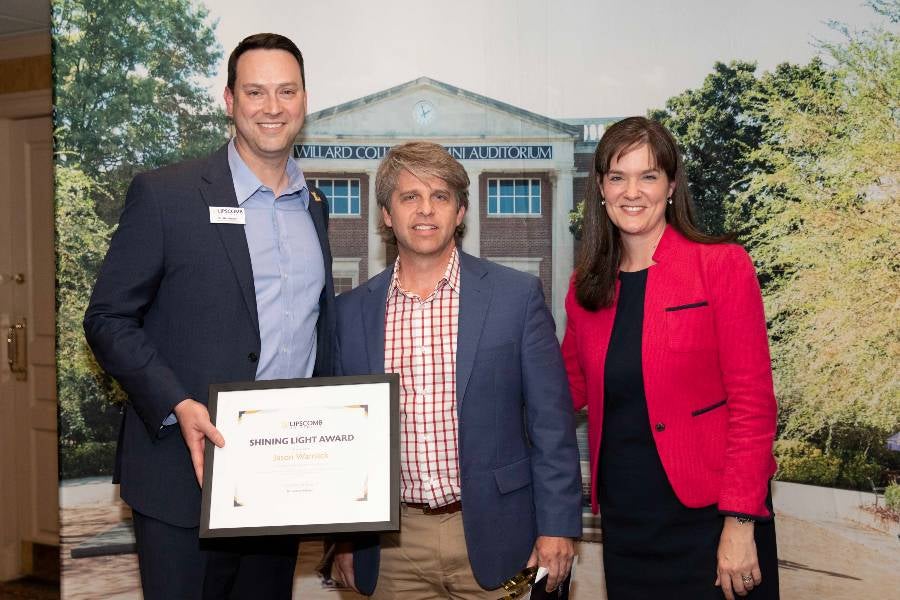 Jason Wamack
Chattanooga, Tennessee
Jason Wamack grew up in Chattanooga and attended Boyd Buchanan School K-12 before heading off to Lipscomb for his undergraduate degree in biology. He was a student at Lipscomb from 1993-1997 and he says his years here were amazing and that his family and friends often hear stories of his time at Lipscomb. He shares many stories of how Lipscomb and its people helped to shape who he is today. He says he had outstanding professors who took an interest in him and wanted to see him succeed, most notably Kent Gallaher and Jon Lowrance. Also, while at Lipscomb, he was able to be a part of medical missions to Guatemala with his good friend and Lipscomb graduate Jason Robertson.
After graduating from Lipscomb, Wamack attended Barry University's School of Podiatric Medicine. In 2001, he received his doctorate and then completed three years of surgical training in Fort Lauderdale and Houston before moving back to Chattanooga to begin private practice in podiatric medicine. A board certified foot and ankle surgeon, he joined The Center for Sports Medicine and Orthopedics in 2009, where he currently practices today. 
Wamack has been married to his wife, Heather, for 22 years this summer and they have three children — Kaitlyn Fly, Carter and Hudson — and a son-in-law, John Fly. He is passionate about telling others about how Jesus changed his life. In any free time he has, he mentors Boyd Buchanan high school boys, serves on the Board of Trustees at Boyd as well as the executive board at the Center for Sports Medicine. He is also committed to providing the same life-transforming experience to future generations of students that he received at Lipscomb University and is actively involved in the Ward Society at Lipscomb.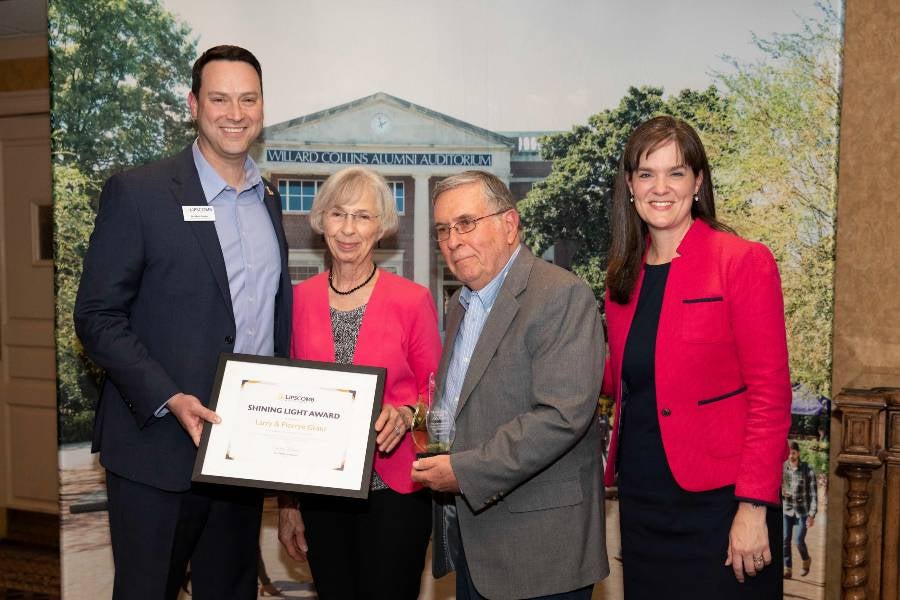 Larry and Florrye Grant
Chattanooga, Tennessee
Larry and Florrye Grant have deep roots at Lipscomb and a passion for Christian education. Both Larry and Florrye are Lipscomb alumni. Larry, who had a dream of becoming a dentist, completed his pre-dental courses that provided him a strong foundation for dental school. He was a member of the class that graduated in 1963, although he left Lipscomb early to begin his studies at the University of Tennessee College of Dentistry in Memphis. Florrye, a home economics major, graduated from Lipscomb in 1964. Three of their four grown children are Lipscomb alumni along with several of their children's spouses. 
A dentist in Dalton for more than four decades, Grant was known as a dedicated member of the medical community, building strong and courteous relationships with his patients and had a reputation of taking care of people, listening to them, talking with them and being honest with them which made him a popular and trusted dentist in his community.
The Grants have been members of Clear Creek Church of Christ, formerly known as Hixon Church of Christ, for nearly 20 years. Grant has served as a Sunday school teacher for over 40 years, and they oversee the marriage ministry, teaching classes and assisting people on how to have a successful marriage or enrich their marriage.
The Grants believe in the value of Christian education and have generously financially supported Lipscomb University, Boyd Buchanan Christian School and Harding University. Larry serves on the Boyd Buchanan Board of Directors and is also on the Greater Chattanooga Christian Services board.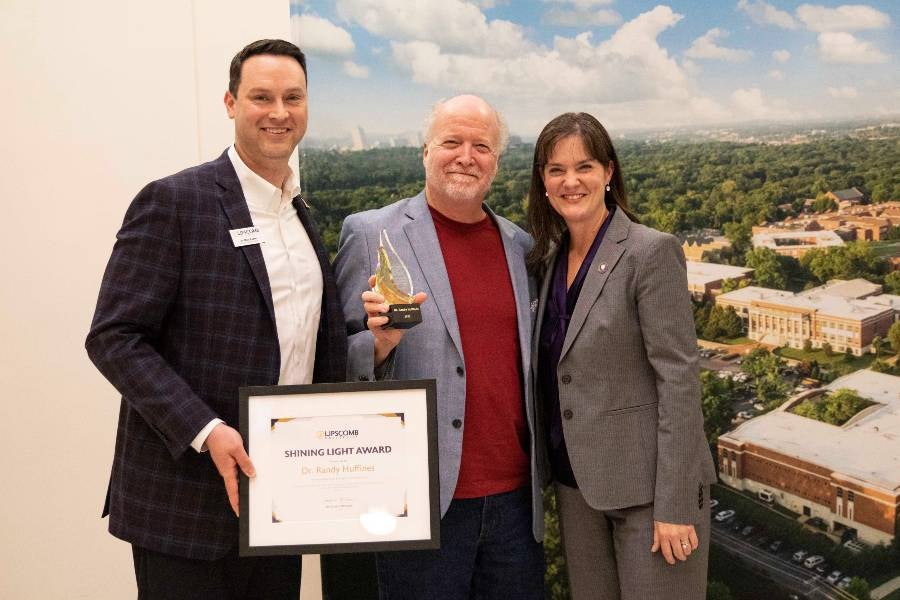 Randy Huffines
Knoxville, Tennessee
For nearly 40 years, Randy Huffines made his career as a geriatric dentist in a traditional private practice, nursing homes and hospitals. For 27 of those years he was director of geriatric dentistry at the Quillen Medical Center in Johnson City, Tennessee. He is recognized as one of the country's leading experts on aging, medically complex patients and oral health and as such is highly sought after to speak at national conferences. In addition, he has held faculty appointments at Marquette University, the University of Tennessee, East Tennessee State University and the University of North Carolina - Chapel Hill.  But, Huffines believes that what is more important than these numerous professional accomplishments and accolades is that his work in dentistry was an opportunity to serve others. He viewed it as his ministry.
His heart for service began at an early age. Huffines shares that starting at the age of 10, he began exercising his life-long passion for teaching. A graduate of Goodpasture Christian School in Goodlettsville, Huffines received a scholarship to attend Lipscomb University where he says he became a "serious Bible student." In addition to taking the required chemistry and biology courses needed for his major, he took as many "preacher major" Bible courses as possible.
In addition to his ministry through his dental career, Huffines has taught at Thankful Baptist Church, Johnson City, Tennessee, the largest African American congregation in the area, which he says has been the most important part of his spiritual formation outside of his baptism. It is a place where he found personal racial reconciliation that ignited a passion to be involved in this work. He also has a heart for international missions. His work in this area began in 1991 in Belize, Central America. He served on the board of Belize Christian Ministries and its US non-profit Christian Ministries International (CMI) and was instrumental in the founding of Belize Christian Academy in 1993. Today, he is president of CMI, is on the BCA school board and is also on the board of TeachBeyond Belize. In addition, Huffines is a member of Lipscomb's Lanier Center for Archaeology advisory council.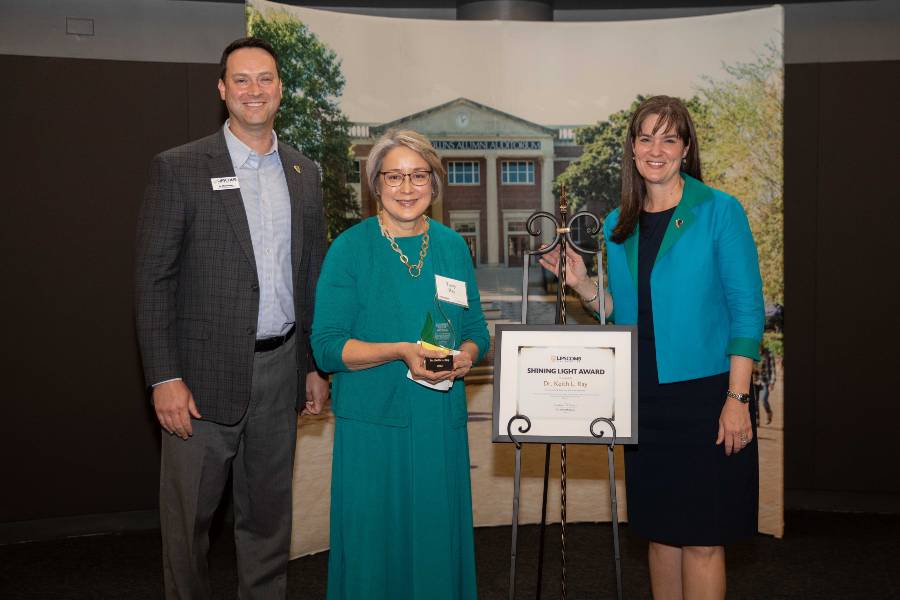 Keith Ray
Louisville, Kentucky
Keith Ray is a Louisville native. He attended Thomas Jefferson High School. In 1975, BA in Chemistry at Lipscomb University in 1975. While at Lipscomb he was a member of the track team and learned javelin throwing here. He came to Lipscomb on music and drama scholarships, and he left for dental school as a student-athlete. In that time he also served as Student Government president and was a member of Alpha Tau social club.
Ray earned a DMD from the University of Kentucky College of Dentistry and completed his post-doctoral training and certificate in Pediatric Dentistry from Indiana University and Riley Children's Hospital.  In 1983, Ray established Great Grins Children's Dental Specialists in Louisville where he continues to practice today. He uses his professional talents to serve others. For more than a decade he has served in free local dental clinics for adults and children. Ray and his wife, Terry, have participated in mission work in a remote mountain village of Guatemala for many years. This mission work includes medical clinics in which Ray and the mission teams teach children how to brush their teeth properly for good dental health and perform other dental procedures for the people of that community. He actually first became involved in this work through his son, Austin, while he was a student at Lipscomb and was part of Lipscomb's annual spring break Guatemala Coban Medical Mission Team.  He has been involved with a number of professional and community organizations including having served as a trustee for the American Society of Dentistry for Children and currently being on faculty at the University of Kentucky College of Dentistry and both the University of Louisville Schools of Dentistry and Medicine. In addition, Keith is also an avid Boy Scout advocate, an Assistant Scoutmaster and routinely chairs Eagle Scout Boards of Review in the Louisville area. 
The Rays have two sons, Austin ('12) and Logan ('13). Terry is a retired school administrator and currently serves as the children's minister at West Port Road Church of Christ, where Ray serves in a variety of volunteer roles.