School of Nursing ranked among best in the nation
Preparing nurses and health care practitioners who are not only experts in their field but also have a heart for compassionate care are hallmarks of Lipscomb's health sciences programs.
Kim Chaudoin |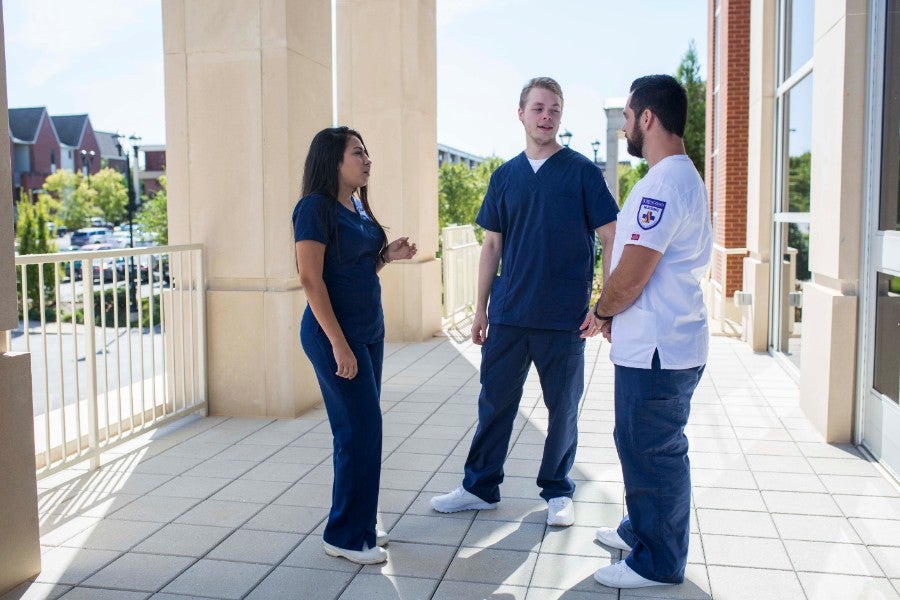 Lipscomb University's  School of Nursing has been ranked one of the best in the nation by RNCareers.org.
In its fourth annual nursing school rankings, RNCareers.org ranked Lipscomb University one of the best nursing schools in the nation and No. 6 in Tennessee with a grade of 95.15 percent. In determining the rankings, the organization rigorously evaluated 1,892 RN programs across the country on a number of factors important to nursing students including first-time NCLEX passing rates, accreditation and program offerings among other considerations.
"Nurses are the backbone of the healthcare system and preparing great nurses is something we'd like to commend Lipscomb University for doing so well," says Laura Jacobson, M.S., R.N., WHNP-BC, of RNCareers.org.
The research team surveyed over 9,000 nurses across the country; collected the institution, program and NCLEX testing data from state boards of nursing, the U.S. Department of Education College Scorecard and OPE, the National Center for Education Statistics, the Bureau of Labor Statistics; compiled essential ADN and BSN nursing data such as NCLEX-RN and BSN pass rates;  ACEN and CCNE accreditation; institutional ranking; net price to attend the college; institution graduation and retention rates; and campus and/or online program offerings when developing the score for each institution. 
"This is a well-deserved honor that can be attributed to the hard work and dedication of the nursing faculty, staff and our students," says Chelsia Harris, executive director of Lipscomb's School of Nursing. "Although we are thankful for such recognition, we want to always acknowledge that the glory belongs to God."
Lipscomb University's School of Nursing, housed in the College of Pharmacy & Health Sciences, provides a state-of-the-art nursing education while providing each student with individual support and guidance that enables them to become the best nurse possible.
""The commitment of students, faculty and staff to achieving excellent outcomes in nursing education and practice is what creates the God centered family community for which Lipscomb is known," says Dr. Roger L. Davis, vice provost for health affairs at Lipscomb.
The school offers a four-year Bachelor of Science in Nursing program for traditional undergraduate students and transfers. Students have the opportunity to "practice before they practice" in an on-campus facility that includes a state-of-the-art, high fidelity patient simulation lab. The school also offers an online RN-to-BSN program designed to help equip and empower Registered Nurses with an Associate Degree desiring to advance their career. The RN-to-BSN program may be completed online in as few as 18 months.
In the Health Sciences Simulation Laboratory, students experience health conditions covering the entire lifespan from premature babies to the elderly. Twenty-three computerized patient simulators provide realistic health scenarios and respond to a student's interventions. Student nurses are also trained in bedside health care informatics and in the use of medical equipment. The lab is equipped to be able to triage real patients in the event of a crisis.
Another hallmark of Lipscomb's nursing program is teaching Christ-centered nursing care that includes opportunities for students to participate in medical mission trips and international educational experiences.
Student nurses learn from faculty who are highly trained in all clinical and specialty areas, who also serve as academic advisors and mentors, looking out for the individual needs and goals of each student. With Lipscomb's location in Nashville, the health care capital of the nation, students complete nurse preceptorships and residency programs at some of the country's top medical institutions.
Lipscomb's School of Nursing is recognized by the industry's most demanding organizations and regulators as top quality. The program holds accreditation from the Accreditation Commission for Education in Nursing and has received multiple superior ratings from the Tennessee Board of Nursing at its regular site visits. The program's 2018 graduates have a 97.3 percent pass rate on the NCLEX licensure exam and 100 percent job placement.

Want to know more about Lipscomb's School of Nursing? Visit www.lipscomb.edu/nursing.