Registration is open for Lipscomb University's annual Homecoming and Family Weekend
Rhonda Minton | Office of Advancement |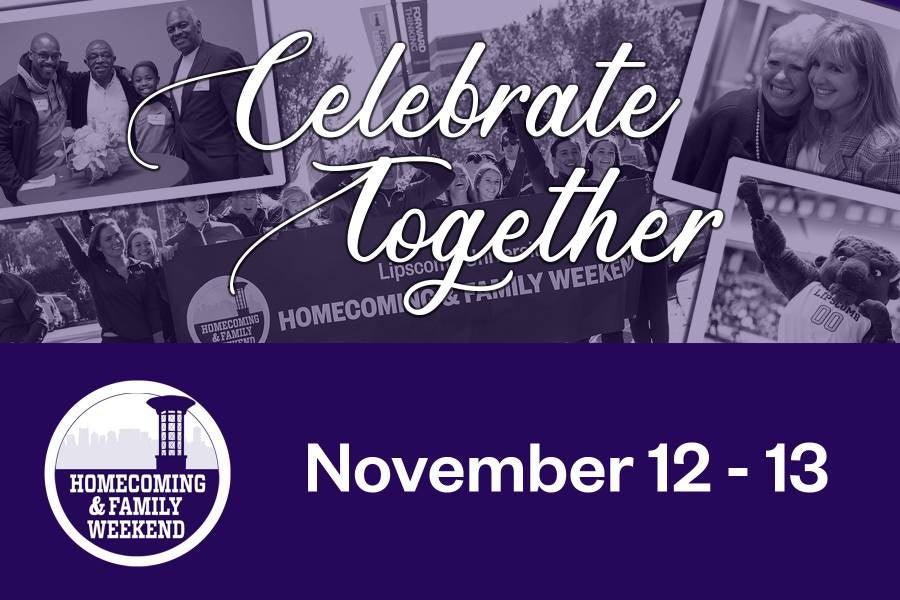 More than 50 events are scheduled for Lipscomb University's annual Homecoming and Family Weekend celebration which takes place Nov. 12-13 at the university. 
"Lipscomb University has a vibrant community of students, alumni and parents, and Homecoming and Family Weekend is one of the best opportunities to have everyone come together," Stephanie Carroll, assistant vice president for annual giving, alumni and parent engagement, said. "We are excited to welcome hundreds of alumni and parents back to campus to reconnect with the university, their students and their friends. More than 50 events are scheduled this year, so there is something for everyone. We can't wait to see you on November 12-13!"
Individual events are scheduled specifically for alumni or parents with a variety of events open to all members of the Lipscomb community. Highlights include milestone reunions for the Classes of 1970-71, 1975-76, 1980-81, 1990-91, 1995-96, 2000-01 and Golden Circle; Parents, Pancakes & the President; Parent Reception with the Provost and Deans; Alumni Reception with University President Dr. Candice McQueen; receptions for academic departments, Lipscomb Black Alumni Council, young alumni and social clubs; the IDEAL program's 5th Annual Savannah's Boogie 5K; Bison Square Fair; "Mamma Mia!" musical; Lipscomb Volleyball vs. University of North Alabama match—and much more.
The Athletics Department will celebrate its four newest inductees to the Athletic Hall of Fame. The 2021 honorees are: Ann Mullins (Volleyball), Alex Kelly Samuels (Volleyball), Jake Pease House (Volleyball) and Andy Lane (Meritorious Service). The Hall of Fame ceremony will take place at noon on Nov. 13 in the George Shinn Center. Registration is required.
Another special opportunity occurring during the weekend is the Halston exhibit that features the university's collection of original fashion sketches, patterns and designer pieces by the iconic American designer. Presented by the Department of Fashion and Design and Beaman Library Archives and Special Collections, the exhibit is open for touring from 7 a.m. to 5 p.m. on Nov. 12 and 9 a.m. to 5 p.m. on Nov. 13 at Beaman Library.
Registration is requested by Nov. 5 for all events—both fee-based and free.
To register or for more information about Homecoming and Family Weekend, visit lipscomb.edu/homecoming or contact the alumni office at 615-966-6212.