Reed's decades-long influence on students recognized as part of first Steinway Teacher Hall of Fame class
Lipscomb's faculty is leading the way in the classroom and around the world.
Kim Chaudoin |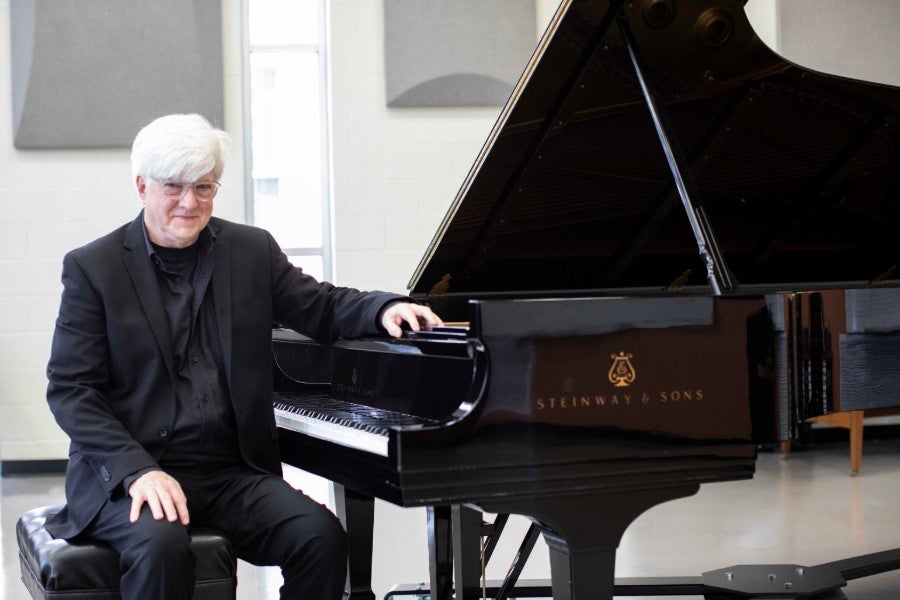 When Jerome Reed takes his place on the bench at his piano, he is in a sacred space that is ingrained in his soul.
Bringing music to life through his hands on the keys of a piano is something Reed, the Patricia and Rodes Hart Professor of Piano in Lipscomb's School of Music, has done since he was about five years old. In the decades that have followed he has performed in halls large and small across the country and around the world. While sharing his immense talent with audiences for most of his life, he has also inspired generations of pianists to breathe life into their own musical talents as a teacher. 
In October, Reed was inducted into the Steinway & Sons Teacher Hall of Fame, a prestigious designation recognizing the most committed and passionate piano educators. He was one of 43 teachers from across the United States and Canada who were inducted as the inaugural class and was celebrated with a series of special events hosted at the historic Steinway Factory in New York City. Reed's name is now listed permanently on a commemorative wall inside the iconic factory. 
"I was awe-struck by some of the other people being inducted … teachers I have known for many years whose students consistently win competitions," says Reed. "Seeing my name on the wall with all of the other teachers, and seeing Lipscomb University on the wall with all of the other All-Steinway Schools was a very special moment for me."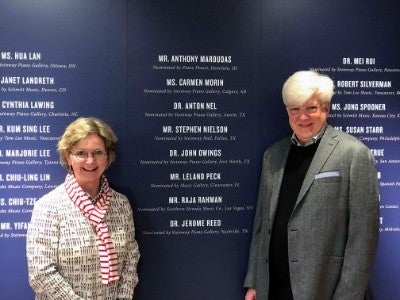 But for Reed, the real joy and honor comes from the nearly four decades of students he has taught as part of the music faculty at Lipscomb University. He knows first-hand the impact of a teacher-pupil relationship. 
A love for the piano
As a young boy growing up in Columbia, Tennessee, Reed often heard his mother, Aurelia Reed, playing the piano in their home. He recalls begging her to take lessons. So, she called her teacher, Martha Virginia Lewis, who lived in their neighborhood, and Reed began his first formal lessons as a first grader. He voraciously worked through the lesson books, finishing the first one in only a few weeks. That continued book after book. Lewis kept trying to challenge her young student with increasingly difficult pieces, and he continued to master them.
Lewis knew Reed needed a different teacher who could continue to find new challenges for her talented pupil. When one of his friends moved to New York City, Reed, a fourth grader at the time, had an opportunity to audition for the prestigious Julliard School's preparatory program. He was offered a spot in the school, but the Reeds did not want to leave Columbia. They were referred to George Peabody College (now part of Vanderbilt University), where he was accepted as a student in the newly formed Blair Academy of Music. After an impressive audition, Reed was selected to receive a scholarship to fund his lessons. So, from the fifth through 12th grades, Reed was on scholarship which covered private lessons one day a week as well as classes in theory, music history, composition, and accompanying. 
"That's what really set me on this career path … in the fourth grade. My beginning teacher was good, but I will be forever grateful that she knew I needed someone who could challenge me more than she could," recalls Reed.  
Roland Schneller became Reed's new teacher and played a tremendous role in shaping him as a musician and teacher. 
"I had a fabulous teacher at Blair," he says. "When I was in the sixth grade Mr. Schneller took my playing technique, totally tore it down and rebuilt it. The process was so valuable, but at the time as a sixth grader it was very tedious. We would spend entire lessons just on how to push down on a key." Ironically, Reed says this is a lesson he continues to use today with his students.    
Reed also studied under Béla Nagy while working on a master's degree and Doctor of Musical Arts at the Catholic University of America. He credits him with a significant component of his musical education.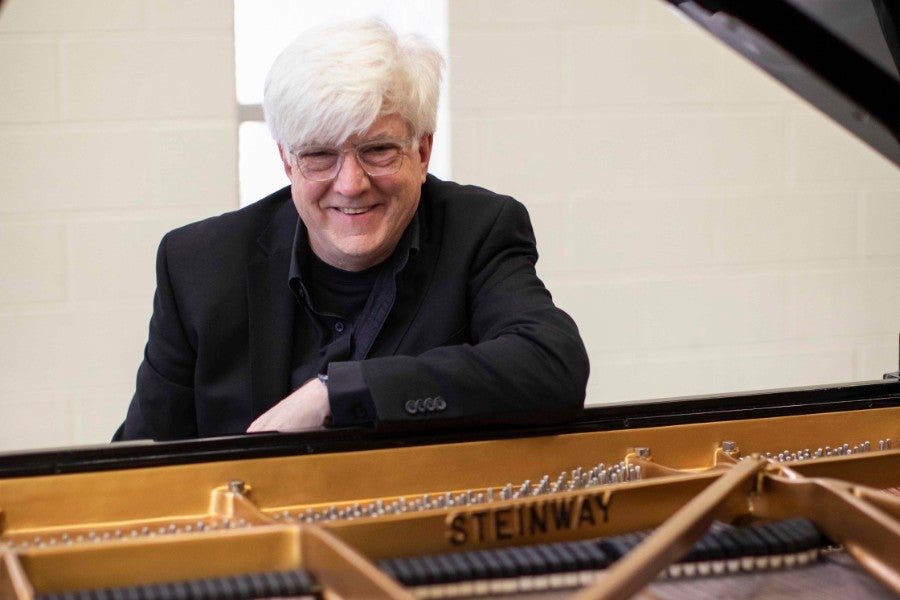 "He convinced me that I knew what I was doing," says Reed. "I received a good foundation in technique during high school and in musical concepts in undergraduate school. Giving me confidence was huge. That's difficult for students to get because for all those years going to lessons basically the lesson is the teacher telling you what you're doing wrong. So as a student you get in this mindset that you're always doing something wrong. It wasn't that he never told me what I was doing was wrong, because he did that. But he made me very confident in what I knew was right. I tell students that one of the great things about maturity in the profession is that you're sure what you know and you're sure what you don't know."
Reed's other teachers have included the world-renowned Mme. Jeanne-Marie Darré of the Paris Conservatoire, and concert pianist Allison Nelson. 
A passion to teach from a young age
Just as Reed knew he wanted to study piano from a young age, he also knew early on that he wanted to teach others. He became the youngest person at the Catholic University of America to earn a DMA and was on a fast track to begin his career. Reed also knew pretty early on in life that he wanted to be on faculty at Lipscomb University. As a sixth grader he announced his intentions to Lipscomb's Willard Collins during a visit to Graymere Church of Christ, the Reeds' home congregation in Columbia.
While he was away at graduate school, Reed's goal came to fruition. Reed's father, J.B. Reed, worked at the Union Carbide plant in Columbia with Earl Dennis, former longtime Lipscomb administrator and professor. One day Reed's parents ran into Dennis walking down the sidewalk in downtown Columbia after he began his role as chief academic officer at Lipscomb. 
"My mother told him that I was about to finish my doctorate and she asked Earl Dennis if he needed a piano teacher. He told her that they had been looking for one for a couple of years," he says. "And that's how it happened."
Reed already had a job in Virginia and was in the process of taking some specialized courses to complete his education at Catholic University. Dennis called Reed and asked him if he could quit his job and take the specialized courses in one semester so he could start as soon as possible. He did and officially joined the faculty at Lipscomb in fall 1983.
Since that time, in addition to teaching untold numbers of piano students, Reed has performed extensively  throughout the United States, Europe, Asia and South America, appearing in such venues as the Mendelssohnhaus in Leipzig, Germany; the Musikhochschule in Graz, Austria; and the Conservatoire Royale in Brussels, Belgium. Other appearances have included recitals and masterclasses in Taiwan, Japan, France, Italy, England, Hungary and Uruguay. In the summer of 2014 he performed at Steinway Hall in New York. Reed is the director of the music division of the Governor's School for the Arts. He has recorded works for piano and tape for Capstone Records and in 2009 released a recording of sonatas for flute and piano with Deanna Little. In August of 2014 Navona Records (a division of Parma Recordings) released his recording of Elizabeth Austin's Rose Sonata. He has given over 50 performances in the U.S. and abroad of Charles Ives's Concord Sonata, which incorporate a multimedia presentation and readings from Ives's writings. In 2003 he was awarded the Avalon Award for Creative Excellence, in 2006 he received the Distinguished Service Award from the Tennessee Music Teachers Association, and in 2010 he was named Teacher of the Year by the same organization.
I have a philosophy about teaching that I want to develop the whole person. I want to give them something through the piano that will impact their lives. — Jerome Reed
His students have won many competitions, including first place in Tennessee Music Teachers Association competitions, the first Nashville International Piano Competition, the Tennessee Tech Young Artist Competition and Clavierfest at Middle Tennessee State University. His student piano trio, the Avalon Trio, placed third in the nation at the Music Teachers National Association Competition in New York in 2012. In addition he serves on the faculty of the InterHarmony Music Festival in Arcidosso, Italy and the East/West International Piano Festival in China.
Developing the whole person
But of all of his professional experiences and accolades, Reed says being a teacher is his magnum opus. 
"I have a philosophy about teaching that I want to develop the whole person. I want to give them something through the piano that will impact their lives," reflects Reed. "I have an astonishingly high number of my former students who are still working in music. But I hope even for those who are not, that I've given them something that made their lives better or their jobs easier to do. Being in music teaches you to organize your time, how to tackle a job, how to break down a large task into smaller tasks and how to look at the details." 
Through piano lessons, Reed and his students have more time together than most teachers do with their students. And the impact on the students often goes well beyond what happens in practice on any given day. 
"These students get 100 percent of my attention for one full hour one day a week for four years. There is no other situation on any campus where students get that kind of one-on-one instruction," he says. "They get in here and sometimes there is something else bothering them, and they haven't been able to practice because of it. I know immediately when they begin to play that there is some kind of problem. I'm often in a position to be the only person whose undivided attention they have for a period of time and I can help them work through whatever is going on in their lives and offer them resources that may be available to them to help."
Reed credits the establishment of the Patricia and Rodes Hart Chair in Piano in 2010 with a $1 million gift from Nashville businessman Rodes Hart with providing resources that enable him to provide students with greater learning opportunities. Each year, Reed brings in instructors and musicians from across the country as master teachers for master classes and concerts. Lipscomb's status as an All-Steinway School also gives Reed's students the best musical instruments on which to learn. Even with the best instruments and opportunities, one of Reed's prevailing teaching philosophies comes down to one simple tenet for his students to remember: telling stories with their music.  
"One of the big things I tell my students is that they have to tell a story. They have to tell us something," says Reed. "Sometimes I will say to them, 'You're just telling me what the notes are. I can look at the score and see what the notes are. You have to say something. It doesn't matter what the story is because the story that is going on in your head is not the story that the listener is going to hear. But if you don't have a story in your head, you're not going to evoke a story in the minds of your listeners. And you need to evoke that story for that listener while you're telling the one that comes from your experience.'"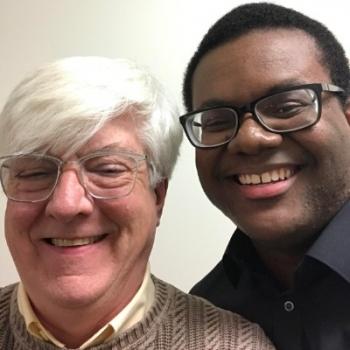 Reed's legacy
Jeriel Jorguenson, a 2017 graduate who majored in music and pre-med, was Reed's student for ten years spanning high school and his years at Lipscomb University.  
"He is a compassionate, knowledgeable and caring professor. He well understands the piano and ensures all his students find their own voice, so to speak," says Jorguenson, now a doctoral student at the University of Memphis. "He was always encouraging and crafted our repertoire with a personal touch. He was always willing to do whatever it took for his students to gain success, seeking out and offering us many opportunities we wouldn't ordinarily have access to."
Shana Clark Kirk ('94) is a teacher, pianist, arts advocate, and music technology consultant who recalls coming to Lipscomb as an enthusiastic music student, but also as a "textbook big fish from a small pond" who says she had a lot to learn. 
"I was largely unaware of how far behind I was as a music degree candidate. But I was entranced by the piano and knew I wanted pursue a music career, so Jerry (and the rest of the department) patiently mentored me in not only catching up as a student, but also in navigating the intimidating world of classical music," she says.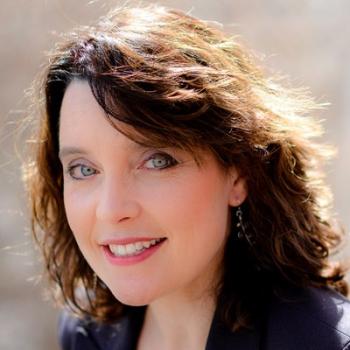 In addition to getting enough repertoire under her fingers to complete degree requirements, Kirk says Reed also made sure she was observing the many moving parts of a vibrant teaching and performing community. As he held numerous positions in local and regional professional organizations, Reed invited students to share the experience. 
"My career has taken a lot of twists and turns, and I can attribute many of the most pivotal steps to Jerry's thoughtful guidance. I still rely on some of the ways he taught me to practice, and I fully inherited his reverence for history and scholarship over trends and hype. More importantly, Jerry's spirit of involvement inspired me to actively participate in my own music communities," says Kirk. 
 
"He encouraged me to step out of my comfort zone, travel, learn other languages, and generally appreciate a wider view of the world. In today's ultra-competitive music teaching world, Jerry stands out as a teacher genuinely invested in the holistic outcome of his students," she continued. "Beyond the traditional measurements of rankings, ribbons and medals (and there have been many), his students often become ambassadors for the arts wherever they are, contributing to the vibrancy of their own communities." 
 
Not only is Reed esteemed by his students, but also by his colleagues around the world. Elisabeth Pridonoff, emerita professor of piano at the University of Cincinnati's College Conservatory of Music where she taught for the past 35 years, has known Reed since age 14 when both were members of the Nashville Youth Symphony under Dr. Thor Johnson. Reed played French horn and Pridonoff played the piano. Pridonoff's brother, Andrew, and Reed took piano lessons with Schneller back-to-back and their mothers sat in the "grand drawing room" of the original Blair Academy of Music and became good friends.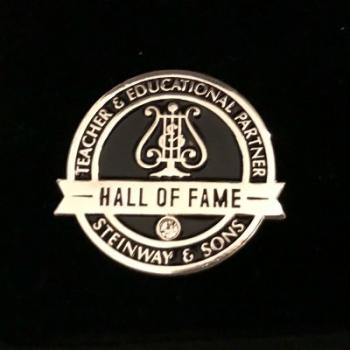 Pridonoff was appointed artist-in-residence at Lipscomb three years ago and through this role comes to campus three times a year to work with Reed's students. The two have performed together many times and in February they will perform a duo recital, including members of the faculty, of a very unique work rarely performed in its original setting by Robert Schumann for two pianos, French horn and two cellos. 
 
"Dr. Jerry Reed is a man of great integrity, who is committed to the highest level of his art. He is a tremendous colleague, teacher and friend. His students adore him as he gives entirely of himself to help them find their true potential and grow to their highest achievement," says Pridonoff. "As artist-in-residence I have been able to observe this every year for the past three years and notice the great improvement they make each time I come to visit and the joy that they feel and experience in making music because of his influence. What I so love about the atmosphere that Jerry has created at Lipscomb amongst his students, is that every everyone works to their full potential, supports each other and cares about each other's development."
 
Music and teaching music will likely continue to be part of Reed's story for many years to come. Woven through it all is a love for the piano that runs so deep that it is difficult for Reed to articulate. 
 
"I just feel that it's a part of me," he admits with a smile.
 
Want to know more about Lipscomb's School of Music? Visit www.lipscomb.edu/music.