Professors study diabetes prevention offered through pharmacies
Could community pharmacists be used to improve patient health in Type 2 diabetes patients by hosting prevention programs with behavioral interventions?
Janel Shoun-Smith | 615.966.7078 |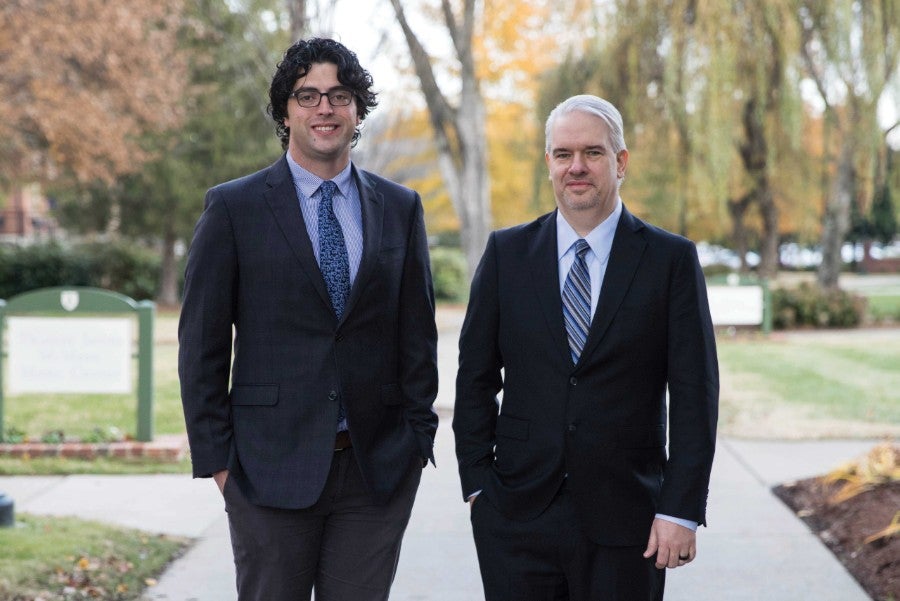 That's the question Dr. Justin Kirby ('15), assistant professor of pharmacy practice, and Dr. Kevin Clauson, associate professor of pharmacy and health care informatics, are spending six months to address thanks to a $10,000 grant from the Community Pharmacy Foundation.
Perkins Drugs of Gallatin, Tennessee, and Kirby's practice site, will be the host for the pilot study where pharmacists will provide the diabetes prevention programs and document the results on selected patients. Others study collaboration include a Lipscomb student pharmacist, additional Lipscomb faculty, a Stanford University physician and a patient, who brings the perspective of someone living with diabetes.
Providers will use the framework of the diabetes prevention program approved by Medicare and the Centers for Disease Control among patients at the pharmacy. Perkins Drugs, which is an accredited site for diabetes self-management, also is pending recognition from the CDC to offer the prevention programs.
Patients will meet with Perkins Drug pharmacists 13 times within six months to receive the behavior modification training, Kirby said. "There are seven healthy behaviors for the typical pre-diabetes or diabetes patient, but our program will focus on three of those: staying active, eating healthy and medication adherence," he said.
Diabetes prevention programs, which are not traditionally offered through pharmacies, are a federally reimbursed health care service, Clauson said. Therefore, if it can be proven that such programs are effective when carried out in a pharmacy, it could open up a new revenue stream for pharmacies, especially independently owned community pharmacies like Perkins Drugs, he said.
"Community pharmacists are widely seen as the most accessible health care provider," said Kirby. "On average a patient will see their pharmacists 30 times a year whereas they see their primary care provider 4 or 5 times year."
Independently owned community pharmacies are a good starting point for this approach, as they are usually very comfortable places for patients and the business structure allows for quick-decision making, Kirby said.
"We hope this will become a roadmap for other pharmacies across the nation," Clauson said. "A positive result in this study will reinforce the versatility of pharmacy health care. It will encourage a more sustainable business model for pharmacies."
This study will incorporate technology with a device that will alert patients to take their medication and track when they take their dose, said Kirby.
Kirby worked at Perkins Drugs as a PGY1 resident after graduating from Lipscomb and was then hired full-time there as a pharmacy manager before coming to Lipscomb as faculty.
"It has been quite a beneficial partnership as Lipscomb has placed residents at Perkins for the past five years, and student pharmacists have had rotations there since 2009," Kirby said.