President L. Randolph Lowry to transition to chancellor role this summer
After 16 years as president of Lipscomb University, Randy Lowry announced to the Board of Trustees today plans to transition to a new role this summer.
Kim Chaudoin |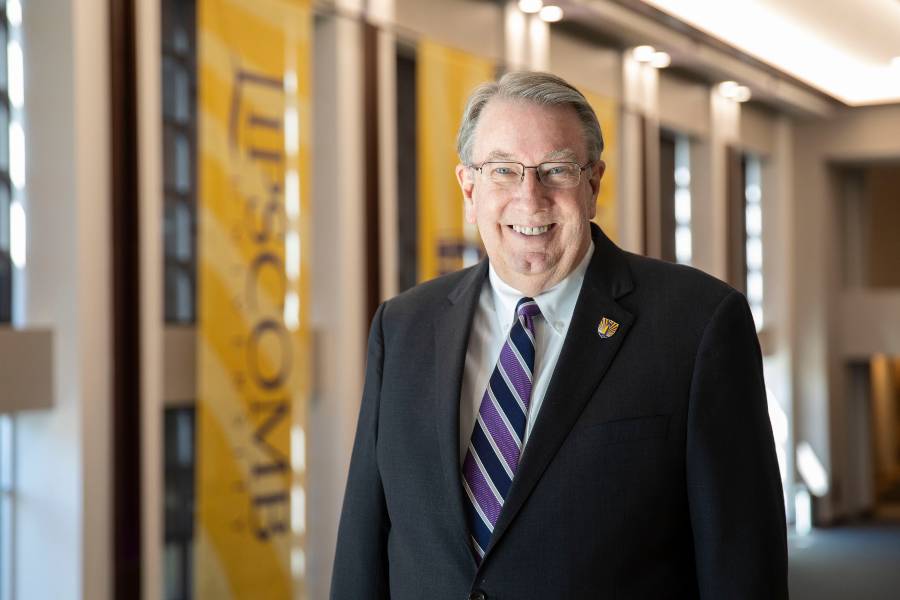 After leading Lipscomb University through 16 years of unprecedented growth and to national prominence, L. Randolph Lowry has announced today that this summer he will transition from the role of president to chancellor of the institution. 
Known for his innovative and visionary leadership, Lowry began his tenure as Lipscomb's 17th president in September 2005 and since that time has led the institution to become one of the top ten fastest-growing private doctoral universities in the nation, according to the Chronicle of Higher Ed. The institution, which includes Lipscomb University and Lipscomb Academy, has a combined enrollment of nearly 7,000 students and employs more than 1,000 full time faculty and staff. 
"There is no greater privilege and honor than having served as president of this institution and witnessing the transformative power of Christian education in the lives of thousands of students over the last 16 years," said Lowry. "The tremendous growth and success of Lipscomb is a reflection of the talent, dedication and passion of the faculty, staff, board and students who have been faithful to its mission and have carried out our compelling vision for Christian higher education. My wife, Rhonda, and I are extraordinarily grateful for their partnership and unwavering support. We look forward to continuing our service to this institution in the future as we step into this new chapter of our work."
Lowry will take a yearlong sabbatical upon the conclusion of his role as president and return to the institution as chancellor. In that role he will work on strategic projects and continue on the boards of Nashville and higher education organizations as well as serve as an advocate for the university. In addition, Lowry will work as a tenured faculty member in Lipscomb's College of Leadership & Public Service. First Lady Rhonda Lowry has been a steadfast partner in Lowry's presidency and has also made her own significant contributions to the institution in the classroom, in donor relations and with community outreach. Rhonda Lowry will remain on faculty in the College of Bible & Ministry.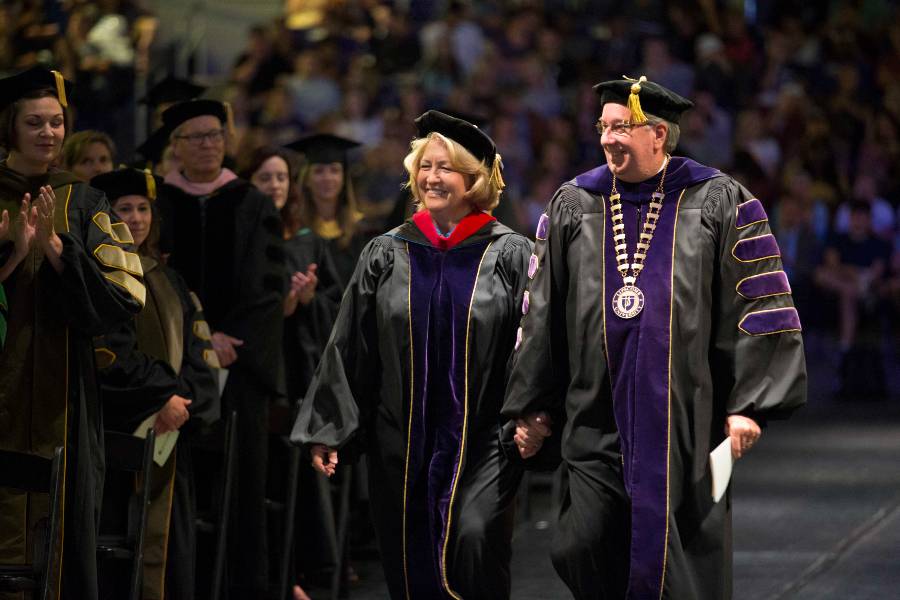 A national search for Lowry's successor is in progress under the direction of Lipscomb's Board of Trustees. Details about the search team and timeline will be announced at a future time.
"Randy Lowry is certainly a visionary, and I have been honored to experience his vision, innovation and tireless energy over and over again through my role on the board," said David Solomon, Lipscomb University trustee and board chair. "For the last 16 years, President Lowry and his wife Rhonda have poured their hearts and souls into transforming a university and K-12 academy into one that has nearly doubled in enrollment, has vastly expanded its academic offerings and facilities which has positioned the institution as a national leader in Christian higher education. We are grateful for his extraordinary commitment as president and look forward to him continuing on in his new role."
Hallmarks of Lowry's presidency have been leading unprecedented growth, academic excellence, his dedication to connecting the university to the Nashville community, breaking the borders of learning by viewing the city as campus and the world as classroom, expanding the scope of the institution by making a college education accessible to all and fostering the institution's faith heritage. Highlights include: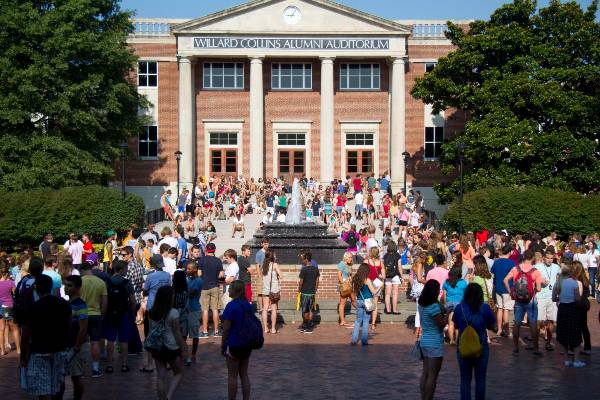 Unprecedented Growth & Development
94% university enrollment growth since fall 2005 
Named one of the top ten fastest-growing private doctoral universities in the nation by The Chronicle of Higher Education for three consecutive years
Addition of six colleges and seven institutes 
Nearly $250 million invested in new facilities and renovations
$250 million fundraising campaign, the largest in university history 
$24 million of facilities expansion, and the addition of the Solly School for special needs students and first-class athletics facilities at Lipscomb Academy
Academic Excellence
Launching Middle Tennessee's first College of Pharmacy that now has a first-time NAPLEX pass rate that is No. 5 in the U.S. and No. 1 in Tennessee
College of Education whose teacher prep programs are consistently ranked top in the state on the Tennessee state report card and among the top in the nation by the National Council on Teacher Quality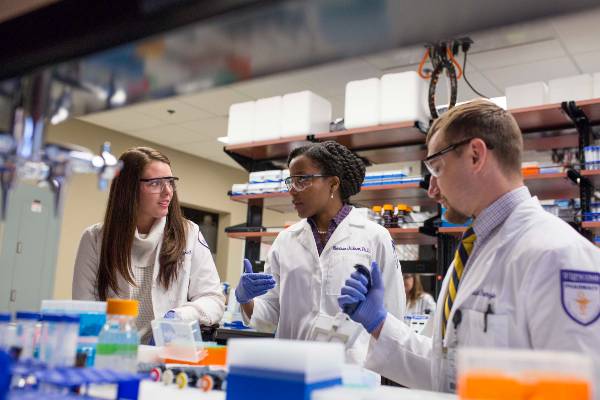 ABET accreditation for Lipscomb's Raymond B. Jones College of Engineering's undergraduate programs in civil engineering, electrical and computer engineering and mechanical engineering and its College of Computing & Technology undergraduate programs in information security and information technology
Several semester-long study abroad programs and the acquisition a university-owned villa in Florence, Italy
College of Business that has been ranked No. 1 in Tennessee and among the top in the nation by Bloomberg BusinessWeek and Poets&Quants
Classified as a Carnegie Foundation Doctoral/Professional University as it became more research focused and placed among only seven percent of schools in the nation.
Launching the Lanier Center for Archaeology which offers a Doctor of Philosophy in Archaeology of the Ancient Near East and a Master of Arts in Archaeology and Biblical Studies in addition to field research initiatives
Community Engagement
Lipscomb students invest an average of 60,000 hours in service annually to the Nashville community with a $2.5 million volunteer impact on the local community
Developing academic degrees that meet specific workforce needs in the Nashville community in areas such as healthcare, hospitality management, and entertainment  
Convening Conversations of Significance to bring the community together to discuss critical issues facing the Nashville community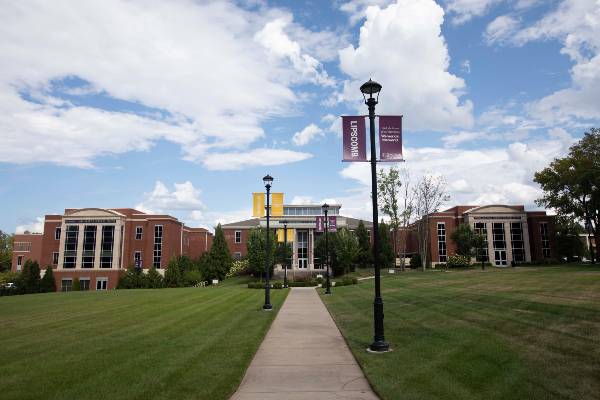 Under Lowry's leadership, the university also expanded access to a college education through innovative programs such as the Lipscomb LIFE program in partnership with the Tennessee Department of Correction, the Yellow Ribbon Program for veterans, the first-generation program, Pioneros Scholars program, the competency-based education program and the IDEAL program for college age students and the Solly School for elementary age students with intellectual and developmental disabilities.
These and many other accomplishments occurred while Lowry also fostered an environment within the institution to be courageously, graciously and intentionally Christian in all that is done. This faith principle provided the institution a lens through which to see and take bold steps including serving underserved populations, creating an institutional Statement of Faith, strengthening church relations, and housing the Gospel Music Association and hosting their annual Dove Awards ceremony.
Lowry is being recognized by state and national leaders for his impact on higher education.
Dr. Lowry is a highly effective and strategic leader... He is a gifted problem-solver, able to navigate and explore the myriad of possible answers in order to secure the best result. He has been a courageous contributor to the broader Christian higher education community at a pivotal moment, as Christian colleges and universities face new challenges and uncharted territory.
— Shirley V. Hoogstra, president, Council for Christian Colleges and Universities
"Randy Lowry has done a remarkable job leading Lipscomb over the past sixteen years. His guidance has made Lipscomb one of the most responsive and innovative campuses in Tennessee.  As a result, enrollment has grown over 90% during Lowry's tenure and the campus programs are in high demand by various government and business entities. His impact will be forever known in the state of Tennessee," said Claude Pressnell, president of Tennessee Independent Colleges and Universities Association (TICUA). "Dr. Lowry provided collaborative leadership among the state and national higher education community.  I am indebted for his service as the chairman of TICUA, where he provided skilled guidance to the association equipping us to provide a unified voice on key policy issues at the state and national levels."
"Dr. Lowry is a highly effective and strategic leader, generous with sharing his wisdom and expertise through his service on the CCCU Board of Directors for the past five years," said Shirley V. Hoogstra, president, Council for Christian Colleges and Universities (CCCU), based in Washington, D.C. "He is a gifted problem-solver, able to navigate and explore the myriad of possible answers in order to secure the best result. He has been a courageous contributor to the broader Christian higher education community at a pivotal moment, as Christian colleges and universities face new challenges and uncharted territory."
Lowry is fully engaged in the Nashville and higher education communities, by serving on the boards of the YMCA, United Way, Moody Center, Nashville Chamber of Commerce, Nashville's Agenda, Middle Tennessee Council of Boy Scouts, and the Council for Christian Colleges & Universities among others. He co-chaired Nashville Mayor's Green Ribbon Committee and was a member of the 2007 Class of Leadership Nashville. Lowry was included in the Nashville Business Journal's Power 100 inaugural list of the most influential people in Nashville business and "Most Admired CEO."
Prior to his work at Lipscomb, Lowry served on the faculty at the Pepperdine School of Law, Vermont Law School, the City University of Hong Kong, Shantou University in Beijing, Bond University in Australia, Hamline University at the University of Modena in Italy. Lowry is one of the nation's leaders in the dispute resolution field. Lowry founded the Straus Institute for Dispute Resolution at the Pepperdine School of Law and launched the Institute for Conflict Management at Lipscomb. A lawyer, mediator, author, consultant and teacher, he has served clients across the country and the world in conflict management consulting, systems design and training.
A native of California, Lowry holds a bachelor's degree in political science and a master's degree in public administration from Pepperdine University, and a juris doctorate degree from Hamline University.
"These are exceptional times in higher education in America but it remains the best path to increased opportunities for generations of young people," said Lowry. "I have been honored to lead one of the  many colleges and universities in Middle Tennessee as together we influence the lives of 100,000 students each year. While we celebrate 'Music City U.S.A.,' we also respect the declaration that educationally we are the 'Athens of the South.'"
Lipscomb University is a vibrant Christian, liberal arts community with a student body of nearly 5,000 students, that represent more than 52 nations and 32 religious preferences. Located in the heart of Nashville, Lipscomb University is committed to developing students whose academic excellence, faith and practice reflect our ideas of global citizenship and offers more than 176 undergraduate majors and minors, 60 master's degree programs and four doctoral degree programs. The institution also includes Lipscomb Academy, a PreK2-12th grade college preparatory school of more than 1,200 students. For more information, visit www.lipscomb.edu.