Pioneer in eco-friendly fashion brings expertise to students
Jeff Garner, known for his sustainable plant dyed gowns, shares his techniques with students and the public.
Janel Shoun-Smith | 615.966.7078 |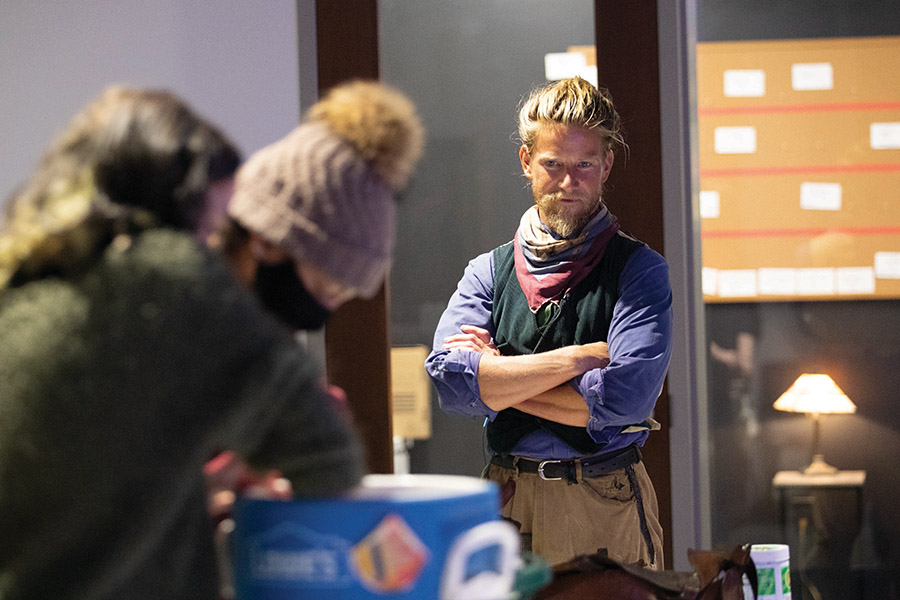 Jeff Garner, fashion designer, founder of the Prophetik label and Franklin, Tennessee, native presented a virtual lecture and Q & A as well as a demonstration workshop on dying fabric for students in October.
Garner is known around the world for his distinctive, sustainable, eco-friendly fashion, especially his sustainable plant dyed gowns mostly made in Tennessee. During the virtual lecture, Garner discussed his unique approach to design, demonstrated a few of his techniques and shared his career experiences. 
Garner, a 1996 graduate of Lipscomb Academy, is known as a romantic visual artist, pioneer and unconventional designer. Fashion industry experts say that Garner's designs have a sophistication that set them apart from typical organic clothing.
He rejects contemporary dress "where modern fashion uses unnatural colors, materials and silhouettes that emerged after the industrial revolution that offend taste and reason in the sameness and poor quality of mass produced goods." Instead, Garner seeks to return to the old methods of clothing production with the use of natural plant and earth dyes grown on his horse farm in Tennessee and using sustainable natural fabric of hemp, Dupioni silk, flax, Spitalfield Silk, and organic cotton all hand loomed. 
Garner's sustainable garments have been stocked in high-end boutiques across the United States. He was named a 40 under 40: Craft Futures artist by the Smithsonian Institution, and his designs were part of an exhibit featured in the Smithsonian American Art Museum's Renwick Gallery.
The fashion pioneer frequently speaks at universities on sustainability in fashion. "It is an honor to be able to give students at their age a chance to learn about the discipline and medium that I had to learn on my own," he said on a visit to Lipscomb in 2013.
"Having a social conscience will never go out of style," he said. "Using organic dyes from the garden, recycled bottles transformed into greenspun fleece, working with materials like flax and durable hemp that is naturally softened with baking soda and providing employees fair pay to produce the designs are all a part of what makes Prophetik distinct."
Garner has also worked as a costume designer for Miley Cyrus, Jeremy Camp, Newsboys, Amy Grant, Sheryl Crow, Jonas Brothers, Kings of Leon, Barry Manilow, Donna Summer and others.