Ph.D. pathway guides students into pharmaceutical sciences research
Lipscomb-Vanderbilt Pathway Program guides aspiring pharmaceutical scientists.

Janel Shoun-Smith | 615.966.7078 |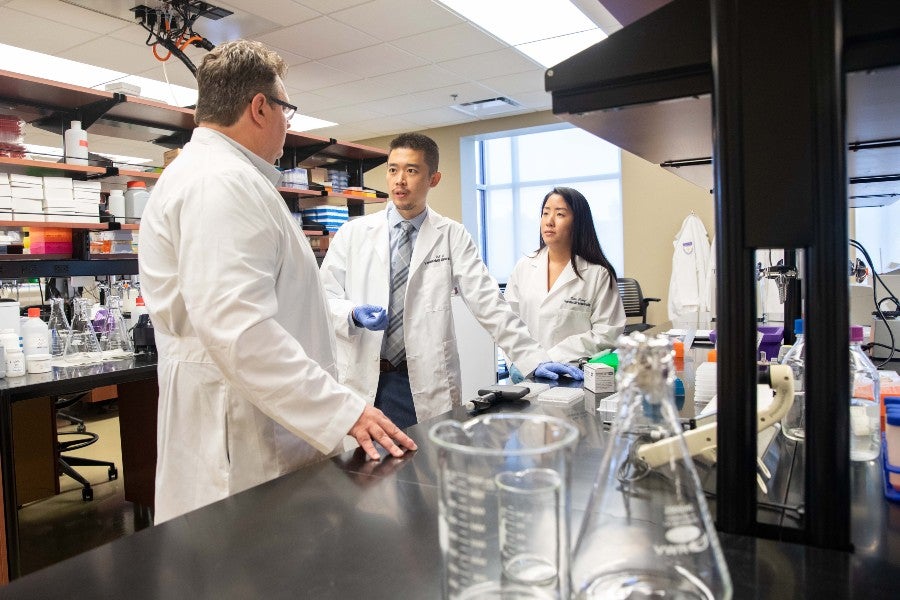 Embarking upon a journey to establish a College of Pharmacy at Lipscomb University, academic leaders made an auspicious decision in hiring Dr. Scott Akers in 2007. His rare blend of experience in both clinical practice and research in the pharmaceutical sciences set the university on a path to create a program found rarely in pharmacy education.
The Lipscomb-Vanderbilt University Pharm.D.-to-Ph.D. Pathway Program has, to date, resulted in several adjunct appointments for Lipscomb's pharmacy faculty, collaboration on numerous research grants, more than $1.3 million in research funding and more than 80 works of published scholarship that span drug discovery, pre-clinical drug development, first-in-human trials and clinical research studies.
Pharmaceutical sciences faculty have now engaged with more than 100 students in mentor-guided research projects at Lipscomb. Among those students is a cohort of 10 student pharmacists who have actively participated in a Pharm.D.-to-Ph.D. pipeline. Seven have gone on to pursue a Ph.D. in pharmaceutical and pharmacological sciences from nationally recognized graduate research training programs at Vanderbilt University and the University of North Carolina.
As a graduate from the College of Pharmacy at the University of Tennessee in 1991, Akers took the road less traveled by his peers and pursued a post-graduate pathway that combined clinical experience with pharmaceutical sciences research. As a result, training the next generation of pharmaceutical scientists has continued to be one of Akers passions throughout his academic career.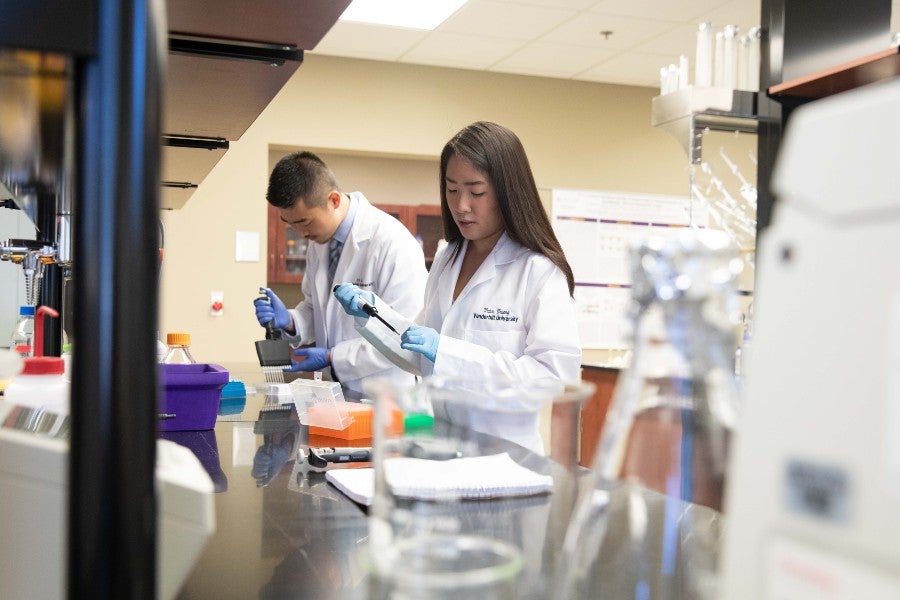 Upon learning about Pharm.D. pathways to biomedical research at a National Institutes of Health conference in 2006, Akers saw a unique opportunity to address the need for more Pharm.D.-trained research scientists by collaborating with Nashville's Vanderbilt University to engage in research and develop a potential research-training pathway for student pharmacists at Lipscomb.
The degree partnership program has benefited both Vanderbilt, which does not have its own pharmacy program, and Lipscomb, which gets access to facilities and faculty at a Research 1 university, said Dr. Joey Barnett, professor of pharmacology and director of medical student research at Vanderbilt, who works alongside Akers to coordinate the dual degree pipeline, started in 2011.
Vanderbilt has been effective in leveraging the success of the program to secure an additional training line for a pharmacology graduate student with a Pharm.D. degree on its NIH T32 Pharmacology Training grant from the National Institute of General Medical Sciences. Students entering the pharmacology graduate program via this program are in high demand by research mentors, have been successful in securing competitive research fellowships and awards at the national level, and complete their Ph.D. degree in approximately four years compared to the national average of five and a half years.
"We benefit from having a diverse cadre of trainees that include Ph.D. students; MD/Ph.D. students; and Pharm.D./Ph.D. students," said Barnett.. "As students learn from each other, this diversity in background and pathway contributes to a rich learning environment."
From a Lipscomb perspective, the benefits of the program not only unlock new research training and career opportunities for students but also enhance the institution's research reputation and environment, said Akers. The degree partnership program has been recognized nationally as Akers and Barnett were invited to speak at the American Association of Colleges of Pharmacy Research Symposium in Long Beach, California, in 2018 to highlight the innovative, cross-institutional partnership, he said.
Most existing pharmaceutical sciences graduate programs either recruit pharmacy students directly within their own pharmacy program or compete amongst each other for a limited pool of pharmacy graduates who are completing research fellowships or are already employed within the workforce, said Akers.   
Lipscomb's pathway program is operating more like an incubator model, he noted, expanding the pool of potential graduates students within the profession by cultivating these types of students early on in the pharmacy curriculum.  
"Getting students in the laboratory as soon as they enter the pharmacy program is the best way to gauge their interest in research and gets them on track to make an informed decision about the commitment to pursue a graduate research degree," said Akers. 
While students are engaged in research at Lipscomb, Akers and Barnett meet with them each year to evaluate their ongoing interests in pursuing a graduate research degree and to help them identify a potential mentor at Vanderbilt before they complete their final year in the pharmacy program. By the time a student graduates from the pharmacy program, they are admitted directly into the pharmacology graduate program at Vanderbilt with at least 33 hours of graduate coursework transferred into the program from Lipscomb, said Akers.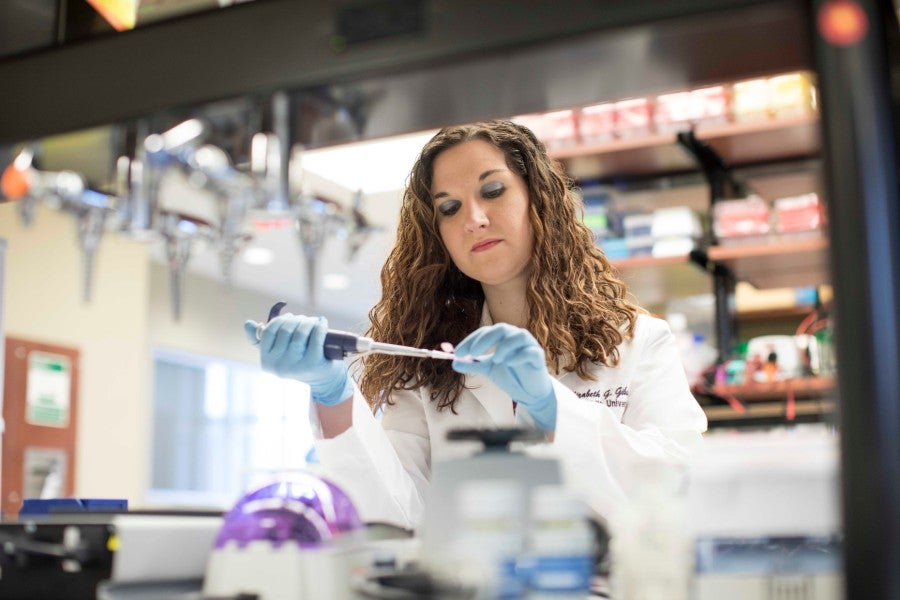 During the Ph.D. phase of the program, both Akers and Barnett serve as members of the students' graduate research committees at Vanderbilt to ensure that the depth and breadth of their training experiences continues to progress in terms of developing their scientific expertise while maintaining their clinical and professional skillsets. "The hands-on experience at Lipscomb just spurred my interest in research even more and ultimately helped me choose my graduate mentor, Dr. Neil Osheroff at Vanderbilt," said Dr. Elizabeth Gibson (Pharm.D. '14), who earned a postdoctoral fellowship at St. Jude Children's Research Hospital after earning her Ph.D. and now works at Bristol Myers Squibb in New Jersey.
"I was able to rotate through Dr. Osheroff's lab prior to joining it as part of my fourth-year pharmacy rotations… I felt like I already had a head start… a majority of the coursework was completed, so I could focus on research without having a full course load to worry about."
Of the three current alumni of the pathway program, all of them earned a predoctoral fellowship, which are highly competitive, including Dr. Matt Murphy ('19), who is in the final year of his Ph.D. work at Vanderbilt and earned an American Heart Association predoctoral fellowship.
"The program let me find a research mentor at Lipscomb who not only provided incredible training in the lab, but mentorship about navigating life as a pharmacy student," said Murphy. "It fostered a sense of independence so that when transitioning to Vanderbilt I was quickly able to achieve autonomy in the lab."
The cross-institutional partnership with Vanderbilt's department of pharmacology is proving to be a highly successful way of attracting more students towards this pharmacy career option, said Akers.   
"I chose Lipscomb Pharmacy primarily because of their dual-degree Pharm.D./Ph.D. program with Vanderbilt, said Elliott McClure, a fourth-year pharmacy student currently in the pathway program. "Similar programs are available elsewhere, but Vanderbilt's center for neuroscientific drug discovery swayed me."
Before receiving his Pharm.D., McClure is already working with Vanderbilt's Dr. Carrie Jones evaluating compounds to treat cognitive decline and opioid use disorder, research that will fuel his career aspiration to provide alternative therapies for patients suffering from depression who do not find relief after multiple antidepressant trials.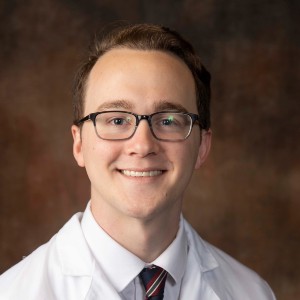 "Discovering and developing novel therapies for mood disorders, such as depression, are what excite me," said McClure.
In addition to Gibson's position in 'big pharma,' the program's first two graduates, Dr. Rachel Crouch ('08, Pharm.D. '12), and Dr. Brittany Spitznagel (Pharm.D. '15), ended up in academia, the former joining the Lipscomb pharmacy faculty and the latter joining Vanderbilt's.
Both Crouch and Akers have expertise in drug metabolism and pharmacokinetics and have attracted grant money to carry out various studies in drug analysis and drug development. Crouch now runs her own lab in Lipscomb's Pharmaceutical Sciences Research Center.
"I had some really great mentors at Lipscomb and at Vanderbilt, so I enjoy being able to give back and pass that along," she said. As she didn't even realize that research was her calling until she began chemistry classes in college, today she encourages all her students to "to try different things and to at least give research a try," she said
"It is exciting to accomplish the one small step, because a lot of work goes into that small step, and the more steps you take, the more they all come together to accomplish a greater goal," she said.
"My PharmD training really gave me a leg up upon entering the Ph.D. program, as I already had an extensive amount of training in pharmacology. The beauty of completing both programs is that it has given me a deeper understanding of the science behind the therapies we use to treat patients," she said. 
"The dual degree has been particularly beneficial to me as a faculty member in the College of Pharmacy, as it has given me the opportunity to connect foundational science concepts I teach to first and second year pharmacy students to the clinical concepts they go on to learn later in the Pharm.D. program."