Pharmacy has gone to the dogs
Alumna is part of nationwide online network providing meds for pets.

Janel Shoun-Smith | 615.966.7078 |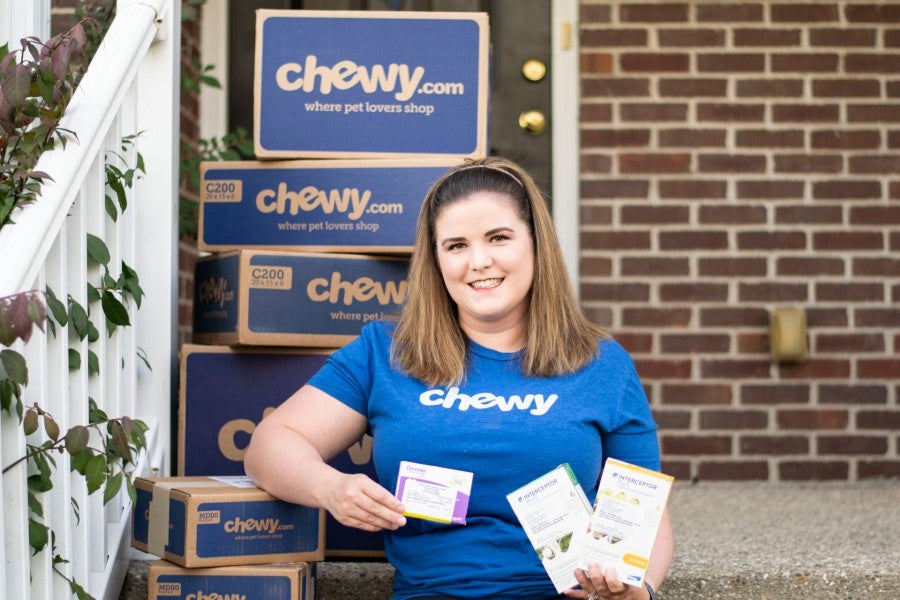 If you have a pet, it's likely you know Chewy.com. But you may not know that one of Lipscomb's own is sitting behind the computer ensuring that pets and their owners get the proper medication prescribed by the veterinarian.
Katie Shepherd ('16), who grew up in Mount Washington, Kentucky, near Louisville, started riding horses at the age of 12. She showed American Saddlebreds in competition and was surrounded by dogs and animals throughout childhood. She went off to college at Morehead State University as a pre-vet major, but the realities of veterinary medicine (such as having to put an ailing animal to sleep) caused her to switch to pharmacy.
At that point, "it was only a pipe dream to do veterinary pharmacy because it is definitely a niche," Shepherd said. "I remember my Lipscomb professor saying, 'Take any job you can after school. That doesn't mean you will end up there forever.'"
So she did. Upon graduating from the College of Pharmacy, Shepherd worked in the home infusion field for a couple of years before she saw a job advertisement on Indeed.com for a veterinary pharmacist at PetSmart. She applied, but never heard back.
Then Chewy, founded in 2011, was bought by PetSmart in 2017 and began a process of expansion. Suddenly, the web-based pet supply store that earned customer loyalty with stellar customer service such as hand-written holiday cards and pet portraits needed a lot more pharmacists for its licensed pharmacy.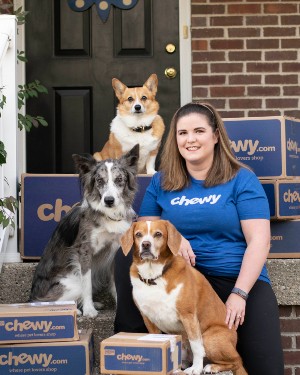 In 2018, the company went from eight pharmacists to 80 in a month's time, Shepherd said. And as an added benefit for Shepherd, a staff pharmacist at the company, Chewy's pharmacy is located in Louisville, Kentucky, her old stomping grounds.
While Lipscomb's curriculum does cover the skills needed for veterinary pharmacy practice, said College of Pharmacy Dean Tom Campbell, the new crew of Chewy pharmacists had to learn a lot on the job, Shepherd said.
Her job is similar to a retail pharmacist, but on a larger scale, she said. She receives prescriptions from customers and veterinarians, confirms the orders are the correct dosage and medication for the animal, and checks it for accuracy again when the drug is ready to be shipped.
"It's a lot of research at first, to make sure the dose is safe. A lot of veterinary doses are weight-based, so our practice is more like pediatrics. We had to learn the right weight-dosing," Shepherd said.
Luckily, Lipscomb taught Shepherd how to do that and how to research the appropriate weight doses, so she can confirm a prescription for anything from a goat to a hedgehog.
"We do a lot of checking with the vets after the prescription arrives. We double-check paperwork. I think veterinarians are grateful for that second set of eyes," she said. "An online pet pharmacy is something that has just popped up in the last few years. This is very new for the whole veterinary world.
"I've been here for more than a year and I learn something new every day," Shepherd said.
Today, Shepherd still owns a horse and three dogs. Unfortunately for Shepherd, regulations prevent her dogs from being around medication, so Denny, Izzie and Whiskey cannot come into work with her.
But she gets plenty of workout time with her pets as she now competes in agility trials with them. She actually discovered her love of showing dogs during her years at Lipscomb and often returns to Nashville for competition.
Now her dream is to work in a large veterinary hospital, where she could be around animals more often, but she knows those jobs come few and far between.
She appreciates the family atmosphere she experienced during her studies at Lipscomb, especially as she lost her father while earning her degree and the students and faculty rallied around her, she said. Lipscomb's focus on compassion for the patient has served her well, even though her patients include ferrets, rabbits and chickens.
"I talk to pet owners two or three times a week, but most of the time they call because they've given their pet a drug and their pet is experiencing a side effect. For many of them their pets are their family," she said. "It is important for us to understand this patient is as important as a person. Being able to make them feel like they have been heard and listened to, is something I really gained from my experience at Lipscomb."