Peugeot Center pivots to provide thousands of free face shields throughout 2020
Health care workers, educators throughout Tennessee protected by Lipscomb-made face shields
Janel Shoun-Smith | 615.966.7078 |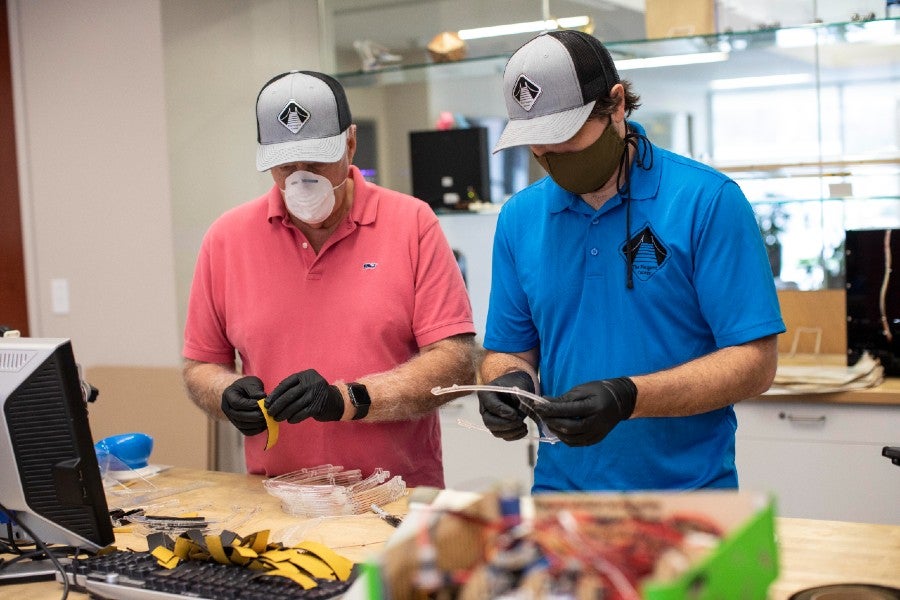 In a field that is practically synonymous with innovation, quick pivots to meet new needs just come with the job for engineers. So while the emergence of the Covid-19 pandemic in March hit the entire U.S. by surprise, for many engineers it was just part of the daily grind.
That was definitely the case for staff of Lipscomb's Peugeot Center for Engineering Service in Developing Communities, which found its very reason for being—to coordinate the design and installation of highly needed infrastructure projects in disadvantaged nations—cut short due to travel restrictions imposed to stave off the pandemic.
Eight planned mission trips in four nations to advance or install projects such as a medical waste incinerator, a bridge, a solar power installation and water systems had to be put on hold for a time.
But while those trips were stalled, the Peugeot Center pivoted almost immediately to fulfill needs in other ways, specifically by fabricating and distributing free protective face shields for Middle Tennessee medical providers. 
While the majority of Lipscomb employees were working at home, Steve Sherman, Peugeot executive director, Caleb Meeks, then-director of operations for Peugeot, and Samuel Wright, the College of Engineering's laboratory manager, were hard at work on campus making thousands of face shields using the college's laser cutter in the innovation lab.
As their hard work and dedication ramped up, so did interest among donors and supporters. An effort launched in late spring raised almost $25,000 to support the pandemic work of the Peugeot Center.
"We had a very enthusiastic response when people found out we were doing face shields," Sherman said of the fundraising effort. "Especially when shields were not readily available otherwise. While we couldn't do mission projects and bridges in developing nations, we had this great opportunity to serve our own community."
Demand was so great that by late summer, the center had provided more than 11,000 face shields to health care and educational workers in locations throughout the state and in other states such as New York, said Sherman.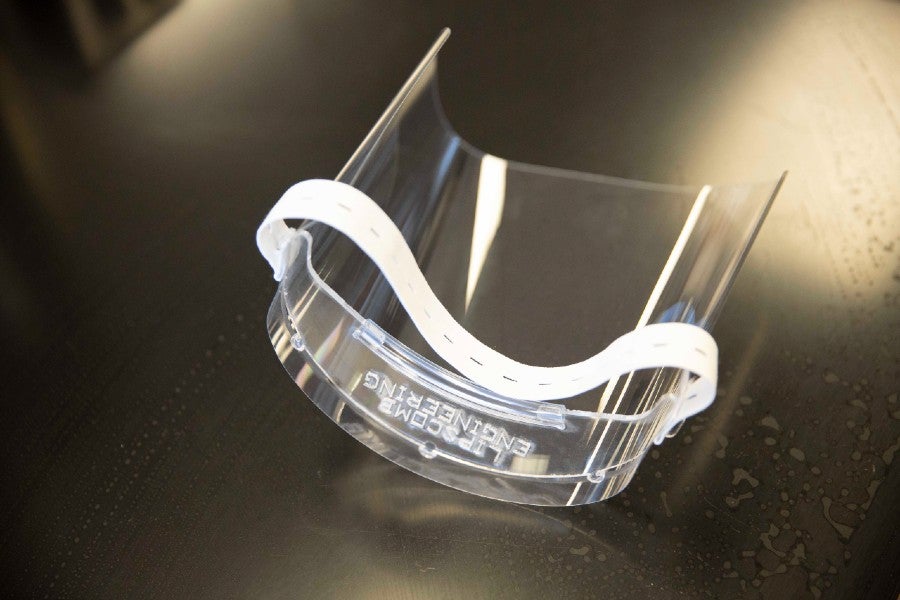 More than 137 different organizations received Lipscomb-made face shields, with almost 8,000 shields being used in health care settings. Shields have been delivered to medical sites or individual health care workers in Davidson, Williamson and Maury counties including Southern Hills Medical Center, Williamson County Medical Center, Saint Thomas Medical Center and Nashville's Siloam Health clinic for underinsured patients. In New York, shields went to White Plains Hospital and Lincoln Hospital in the Bronx at the request of an alumna.
Then in late summer, word of mouth among the Lipscomb community spurred demand again for shields to use in educational settings. Peugeot's engineers pivoted again to make more than 2,500 shields, as Tennessee schools went back into session for the fall, Sherman said. 
Metropolitan Nashville Public Schools were provided with 1,000 face shields for teachers. A couple hundred went to special needs teachers in Franklin, Tennessee, who often need to keep their lips visible for students with special needs.
The funds donated by contributors covered the cost of producing the shields, meaning the Peugeot Center will able to resume its mission work, in nations such as Honduras, Malawi, Guatemala and Ghana, as soon as pandemic conditions allow, said Sherman.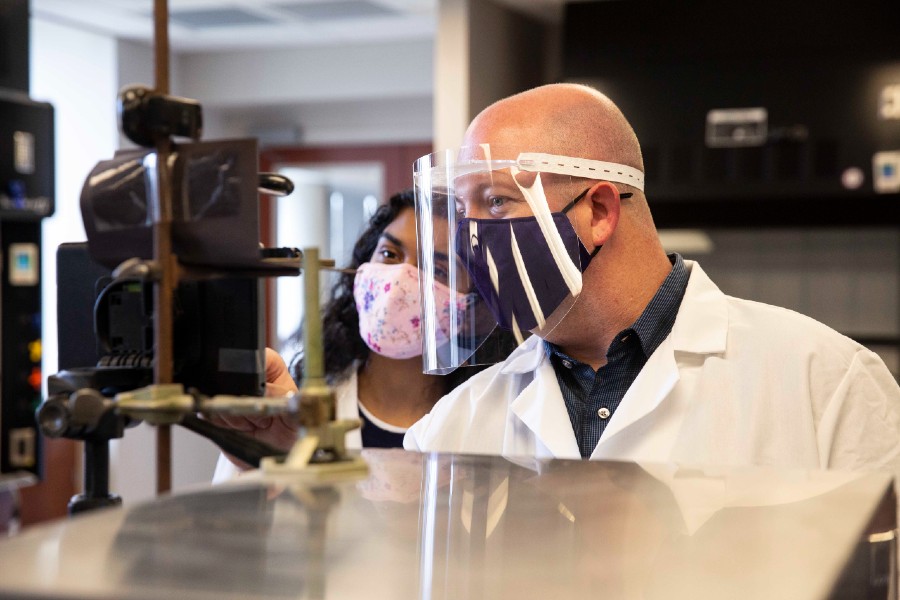 Throughout the first months of the pandemic, the Peugeot crew not only manufactured the face shields, but they also produced plastic ear savers through a partnership with GM and distributed a do-it-yourself, off-the-shelf shield design for health care workers in under-resourced areas of the world to use. The off-the-shelf version is made from 12-gauge wire and PVC vinyl—or in a pinch transparency sheets can be used—and a rubber band.
"We're using a high power, automated, laser system in our innovation lab to cut out the components," said David Elrod, Dean of the College of Engineering. "Having the tools in the innovation lab lets us readily produce face shields to help local providers, and the do-it-yourself design is a way the Lipscomb team is helping folks without access to such unique tools in distant lands."
To produce the shields, Lipscomb engineering faculty reviewed existing proven designs and selected an open source design developed by the Georgia Institute of Technology's engineering college. The team followed Centers for Disease Control social distancing guidelines while manufacturing the shields, said Elrod.
"We had inquiries not only from medical providers and hospitals, but also from students and alumni who are requesting them for family members and loved ones who are on the frontlines of health care," said Elrod.
"What you are doing is so so important and it makes me proud to be a Lipscomb engineering student," said Lipscomb student Rachel Hohl, who obtained 30 face shields for CRNAs and anesthesiologists at her mother's workplace. 
"Connecting engineering capabilities with those in greatest need has been at the core of our engineering college and of the Peugeot Center. In this season, we are excited to find both virtual ways of staying connected with many of our international mission partners and to find new ways of serving our local communities," Elrod said.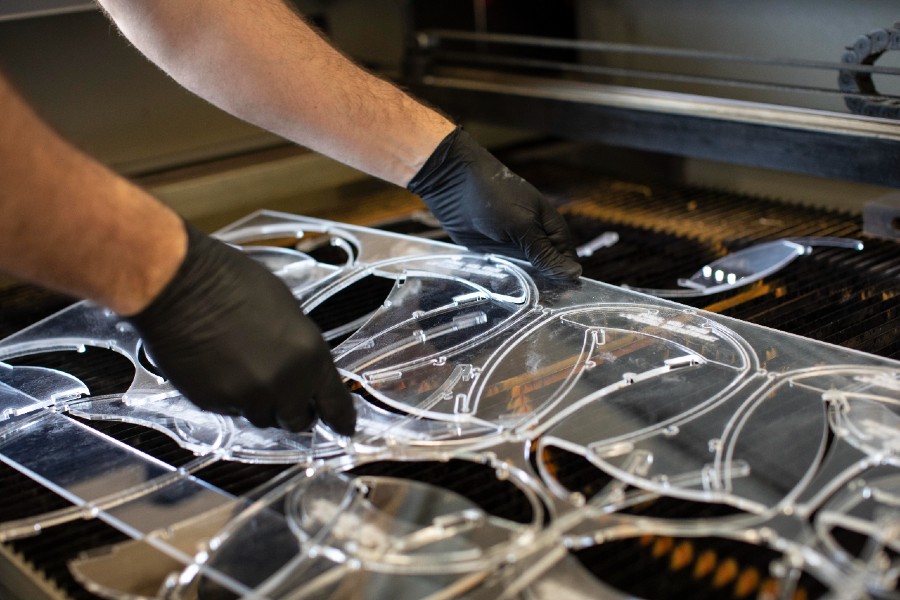 Also during the spring, a representative from the GM plant in Spring Hill, Tennessee, located just south of Nashville, approached the college with a request to use its 3D printers to make "ear savers" for masks for essential employees. 
 
For doctors, nurses and other first responders who wear face masks for a prolonged period of time, an ear saver is a small plastic part that can provide a lot of relief. The device goes behind the person's head and has small hooks on it for the elastic bands of a face mask to wrap around, taking pressure off the ears and putting the stress on the back of the head instead.
Hundreds of the devices were delivered to GM, who donated them to health care providers at Maury Regional Medical Center in Columbia, Tennessee, and others in the area.
"This program and the College of Engineering have definitely been a shining light in the midst of a very dark time. Seeing the generosity of people that has come out of this pandemic has been very uplifting and encouraging, especially as someone who has been on the front lines of the fight against this virus," said Brandon Lokey ('05) of Brentwood, an emergency physician at TriStar Summit Medical Center in Hermitage, Tennessee. 
"By making these face shields, you have been the hands and feet of Jesus to people you don't even know and may never have direct contact with," he said. "I have seen God working through you and hope you continue to feel that as well."