Oak Ridge National Laboratory to bring traveling science fair to Lipscomb Tuesday
Science buffs of all ages will have a unique opportunity to have hands-on learning experiences at the traveling science fair.
Kim Chaudoin |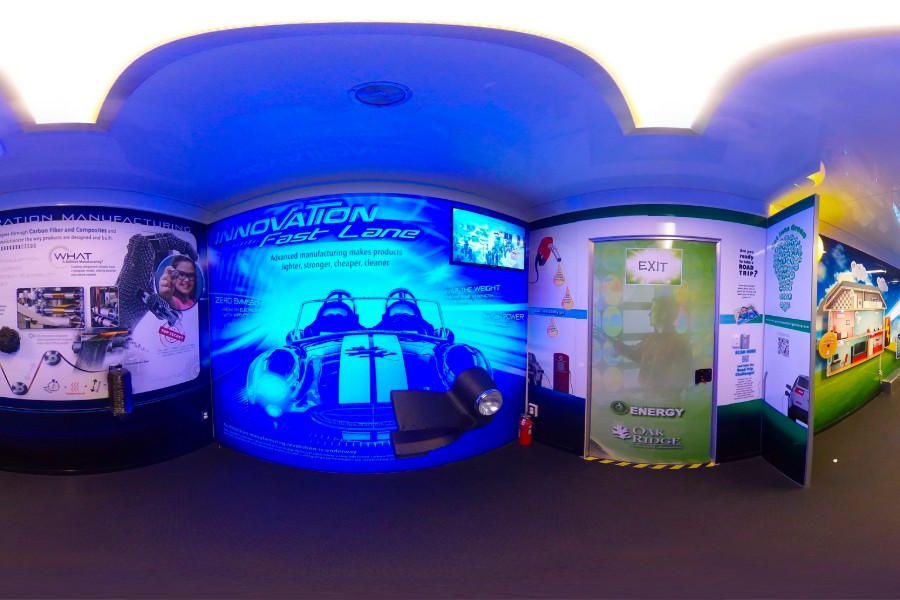 Science buffs of all ages will have a unique opportunity to learn more about science and the importance of research being done at Oak Ridge National Laboratory Tuesday, Feb. 19, in a special traveling science fair at Lipscomb University. 
More than 50 scientists from the Oak Ridge National Laboratory in Oak Ridge, Tennessee, will bring six mobile labs to the Lipscomb campus from 10 a.m.-3:30 p.m. The labs will be located on the top level of the Allen Arena Parking Garage. The event is FREE and open to the public. All ages are welcome. The event is sponsored by Lipscomb's Raymond B. Jones College of Engineering.  
Each lab is an interactive trailer that describes various fields of research and areas of future job opportunities. The labs include include:
Become a Neutron: In this lab, visitors will explore the subatomic world of neutrons and discover their role in breakthrough research. 
Extreme Science: Learn how researchers explore the biggest and smallest systems in the universe. In this lab, visitors will watch a star explode, peer into the depths of a black hole and learn how the sun works among other things. 
Get into Green: Take a walk through a rainforest and explore plant life and the hidden world of soil while surrounded by the sounds of birds. Learn how source materials is transformed to produce incredibly strong carbon fiber and other composite materials ready for a 3-D printer and more.
Tiny Atoms … Big Science: Visitors will learn how nuclear research at Oak Ridge National Laboratory is used to detect international nuclear threats, provide cancer treatments through medical isotopes, improve nuclear reactors through modeling and simulation, and develop new technologies that can produce clean, reliable energy for future generations. 
What's Your Problem: Learn about the power of today's supercomputers and how they are used to solve many of the biggest scientific challenges facing researchers today. 
Supporting Research: In this lab, visitors will learn how specialists including engineers, health physicists, industrial hygienists, firefighters, medical professionals, computer programmers and environmental scientists support the research mission. 
The traveling science fair is of part of a day-long celebration of STEM education as part of National Engineers Week. Later in the day, Margot Lee Shetterly, author of Hidden Figures — the 2019 Nashville Public Library's Nashville READS selection — will speak to an assembly of nearly 1,000 local middle and high school students and will be the featured speaker at Lipscomb's Landiss Lecture.
One of the top 100 engineering programs in the nation according to U.S. News & World Report and one of the best Christian-based engineering programs in Tennessee in a 2017 survey by Christian Universities Online, the Raymond B. Jones College of Engineering provides students the opportunity to prepare for an engineering career in an educational environment that also encourages Christian character. The college offers ABET-accredited undergraduate degrees in civil engineering, electrical and computer engineering, and mechanical engineering.
In spring 2017, Lipscomb opened the 26,800-square-foot Fields Engineering Center that houses the college and includes collaborative learning spaces, flexible teaching areas and labs among other features. The building is also a learning tool in itself with its exposed and color coded MPE ducting, piping and conduit in lab and learning spaces; central monitoring of mechanical systems and rooftop access for solar experimentation. The facility's sustainability features also provide valuable real-world learning opportunities for students. 
A major focus of Lipscomb's engineering program is challenging its students and alumni to use their engineering education to help others and for the betterment of society. Since 2004, the engineering college has sponsored 25 volunteer mission teams providing 200 spots for students to carry out ministry support, disaster relief and community development in Honduras, Guatemala and the Dominican Republic. For example, in summer 2016, engineering faculty and students along with alumni and local engineering partners completed a 104-foot-long pedestrian bridge in San Esteban, Honduras, to connect two schools separated by a very busy highway that elementary and middle school students must cross daily.
Want to know more about Lipscomb University's Raymond B. Jones College of Engineering? Visit engineering.lipscomb.edu.