Nursing students, faculty making an impact on COVID-19 frontlines
Lipscomb student nurses and faculty are leading the way in volunteering their time and sharing their skills in fighting the COVID-19 virus.
Kim Chaudoin |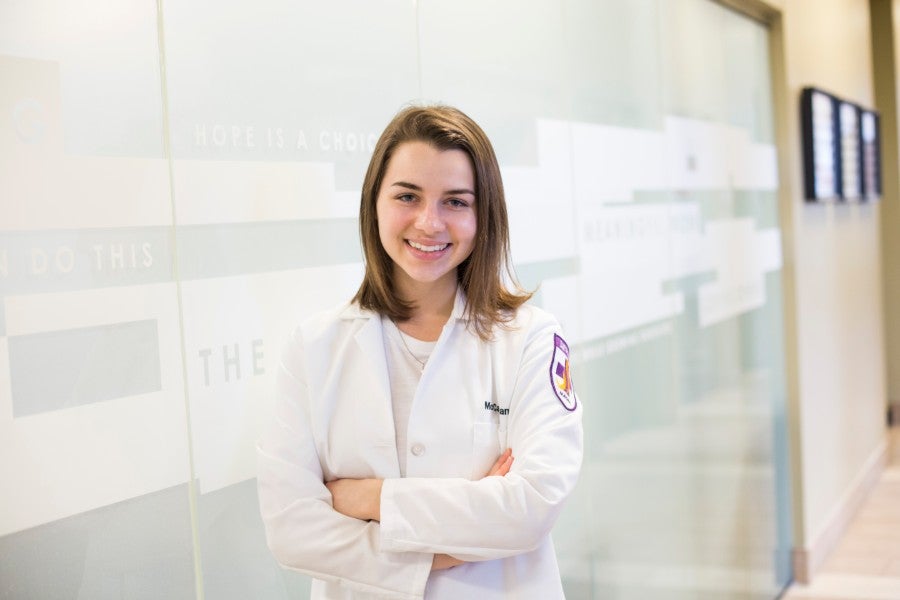 Healthcare providers across the country are working tirelessly to care for patients with COVID-19 in addition to other illnesses and injuries. Among those on the front lines are Lipscomb School of Nursing faculty and several students who are doing their part to serve the community during this time. 
 
This past week, several nursing students began orientation at Vanderbilt University Medical Center to serve as COVID-19 relief staff. They will be completing a variety of tasks based on skill and need and providing much-needed relief for health care providers. 
 
"Although these are paid positions, it is certainly voluntary and an answer to a calling," said Chelsia Harris, executive director and associate professor in Lipscomb's School of Nursing. "This is not only an opportunity for our students to serve others, but it is an opportunity for them to get a valuable education through this real-world experience during a very unique time in our nation and in health care."
   
In addition to several nursing adjunct faculty, full-time nursing faculty Katie Watson and Mary Hesselrode, are among health care practitioners in the Nashville area who are caring for patients during this time.  
Watson, assistant professor in the School of Nursing, graduated from Lipscomb University with a Bachelor of Science in Nursing degree in 2007. She started her career as a registered nurse working at Monroe Carell Jr. Children's Hospital at Vanderbilt and Green Hills Pediatrics. In addition to teaching in the School of Nursing, today Watson also practices as a nurse practitioner at Vanderbilt University Walgreens Clinics throughout the region.

Read more about how Lipscomb's dietetic interns are serving the community at Second Harvest during the COVID-19 pandemic.

Associate Executive Director for Academics in the School of Nursing, Hesselrode worked in emergency and trauma services at Baylor University Medical Center before she joined the Lipscomb faculty in 2010. An AANP board certified family nurse practitioner and a Registered Nurse, today she practices at the Brentwood (Tenn.) Family Care Center in addition to her role at Lipscomb. 
"It's a powerful example to our students to see their faculty still actively practicing professionally," said Harris. "It also benefits the students as these faculty are bringing their real-world experiences to the classroom and using them as teaching and learning opportunities."
Along with current students and faculty making an impact on the COVID-19 frontlines, numerous Lipscomb alumni who are in the nursing field are providing care to patients in Nashville and across the country.
"We are very humbled by the fact that the impact of the School of Nursing is being felt by patients across the nation during this very unusual and anxious time for so many through the care and compassion of those who were trained at Lipscomb and followed the call to nursing," said Harris. "I am very proud of our nursing alumni and their dedicated efforts to making a difference in the lives of others."


Read more about how Lipscomb's pharmacy students are fighting on the front lines of the COVID-19 pandemic.

Lipscomb's School of Nursing, housed in the College of Pharmacy & Health Sciences, offers a Bachelor of Science in Nursing Degree through a traditional pre-licensure program option as well as an online RN-to-BSN program option. For the last four years Lipscomb nursing graduates have a first-time pass rate on the National Council Licensure Exam (NCLEX) that exceeds both the state and the national average. The School of Nursing Class of 2019 scored a record 97.96 percent first-time NCLEX pass rate. For more information about Lipscomb's School of Nursing visit www.lipscomb.edu/nursing.  
 
— Photo by Kristi Jones