Nissan and Lipscomb partnership remains strong in 2020
Generosity of Nissan North America benefits Motorsports team and students in need.

Janel Shoun-Smith | 615.966.7078 |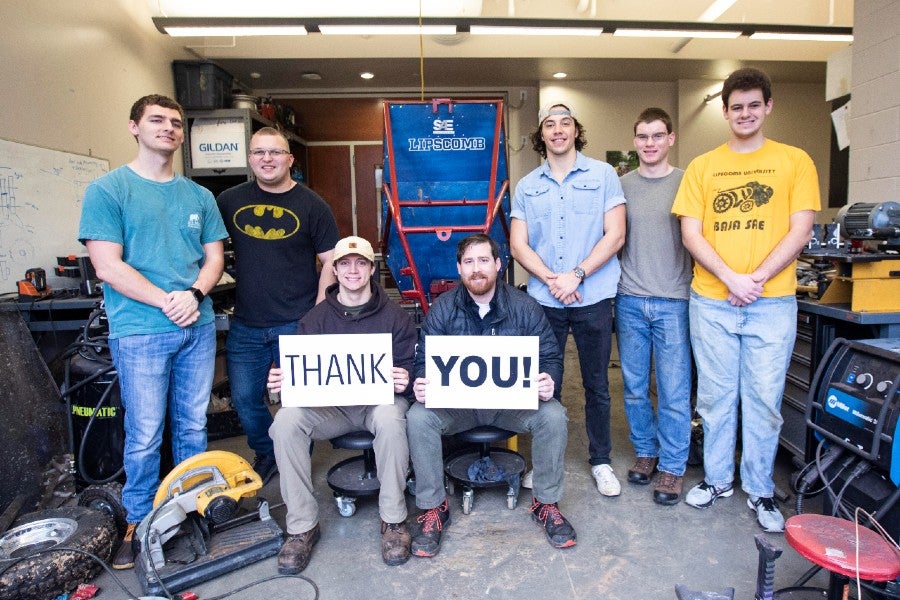 Despite the challenge of 2020, Nissan North America and the Raymond B. Jones College of Engineering kept their partnership to nurture the next generation of engineers strong, as Nissan made donations to the Lipscomb Motorsports Team and to help individual engineering students struggling during the challenges of the year. Nissan's 2020 donation also allowed the college to hold its annual Music City BEST robotics competition virtually in fall 2020.
The corporation has continued its support of Lipscomb Engineering in 2021 with a $20,000 contribution to fund BEST robotics and a $40,000 donation to support AERO (Accelerated Engineering Readiness Opportunity), a new summer program designed to bolster potential engineering students' math skills before their freshman year.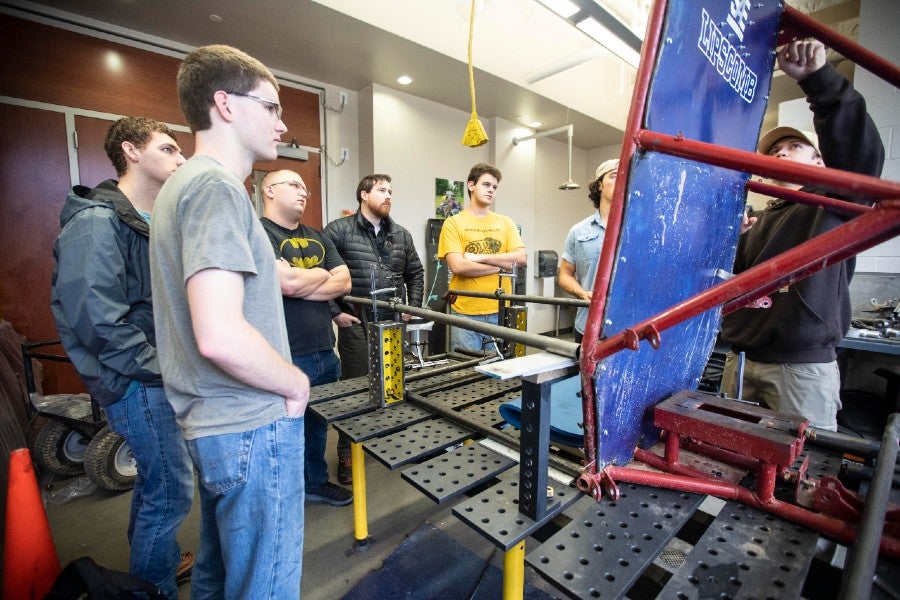 Nissan donates $2,000 for new parts for engineering's 2020 Baja all-terrain vehicle
In spring 2020, Nissan North America, based in Smyrna, Tennessee, donated $2,000, plus fulfilled a "Christmas Wish List" for needed parts, to build the Raymond B. Jones College of Engineering's 2020 all-terrain vehicle to compete in the annual Baja SAE (Society of Automotive Engineers) competition.
The ATV is an annual design project that 10 to 15 engineering students, the Lipscomb Motorsports team, work to build throughout the year and then compete in a national dirt race in the spring.
The 2020 event was held in a virtual fashion, but the team of students kept working on the design of the ATV, which now has new tubing, steel panels, aluminum, screws and more, donated by Nissan and shipped from sources all over the globe.
"We asked them for anything they can do, and they covered it all," said Trey Hickey ('20), now a graduate and project manager for the Baja vehicle in 2020. "It was better than Christmas morning."
Hickey and fellow Baja team member Hunter Haynes ('20), both mechanical engineering graduates, interned for Nissan's Maintenance Supervisor of Body Fabrication and Engineering Wayne Ellington and his colleagues in Smyrna for two summers and both accepted job offers at Nissan after graduation in May. 
Nissan engineers are also acting as consultants for the Baja design, reviewing Finite Element Analysis schematics, Hickey said. 
Nissan has been a long-time friend of Lipscomb Engineering, providing more than $718,000 since 2010 to fund the summer Lipscomb/Nissan BisonBot Robotics Camps and the annual Music City BEST (Boosting Engineering, Science and Technology) competition held in the fall.
The Lipscomb Motorsports team has to raise about $15,000 each year to compete in the Baja SEA competition. The team carried out a Crowdfunding campaign, what we call Herdfunding on campus, to raise the additional needed funds for 2020. 
With the pandemic forcing the spring Baja SAE to become a virtual event, the Lipscomb Motorsports team plans to use the extra time to plan ahead, said Samuel Wright, engineering laboratory manager.
The team is working this semester on building out the current design for the four-wheel drivetrain and suspension that will make the vehicle compliant with the 2022 rules. Then they will do a performance test of the vehicle either at the 2021 Baja SAE race in May or locally in the coming summer.
Members of the 2020 Lipscomb Motorsports team were: Ryan Harness, Jase George, Haynes, Isaac Vaught, Hickey, Scott Johnston, Kevin Tobin, Trent Nichols, Amy Hollowell and Paxton Powell. 
Nissan funds $28,000 in COVID-19 emergency relief scholarships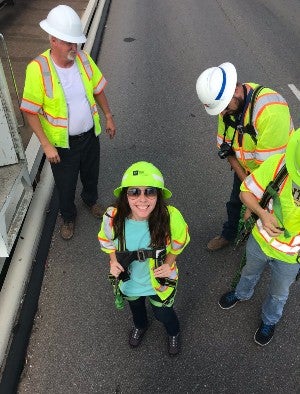 After the COVID-19 pandemic and required social distancing forced the cancellation of the popular Nissan/Lipscomb BisonBots Robotics Camps in summer 2020, Nissan North America was able to quickly shift gears and work with Lipscomb University to use $35,000 of its 2020 donation in a way that still nurtures future engineers.
In short order, the money was re-allocated to support scholarships for 19 Lipscomb engineering students who realized financial difficulties as a result of the COVID-19 pandemic and are in need of additional support to complete their degrees.
"The COVID-19 pandemic has created economic uncertainty for many students. With the cancellation of the summer robotics camps, reassigning those funds toward scholarships for engineering students directly impacted by the pandemic was a natural pivot," said Parul Bajaj, Nissan's senior manager of Philanthropy. "Our commitment to education is strong regardless of the form it takes for students this summer."
Since 2010, Nissan has annually funded Lipscomb's BisonBots Robotics Camps and Music City BEST (Boosting Engineering, Science and Technology) robotics competition, providing engineering and STEM education for students throughout Middle Tennessee at a variety of skill levels from age 6 to high school seniors.
Nissan's total investment in nurturing Middle Tennessee's future generations of engineers through Lipscomb totals $718,793.
In 2020, a portion of the donation was still used to sponsor the Music City BEST Robotics Competition, which was held virtually in the fall, and the rest that would have supported six weeks of robotics camps on campus was instead used to allow students like Bibiana Perdomo, a senior from Murfreesboro, Tennessee, to continue pursuing her engineering degree in uncertain times.
As internships were hard to find in the summer for all college students, Perdomo used her scholarship to take a summer course to keep on track to graduate with the Class of 2021.
"I am using this scholarship to help me focus on my studies and to give me the time to explore different disciplines within my engineering major without having to worry about this semester's finances," she said. "It means so much because it is allowing me the chance to still finish my degree with the class I came in with when I started my engineering studies."
"We appreciate Nissan's willingness to support students who are struggling. Their generosity is good for all of us involved and helps our students tremendously," said David Elrod, dean of Lipscomb's Raymond B. Jones College of Engineering. "This partnership helps Nissan as we develop a trained workforce, and it helps the students by lessening their financial burden. The novel coronavirus is driving novel solutions to helping others."
These latest donations continues a more than 11-year partnership between Lipscomb and Nissan. Nissan not only provides financial support but also has recruited its engineers to work with thousands of children over the years who have attended the summer robotics camps and the BEST competition each October. Lipscomb's engineering professors have also worked with local nonprofits to bring the robotics camps to at-risk students in low-income living situations.