New fueling station maximizes work of sports nutrition dietitians
New space allows nutritional advantages to keep athletics program ahead of its peers
Lipscomb Athletics |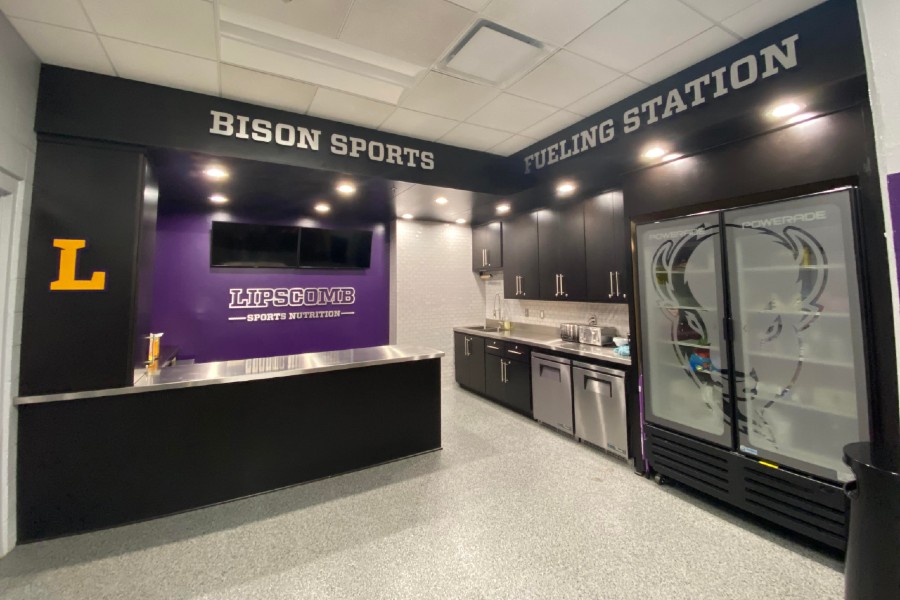 Early in 2020, through a partnership with the Dietetic Internship Program, Lipscomb University Athletics opened a new designated kitchen space in Allen Arena for its student-athletes, dubbed the Lipscomb Bisons Fueling Station.
The construction of the fueling station was made possible by donations during Lipscomb's first Day of Giving in March 2019.
The fueling station is one of the few of its kind currently operational at the mid-major level of university athletics. Lipscomb's nutrition program for student-athletes includes full-time Director of Sports Nutrition Ann Toy, a former Division I coach and college-athlete, and a part-time dietetic staff of six interns throughout the school year.
"We're expecting our athletes to train and compete at a very high level on a daily basis," Toy said. "It often is the case that, in order for them to achieve certain performance goals, they need to be fueling above and beyond just a standard three meals a day.
"This fueling station allows us a devoted space for athletes to come and grab fuel before and/or after their training, ask questions, and gives us (the sports nutrition team) an awesome platform for educating them about how the food they eat can support their performance and overall health." 
The fueling station features various every day foods such as fruit, bagels, peanut butter and jelly sandwiches, string cheese, yogurt, trail mix and granola bars among other options. The program hopes to add smoothies in the future.
"The fueling station location is ideal, as it is at the intersection of our training room entrance, the hallway where all of our locker rooms are and the stairs leading to all of our outdoor facilities," said Director of Athletics Philip Hutcheson. "Not only does it serve a very important, practical purpose, but also, it tells recruits, parents, coaches and friends of Lipscomb that we are committed to helping every student athlete perform at her or his very best."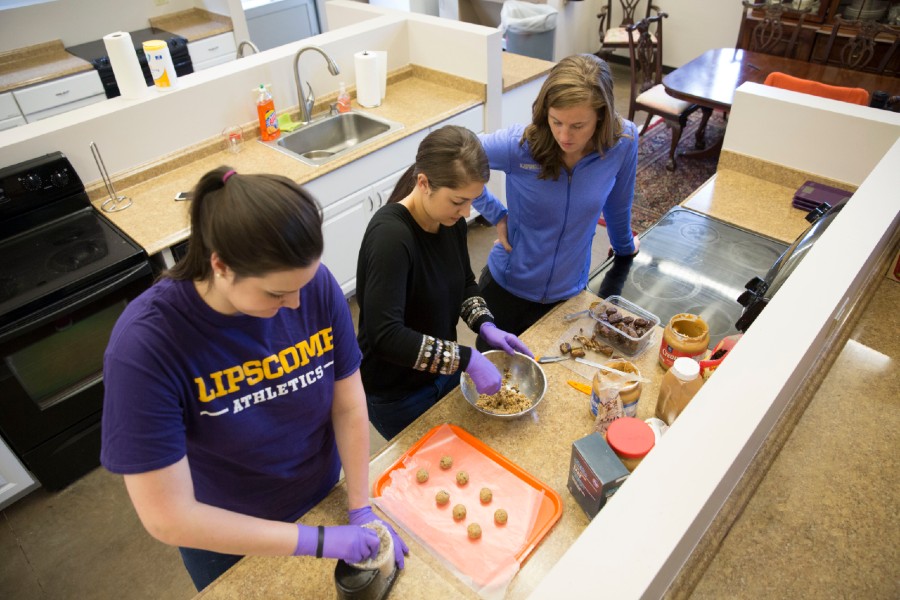 The fueling station has been specifically designed to educate Lipscomb student-athletes about nutrition and healthy eating habits while providing conveniently located dietary and nutritional support 24 hours a day to meet student-athletes demanding schedules. 
Through the fueling station, Toy and her staff of six dietetic interns are able to offer Individual consultations, menu planning and meal coordination, game day and training nutrition including post-workout shakes, supplements and travel snacks, collaborating with athletic training staff and strength coaches and cooking classes.
"Sports nutrition is still a new field in terms of what the university and professional teams are offering their athletes," Toy said. "It's becoming mostly the norm at larger, Power 5 schools, but in terms of a mid-major institute, there are not many others that can compete with what we have now.
"I believe this space also helps our coaches and programs from a recruiting perspective," she said. "It's our way of demonstrating that we care about the health and well-being of our athletes and our intention is to provide them every possible opportunity for success, including nutrition."