Nearly 500 students participate in December commencement
Commencement season is a time the Lipscomb community celebrates the academic achievements of its graduates through a series of ceremonies and events.
Kim Chaudoin |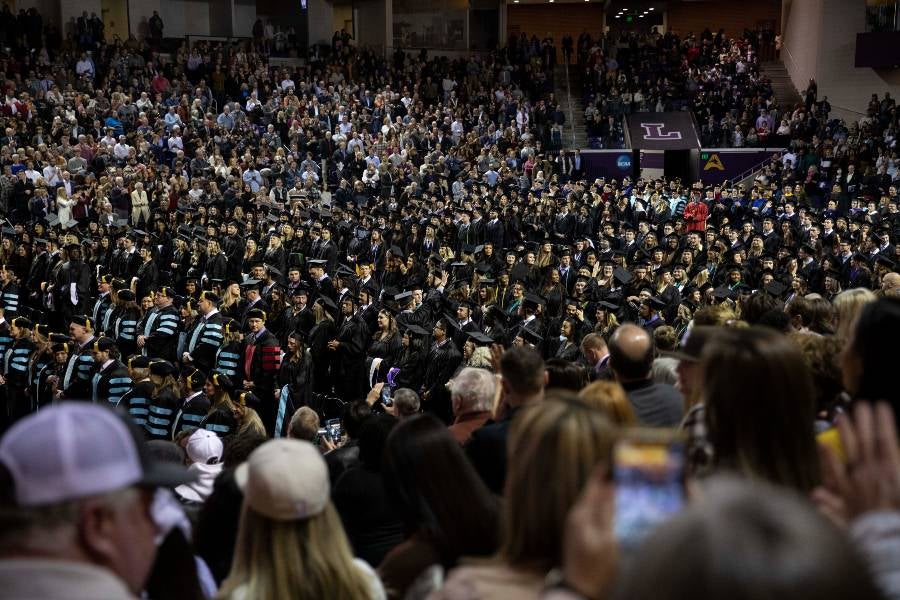 Allen Arena was packed with family and friends of the nearly 500 students participating in commencement on Dec. 17 to celebrate their academic achievements. Undergraduate, master's, specialist and doctoral degrees were conferred during the ceremony.
Commencement culminated several days of ceremonies and events honoring the December Class of 2022 graduates. These included a dinner to recognize student veteran graduates, the traditional nursing pinning ceremony, a Baccalaureate service, the School of Physician Assistant Studies awards presentation and master's degree hooding ceremony, a College of Business master's degree hooding ceremony and a celebration for Doctorate of Education candidates.
On Dec. 15, 13 inside students participated in Lipscomb University's Lipscomb Initiative for  Education (LIFE) Program graduation ceremony at the Debra K. Johnson Rehabilitation Center. For the first time in program history, graduate degrees were awarded through the LIFE program. Eight "inside" students graduated with the Master of Arts in Christian Ministry (MACM) degree along with five "outside" students who studied alongside them inside the facility for the last four years. In addition, two women earned Associate of Arts degrees and three earned Bachelor of Professional Studies degrees at the ceremony, which was a traditional commencement with faculty and students wearing regalia and processing into the ceremony. This is the fifth cohort of inmates to receive their degrees through the LIFE program since its inception in 2007. Read more about this year's LIFE graduation.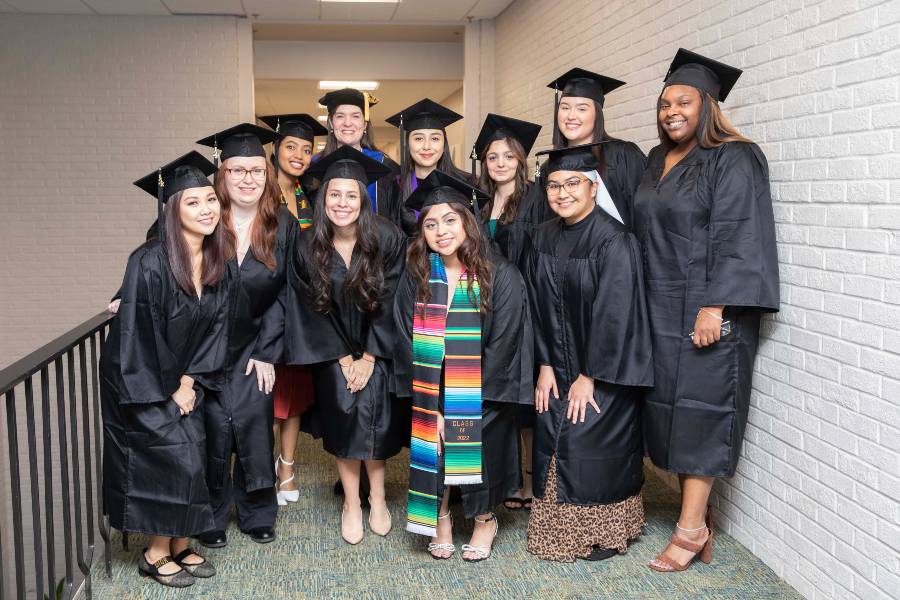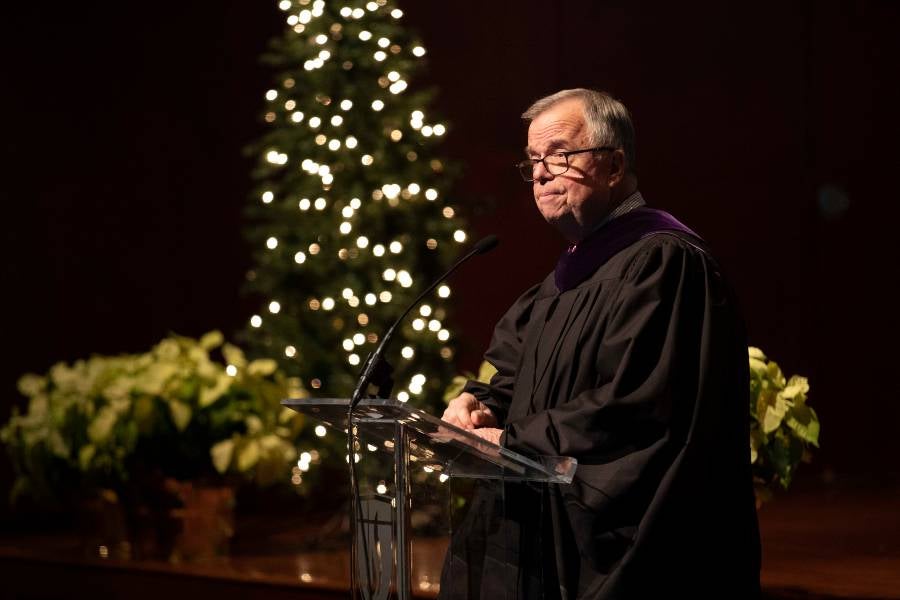 The university began a new tradition to honor first-generation graduates with a pinning ceremony to signify their academic achievements. Organized by the Office of Intercultural Development, 11 first-generation college graduates were honored at the ceremony in Ward Hall on Dec. 15. The ceremony featured each graduate proceeding into the hall with their chosen family member, friend or mentor, who also pinned them. This event featured celebratory music, cheers from the crows and plenty of noisemakers to revel in the students' honor.
Lipscomb President Candice McQueen congratulated the students for being trailblazers and urged them to be bold in charting their own path and carrying the responsibility of being role models for others.
Chelsia Harris, executive director of the School of Nursing and a first-generation college graduate, spoke at the ceremony. "You have been called to be here on purpose, and for a purpose," she told the graduates.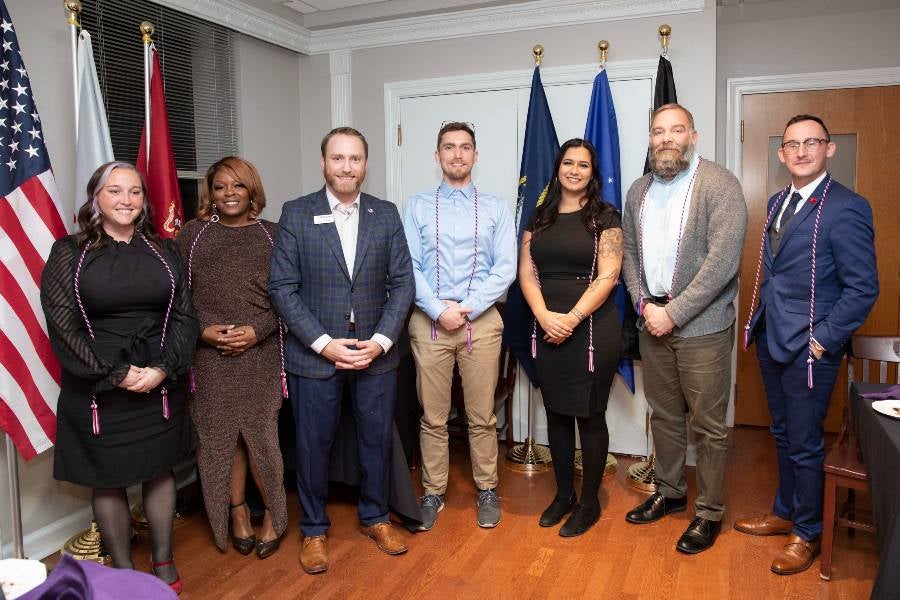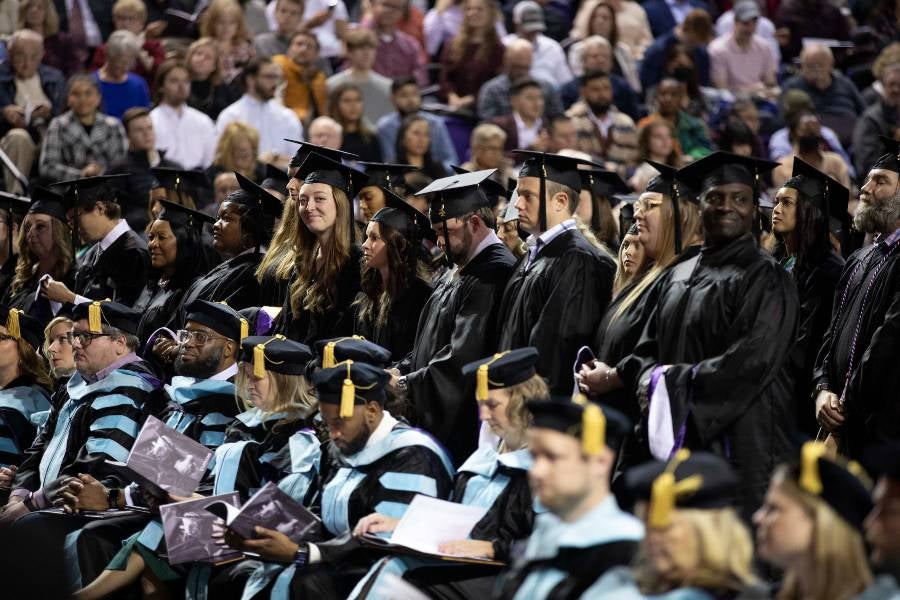 Provost Jennifer Shewmaker emphasized the importance of what the first-generation students accomplished by earning their degrees. "Today, you are changing your family's story," she said. "What you are doing today makes a difference for your family, your community and the world around you."
December 2022 Commencement Photo Gallery
— Photos by Kristi Jones