May 2022 undergraduate graduation honors
More than 310 undergraduates earn graduation honors.
Office of Public Relations & Communications |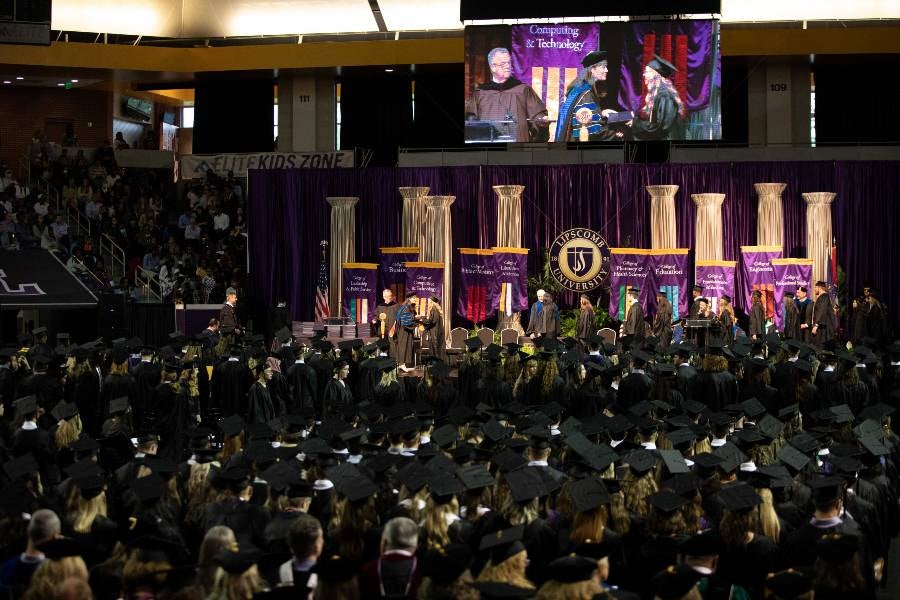 The Lipscomb University community celebrated the academic achievements of nearly 1,000 undergraduate and graduate students during spring commencement May 7. 
As part of these academic achievements, the traditional graduation honors for undergraduate students were announced. Undergraduate students who have accumulated a grade-point average (GPA) of 3.90 or above are listed as graduating summa cum laude. Students who have accumulated a GPA between 3.70 and 3.89 graduate with magna cum laude honors. Those who accumulated a GPA between 3.50 and 3.69 graduate cum laude. 
Honors are based on completion of a minimum of 63 hours of graded coursework earned at Lipscomb University and are calculated the semester a student finishes his or her degree. 
Congratulations to the students in the May and August 2022 class for the efforts and ability this achievement represents.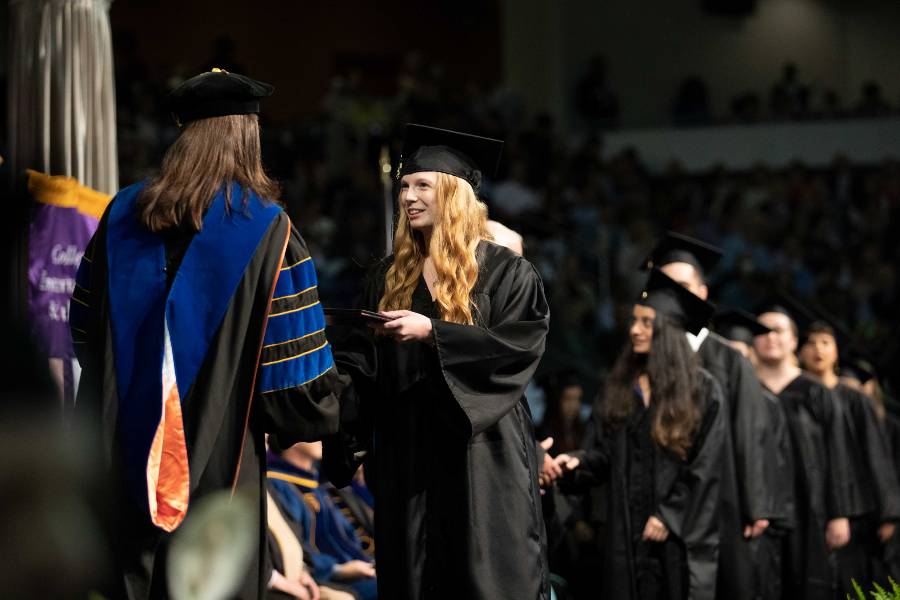 May 2022 Graduation Honors
Summa Cum Laude
Hanna Anderson, BS in Sports Management
Betsy Bailey, BS in Special Education
Erin Bell, BA in Psychology
Ashley Berry, BSW in Social Work
Kailey Best, BS in Exercise Science
Benjamin Blaylock, BS in Molecular Biology
Joseph Bobo, BBA in Marketing
Madeleine Bradsher, BS in Interdisciplinary Teaching: K-5
Paul Burdett, BS in Mathematics: Applied
Paul Burdett, BS in Mechanical Engineering
Ryan Bush, BS in Mechanical Engineering
Emily Bush, BA in Theatre Teaching
Abigail Buxa, BA in Mathematics: Applied
Noah Bylsma, BBA in Finance
Hannah Carpenter, BA in English
Hannah Carpenter, BA in Spanish
Magnolia Chaffin, BA in Public Relations
Ragan Chaney, BS in Molecular Biology
Alexis Cole, BA in Theology and Ministry
Isabella Culp, BS in Psychology
Easton Curtis, BFA in Theatre: Musical Theatre
Dara Deeb, BA in Advertising
Nicholas Deker, BS in Psychology
Diana Dockery, BM in Music: Commercial Music
Viet Duong, BFA in Animation
Kailey Eicher, BFA in Theatre: Acting
Brenna Fathers, BSW in Social Work
Courtney Franke, BA in Law, Justice, and Society
Carson Freund, BBA in Accounting
Laura Garrison, BSW in Social Work
Konnor Gottfred, BA in Political Science
Kayla Gray, BA in English
Noah Gulden, BBA in Management
Scott Gulden, BBA in Management
Perrianna Haga, BS in Molecular Biology
Katherine Hamlin, BFA in Fashion Design
Earl Harris, BS in Mechanical Engineering
Marynia Harris, BFA in Animation
Sarah Hinton, BS in Interdisciplinary Teaching: K-5
Abigail Hocking, BA in Mathematics Teaching
Natalia Hoeppner, BS in Civil Engineering 
Bradley Holloway, BBA in Finance 
Schyler Jones, BA in Spanish, International Affairs
Kristi Jones, BS in Biology
Carlin Jones, BBA in Marketing
Nikie Karimaghaie, BA in Law, Justice and Society
Emily Kendall, BS in Environmental and Sustainability Science
Isadora Koch, BS in Environmental and Sustainability Science
Samuel Kuhn, BS in Environmental and Sustainability Science
Callie Labro, BBA in Marketing
Madeline Lillicrap, BA in English Teaching
Mackenzie Mann, BBA in Management
Makala Marsee, BA in English
Ansley Mattingly, BS in Interdisciplinary Teaching: K-5
Cameron May, BS in Exercise Science
Morgan McIntyre, BA in Interdisciplinary Teaching: PreK-3
Jazzmin Mitchell, BSW in Social Work
Micah Moore, BBA in Marketing
Victoria Morrison, BA in French
Victoria Morrison, BA in English
Mason Nam, BBA in Accounting
Brendan Nee, BS in Mechanical Engineering
Alaina Nelson, BBA in Marketing
Nicolette Newby, BBA in Management
Nicolette Newby, BBA in Marketing
Jessie Newcomb, BSW in Social Work
Lindsey Newland, BA in English
Karoline Nyland, BBA in Accounting
Pooja Patel, BS in Biochemistry
Kendall Patton, BA in Hospitality Management
David Pauls, BS in Electrical and Computer Engineering
Rachel Pavelich, BFA in Fashion and Interior Merchandising
Seth Peterson, BA in Music 
Bailey Pihera, BS in Dietetics
Sydney Pilkington, BA in Art Therapy
Zoe Pitsinos, BA in English
Erika Plunkett, BS in Mechanical Engineering
Kateryna Popova, BBA in Marketing
Kateryna Popova, BA in Hospitality Management
Jacob Pregont, BM in Music: Commercial Music
William Rogers, BS in Philosophy
Jesse Russell, BA in Theology and Ministry with Concentration 
Nicholas Ryan, BS in Molecular Biology and Biomolecular Science, BS /MS Molecular Biology
Lauren Scott, BS in Biomedical Physics and Biology
Elizabeth Shannon, BA in Interdisciplinary Studies in Education
Kristin Shortal, BA in History Teaching
Tyler Sills, BS in Exercise Science
Janelle Spiers, BA in Music
Madison Staed, BBA in Management and Marketing
Jackson Stubblefield, BA in Political Science - Pre Law
Natalie Thwaites, BS in Psychology
Chase Toman, BBA in Marketing
Symphony Trimble, BS in Exercise Science
Ansley Volkman, BBA in Accounting
Kortney Wattles, BS in Psychology
Caleb Williams, BA in Public Relations and History
Madison Williams, BFA in Animation
Cheyenne Williams, BBA in Management
Elizabeth Willis, BFA in Studio Art
Audrey Witherspoon, BFA in Animation
Jocelyn Witte, BBA in Marketing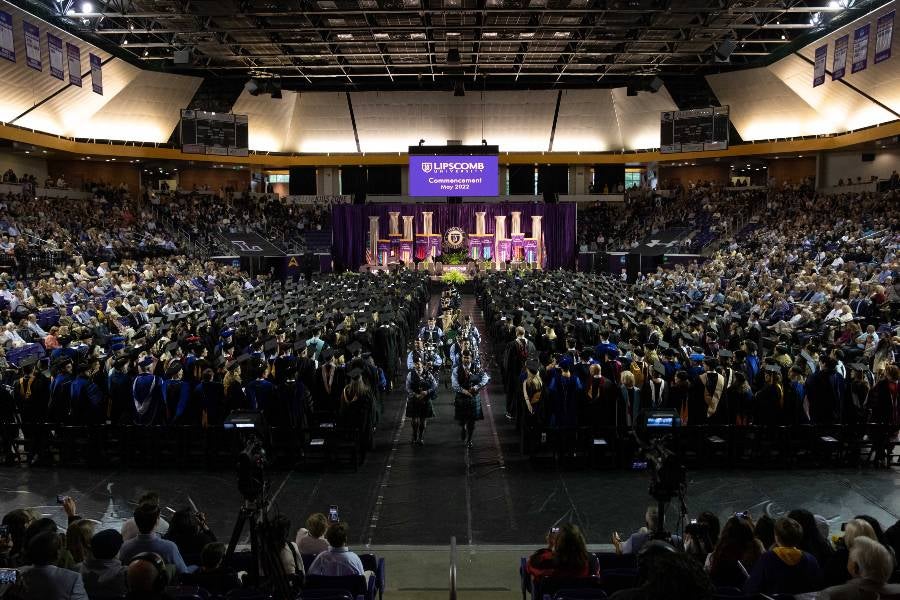 Magna Cum Laude
Madison Allie, BBA in Accounting
Michael Altman BA in Political Science
Alexander Bailey, BA
Josephine Ballard, BA in Public Relations
Michael Balsamo, BS in Software Engineering
Jeremy Beeman, BS in Electrical and Computer Engineering
Kennoniah Bellile, BM in Music: Commercial Music
Mark Beshay, BS in Biochemistry: Applied
Danielle Bessey, BA in Public Relations
Kaylin Bibbee, BA in Family Science
Elijah Bischoff, BA in Psychology and Philosophy
Mackenzie Boyte, BA in Interdisciplinary Teaching: K-5
Kristen Breshears, BFA in Animation
Caitlin Burke, BFA in Film Production
Andrew Butcher, BS in Mechanical Engineering
Jennifer Calles, BSN in Nursing
Benjamin Camp, BS in Mechanical Engineering
Chase Cate, BA in English
Waldo Crespo, BS
Ashlyn Cribbs, BS in Molecular Biology
John Cromer, BBA in Marketing
Hayden Dansbury, BS in Psychology
Grace Daubenmier, BA
Kendra Davidson, BS in Electrical and Computer Engineering
Brandon Davis, BFA in Animation
Grace Davis, BA in Law, Justice and Society
Rylee Davy, BS in Chemistry: Professional
Jennifer Derrick, BA in Hospitality Management
Carson Deyo, BS in Psychology
Jordan Echols, BS
Daniela Figueroa, BS in Psychology
Jayla Fisher, BS in Biochemistry
Pedro Galhardo, BS in Biochemistry
Anica Gilbert, BA in Public Relations
Addison Gossage, BA in Commercial Music
Alex Grilli, BS in Mechanical Engineering
Marina Hana, BS in Exercise Science
Katia Hanger, BS in Exercise Science
Mikayla Harris, BA in Interdisciplinary Teaching: K-5
Grant Harris, BSN in Nursing
Ruben Hassell, BBA in Accounting
Anna Hassloch, BA
Emily Hauke, BS in Exercise Science
Sarah Hemmerly, BS
Christopher Henderson, BS in Biochemistry: Applied
Olivia Hood, BFA in Animation
Claire Hopkins, BFA in Theatre: Directing
Amber Hoy, BA
Tyler Irvin, BA in Theology and Ministry with Concentration
Logan Jacobs, BBA in Accounting
Ivan Jones, BS in Biology
Baylee Kalb, BS in Mathematics Teaching
Emily Keeling, BA in Theology and Ministry
Olivia Kelly, BS in Biology
Tara Kemp, BFA in Graphic Design
Elizabeth Kwock, BS in Chemistry: Professional
Lucas Landis, BBA in Management
Ella Lathem, BS in Exercise Science and Spanish
Caleb Lawhon, BS in Civil Engineering
Kristina Leka, BS in Biochemistry: Applied
Alida Leroux, BBA in Accounting
Spencer Luck, BS in Software Engineering
Avery Lutrell, BFA in Animation
Rachel Mabbitt, BA in Hospitality Management
Merideth Mallett, BFA in Animation
Natalie Martin, BFA in Animation
Alayasha Martin, BFA in Theatre: Musical Theatre
Scott McKenzie, BBA in Management and Marketing
Kimberly Mendez Gonzalez, BA in Interdisciplinary Teaching: K-5
Prenda Mercado, BFA in Theatre: Acting
Samuel Milhollin, BS in Bioscience and Philosophy
Alexandra Morrison, BS
Mikayla Morrow, BS in Health Sciences: Pharmacy
Callie Neiland, BA in Art: Graphic Design
Tabitha Newman, BS
Huy Nguyen, BA in Political Science
Trent Nichols, BS in Mechanical Engineering and Mathematics: Applied
Mallory Nunley, BA in Film Production
Tanner Ostrander, BA in English
Niyati Pathak, BS in Biochemistry
Keegan Patterson, BBA in Accounting
Jason Risse, BBA in Marketing
Angelica Sanchez, BA in Interdisciplinary Teaching: K-5
Colin Santee, BS in Software Engineering
Kiley Sayre, BA
Bennett Scott, BFA in Theatre: Musical Theatre
Ashley Self, BSW in Social Work
Elijah Self, BBA in Accounting
Zachary Shore, BS in Mathematics: Applied and Electrical and Computer Engineering
Sara Shrum, BS in Dietetics
Abigail Spruell, BS in Psychology
William Story, BBA in Management
Daniel Taft, BA in Political Science
Sydney Thomason, BFA in Film Production
Mary Tichenor, BBA in Management
Amber Underwood, BFA in Graphic Design
Benjamin Underwood, BA in German and BS in Exercise Science
Anna Vander Kamp, BS in Electrical and Computer Engineering
Matthew Vines, BM in Music: Commercial Music
Selena Warner, BA in Family Science
Hunter Wiemann, BBA in Management
Jordan Williams, BBA
Eric Yeazell, BS in Mechanical Engineering
Francine Zagers Garcia, BS in Environmental and Sustainability Science
Iyobed Zekarias, BS in Computer Science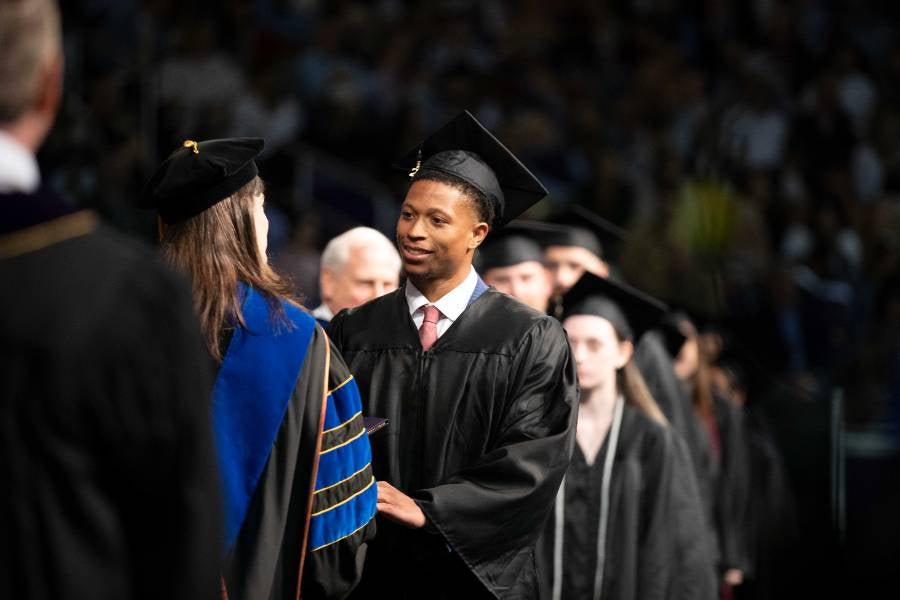 Cum Laude
Frehiwot Abebe, BBA in Accounting
Harrison Akers, BA in Film Production
Mackenzie Amos, BA 
Patricia Bandy, BS in Biology
Michael Bertolani, BBA in Finance
Andrew Black, BS in Exercise Science
Brandt Breaux, BBA in Management
Jayce Brown, BBA in Finance
Kelsey Brumfield, BS in Interdisciplinary Teaching: K-5
Adah Burdick, BA in Hospitality Management
Samuel C'deBaca, BS 
David Camp, BS in Exercise Science
Daniel Carpenter, BFA in Animation
McKenzie Chaffins, BFA in Animation
Eleanor Chapman, BS in Exercise Science
Sydney Cipriani, BA in Theology and Ministry
Josie Clark, BFA in Animation
Beck Cox, BA in Advertising
Isabel Creasey, BS in Exercise Science
Linda Daniel, BSW in Social Work
Yelyzaveta Diachenko, BFA
Kamryn Doan, BA in Hospitality Management
Hanna Duncan, BA 
Allison Earley, BS in Psychology
Taylor Edmundson, BA in Interdisciplinary Teaching: K-5
Anna Fergnani, BBA in Marketing
Sarah Fetter, BSN in Nursing
Jack Finch, BS in Civil Engineering
Megan Frahm, BBA in Management
Joseph Fullard, BA in Film Production
Bailey Gerard, BM in Music: Commercial Music
Ethan Gillispie, BS in Exercise Science
Madison Griffin, BSN in Nursing
Taylor Hammack, BBA in Marketing
Roa Hantouli, BBA in Management
Dorie Harrison, BBA in Marketing
Kristyn Hatcher, BBA in Management
Ben Head, BBA in Management
Grace Heinzmann, BSN in Nursing
Joshua Hinkle, BBA in Accounting
Grant Hitchcock, BS in Biology
Meredith Holland, BA in Political Science
Benford Hulgan, BA in Film Production
Riley Jeffe, BSN in Nursing
Hardin Johnson, BS in Molecular Biology
Heleena Kabtimer, BBA in Management
Anna Keim, BS in Mechanical Engineering
Lainy Kendall, BBA in Marketing
David King, BA in Film Production
Sadie Kohler, BBA in Marketing
Julia Le, BBA in Finance
Joseph Liechty, BM in Music: Commercial Music
William Lowe, BS in Information Technology Management
Ryan Lusk, BA in Advertising
Emily MacArthur, BSN in Nursing
Rebecca Mammo, BBA in Accounting
Nathan Matheis, BS in Computer Science
Nathan Matheis, BS in Mathematics: Applied
Jordan Mitchell, BSN in Nursing
Carley Mitchell, BBA in Accounting
Salma Mohamed, BSN in Nursing
Peyton Mowl, BA in Music Industries
Victoria Newby, BA in Hospitality Management
Elena Newton, BSW in Social Work
Shelby Nokes, BA in Interdisciplinary Teaching: K-5
Alexander Nordhoff, BS in Software Engineering
Caitlin O'Donnell, BA in Law, Justice and Society
Keyra Patterson, BS in Biology
Michael Piechocki, BS in Mechanical Engineering
Michael Piechocki, BS in Mathematics: Applied
Bria Pietzke, BSN in Nursing
Anna Powell, BSN in Nursing
Thomas Priest, BBA in Accounting
Ian Reitmaier, BS in Software Engineering
Kamrie Rich, BS in Exercise Science
Brian Risse, BBA in Finance
Emma Roberts, BA in Art: Graphic Design
Michell Rodriguez Rodriguez, BA in Fashion Design
Brandon Runkel, BFA in Film Production
Carson Scott, BBA in Marketing
Suzanne Short, BS in Biology
Matty Simpson, BA 
William Snellings, BS
Ivey Stewart, BS in Exercise Science
John Suey, BSN in Nursing
Charles Summers, BS in Molecular Biology
Jack Terry, BBA in Accounting
Andrew Thomerson, BBA in Management
John Tomlinson, BA in Sports Media
Tracy Tran, BBA in Management
DongDuyen Truong, BSN in Nursing
Katie Turner, BS in Interdisciplinary Teaching: K-5
Bailee Turner, BBA in Management
Juan Vazquez, BS in Civil Engineering
John Ward, BBA in Accounting
David Wesch, BA in English
Anastasia Williams, BS in Biochemistry: Applied
Sara Wilson, BSN in Nursing
Katherine Woods, BS in Psychology
Kristen Youngblood, BS in Exercise Science
Lissett Zavala Moreno, BS in Psychology
Elizabet Zoeller, BS in Dietetics