Matt Taylor appointed director of choral activities in Lipscomb's School of Music
The School of Music is blooming with exceptional teaching, scholarship and performance opportunities.
Keely Hagan | 615-966-6491 |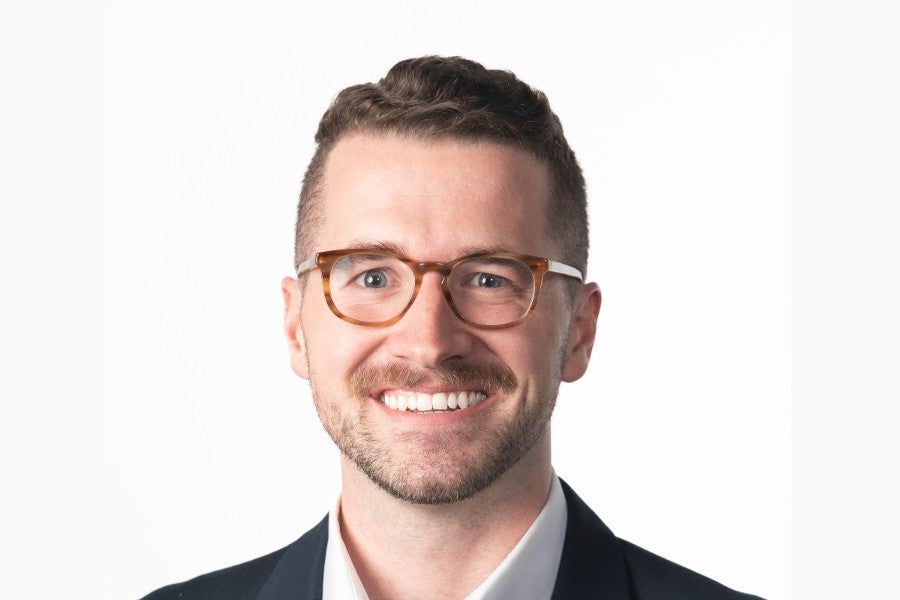 Lipscomb University's strong, longtime heritage of choral music performance has seen a boost this fall with participation numbers climbing with the arrival of Director of Choral Activities Matt Taylor, who joined the faculty of the School of Music, housed in the George Shinn College of Entertainment & the Arts, in August. 
Taylor is currently completing his Doctor of Musical Arts degree with an emphasis in choral conducting at the University of Georgia (UGA). He holds a master's degree in choral conducting from Louisiana State University and a bachelor's degree in music composition from Samford University.
He most recently served on the faculty of the Tennessee Governor's School for the Arts as director of the Governor's School Chorale and established himself as an advocate for choral arts in the state and region.
Students were so inspired with Taylor's appointment that the University Chorale (formerly A Capella Singers) grew from 22 singers to 36 singers this fall, says Jennifer Snodgrass, academic director of the School of Music.
​​"Matt certainly brings with him a passion for music education and choral literature, but it is his outstanding teaching that makes him ideal for this position," says Snodgrass. "Watching Matt lead a class is like watching a masterclass in exemplary teaching. He is a master of the content and deliberately focuses on the needs of each and every student."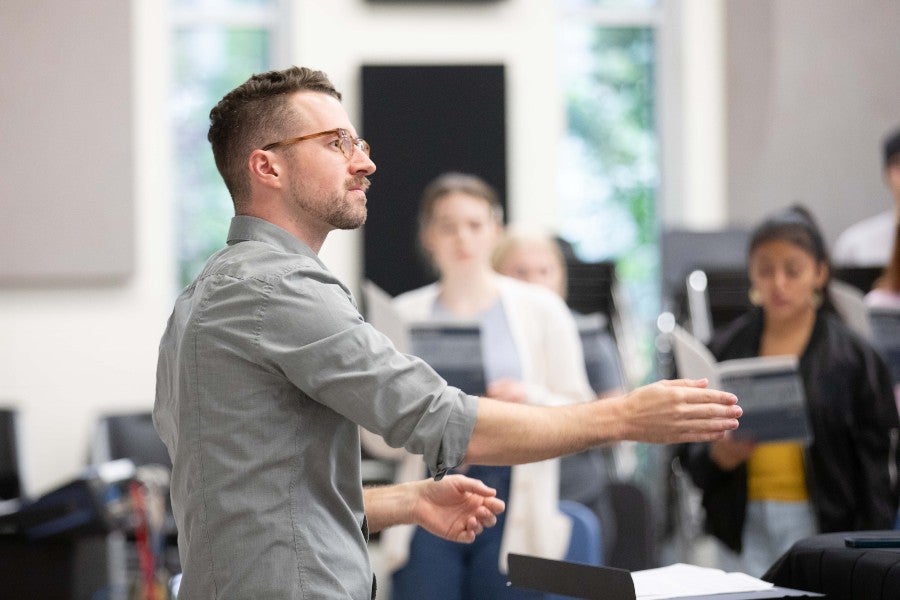 Matt's investment in blending traditional and classical repertoire as well as commercial music is the vision of the School of Music, says Snodgrass. "We are so excited for him to be a part of our team as he continues to build our choral program and mentor future music educators here at Lipscomb."
"I was drawn to Lipscomb for its size, the intentionality of the faculty and the general collegiality that exists between departments," says Taylor. 
"Lipscomb has a rich history of choral singing from its heritage in the Church of Christ and its location is such a musically rich city. It's exciting to step into that legacy and the high-energy environment of the school today," he says.
The University Chorale has toured throughout the United States and earlier this year they performed with renowned tenor Andrea Bocelli at his international tour's stop in Nashville. The chorale is slated to perform in several concerts and events this academic year, including the widely attended "Lighting of the Green" Christmas show on campus with recording artist Amy Grant and friends, Christian High School Choral Festival, and "Dolly Parton and the Makers: My Life in Rhinestones"  exhibition opening, hosted by the Department of Fashion and Design. Other concerts planned include a Christmas concert and a collaborative concert with the Lipscomb Chamber Orchestra.
LEARN MORE: More School of Music events and updates on the Chorale schedule
"The School of Music is blooming under the direction of Jenny Snodgrass and Brown Bannister (director of the School of Music)," says Taylor. "Jenny is a champion for everyone and Brown has done such amazing things in his career. All of the faculty are so bright and their uniform vision to serve the students is so encouraging. It's really an excellent team to be on."
Taylor says that looking to the future, he is focused on growth and identity. "I would love for people to look at Lipscomb and know that great choral singing is happening in so many places. Aaron Howard and Randy Gill are doing fantastic work through the Gospel Choir and the vocal pop choir Sanctuary and Michelle Margiotta has been building a vocal jazz ensemble that is thriving."
A passionate educator and conductor, Taylor spent five years as Associate Choral Director at Wando High School in Charleston, South Carolina, where he contributed to the growth of one of the state's largest choral programs. He served as a conductor for district and university honor choirs in the state, and has directed high school and church choirs across the southeast as a guest conductor. Taylor made his international conducting debut in 2022 with the Toronto Mendelssohn Choir, where he was selected as one of five emerging guest conductors from across North America.
He has performed in collegiate, community, and professional choirs as a vocalist, and is an active instrumentalist and composer. He has performed in symphonies, chamber groups, and jazz ensembles as a double bassist. He has been a career-long member of the American Choral Directors Association, and has served twice as a member of the ACDA Southern Region Conference Committee.
About the School of Music
The Lipscomb University School of Music is an accredited institutional member of the National Association of Schools of Music. It collaborates with the College of Bible and Ministry to offer an interdisciplinary major in worship ministry to provide students with the knowledge and skills to assist congregations in meaningful, purposeful times of worship. The school's applied music classes and private lessons are taught by full-time faculty, adjuncts or private instructors selected from the wealth of talent available in Nashville. For more information visit lipscomb.edu/music.
About the George Shinn College of Entertainment & the Arts
Lipscomb's George Shinn College of Entertainment & the Arts is the fastest-growing in the university, with more than 20 undergraduate degrees in film, fashion, music, theatre and art. Graduate programs include Master of Arts degrees in film and creative media with writer and director tracks and a Master of Fine Arts/Master of Business Administration blended degree. For more information visit cea.lipscomb.edu.