Mary Eddy Jones Courtyard at Beaman Library provides beautiful place for students to gather, learn
Kim Chaudoin |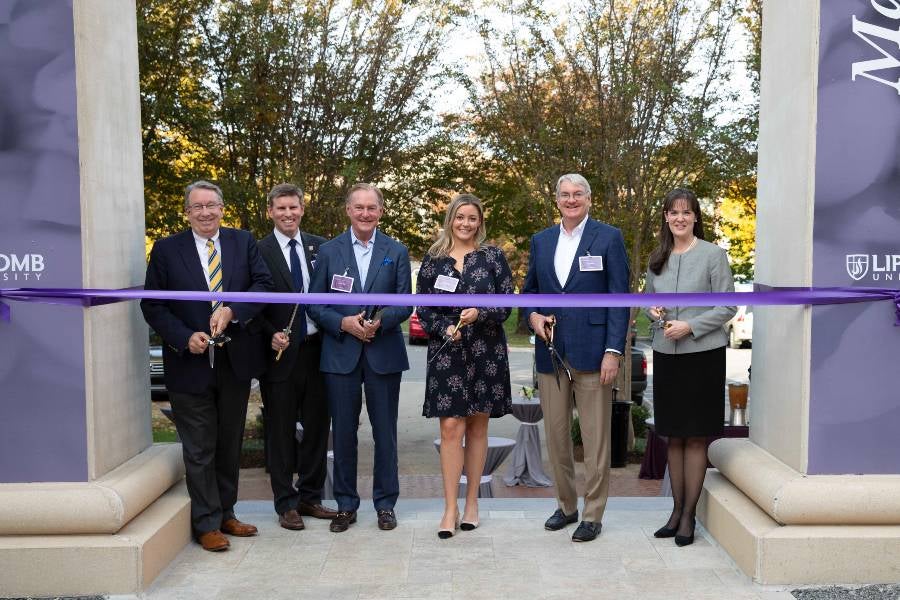 Generations of students will be able to enjoy a beautiful, new outdoor learning and gathering place thanks to the generosity of the family of Mary Eddy Jones.
On Tuesday, Nov. 9, the Lipscomb community gathered to dedicate the Mary Eddy Jones Courtyard at Beaman Library. Funded by a lead gift from Hall Capital, the Beaman Library Courtyard underwent a major renovation during the summer to create a more visually appealing and useful area and reflects Jones' love of gardens and attractive outdoor spaces. The courtyard features new landscaping, collaborative gathering spaces, comfortable seating for study and conversation, and a surface area that serves as an event and meeting place.
"This is a very special day," said Fred Hall, Jones' grandson and chairman and CEO of Hall Capital. "It's great to be here in our adopted city of Nashville. Hall Capital has had a presence here in Nashville for 10 years. We not only want to make a statement by the physical presence of our projects but to make a second statement — a statement of philanthropy. Faith and family are important to us, and you spread that beautifully here at Lipscomb and we want to support that. We love you all and what you do. It's a pleasure to make our first mark of philanthropy in Nashville in the form of a gift to Lipscomb for this beautiful courtyard project."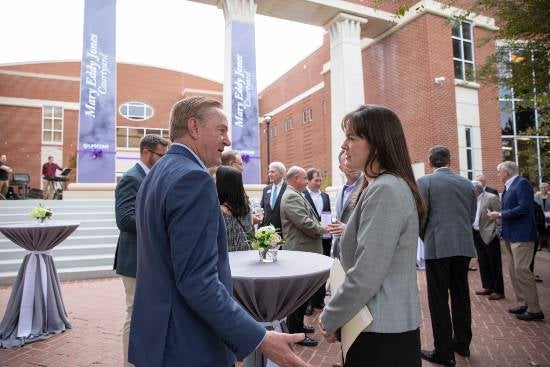 President Candice McQueen officially acknowledged the gift on behalf of Lipscomb University.  
"I want to say thank you to the entire Hall family and for the opportunity to be your first gift here in Nashville. Lipscomb is proud to partner with you and I hope you will come here and visit this place often," said McQueen. "On behalf of Lipscomb I want to say thank you for not only your generosity but that you gave it in this beautiful space. Beaman Library has been here for some time, but we've never had the beautification that we now have and our students will be able to walk through and enjoy it on a regular basis."
"This is also a beautiful place to foster learning," she continued. "We want to help our students learn about faith through a community that will live it, talk about it and be a partner with them as they continue to grow in their profession. This beautiful fall day is the perfect celebration for what and who we are honoring and how we honor her. Please know that this courtyard will be used in a variety of ways. Our students will enjoy God's creation here, they will continue to learn here, they will be formed in God's Word here and they will reflect on Mary Eddy Jones when they walk through this place. They'll reflect on her passion, culture and love for beautification in these types of spaces."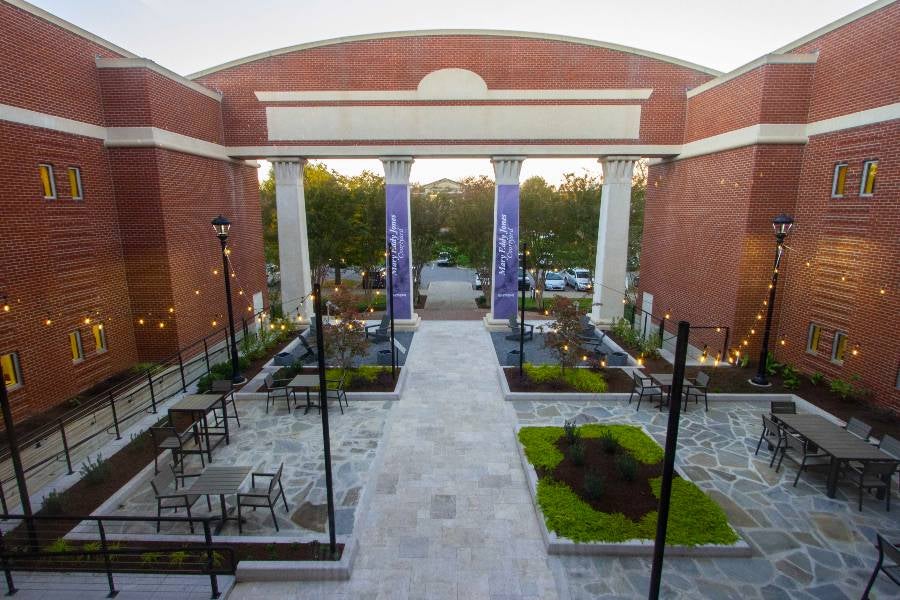 The courtyard honors Mary Eddy Jones, wife of pioneering automotive industry entrepreneur Fred Allison Jones Sr. of Oklahoma City. His company was one of the largest Ford dealers and parts remanufacturers in the world, with diversified interests in aviation, energy and real estate. As the company grew, the Jones family became very active in the civic life of Oklahoma City while also rearing their two children, Fred Jr. and Marylin. In 1971, their philanthropy resulted in construction of the Fred Jones Jr. Museum of Art at the University of Oklahoma in memory of their son. Under the leadership of their grandsons, Fred Hall, Kirkland Hall, and Brooks "Boots" Hall Jr., the company now known as Hall Capital has offices in Oklahoma City, Nashville, Chicago, Dallas and Tulsa. Their recent development projects in Nashville include 18th & Chet and 17th & Grand.  Hall Capital is home to a diversified collection of business interests focused on automotive, real estate and private investment. The company continues a long legacy of service to the community through the Fred Jones Family Foundation.
Known affectionately as "Eddy Go Jones" for her tremendous work ethic, Jones was widely recognized for her dedication to promote and improve the arts, culture and beautification. She was inducted into the Oklahoma Hall of Fame in 1978 and in 1988 became the first woman to receive the University of Oklahoma College of Medicine Alumni Association Dean's Award.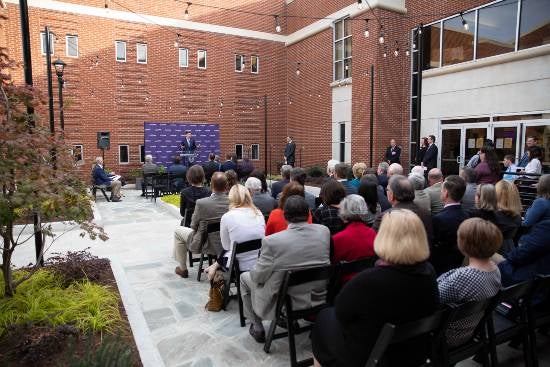 David Holt, mayor of Oklahoma City, shared the story of Mary Eddy and Fred Jones and his career as a pioneer in the automotive industry. 
"I'm honored to be here today and to share a little bit about Mary Eddy Jones," said Holt. "She was a significant civic leader in Oklahoma City and was enormously influential, especially when it came to our arts community. She, with her husband, Fred, were part of just about every philanthropic initiative that made Oklahoma City better. When her husband died, she continued their commitment to service for another three decades. We are honored to see her legacy move all the way to Tennessee and to be here today."     
Hall was also joined by his daughter, Allison, and brother, Kirkland, for the ceremony along with a contingent of friends and business associates who travelled from Oklahoma for the event, Governor Frank Keating, Oklahoma governor from 1995-2003. 
The Mary Eddy Jones Courtyard project is an initiative of the Lipscomb LEADS campaign, the largest, most extensive campaign in institution history that has surpassed its $250 million goal and concludes in December. For more information, visit www.lipscomb.edu/leads.