Lumination Network staff members receive awards at regional conference
Record-breaking number of Lipscomb students represented as Mark of Excellence finalists.
Anna Moseley |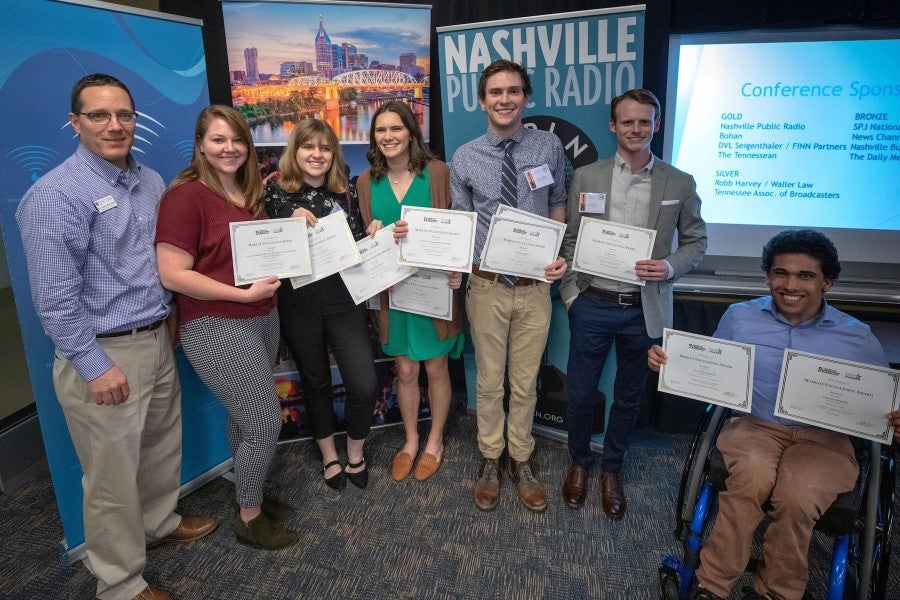 Lipscomb University communications students, housed in the College of Liberal Arts and Sciences, received awards and recognition for their work at the Society of Professional Journalists (SPJ) region 12 conference, hosted by the SPJ Middle Tennessee Professional chapter and Lipscomb student chapter on March 29-30.
Students on Lipscomb's student news service, Lumination Network, were named finalists in 14 categories, a university record, and took home the Mark of Excellence award in three categories. Lipscomb students Spencer Boehme, Peyton Rodgers, Charissa Ricker and Cavin Jacobson won best all-around radio newscast, Mckenzi Harris won in the sports photography category and Cavin Jacobson won for best radio feature.
Lipscomb's regional Mark of Excellence finalists:
Spencer Boehme, radio feature
Ellen Butterfield, photo illustration (small)
Erin Franklin, sports photography (small)
Erin Franklin, Russell Vannozzi, Cole Gray and Spencer Boehme, best independent online student publication
LeBron Hill, online opinion and commentary
Abraham Jubran, podcast
Cavin Jacobson and Maria Morales, television general news reporting
Charissa Ricker, online feature reporting
Russell Vannozzi, online feature reporting
Russell Vannozzi, online sports reporting
Staff of Lumination Network, best use of media
Lumination Network is the university's official student news service with a staff made up of 18 students. Lumination Network distributes news in several formats including written articles, photo galleries, TV and radio.
The Society of Professional Journalists Mark of Excellence awards are only one of three contests Lipscomb's Department of Communication and Journalism enters each year. The other two include the Southeast Journalism Conference, which garnered several student awards earlier this year, and the Tennessee Associated Press awards, which will be presented on April 27.
The region 12 conference was held at both the John Seigenthaler Center on Vanderbilt's campus and at Lipscomb University. There were 98 journalism professionals and students from Tennessee, Arkansas, Louisiana and Mississippi at the conference.
For more information about Lumination Network visit: http://luminationnetwork.com/.