Lipscomb's 500th endowed scholarship established to honor favorite professor
Lipscomb parent sets example by establishing scholarship fund to honor faculty member.
Janel Shoun-Smith | 615.966.7078 |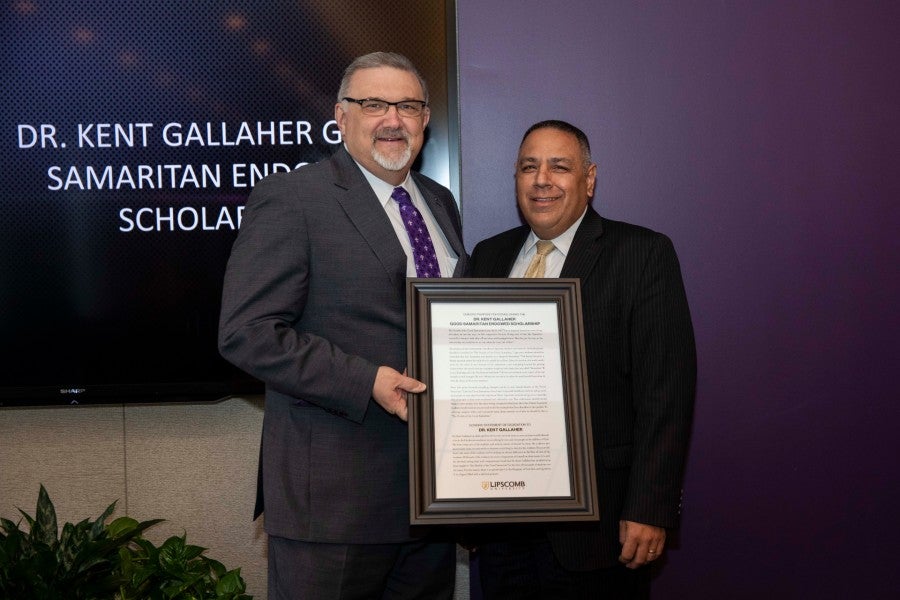 One of the favorite aspects of Lipscomb University that alumni cite over and over is their close relationships with faculty. 
Jody and Louise Venkatesan, parents of alumna Bethanne Venkatesan ('19), went beyond cherishing their daughter's fond memories and endowed a scholarship in honor of her favorite professor, Kent Gallaher, director of Lipscomb's biomolecular science graduate program and chair of the department of biology.
That donation became the 500th endowed scholarship established through the LipscombLEADS initiative.
The scholarship was presented to Gallaher at a surprise ceremony in February. "Dr. G," as he is known around campus, is often cited by many alumni as a favorite faculty member due to his open door policy and personal investment with students both in and out of the classroom.
The scholarship in his name, the Kent Gallaher Good Samaritan Endowed Scholarship, will be awarded to students majoring in health science, with one student awarded each year beginning this fall.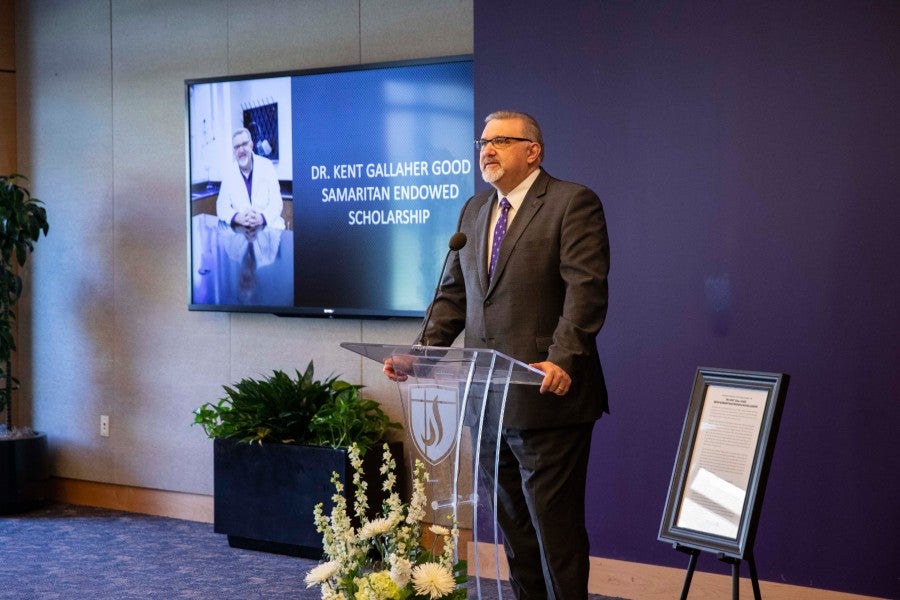 "The purpose of this endowment is for those Lipscomb students who embody the healing hand that Jesus described in The Parable of the Good Samaritan," wrote Jody Venkatesan, the owner of Platinum Business Services in Maryland and a member of the College of Business Dean's Board. "Like the Good Samaritan, these future Lipscomb health care students will go on to heal people in ways that God will only know… This endowment should remind them to serve people with the same loving compassion that Jesus describes."
The Venkatesans hope their example will inspire others to establish scholarships honoring a Lipscomb professor who was influential in their own lives.
"Faculty invest themselves into students for many years, and there is not always a lot of recognition for that beyond the campus," said Burton Williams, associate vice president for advancement. "Honoring a faculty member in this way not only expresses gratitude to Lipscomb faculty, but also ensures that future generations will also be blessed by the mentorship of Lipscomb's spiritual and caring professors."
After graduating, Bethanne Venkatesan went on to medical school at Thomas Jefferson University in 2019. She was a member of the Honors College and conducted research with Physics Chair Alan Bradshaw through the Langford-Yates Endowment for the Advancement of Science.
Of Gallaher, Bethanne Venkatesan wrote, "He pours his heart into each of the students and is making an eternal difference in the lives of each of his students. With each, he leaves a fingerprint of himself on their hearts."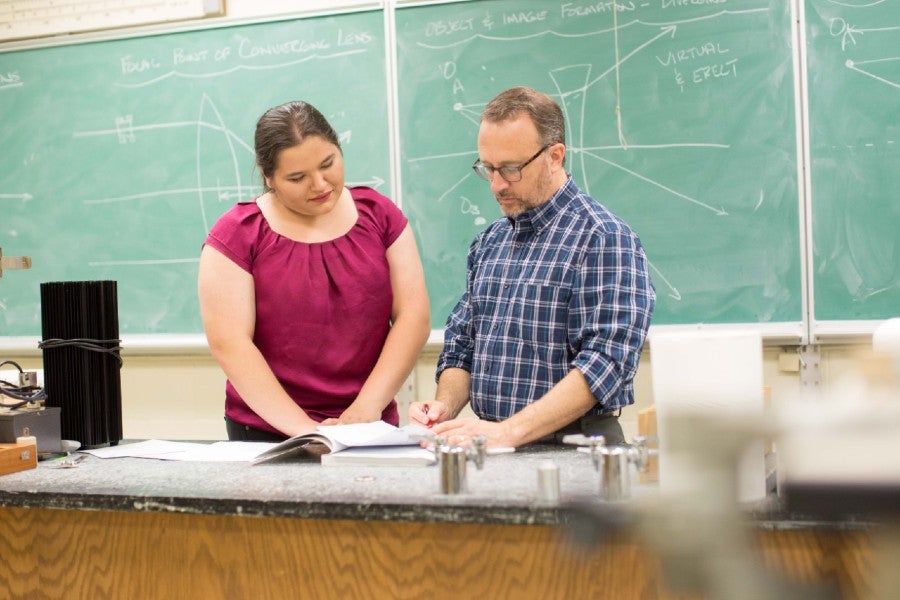 This is the second scholarship the Venkatesans have funded at Lipscomb, the first honoring physics Professor Randy Bybee.
Each year, the Venkatesan's Platinum Business Services contributes to an endowment fund that the members use to benefit students and those in need. So he keeps an eye out for ways he can touch people's lives for the better, he said.
"I appreciate an opportunity where we can engage with students and hopefully make a difference along the way," he said.
The Kent Gallaher Good Samaritan Endowed Scholarship is open for sustaining donors who make regular monthly contributions, one-time donors and donors wishing to make a large donation. A gift of $30,000 is required to endow a scholarship and immediately begin awarding funds to an eligible student.
LipscombLEADS, the university's largest campaign in history, began in 2011 and was publicly announced in January 2019. The campaign goal is to raise $250 million to invest in broadening Lipscomb's reach to the community, to the economy, health care, spiritual health and other aspects of the world.
If you would like to make a donation to the Kent Gallaher Good Samaritan Scholarship, contact Burton Williams at 615.966.5561 and click below.
To specify the gift for the Gallaher scholarship online, click on "other" and type "Kent Gallaher Good Samaritan Scholarship" in the description box.