Lipscomb University sets enrollment record with largest class of new freshmen in school history
Kim Chaudoin |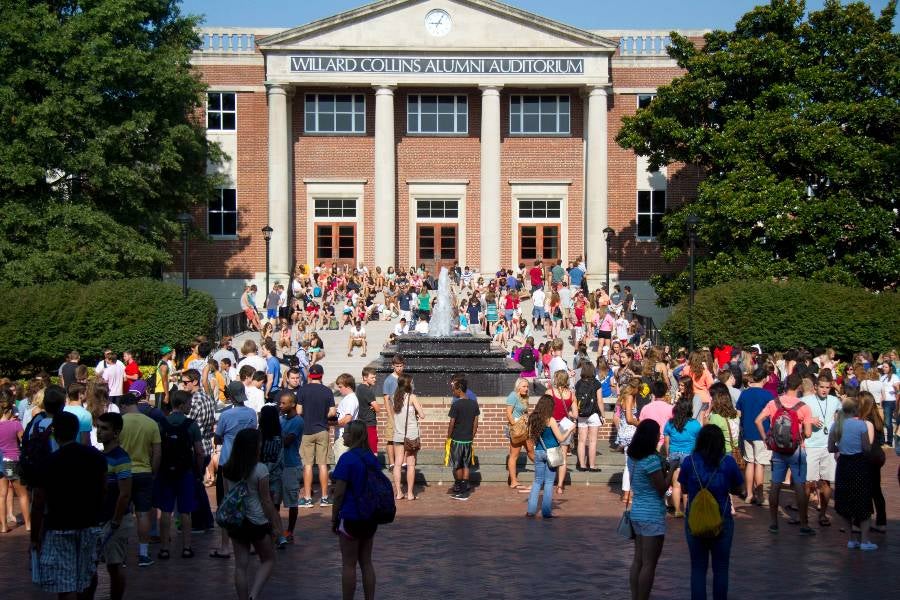 As new students are moving to campus this week to begin another academic year, Lipscomb University continues to break enrollment records with its largest class of freshmen in school history. 
Classes begin Monday, Aug. 21. Enrollment numbers indicate the largest class of new freshmen in university history and the first time the university has had over 700 new first-time freshman students joining the Bison Herd. In addition the university is celebrating its best freshman-to-sophomore retention rate ever recorded at Lipscomb with an expected total enrollment of over 4,800 students.
"This is an exciting time to be at Lipscomb University. We are particularly excited about welcoming another record number of freshmen this fall," said President Candice McQueen. "Our Christ-centered mission paired with our top-tier academic programs  resonate with students across the country. Students know this is a place they will thrive." 
The continued enrollment growth over the last 16 years is a reflection of the school's growing reputation as a top-tier, nationally recognized institution and one of the top Christian universities in the country. Included in this year's enrollment growth is the launch of Lipscomb's new Doctorate of Philosophy in Leadership and Policy Studies, which begins this month with a cohort of almost 20 students. Lipscomb administrators anticipate additional enrollment growth this semester as several graduate program cohorts will begin in the next few weeks. Final enrollment numbers will be available in mid-September following the university's official census. In addition, Lipscomb has its largest number of military-connected students in school history with nearly 400, including 122 new student veterans and veteran dependents. 
"This incoming freshman class is an outstanding group of students, chosen from a record number of applicants," said Byron Lewis, vice president of enrollment management. "Each year more students and families are attracted to Lipscomb because of the excellent, whole-person learning experiences we offer that shape lives of character, leadership, service and faith … and we do that in one of America's best cities for college students. Lipscomb and Nashville are a powerful combination."
New students moved into residence halls on Aug. 14 and 15. This week new undergraduate students are preparing for the first day of classes with QuestWeek, an orientation program designed to immerse them into the Lipscomb community and prepare them for the first day of classes. QuestWeek activities include teams of students volunteering at organizations throughout Nashville for a service day, a family dinner, parent-student worship, various academic information sessions, Neon Skate Night, a Sunset Social, Running of the Bison and Initium, a formal ceremony for freshmen marking the beginning of their college career. 
With the beginning of a new academic year comes new dining options and updates. Among the highlights are the opening of Boar's Head Deli and Wild Blue sushi in Bennett Campus Center. A variety of Nashville's favorite eateries will also continue to be featured in the popular Local Eats, a food spot that opened last year in the campus center and serves food from these restaurants during lunchtime. A few of the restaurants that are already scheduled include Ladybird Taco, Whitt's BBQ, Kalamatas, Tacos4Life and Inka Trailer. In addition, a significant renovation of the nursing simulation lab in the Nursing and Health Sciences Center was completed this summer. 
One year ago Lipscomb launched its strategic plan, Lipscomb Impact 360. Among the highlights of the accomplishments over the last few months includes establishing the Office of Research & Grants, launching the Center for Vocational Discovery, opening Bison One Stop, expanding the health sciences program with the launch of the Lipscomb University Health Sciences Center and launching the Next Generation Faculty Program.
It is truly a great time to be a part of the Lipscomb University community. In May, Lipscomb celebrated a historic milestone with its first cohort of students in the cardiovascular perfusion program graduating with the first-ever Master of Science in perfusion degrees awarded by the university.  ​​Forbes has ranked Lipscomb as the #2 private research university in Tennessee. Lipscomb's animation program has quickly developed a national reputation as one of the best programs of its kind and was recognized last year as one of the best programs in the US as it was ranked No. 1 in Tennessee and No. 22 in the nation. 
This spring the College of Business was ranked the top undergraduate program in Tennessee and among the top 50 in the nation by Poets&Quants for Undergrads in its annual Best Undergrad Business Schools rankings. This summer Lipscomb's graduate teacher preparation program was recognized nationally for its rigorous preparation of future teachers in the science of reading by the National Council on Teacher Quality. In April, the College of Education received a $4.8 million grant from the U.S. Department of Education to train mental health professionals in high-need local education agencies (LEAs) in the Nashville area. This is the largest one-time grant received in university history. This summer Lipscomb's Clinical Mental Health Counseling Program was awarded a $1.65 million grant from the Health Resources and Services Administration, an agency of the U.S. Department of Health and Human Services, to improve mental health services in Middle Tennessee by training the behavioral health and healthcare workforce to address unmet needs.
Lipscomb University is a vibrant Christian, liberal arts community with a student body of nearly 5,000 students that offers undergraduate, graduate and doctoral degrees. Located in the heart of Nashville, Lipscomb University is a Christ-centered community preparing learners for purposeful lives through rigorous academics and transformative experiences. The institution also includes Lipscomb Academy, a PreK2-12th grade college preparatory school of nearly 1,300 students. For more information, visit www.lipscomb.edu.