Lipscomb-trained dietitians are keeping the nation's athletes running fast and playing hard
Four alumnae of the dietetic internship's sports nutrition concentration are now fueling athletes at NCAA universities from coast to coast.
Janel Shoun-Smith | 615.966.7078 |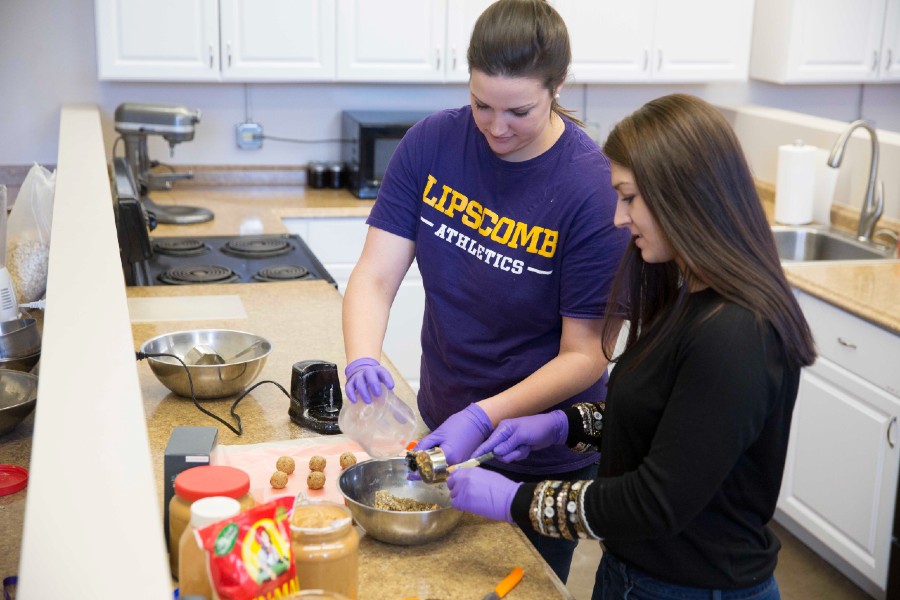 Collegiate athletics is back in full force this fall, and athletes all over the nation are fueling for their competitions under the care and guidance of Lipscomb-trained registered dietitian nutritionists.
Five years after establishing a three-month sports nutrition rotation in its Dietetic Internship Program, one of very few offering more than a couple of weeks experience in sports nutrition, the Department of Nutrition is seeing its former interns practicing performance nutrition at some of the most competitive universities in the nation.
The universities of Michigan, Alabama at Birmingham, Texas and California at Berkeley; Purdue, North Carolina State and Auburn universities; and Virginia Tech are a few of the NCAA Division 1 schools that have been, or are now being, served by alumni of the Lipscomb DIP sports concentration.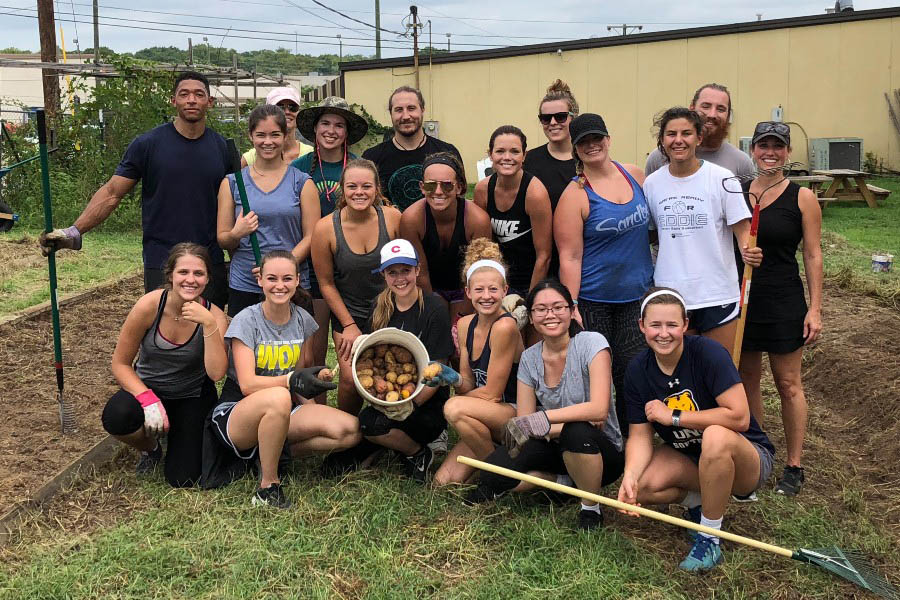 The concentration began in earnest in 2016, when Ann Toy moved from her volleyball coach position at Lipscomb to be the full-time sports dietitian for athletics and the coordinator of sports nutrition for the DIP, training and mentoring multiple dietetic interns each year. In addition to collegiate sports experience, the program now offers a rotation at the high school level with Lipscomb Academy athletics.
The university saw a significant increase in applications to the program after offering the concentration in sports, which wasn't offered at many universities at that time, but was an interest to many aspiring dietitians, Toy said.
"In a general internship you might be able to get a week or two of sports nutrition as an elective. At Lipscomb, I was able to work from August to Thanksgiving with the Lipscomb sports teams. Getting three months of exposure was really great," said Kate Nese, who completed her DIP at Lipscomb in 2019, then completed her master's at Auburn University and was recently hired as a full-time sports RD at Purdue University.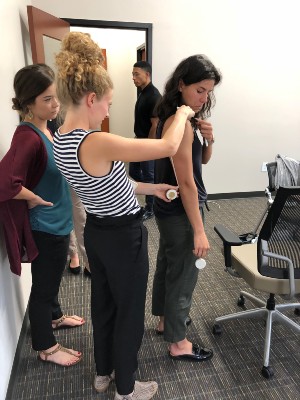 Lee Stowers, at the University of Alabama, enjoyed the fact that Lipscomb's program was still young in 2016-17, so she could experience ways to nurture and build an athletics nutrition program from the ground up. Those skills are ones that any sports dietitian can use in the collegiate arena, where the field is still young and growing.
Today not only are aspiring dietitians still interested in sports nutrition experience, but job opportunities for those with the experience are rapidly growing as well. From coast to coast, from football to cheerleaders and from an eating disorder counselor to a private consulting firm, Lipscomb dietitians are keeping the nations athletes running fast and playing hard.
Check out more below about four Lipscomb alumnae of its sports nutrition concentration.

UAB's resurrected football team achieves new victory, with help from nutrition program
Lee Stowers (DIP '17, EXNS '18)
Football Dietitian/Graduate Research Assistant, University of Alabama at Birmingham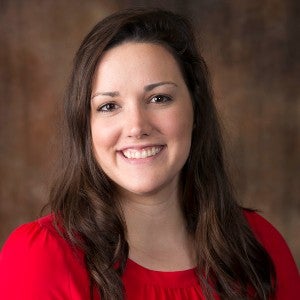 Stowers not only competed in track and field at the University of Alabama during her undergraduate years, but she was steeped in athletics since childhood, as her father, Tim Stowers, was a collegiate football coach for years.
So it's only fitting that now she is working with the UAB football team, a Division 1 CUSA team that was actually cut and then resurrected in 2017 to win two out of three conference championships since their return.
"I have a very unique skill set, because I grew up in football," Stowers said. "Football can be very intimidating to people. It has a lot of aspects you have to learn on the job. It's intense, especially in the summer." Hydration is particularly important for athletes in football, especially during summer training camps, she said.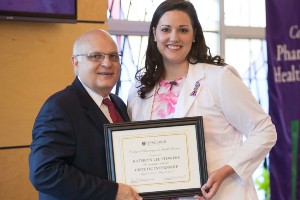 Off-season, UAB dietitians do one-on-one counseling with athletes, working with them to reach an ideal weight, to achieve their performance goals and ensure their long-term health, Stowers said. They offer student athletes cooking and life skills classes to set athletes up for success in the long term.
"Our coach is very invested in nutrition, and that is a big part of how we have been able to grow our program," she said.
Stowers came to UAB in 2018 to join the four-person nutrition staff. She is currently working on her Ph.D. at UAB, and will work on her dissertation next year, exploring the effects of food security, hydration status and training conditions on body composition.
Stowers' own suffering from celiac disease sparked her interest in becoming a registered dietitian, and she logged two years as a nutrition intern at the University of Alabama, earning a second bachelor's degree, before pursuing her master's and licensure at Lipscomb.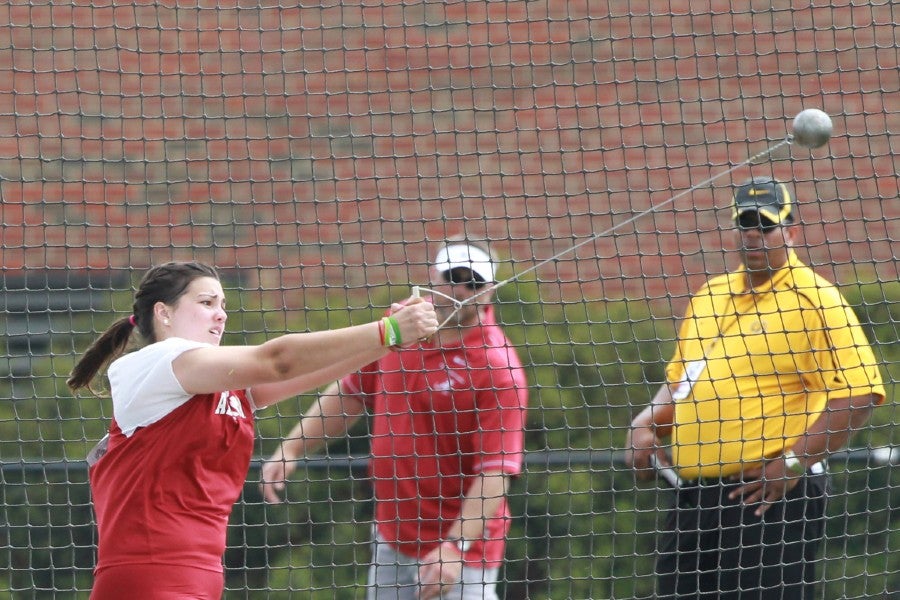 California native provides eating disorder expertise in home state
Janelle Labiaga (DIP '18)
Assistant Director, Performance Nutrition, University of California at Berkeley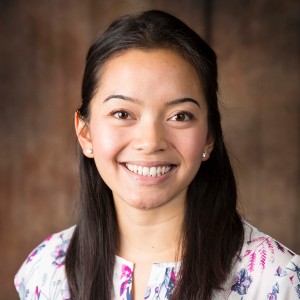 As a San Francisco native and graduate of California State University at Long Beach, Labiaga was excited to not only find an extensive sports nutrition training opportunity but to also find one in a completely new area of the country that she had not experienced before.
As a classical ballet dancer in her youth, she was drawn to nutrition in part because she had seen the suffering of fellow dancers with eating disorders. Those experiences "sparked her interest in helping people."
Now at UC Berkeley, one of her primary responsibilities is counseling athletes who are at high risk of experiencing eating disorders and body image problems. The DIP program at Lipscomb and a conference in Nashville on eating disorders helped her solidify her interest and expertise in that area of nutrition, she said.
"With my background in ballet, there was a lot of athleticism involved, so I am able to relate to the athletes and talk to them about the education that I had," said Labiaga. "Students come in their freshman year not really knowing how to cook or how to buy groceries. We are teaching them the basics, but making it fun and being there to support them in their competitions."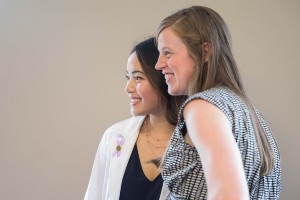 After licensure, Labiaga went to Virginia Tech University to become a full-time dietitian and pursue her master's degree in applied nutrition and physical activity. There she worked with the swim and dive teams, cheer and dance teams, women's soccer and men's wrestling. She also had the opportunity to develop an eating disorder prevention program called The Body Project and to travel with the wrestling team to compete in the NCAA tournament.
In January, she was hired at Berkeley which was looking specifically for a dietitian with experience in eating disorders for its three-person sports nutrition staff and its Division 1 PAC-12 teams. Labiaga works closely with team physicians and the health services department.
"One of the things that drew me to Lipscomb was the service aspect of it," Labiaga said. "Being a health care professional, our passion is to help people and go out in the community. I think that is just important for anyone to do, to take what you learn and use the gifts that you have to help the wider population."
Colorado RD runs her nutrition business and runs the track, both to success
Maddie Alm (DIP '19)
Owner, Fueling Forward, Boulder, Colo.
Runner in the U.S. 2021 Olympic Trials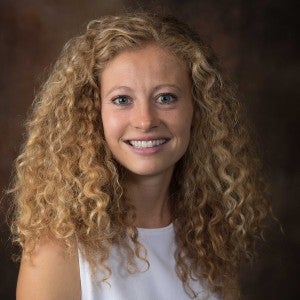 Alm discovered the impact of sports nutrition when she walked onto the track and field team at the University of Colorado as an undergraduate. During her time on the team, she went from a walk-on to an All American athlete, and she says nutrition was a big part of that transformation. She left college wanting to spread the word to other athletes.
She went to San Diego State University to earn a master's in nutritional sciences, and then came to Lipscomb, where she worked with the cross country team during her internship. That was a fitting team for her, as she continued to run post-collegiately and professionally throughout her training right up to today.
In fact, she ran in the 2021 Olympic Trails in Eugene, Oregon, in June and placed 12th in the women's 5K. She's hoping to qualify for the World Championships, also to be held in Eugene, next year.
All the while, her goal was to start her own sports nutrition consulting business and she did just that: Fueling Forward based in Boulder, Colorado, where she grew up. In Boulder, runners come from all over the nation to train, but the city has relatively few sports nutrition experts, Alm said. She had many local contacts, so Fueling Forward began at a swift pace.
The Lipscomb internship experience certainly taught Alm how to "run the show" on her own, she said, noting that Toy gave each intern a lot of freedom in serving their respective teams. "I got to decide how I would approach nutrition for these teams. I was pretty independent, but still had (Toy) as a mentor. So I was confident when transitioning into my own business because I felt I could do things on my own," said Alm.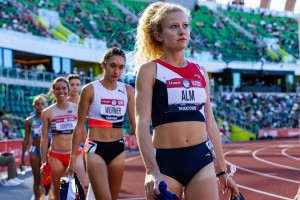 The ability to work independently became even more valuable in 2020, when Alm's business went virtual. She was actually able to reach more clients. From high school and college athletes to weekend warriors, Alm provides nutrition education courses and one-on-one counseling. She works with all types of endurance-based athletes from sprinters to cyclists, but has also consulted with athletes in various other sports.
"I have had clients struggle with finishing an ironman race, and after nutrition changes, they have been able to finish in their fastest time. I've had athletes run their fastest times after consultation. That is always really fun for me to see," she said.
Through it all, she still runs about 70 miles a week, she says. Running her own business allows her to keep up a training regimen and to compete in up to four races per month.
"I like how running gives me an opportunity to challenge myself and find new limits for myself. Getting through a tough race or workout is fun to see how strong you can be," Alm said.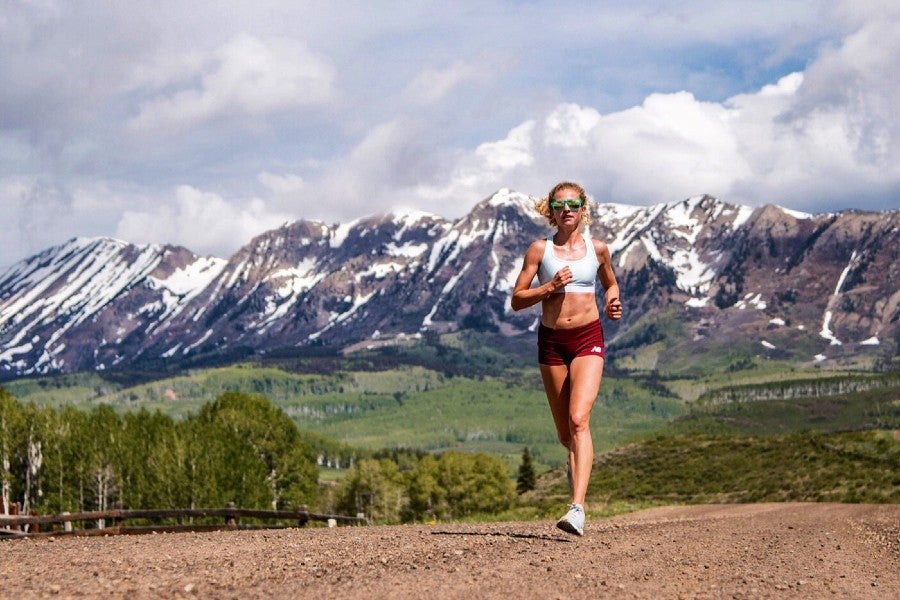 DIP graduate brings expertise to Auburn and Purdue
Kate Nese (DIP '19)
Sports Dietitian, Purdue University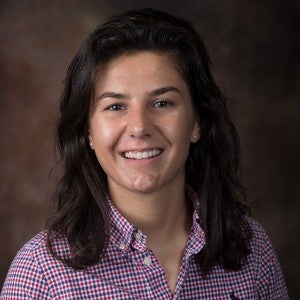 As a youngster, Nese played plenty of sports (soccer and track) and wanted to be a chef. As an undergraduate at Penn State University, a mentor helped her discover sports nutrition, a career that blended her two passions.
Even then, her undergraduate advisor was wary to advise her to pursue sports nutrition because it didn't offer a lot of career possibilities. But Nese persevered, and since May she has worked in a full-time position at Purdue with the cheer squad and softball, diving, swimming, track and field and soccer teams.
"I just really love being with my athletes and seeing that moment when things click," Nese said. "That is something that really keeps me coming back to work. Any positive impact I can have on my athletes is something I can hold near and dear to my heart."
During her time in the Lipscomb DIP program, she was able to work with the women's soccer team and learned how to maximize resources no matter where she eventually landed.
"The big thing that Ann (Toy) taught us was to learn to be creative. At a smaller school, you have to put in the extra work, and see what we can do without spending so much money. At the time, we really needed to sell the idea that nutrition is worth their time and money. It made me a saleswoman," Nese said of her Lipscomb experience.
After Lipscomb, Nese went to Auburn University to earn her master's in exercise science and serve as a graduate assistant sports dietitian. There she worked with the football, equestrian, gymnastics, track and field and golf teams, doing nutrition counseling, helping students with illnesses such as diabetes be able to perform and keep their symptoms in check, educating students about the grocery store and cooking and coordinating meals for when the teams go on the road.
She also developed an eating disorder and low body weight protocol for athletes with the help of Toy, who familiarized the interns with a similar program at Lipscomb.
"Ann (Toy) is just such an amazing mentor," said Nese. "I talk to the Anns (Toy and Anne Lowery, associate professor over the DIP program) on a regular basis. The fact that they care, even a few years out, is what makes Lipscomb so special."