Lipscomb students named University Innovation Fellows by Stanford University
Lipscomb students are leading the way in entrepreneurial education
Kim Chaudoin |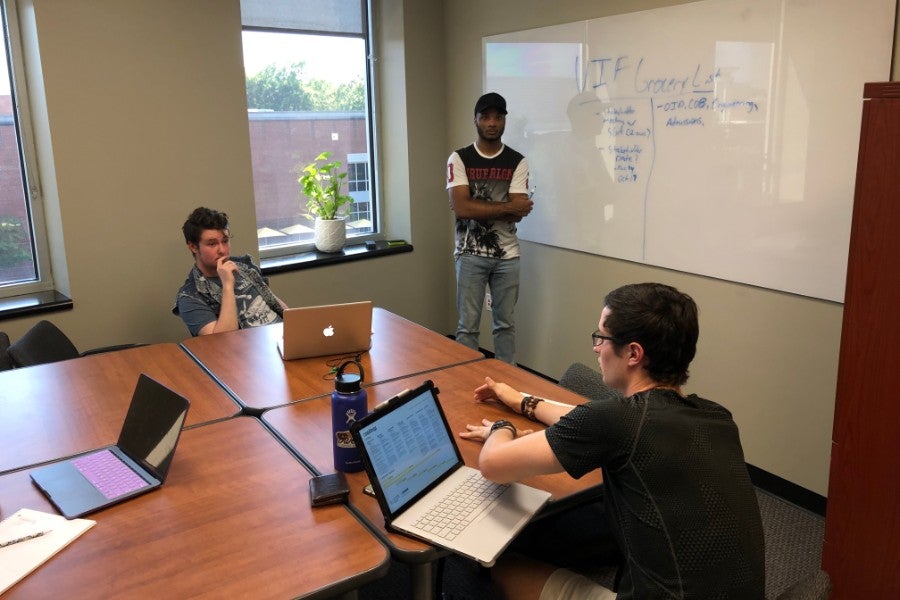 Four students have earned University Innovation Fellows status from Stanford University following a rigorous application process. Lipscomb students Lydia Baker, Matt Stuart, Jeremy Beeman and Josh Hayslett were among 360 students from 90 colleges and universities in 13 countries to be accepted by Stanford University's Hasso Plattner Institute of Design University Innovation Fellows program. 
The University Innovation Fellows program empowers students to become agents of change at their schools. Fellows work to ensure that all students gain the attitudes, skills and knowledge required to navigate a complex world and build the future. These student leaders from schools around the globe create opportunities to help their peers build the creative confidence, agency, and entrepreneurial mindset needed to address global challenges. Fellows create student innovation spaces, start entrepreneurship organizations, facilitate experiential workshops, work with faculty and administrators to develop new courses, and much more. They serve as advocates for lasting institutional change with academic leaders, lending the much-needed student voice to the conversations about the future of higher education. 
"These four students have worked extremely hard putting in many hours per week for the past seven weeks on top of their class schedule and other job responsibilities to get admitted into the program," said Jeff Cohu, executive director of the Center for Entrepreneurship and Innovation and associate professor of management in the College of Business. "I am very proud of the hard work and discipline they have displayed to get formally admitted into the UIF program."
Cohu said the four Lipscomb UIF fellows have been immersed in high-level training on design thinking concepts that involves stakeholders on campus as part of the extensive process. The students applied their ideas to the Lipscomb ecosystem and developed a proposal for strategies to increase campus engagement in entrepreneurial and innovation thinking and activities. They engaged stakeholders across the campus in preliminary discussions and will continue to work on making those connections more deliberate and focused with our Lipscomb ecosystem.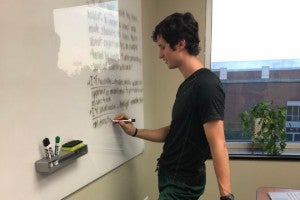 "This will help us as a university to look at entrepreneurial and innovation thinking from a cross-disciplinary approach, which should produce significant benefits over time," said Cohu.
University Innovation Fellows Program Fellows are sponsored by faculty and administrators as individuals or teams of students, and selected through an application process each year. Following acceptance into the program, students participate in a six-week online training experience that requires them to learn from and work with stakeholders on campus. After training, Fellows have many opportunities to learn from one another, Stanford and peer mentors and leaders in academia and industry. Fellows also present their work and facilitate workshops at events and conferences around the world. 
The Fellows
A senior from Lincoln, Nebraska, Lydia Baker is majoring in entrepreneurship and human resources in the College of Business. She said the thought of being a pioneer for Lipscomb in this program was initially intimidating.  
 
"This opportunity was slightly scary as it is a program that's never been on Lipscomb's campus. They kept talking about us being Innovation & Entrepreneurship (I&E) pioneers at our school, which is both scary and exciting!," said Baker. "The six-week training took a lot of time and effort, and our team spent many long hours and late nights working to accomplish our goals. Being accepted into this fellowship is incredible because all of our hard work is paying off. The program also gives us access to many resources that will allow us to continue to grow the I&E culture at Lipscomb. 
Baker said the experience has helped broaden her definition of entrepreneurship. 
 
"This program has helped me see innovation and entrepreneurship in a new light. It has helped me think outside of the box and realize that everyone has a little bit of I&E spirit inside of them," she said. "UIF training included brainstorming, prototyping, storytelling, design thinking, and much more. Each of these skills I learned will be helpful moving forward in my business career."
 
Jeremy Beeman is an electrical engineering major in the Raymond B. Jones College of Engineering. He said achieving this accomplishment is satisfying. 
 
"It means that all the work put in was recognized. Also, hopefully this means that the program will be continued for years to come, adding value to Lipscomb," said Baker, a sophomore from Mount Juliet, Tennessee. "Through this process I have experience that unity is powerful, and networking can take an idea and make it a reality."
 
Beeman said he plans to be a product designer or to work for a company which engineers devices to help those underprivileged after graduation. This experience has helped him learn business skills that he hopes will make a difference in his future career.
 
"I'm an engineer, so this experience has been my business studies," he said. "It has taught me networking skills and prototyping methods, as well as other things such as an entrepreneurial mindset and design thinking. I especially appreciate Dr. Cohu's involvement. He told me about this program, and has been a guide ever since I became a student at Lipscomb."
 
For fellow Matt Stuart, the training process helped him learn to think in new ways. 
 
"This program has challenged me to think differently about how I approach problems on my campus and my future workplace, and I have learned so much in the short seven weeks since the start of the program," said Stuart, a sophomore accounting major from Memphis, Tennessee. "This launch is hopefully just the first of many incredible opportunities to come, but I am so grateful for the experience that I have had thus far."
 
One of the biggest lessons Stuart is taking with him from this experience is that "all change starts small." 
"A movement starts with an individual, and often its success is determined by the dedication of the individual and their first supporters to daily learning and improvement," he said. "This program has provided me with a fresh perspective on the role of business within innovation and entrepreneurship. Business can be an incredibly effective tool, especially when it comes to creating positive change. Indeed, the marketplace is always changing, as it is the place where new ideas, products and resources come together to solve the daily problems that people face. Using business to solve these problems presents challenging yet exciting possibilities for lasting impact."
Josh Hayslett is a finance major who plans to work in asset management following graduation then transition to entrepreneurship. 
"Being named a University Innovation Fellows will open the door to more opportunities for me to grow as a servant to others and meet more people that want to maximize their collegiate experience," said Hayslett, a junior from Memphis, Tennessee. "This provided an opportunity for me to apply what I have learned in the classroom to solve a major academic challenge on campus." 
He said the Lipscomb community has been very supportive of the team's endeavor. "At Lipscomb there is a culture of being a community that wants you to succeed," said Hayslett. "That has been the biggest impact on us during the preparation.So many professors have been supportive of us. Jeff Cohu, in particular, has seen potential in me since my first semester at Lipscomb. That means a lot." 
The team of Lipscomb fellows will continue work on their project throughout the academic year. 
"We are looking forward to seeing our UIF Leadership Circle continue to work on their proposal and present some of the implemented strategies to a larger cohort of their Fellows at a global meetup in Silicon Valley in late March," said Cohu.
In Spring 2020, Fellows will have the opportunity to participate in the program's signature Silicon Valley Meetup in California. During this gathering, Fellows take part in immersive experiences at Stanford University and Google, and work with leaders in education and industry. They participate in experiential workshops and exercises focused on topics including movement building, spaces for innovation, design of learning experiences, and new models for change in higher education. 
"We are excited for this program to continue," said Baker. "Joining this Fellowship is just the beginning. Our team has goals and plans to continue to discover opportunities on our campus. We want all students to feel empowered to be innovators- no matter what their area of study. Moving forward, our projects will be focused on bridging gaps between departments. We want to see a campus where a nursing student feels comfortable walking into the office of a Business professor, bringing a business idea to the table. We want business students to work with engineers to turn innovative projects into viable businesses. The four of us fellows are going to continue to work at building the I&E ecosystem on this campus, creating change that makes an impact on all Lipscomb students."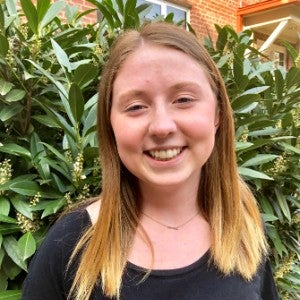 This program has helped me see innovation and entrepreneurship in a new light. It has helped me think outside of the box and realize that everyone has a little bit of I&E spirit inside of them. — Lydia Baker
"Our cohort has only scratched the surface in terms of identifying the change-making potential at Lipscomb. Already, though, we have met faculty and students championing innovation and entrepreneurship in colleges and departments university-wide," said Stuart. "Through our conversations with them, we have seen their excitement about Lipscomb's future in this area. I hope that my teammates and I will be able to fan the flame on this activity and lay a groundwork this year for future Fellows cohorts to take these initiatives to new heights in years to come."
The program is run by Stanford University's prestigious Hasso Plattner Institute of Design (d.school). With the addition of the new Fellows, the program has trained nearly 2,200 students since its creation. 
"Higher education needs to change faster to meet the needs of students and industry today," said Humera Fasihuddin, co-director of the University Innovation Fellows program. "In traditional education systems, students have to wait until they graduate to make a difference. We don't believe that. As the key stakeholders of higher education, students should be active participants in a change process that helps them learn the skills and mindsets necessary to create the future. The students who participate in our program are ideally poised to help accelerate the pace of change at their schools." 
"Through this program, Fellows gain skills, mindsets and knowledge to face ever-more complex challenges at their schools and in the world," said Leticia Britos Cavagnaro, co-director of the University Innovation Fellows program. "During training, Fellows learn to analyze their campus ecosystems and identify opportunities for change related to innovation, entrepreneurship, design thinking, and creativity. They work to understand the needs of peers across disciplines and the perspectives of faculty and administrators. They apply this new knowledge and perspective to design new educational opportunities for their peers." 
In addition to Lipscomb other colleges and universities around the world with students selected as part of the newest University Innovation Fellows included Aditya Institute of Technology and Management, Tekkali (India), Brigham Young University, Clemson University, Creighton University, Elon University, Georgia Institute of Technology, Hamburg University of Technology (Germany), James Madison University, Louisiana Tech University, Marshall University, Peking University (China), Pennsylvania State University, The Ohio State University, Vanderbilt University and Yale University among others. 
Cohu is already making plans for next year. "We are also looking forward to taking applications for a UIF Leadership Circle for the  2020-21 school year later this spring so that we can continue to build on the work of this ground-breaking cohort," he said. 
Lipscomb's Center for Entrepreneurship was launched in 2011. The center was created to serve as a multi-disciplined academic hub for entrepreneurship, both on campus and in the community. The center aims to produce the next generation of innovative entrepreneurial leaders in the greater Nashville area and beyond. The center offers a Bachelor of Business Administration degree in management with concentrations in entrepreneurship and social entrepreneurship. 
Learn more about the Lipscomb Center for Entrepreneurship.
For more information about Stanford University's Hasso Plattner Institute of Design University Innovation Fellows program visit universityinnovationfellows.org.