Lipscomb sets record for most Fulbright awards in one year with five in 2019
Lipscomb University is consistently recognized nationally for the quality of its academic programs, and this spring is celebrating a new indicator of its academic quality and excellence. This spring, the university reached a new level of achievement with a record number of Fulbrights.
Janel Shoun-Smith |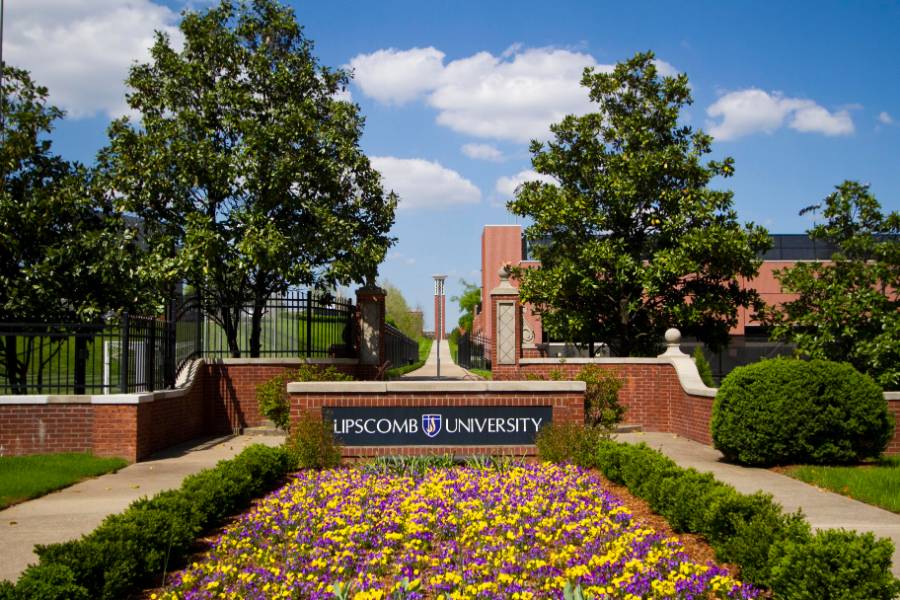 In 2019, Lipscomb University set a new university record with five students and alumni selected by the U.S. Department of State as Fulbright  awardees.
Among these stellar students are one who wants to study the linguistics of Altaic languages like Korean, Turkish and Mongolian; one who wants to explore political broadcast journalism in Latin America; and another who wants to improve her Spanish skills by studying Spanish music. 
With the addition of these five, Lipscomb University has produced 12 Fulbright winners in the last 13 years and 17 known Fulbright winners throughout the institution's history.
Students and alumni selected for Fulbright fellowships as English teaching assistants in 2019 are:
Lila Banach, May 2019 Bachelor of Arts in English graduate, South Korea
Melissa Edberg, Dec. 2018 Master of Education graduate (Teach For America participant), Spain
Hannah Logsdon, May 2019 Master of Education graduate (Teach For America participant), Greece
Anissa Plattner, May 2016 Bachelor of Arts in education graduate, Pereira, Colombia
Alumni selected for the Fulbright fellowships in research are:
Lauren Borders, Dec. 2018 Bachelor of Arts in communication graduate, Uruguay
The Fulbright program, sponsored by the U.S. Department of State, places U.S. scholars in schools or universities overseas, improving foreign students' English language abilities and knowledge of the United States while enhancing their own language skills and knowledge of the host country.
Over the years, Fulbright scholars and students nationwide have gone on to win Nobel and Pulitzer prizes, to be recognized as geniuses by the MacArthur Foundation and to become heads of state.
"For a school the size of Lipscomb, this is remarkable," said Paul Prill, Fulbright advisor and director of the Honors College. All nine of Lipscomb's undergraduate Fulbright scholars in the last 13 years have been participants in the Honors College and the three graduate students selected in that time have all been participants in the Teach For America program.
The Honors College hosts workshops each year to make students aware of national competitive scholarships, including the Fulbright program.
For a school the size of Lipscomb, this is remarkable. — Paul Prill, Fulbright advisor and director of the Honors College
"Lipscomb had an incredibly strong group of Fulbright candidates this year, students who had traveled extensively, who had strong academic profiles and language skills, and who had exceptional extracurricular experiences in research and volunteering," said Prill. "For the students, the Fulbright, in addition to being a valuable year-long experience in a foreign country, will open up other possibilities for continuing their education at more prestigious schools.
 
"For Lipscomb. the presence of so many Fulbright awards over the past decade enhances our academic reputation and better enables us to recruit exceptional students to enter Lipscomb as freshmen," he said.
 
Banach, a May 2019 English graduate, credits Prill and the faculty in Lipscomb's Department of English and Modern Languages with preparing her for this opportunity. 
"The department has always encouraged us to engage in the academic world outside of the university, and professors in the department are always gracious with their time and academic resources in an effort to get us where we want to be," she said. "My experience in the major has also been extremely culturally informative, and I'm very thankful for that." 
She said her English courses provided opportunities to pursue research in her fields of interest and cultivate a love for research topics that are relevant to the Fulbright teaching grant program—areas like applied linguistics, second-language acquisition and translation theory.
 
The department has always encouraged us to engage in the academic world outside of the university, and professors in the department are always gracious with their time and academic resources in an effort to get us where we want to be. — Lila Banach ('19)
Read on to learn a little bit more about a few of these outstanding students and alumni: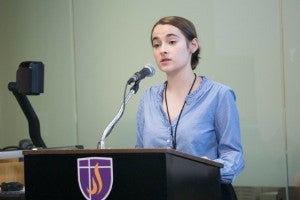 Lila Banach ('19)
English graduate from Prattville, Alabama
Banach selected the English teaching assistant program in South Korea because it is a place she has grown to love over the last two summers in her work there as a teacher. She will leave for her placement in South Korea in July.
"When I first visited South Korea as a teacher, all I knew was that it was a good place to go if you want to teach English as a foreign language," said Banch. "I soon came to learn that besides its wealth of opportunities to pursue English teaching, Korea has a very rich and complicated history of politics, advocacy, language and literature, all things that I love learning about.
"Besides the fact that I want to learn more about the history of the Korean Peninsula and its relationship with the surrounding nations, my first love is linguistics, especially linguistic anthropology, sociolinguistics and second-language acquisition," she continued.
"The history of the Korean language is particularly unique, and language scholars are still unsure of the origins of many aspects of the Korean language. These uncertainties create space for further research in the field. I am also interested in combining my studies in second-language acquisition with research in sociolinguistics in an effort to enrich my pedagogical skills in the classroom."
After her first summer teaching in South Korea, Banach started a Lipscomb fundraising chapter for Liberty in North Korea, a nonprofit that helps North Korean refugees make the 3000-mile journey through China to be safely resettled in the U.S. and Southeast Asia. The group has raised more than $3,000 for the cause over the past two years.
She also volunteers at the Nashville International Center for Empowerment as an English teacher in immigrant and refugee classrooms. 
"I spent the better part of my undergraduate career trying to determine where language and advocacy converge. Intuitively, I knew that they had to go hand in hand, but going through the Fulbright application process really forced me to consider how I would integrate my interests into a practical community project," Banach said. "My work with NICE really helped me to visualize and articulate how language learning is an invaluable form of empowerment.
"I can't express how thankful I am to have had professors and mentors who have helped me practice global-mindedness," she said. "More than anyone else, the professors in the English department have helped me find my voice, and I hope I can do the same thing for my students during my grant year. I am so thankful to have so many examples of kind, intelligent, creative educators in my life to emulate as I move forward."
 
"I hope to build quality relationships with my students and co-workers and to foster (on the micro level) cooperation and respect between individuals and from different countries." — Hannah Logsdon ('19)
Hannah Logsdon ('19)
MEd graduate from Lexington, Kentucky
Fourth-grade teacher at Purpose Preparatory Academy Charter School in Nashville
Logsdon, who received her bachelor's in studio art from Transylvania University, came to Nashville as part of the 2017 Teach For America corps.
Lipscomb University has partnered with Teach For America for more than a decade now, serving as the host site for Nashville's TFA summer training institute and the licensing partner that provides master's level course work for the Nashville corps, who must complete a master's degree in education to be licensed to teach in Tennessee.
Teach For America is a national organization that recruits and trains enthusiastic non-education bachelor's graduates to become classroom teachers. Each corps member is required to attend an intensive six-week training over the summer to prepare for the classroom and later obtain their transitional license.
Logsdon pursued a fellowship from the Fulbright program because of its "emphasis on deep understanding between cultures and the openness to all the experiences life has to offer." Upon her return, she hopes her Fulbright experience will enhance her teaching career further.
"I hope to build quality relationships with my students and co-workers and to foster (on the micro level) cooperation and respect between individuals and from different countries," she said.
She will leave for her teaching-assistant placement in Greece in August.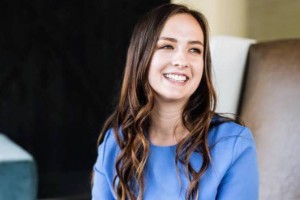 Lauren Borders ('18)
Communication graduate from Duluth, Georgia
Borders is one of Lipscomb's three recent undergraduate Fulbrights selected for the research track of the program. She will be living in Montevideo, Uruguay, researching political broadcast journalism as an affiliate of the University of Montevideo. 
She was first introduced to the idea of a Fulbright fellowship by Lipscomb Fulbright advisor Paul Prill when she was just a freshman at Lipscomb.
"It was something I continued to think about throughout my time at Lipscomb. I had always known that I wanted to live in another country at some point, and the Fulbright gives you an opportunity to do that while acting as a representative of your country doing meaningful work on a project entirely designed by you," said Borders, who now works as the digital and communications coordinator at Calvert Street Group in Nashville. "I could research something that was truly important to me while fulfilling my lifelong goal of being a resident abroad."
 
During her college career, Borders studied abroad in Santiago, Chile, and chose to take an independent study class during that time to research and produce a report on journalism during the Chilean dictatorship. She was tapped to present her report at the annual Lipscomb Student Scholars Symposium. 
 
Her Fulbright research will be similar to that previous study, she said, "but on a much larger scale. I'll have the opportunity to do work that I can take with me outside of my educational experience and integrate it into the rest of my career."
 
After her Fulbright placement, she hopes to work in advocacy for prison or immigration reform or possibly pursue a graduate degree in political psychology.
 
Borders leaves for her placement in Uruguay in March 2020.

Melissa Edberg ('19)
MEd graduate from Wales, Massachusetts
Fifth-grade chair and social studies teacher at STEM Prep Academy Charter School in Nashville
For Edberg, her Fulbright placement could be the first step toward fulfilling a dream of her: to become an Ambassador for the U.S.
But for now, the Worchester State University graduate who is on Nashville's Teach For America corps, wanted to build on her previous study abroad experience in Spain to enhance her Spanish skills, experience living life abroad and improve her teaching of English language learners. One way she will do that is by researching and learning Spanish music, she said. 
Her graduate courses at Lipscomb have already improved her success as a teacher of English language learners, she noted, as her current students have tested three times higher than the state average on the Tennessee Value-Added Assessment System.
Edberg will leave for her placement in Spain in September.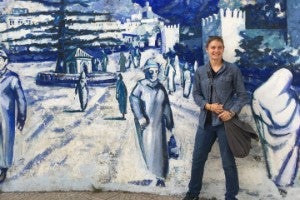 Anissa Plattner ('16)
Education graduate from Nashville
Plattner, a Nashville native who lives in Los Angeles working as the English Language development coordinator for Alliance Environmental Science High School, was selected for a teaching assistant placement in Colombia.
"I'm excited for the Fulbright scholarship because I'm interested in best practices in teaching English as a second language," said Plattner. "Currently, I teach high school ESL, and I think the experience of teaching ESL at a university level will allow me to hone those skills and develop new ones. Part of being a Fulbright English Teaching Assistant is developing a community service project as well, and I am hoping to use what I've learned to engage more deeply in the community I'll be part of." 
Plattner said Prill and Megan Parker Peters, associate professor in the College of Education, who were part of several independent study projects, with being particularly influential while a student at Lipscomb. 
Want to know more about Lipscomb's Honors College? 
 
— Photos submitted by Lila Banach, Lauren Borders and Anissa Plattner