Lipscomb nursing alumni provide compassionate care during pandemic
Alumni across the nation are daily caring for patients' physical and emotional needs.
Janel Shoun-Smith | 615.966.7078 |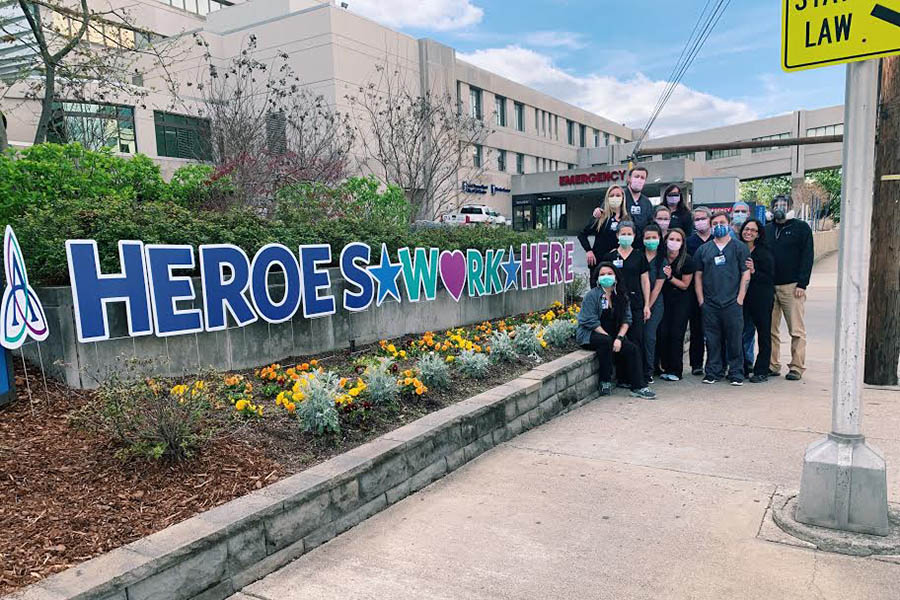 Whether it is an anxious person with a common cold or a high-risk COVID patient with underlying conditions, Lipscomb University's nursing alumni have been present and able at health facilities throughout the nation to care for America's patients.
Since graduating its first nursing graduates in 2007, Lipscomb has produced more than 600 nurses, who are now working in the health care system when they are most needed.
Read on for a glimpse into the daily work of Lipscomb nurses during the COVID-19 pandemic.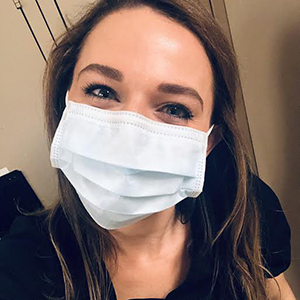 'There was a lot of panic about the unknown'
Ashley Prater ('14), a Nashville native and charge nurse at the Ascension St. Thomas Midtown emergency room, said the pandemic has changed the pace and flow of the environment in the ER.
"It's been very different from our normal. Normally… it is very fast-paced," she said. "COVID-19 and the stay-at-home order caused everything to slow down. We see less people but it feels busy because every time you see a patient you have to put on PPE (personal protective equipment) or you may need two nurses designated for a very sick patient. We are having to use a lot of resources on one patient."
Every patient that comes into the ER is immediately screened and given a mask and those showing symptoms are put in individual rooms immediately, with visitors restricted, Prater said. This spring, a normal day brought in three to six COVID patients to the St. Thomas Midtown ER, she said.
Early in the pandemic, "there was a lot of panic about the unknown. We were getting lots of calls about how to know if I have it? Should I come in?" Prater said. "At first there was a lot of concern and panic from the community."
Like many hospitals across the nation, St. Thomas has a no visitors policy at this time. "It is causing us to have to be more considerate about making sure the patient and their family stays informed, like making sure we walk out to the car (to talk to the family) or making sure the patient has access to a cell phone. There are a lot of little things we have learned need to happen that we weren't used to doing before," Prater said.
It has also brought more education requirements, as Prater tries to keep the nurses updated on all the COVID-19 guidelines in a fast-changing situation. "It's tough, when you come in for one shift, and you are told this is what we are doing, and then you come in 12 hours later and it is totally different," she said.
As the spring progressed, the panic eased, the flood of changing information leveled off and the ER is now able to use resources more wisely, Prater said. "At this point people are becoming more aware, and understanding of when they need to come in. I think the testing from the state has really helped," she said.
Even in normal times, "we are used to dealing with tough situations and used to finding humor throughout the day," Prater said. Her life lessons learned at Lipscomb – how to handle stress and conflict are proving valuable in these unusual times, she said.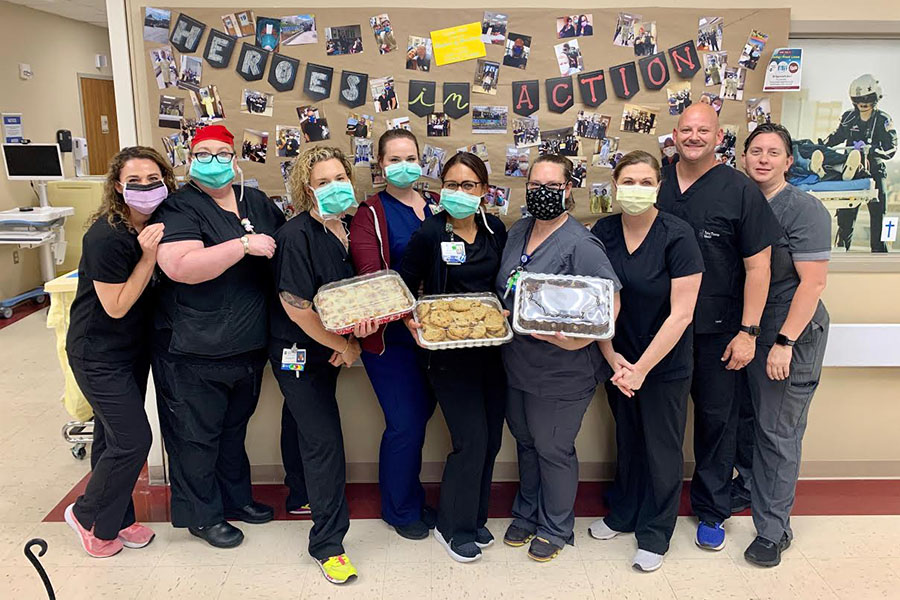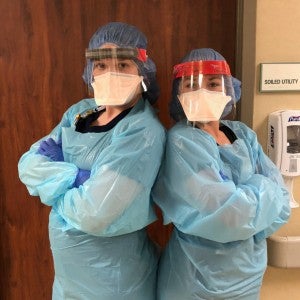 Nurses care for emotional as well as physical needs
Kaleigh Sabin ('18), a university and Lipscomb Academy graduate from Nashville, normally works as a clinical nurse coordinator in Tower 12 (neurology and renal) but since the pandemic has been taking on shifts as a charge nurse in the COVID ward for TriStar Centennial Medical Center.
Often these days, nurses find themselves taking care of emotional needs just as much as physical needs, she said. Megan Turnington, a Lipscomb Academy graduate who works with Sabin at Centennial, began an Amazon wish list where the public can buy patients items they can use to make the days a little brighter, such as cell phone chargers, coloring books, word searches or puzzle books.
The list started as a way to meet the needs of the health care workers, but quickly turned into a mechanism to fight the loneliness and discomfort of COVID patients, who are not allowed visitors. "That has really taken off and has been really cool to see," Sabin said.
Health care workers were sent a lot of complimentary food (like pizza) during the spring, so they often share with the patients who aren't on special diets, and nurses work with family members to pick up personal items from the lobby and get them to patients, Sabin said.
As a charge nurse, Sabin manages the other nurses more than she attends to patients personally, but she did gown up and protect one COVID-19 patient who the health workers allowed to visit her husband, also a COVID-19 patient in the ICU. The couple had not seen each other since they entered the hospital. Her husband was on a ventilator and passed away later that day after his wife had a chance to say good-bye.
"I can't imagine being one room away from your dying husband. That was the experience that hit me the hardest," Sabin said.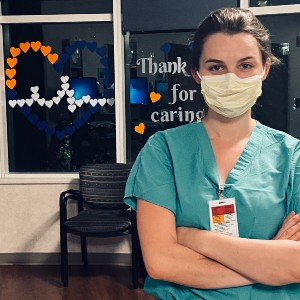 Challenges now will strengthen generations of the future
McCall Mannel ('18), a native of Wisconsin, now lives in Denver, Colorado and has worked as a nurse in the medical intensive care unit at Denver Health for the past year. This spring, her ward was converted to care for only COVID-19 patients along with three other ICU units in the hospital.
"We all got used to the extra PPE pretty quickly and it became the new normal, but we have not quite adjusted to the death rate we are seeing in our patients. Once we intubate them, there is not much more you can do for them. That is a hard thing to accept," she said. 
Colorado has experienced a much higher death rate than Tennessee.
Mannel says that caring for patients who are passing is a normal part of her job, but the no visitors policy at her hospital, means families can't be a part of the process.
"In my unit, people are usually pretty calm and not easily flustered, because of the high intensity we work at on a regular basis. But some people are just upset at the situation right now," she said. Feelings of ineffectiveness and fatigue take their toll on her and her co-workers, she said.
In the big picture, she said she feels this challenging time will strengthen her generation for the future.
"I have struggled with anxiety sometimes about getting exposed and exposing my family (whom she is living with), but I have to trust God," said Manel, who is engaged and planning a wedding for August. "People talk about God's peace that comes from being a disciple, and it is so prevalent in my life right now. So many things in my life should be breaking me down, but I feel calm. I don't know what will happen tomorrow, but I know tomorrow will come."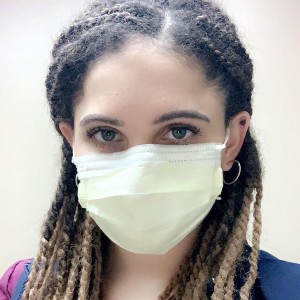 'There is no job as rewarding as being a nurse'
Justis Bailey ('19), a Clarksville native, was already caring for some of the most at-risk patients in our society: cancer patients at Sarah Cannon Research Institute, which provides care at TriStar Centennial Medical Center. 
As the numbers of patients overall in Centennial began to decrease, Bailey volunteered to work in the hospital's wards caring for COVID-19 patients, where she has cared for both cancer patients with COVID-19 and COVID patients without underlying conditions, she said.
Usually, she works on Sarah Cannon's floor for patients with solid tumors and already had to carry out closer checks on white blood cell counts, electrolytes and oxygen levels than nurses in other wards with less severely ill patients normally would. But patients suffering from cancer and COVID at the same time have to be watched even more closely because "COVID acts on their system faster," she said.
"The main thing I was watching was their oxygen and respiration levels, because this virus is something we don't know a lot about," Bailey said.
Cancer patients are not able to get chemotherapy while they are suffering from COVID, and the oxygen level threshold to warrant moving patients to the ICU is half of what it was for immune-compromised patients prior to the emergence of COVID-19, she said.
Dealing with patients whose immune system is already compromised due to cancer or chemotherapy means the nurses try to minimize their contact with the patients even more than with other COVID patients, Bailey said. They practice cluster care, bringing all the patient's medications, snacks and water in one visit and checking on the immune-compromised patients first before checking on other COVID patients so as not to potentially spread the virus to those most at risk, Bailey said.
"I am truly blessed to have the opportunity to help this population. Being a nurse has opened my eyes to a myriad of things I take for granted every day," said Bailey. "As a nurse I have the ability to care for those who are unable to care for themselves. It is so easy to take your health for granted and forget how blessed you are every day you enter the hospital while others don't have the strength to walk in themselves.
"From treating people with simple infections to life threatening illnesses, you can be enlightened and learn from so many who are in their most vulnerable states. There has been no job as rewarding for me as being a nurse."